As a moving company, we love to hear feedback from our customers. Reading moving company reviews can help you distinguish reputable movers from the bad apples in the bunch. If you keep reading, you can find a mix of reviews- local moving reviews, long-distance moving reviews, and zip to zip move feedback. We would love to hear your opinion, if we did a good job or if there is something we need to improve. 
So, tell us, how did we do?
Local Moving in Maryland
Hector and his team were amazing! They worked non-stop; packed, moved and unloaded my belongings in 8 hours! Thank you for making this stressful move stressless.
Local Moving in Georgia
Miguel and his team ((Nelson, Eduardo, Jose, Kevin and Arnoldo) did a fantastic job. NO damage to my items and very minor scuffs marks. This was a very large move and the team had to make 2 trips which took almost 14 hours. I moved from a 3-story townhouse into a new 3 story townhouse which was challenging and additionally, I was actually injured and had to leave brief to go to doctor, but the team continued on in a professional and consistent manner making the move happen. I would give them 10 stars if I could. Once again if you are moving, I would request Miguel and his team.
Local Moving in Georgia
My experience with Miguel's crew was Five Star.
They worked very professional, respectful, communicated well, and well organized. In general, both my wife and I are happy with my moving experience with Zip Moving and Storage's crews.
Local Moving in Washington, DC
Friendly, efficient, and incredibly helpful!
Heather Schuler
05/17/2022
Local Moving in Maryland
I've used Zip moving and storage for my last two moves and will continue to use for any future moves. They've helped make the moving process so much simpler. On the administrative end, they are thorough and accurate in their quotes. Additionally, all of the movers that I've worked with at Zip have been very professional, efficient, respectful of the property and inventory, and a pleasure to work with. Highly recommended.
Local Moving in Maryland
Great service from initial contact to follow up, scheduling and finally the actual move. The team that moved our bookstore office was punctual, quick and easy to work with. Highly recommend!
Local Moving in Maryland
 Very professional move. Would recommend.
Long Distance Moving in Georgia
I moved om Ohio to South Carolina and both the pickup and delivery were perfect. I want to commend all employees involved on their work ethic and professionalism. Please extend my sincere thanks to the following employees:
Pickup employees were John and Jose
Delivery employees were Holman, Tony and Arnold
If have already recommended Zip movers to a friend in Ohio and will certainly use Zip Moving in any future moves
Local Moving in Georgia
Three members of their staff: Allen, Nate & Bobo, arrived on time, picked up our furniture, moved it into our home without a dent, scratch or tear. I have moved often, and used to be in the moving business, and these were the most polite, helpful, patient individuals I ever encountered. I would highly recommend this company, & these individuals for a local or long distance move. Excellent experience from the first call to the finished move.
Local Moving in Maryland

My wife and I thought that the move will definitely be something stressful, but Zip Moving and Storage proved us wrong. We can't
emphasize enough how important it is to find a reliable and certified moving company. They will make your move much easier.
Everything went so smoothly and we, honestly, still can't believe it. Movers arrived precisely on time and they made sure that we
knew how every detail of the move would go. They also packed all our belongings really carefully and surprisingly fast. My wife
was actually a bit worried about her precious china cabinets, but even cabinets were transported to our new home without any
problems. We, honestly, cannot properly express our gratitude. They made our move to Fredrick seem quite effortless. They acted
as real professionals and they really knew what they were doing.
My wife and I will definitely be using the services of Zip Moving and Storage in the future as well.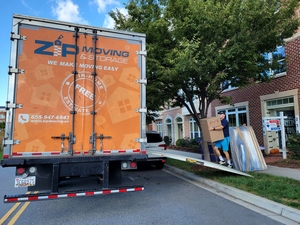 Local Moving in Maryland

Milos and Jeffrey were very efficient, polite and considerate. The move went very quickly and smoothly. I would recommend Zip to
others.
Long Distance Moving in Georgia
Would I use Atlant a Moving Solitions again? Absolutely!!!
There is no question in my mind. Chris, Nate, Alonzo, Parker and Ary were the best. They exceeded my expectations for loading and unloading. My move was a 2 days - Packing and loading on Day 1 and Day 2 was 130 mile one way trip and a full unload. They worked as one team and everyone was on the same page. Very professional and courteous. My "Go To" movers from now on. I would highly recommend Atanta Moving Solutions for your next move.
Local Moving in Georgia

I used this company for a local move. My three man crew of Corey, Eriberto and Carlos were fabulous. They were on time, efficient and did a great job of protecting the furniture. I definitely recommend them and would use this company again
Elizabeth Bishop
08/22/2021
Local Moving in Georgia

The team did a fantastic job moving from house to apartment and then some to storage. It was a doozie but hey were very organized and efficient. Thank you to the team of Alonzo, A.J. Nate and Zay.
Highly recommend and will use again!
Elizabeth Pollard
06/20/2021
Local Moving in Georgia

Ricky, Devin, and Marcus were phenomenal!! They're professional and took AMAZING care of my belongings. They worked efficiently, and were able to get my large couch into my new place even though it was a tight squeeze. I would definitely recommend Georgia Home Movers to anyone.
Local Moving in Georgia

Moving is very stressful but Zip made it an easy experience! From the office representatives to the moving crew, they were very courteous and professional. I highly recommend Zip!!
Please select moving service:
Local Moving in Georgia

I had an amazing experience! They were so helpful and nice, very professional and so quick! They were right on time and we're great on communication. Will always use moving forward! Daria was great too and followed up every step of the way!
Miranda Lafayette
5/11/2021
Long Distance Moving in Illinois

The daunting task of moving long distances to Chicago was made easy by the amazing crew of Zip Moving & Storage. Andrew was amazing and very patient with us while coordinating our move despite the Covid 19 challenge. The movers were very organized and managed to disassemble and wrap our furniture and load everything in the truck in under 2 hours. Moving is never an easy task, we felt sad the day has come we're leaving our neighborhood and friends, but the movers were cheerful and really made our day brighter and the move seamless. We'll forever remember this great experience and recommend Zip Moving & Storage t our friends and family!
Local Moving in Maryland

I hired Zip Moving & Storage 2 weeks ago for a move from Annapolis to Gaithersburg. I found them while searching up moving companies on the web, and what I loved about them is that you can use their moving calculator online. I simply put in my moving information, and this platform also helps you put your inventory together and provides you with an instant quote! I loved how easy it was to get all of this information without spending hours on the phone. I decided to go with Zip. I packed the majority of smaller items on my own and added their partial packing services for the rest of my items. The move went smoothly, and the moving crew showed up being cheerful and ready to work. Loved my experience with Zip Moving & Storage, which I would highly recommend. Don't do it all yourself, hire professionals to help with your move.
Local Moving in Maryland

My son and I thought Peter and his crew did a wonderful job moving my furniture from my old place to my new home. T hey took great care in protecting my furniture. I would use Zip Movers again if I needed to and I would recommend them to anyone else who is moving. Thank you for high quality service.
Darren Overholser
4/23/2021
Local Moving in Georgia

Great move. Mike, Sed, and Derrick moved our stuff with care wrapping every piece. Also they all were courteous and friendly. Definitely recommend!
Long Distance Moving in Georgia

When I wrote my review I failed to mention Mr Frank who impressed me with his strength as he moved many boxes from the basement to the truck. Francesco did a great job with the packing and loading tasks.
Long Distance Moving in Georgia

I just moved my household from Lilburn Ga to Shelbyville, Ky. Holman and his crew did an exceptional job loading my furniture, boxes and special items that they packed to prevent damage (lamps, pictures, art work). The crew that moved the items into my KY home included Fancisco, Edigar and Sandro unpacked things and patiently moved all the furniture where we wanted. I was also pleased that the final price was what I expected from the first estimate when the total weight did not increase as expected.
Local Moving in Virginia
This is my third time moving with zip. Every single time they've been early, quicker than expected, and courteous. Milos and his team were great!
Local Moving in Georgia
 I had Rico & Cristian move my furniture from a one-bedroom apartment to our new home. The overall customer experience was outstanding. Both Rico and Cristian did an impressive job with moving all items with care. I appreciate the professional attitude and the exceptional service. I would definitely recommend this company.
Local Moving in Georgia
I had Rico, Guillermo and David move me this past Thursday from my 10x15 storage unit and apartment into my house. They were very careful and competent. Little items they placed in a wardrobe box for safe keeping. They blocked my walls and floors. Everything was put where I needed it to be and furniture was put back together again.
I had used ZIP last year at this time to move from my then house into the apartment and storage unit. I knew then how professional and economical ZIP Moving was so there was no hesitation in calling them again for hopefully this final move!
Local Moving in Maryland
I am writing this in behalf of my parents!
Exceptional service by Zip Moving and Storage. My parents are of old age, due to not being able to function like before, living by themselves in a huge house became impossible, they decided to move to a retirement home near my family. Zip staff was incredibly efficient, kind and patient while carefully listening to my parents needs and requests. Their belongings is safely stored with Zip Moving and Storage. This transition was hard on all of us, and somewhat a difficult moment for our parents, but the movers really made it a positive one. We thank the whole team, amazing company and even better people.
Local Moving in Kensington, MD
Such a great experience! Zip moving and storage made our move as easy as it possibly could be. They made it easy to schedule an appointment, were friendly and attentive in confirming our delivery time, and went above and beyond in making sure everything was perfect before leaving. We will be using them again and recommending them to others in the future!
Local Moving in Columbia, MD
Had an awesome move with Zip, movers were on time fast and efficient and were done before I knew it. I would recommend this company to anybody that has to move, you will not be disappointed.
Long Distance in Albany, NY
It's my second experience with Zip Moving & Storage and I must say they don't disappoint!
We used you a few years ago to move our offices and you did a terrific job, therefore you were the first to come to mind when I planned my move. From dealing with them previously I knew the prices were the most competitive for excellent service. With the help of this amazing company I successfully moved to Albany, New York. I originally planned to do my own packing, but due to my tight schedule, I left it up to Zip experts to do all of my packings for me, and let me tell you I couldn't have done it better myself. I like the fact they use only the best boxes and supplies to ensure quality packing and wrapping services. During the moving process, I had a few larger and heavier furniture pieces I was worried about as well as my baby grand piano! But these guys came prepared, they arrived with the fully equipped moving truck ready to take on any obstacles. The best part? There was no damage caused to my belongings at all during this process. The movers were top-notch, very friendly, and experienced and the moving consultant was by my side the entire time making sure I was happy and had a smooth transition. I even got a 4% discount for paying cash, I mean what more could you ask for?
Thank you again for making this the easiest move ever! I recommend Zip to anyone looking for reliable movers.
Local Moving in Annapolis, MD
My move was somoothe thanks to ZIP employees. They responded promptly, kept in touch and reassured me that all would be well and it was. The movers were personable and very capable. I couldn't be more pleased. Wait one minute.....they left me to unpack and put all my treasures away in their new home all alone!
Christopher Brown
3/28/2021
Local Moving in Baltimore, MD
We first encountered Zip Moving when we saw their truck parked at a neighbor's house. We noticed the movers were hustling along with purpose and they seemed organized and capable.
We checked them on Yelp and Google. Both sources had rave reviews from customers, so we asked them for a quote. They immediately engaged our request for information and showed themselves to be responsive and knowledgeable. Their communications via email and phone were organized and effective. They came across like experienced operators and garnered our trust right away. They asked the right questions and provided useful information for us to read and use in planning our move.
When we estimated the move, I was convinced that we could really get by with a 1 truck and a 3 man crew, but David my moving consultant felt like we'd really need more resources to complete the move in a timely fashion. Turns out the David was right on the money. The guys did finish about half an hour earlier than the estimate, but having a fourth man and second truck made all the difference in getting the move done in a timely fashion.
The best thing about Zip Moving is there are NO HIDDEN CHARGES that movers always hit you with when they've finished.
Thank you David, Alex, Edwin, and Rico. I would recommend their services without reservation. Very great experience.
Long Distance in Providence, RI
Great move!
These guy make moving look easy, and being that this isn't my first move I know it's definitely not. I was blown away by the speed the quality and the care. The next day I got a follow up call from my moving coordinator to make sure everything went well. I'm really satisfied with the efficiency of the movers and care from customer service. There's certain things in life you can't be cheap about, and moving is one of them, especially long distance. The price was fair, and the whole experience was excellent.
Zip Moving is highly recommended to anyone planning their move and is in need of a dependable moving company.
Local Moving in Atlanta, GA
Actually my close family friend recommended Zip moving and storage moving company. I trust his judgement and after speaking with the representatives I can see why he strongly recommended them. I moved to Atlanta, Georgia. The best service I have ever received in my life, they couldn't have made my move smoother. As a single guy with a busy schedule I just didn't even know where to start packing so I hired Zip to do all my packing as well. Didn't even know about covers and shrink wrap, but they handled it. Truly a 'white glove' service all around.
I really felt like I had a bunch of friends that were movers working with them. The moving truck was loaded in no time and they were off to the storage unit. Few days later I welcomed my belongings at my new location and nothing was damaged.
I will use Zip moving and storage always going forward.
Local Moving in Frederick, MD
What a time to move right?(Pandemic)
Having had a few bad experiences in the past with moving companies, I wasn't quite sure which company to go with. Luckily my cousin recommended Zip Moving & Storage, and when I read awesome reviews, I decided to give them a call. From talking to the sales agent to movers, overall everything went smoothly! They were kind enough to explain what precautions their workers are taking during Covid-19 pandemic and that really put my mind to ease.
Great experience and even better prices, would highly recommend
Long Distance in Fayetteville, NC
The whole moving process was made so much simpler by using Zip Moving. Calling to get a quote was quick, easy, and informative. It was nice to be able to reserve my move with a small deposit. I will use it again for my next move.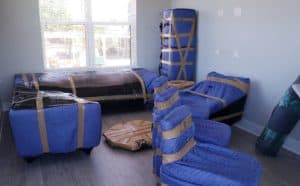 Long Distance in Charlottesville, VA
Thank you Zip & the team for all your hard work!
This was my first big move and hiring this company was the best thing I could have done!
Whoever moved a long distance must know that moving houses can be quite overwhelming. From speaking with the sales agent(David) who was very experienced and courteous to Milos and his crew who I met on the move day, I only have the kindest words to say.
Movers packed the boxes with care and professionally wrapped fragile items. Service was impeccable from start to finish. My belongings arrived safely and undamaged. My belongings were unloaded quite fast and efficient, what a great crew. I had a few questions about the invoice and this lovely lady(Daria) , their customer service agent, was very helpful and resolved the matter instantly. The whole operation went without a hitch, and staff members are very reasonable and friendly. Will definitely use their services in the future.
Local Moving in Kensington, MD
My friend recommended this moving company, and I decided to contact and use it because I needed someone that same week. Saturday morning, the two movers who helped were terrific! They put my bed frame together so I could place my mattress in the bedroom at that moment. They took about 3.5 hours to finish the entire process. Probably one of the best moving companies in the Washington DC area!
Local Moving in Suwanee, GA
Very helpful and efficient, super responsive via email, I never felt the need to call or stalk to get a straight answer, which more often than not is the case with many moving companies.
Everyone-- from Sava who came to price the move to Alex and his two co-workers who actually made the move happen-- was friendly and courteous,
No muss, no fuss. We'll spread the word among our friends!
Long Distance in Danbury, CT
Zip crew made moving seem like the easiest job in the world!
My family and I moved to Bridgeport in Connecticut, and we had such an amazing moving experience with Zip. The crew was accurate, professional and conscientious. We haven't seen them pause the moving process the entire duration, and they definitely provide great value for their price. This is without a doubt the best moving company I ever hired. We are not moving anywhere any time soon, but once we do, they'll be the 1st ones to call. Thank you Zip and the crew for excellent service.
Local Moving in Baltimore, MD
I got moving quotes from three companies and I went with Zip based on reviews I found and the price. Zip was sort of in the middle of the pack, as far as the quotes. Their rep was super responsive and everything seemed to go pretty smoothly. Everyone that I talked to was very helpful and friendly. They listened and gave us good information.
And the guys that did the actual moving were wonderful. They were patient and courteous. They worked nonstop around-the-clock. The only complaint I have is that I had a couple of boxes I marked fragile and when they got to the new place, they ended up being in the middle of the stack of boxes rather than separated around the top. They were still good overall though, not one item was damaged or broken. They even put the boxes in the correct room for me. A few days later Peter contacted me to follow up and make sure everything has gone well and to make sure I didn't have any issues. Overall, I'm very satisfied and I will definitely return.
Local Moving in Washington, DC
Milos, Edwin, and Marco are just perfect.
You're probably thinking: "How can you be so excited about movers?" Well if you've ever moved before - or if you've ever hired a professional services company - you know that quality and competence vary greatly.
We have been using a few moving companies in Washington Dc Area, Zip moving is just the best. ( I had enough bad experience with some other ones which I will not name here )
We moved a 1 BR in 4.5 hours. Unforeseen circumstances slowed them down: people ignoring the no parking signs at the parking meters we reserved, which in turn made their trip to load the truck more difficult. They didn't complain and rolled with it. Another hurdle: our new place is on the 3rd floor, no elevators.
Sure, they're a bit more expensive per hour than some others in the DC area, but I promise it's worth it. So many perks are included in the price - like furniture protection and tape - that you'll end up spending less in the long run.
Trust the reviews. This place is the real deal, and request the Milos team if you can!
Moving Labor in Alexandria , VA
Very awesome experience! Zip movers are punctual, and professional. They were once meeting me at my storage unit, unloading my belongings from my U Haul truck, and the second time bringing everything to my new home. Priced to fit your budget, Try them you'll be glad you did.
Long Distance Moving in Fort Myers, FL
It was the best moving experience I have ever had. Moving from Virginia to Florida is stressful enough, especially when it is coronavirus pandemic so, to have this go as smoothly as it did make the transition process smooth.
The movers were AMAZING! Good energy, efficient work, kind human beings. You must call these guys. David was super helpful, setting it up, and Peter and Daria were top notch.
Local Moving in Atlanta, GA
As my moving day approached I must say I was really nervous about how everything would play out. Zip Moving & Storage arrived on time and I got super excited. The crew introduced themselves and were very polite and friendly. Rico was kind and explained all the paperwork and walked me through step by step what they will be doing. As the movers loaded the truck they were very careful with my fragile items which made me feel relieved. Overall a great moving crew to be around on the stressful day, got the job done in a timely manner and can't praise their hard work enough.
To anyone in search of a great moving company locally or long distance, I would highly recommend Zip Moving & Storage.
Local Moving in Atlanta, GA
Zip Moving and Storage was recommended to me by my best friend. I went online to check out their reviews and called them instantly!
Whoever moved long distance before knows it can be an overwhelming process, and its crucial in hiring the right moving company. The service Zip provided was beyond excellent from start to finish. From speaking with the sales agent(David) who was knowledgeable and courteous to meeting the movers on the day, you can definitely tell these guys are real professionals. They handled my belongings with great care, were very friendly and efficient, not to mention an amazing crew to be around on the stressful day.
The price was fair and there were no hidden fees!
When my belongings arrived on the other end there were no issues or damage to any of my belongings. Also customer service was there every step of the way answering all of my questions and concerns.
Overall amazing experience, can't praise their hard work enough!
Would highly recommend, and will definitely use them in the future.
Local Moving in Roswell, GA
Zip Moving And Storage team are just finishing up my move. I had a lot more stuff than I thought and they helped me with literally everything. I was particularly concerned about the floors and walls in the new house which just got completely redone and these three left zero scratches or marks.
I was so happy with how our items were appropriately wrapped and how efficiently these guys got our furniture into the truck and into our new home. 4 guys show up with all supplies needed and they will do whatever it takes to get the job done! I highly recommend them if you are looking for a professional moving company.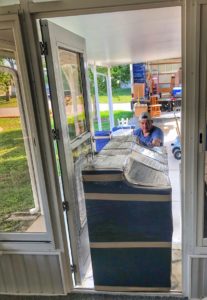 Local Moving in Bethesda, MD
We've used this company for three moves and we'll use them again this August for our final move into a new house. We discovered them by their reviews on Google, and they lived up to them. Our first move was from our house to an apartment and our experience was so great we used them to move our gift store which involved very fragile and delicate items. I found out they're just as efficient at commercial moving as well.
Things we loved about Zip Moving And Storage:
1. Timely communication and response on Yelp, email and website chat.
2. Reasonable prices compared to other movers in the area. Very transparent about their extra charges for boxes and travel time.
3. None of our furniture or boxes were damaged. All three of the move-out and move-in went without any incident.
4. At any point I didn't feel they were too slow or too rushed.
5. We were not fully ready with all the boxes packed. They were patient even though we were getting in the way a little bit.
Things we were not thrilled about:
1. When bringing the truck to our new place, they got lost. We had to wait 30 minutes at our destination for them to arrive. I don't know if they were genuinely lost, or stopped for lunch. Note that they called and let me know that it would take 20 more minutes (actually took them 30min). And they took off 30 minutes from the total time at the end.
2. In the end, I paid by cash. I had $100 bills, and the change due back to me was $20. The guy said, "I do not have a change, can I go to the nearby store and get some smaller bills". Sure yes, that's practical and while I let them keep the 20$, I would have appreciated you just giving me back the change and let me give you the total tip amount.
I would highly recommend using their services for any move! Totally affordable and worth every penny!
Local Moving in Atlanta, GA
I would give 5 stars but I am trying to be a realist. No moving company is perfect and most of the moving companies lends itself to unethical behavior and bad actors. That was not my experience on Last Friday. Zip Moving And Storage (especially David) was brutally honest, meticulous, and provided guidance throughout the whole process. They were very knowledgeable and the job was done with no damage to the home. We will absolutely recommend and use them again if needed in the future!
Jordan Feuerberg
2/23/2021
Local Moving in Marietta, GA
We have used Zip movers numerous times in the past few years. They are always prompt, polite, careful, and thorough. They give accurate quotes about how much time things will take, how many movers are needed, and what is necessary to get the job done. They helped unwrap and placed everything where it was meant to go to our new place.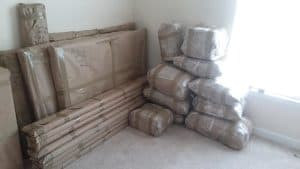 Local Moving in Smyrna, GA
I was searching online for a suitable company when I came across Zip Moving and Storage. Shortly after I gave them a call and had a pleasant conversation with one of their agents.
They were very detailed in explaining and making sure I understood everything which I appreciate. The agent gave me a quote, must say their prices are fair and affordable. I decided to go with the company. On the big day, movers arrived on time and I was amazed how fast they were able to get me into my new home, without seeming like they were rushing. Great team work. The entire process was easy and their customer service followed up on everything to make sure I was happy with their services.
Would highly recommend their services! Great team overall, they are amazing at what they do!
Kamelia Marchewka
2/19/2021
Local Moving in Atlanta, GA
Zip Moving and Storage is fantastic. Fast, friendly, and realistic price and time estimates. Alex and his team showed up on time and were super quick! They wrapped everything carefully, and nothing was damaged in the process. I'd refer them and will use them again.
Zip Moving and Storage is the BEST!!!
Local Moving in Rockville, MD
Alex and his crew were fabulous. They moved things quickly and efficiently from my storage unit and house to a new apartment. They were very communicative while loading and handled my belongings with care.
Local Moving in Atlanta, GA
I am a little bit late in writing our review for Zip Moving And Storage, but we've been busy unpacking and getting set-up.
Anyway - they gave me a reasonable quote ($640 for a one-bedroom for a first floor to a second-floor a mile away.
- they responded over email when I had questions.
- On moving day, they were on time, even when I asked them to arrive earlier than normal. (7:45 am)
- the team of 2 was smart and kind and just very agreeable and easy to work with
- the move itself was painless and everything arrived in great condition
- in the end, it took much less time than we expected, and cost closer to $560 (including a 5% discount for paying the balance in cash - highly recommend this!).
Please tip these guys well. They deserve it. I'll definitely be hiring them again.
Local Moving in Washington, DC
Given that this is not the first time I use Zip Moving and Storage, I can honestly say they continue to excel with their customer and overall amazing services.
When I gave them a call a little over two months ago, I instantly remembered why I had previously chosen Zip for my other moves.
David Novak, my Moving Coordinator, was very attentive to all my needs, and very understanding about the importance of my move (and my mental sanity). In less than 30 minutes, I had a quote, a confirmed date, and a full description of all the things I needed to know prior to my move. Their website was also extremely user-friendly, and it answered all of my questions prior to initially contacting Zip. I even decided to got for the full packing service... what a lifesaver and timesaver!!!! I was assured once again that everything will be handled for me without any stress -- and they were definitely right!!!
Long Distance Moving in Montgomery, AL
My husband and I moved to Montgomery, Alabama a week ago, and the best thing we could have done is hire Zip Moving!
They really made our long distance move one to remember. Since we moved from a 3 bedroom house, packing on our own seemed like a lot of work, that's why we decided to use their full packing services. We were amazed by their team work, every piece of our furniture and items were carefully wrapped and boxed. All of our fragile items were accordingly secured and packed. Great job by the guys. After a few days we were settled into our new home, all of our belongings arrived right on time- intact.
Very satisfied with the whole process, they really made moving super easy and we will recommend them to our friends and family in case they ever need to hire long distance movers.
Long Distance Moving in Addison, TX
The movers are thorough professionals, and our goods were packed very well and delivered in excellent condition. They are great value for money. Excellent packing and moving service. We highly recommend them
Long Distance Moving in Atlanta, GA
So happy for hiring this moving company, we had an amazing moving experience thanks to Zip Moving and Storage!
We hired long distance movers in Denver Colorado, about 2 weeks ago and couldn't wait to write some kind words, well deserved by the whole team! They offered unique services that I wasn't expecting. Moving a 3 bedroom house is definitely not easy, my kiddos had a very tough time with the transition, but the experts at Zip made our relocation go as smoothly as possible and we are forever grateful. Right away you can tell these guys are true experts, they handle all of our belongings with such care and respect, even disassembled our furniture and assembled it all once at our new place.
We will definitely use them in the future and recommend them to anyone we know!
Local Moving in Washington, D.C.
As someone that moves frequently, it is important to me to find efficient and dependable moving company. After speaking with Zip Moving and Storage rep, I was given a quote that was reasonable and decided to hire them.
I also decided to use their partial packing services. On the big day, 2 young men showed up and were super friendly and energetic.They carefully secured my glass table top, TV and my mattress, I was very happy. All my belongings were loaded quickly and transported to my new location.
At the new destination, the apartment layout made it impossible for my sofa to go through the front door, but the movers had a quick solution. They strapped and secured the sofa and miraculously managed to hoist my sofa through my second floor balcony into my apartment fast and without any damage. Great team work by the movers!
The sales rep was there for any questions i had along the way, overall great job by the entire team.
Will definitely hire Zip for my next move and recommend to anyone looking for a reputable moving company!
Long Distance Moving in Naperville, IL
Zip Movers arrived promptly at the time with all the necessary equipment. Excellent communication, reliable, and professional. Excellent value for money. I would recommend it!
Moving Labor in Baltimore, MD
Excellent service and hard working guys! They got the job done in a great time, and were also friendly and courteous to work with. I would recommend them for anyone's move.
Moving Labor in Urbana, MD
Just wanted to drop a quick note and let everyone know that Zip Moving & Storage is the company you want.
I recently moved and had the best experience with them. From the sales representative to movers, the whole team was extremely easygoing and managed to get me settled into my new place in no time. I was worried for my collection of paintings, but the movers handled them exactly how I wanted and they were transported without damage like all of my other belongings. Great service at a low cost.
I would highly recommend them, they made my move a lot easier than I thought it would be.
Office Moving in Kennesaw, GA
Helpful when I made my office move. Got the time and day I requested, which moved along without a hitch on the day. The best moving services in Atlanta.
Local Moving in Chevy Chase, MD
Excellent experience with Zip Moving And Storage. Peter was extremely responsive and helpful, and the team of movers was very professional, careful, and pleasant to be around. Elvis, David, and Marco were very professional, quick, and took excellent care of our belongings. Everything went as planned.
Jackie Tuttalo.
12/23/2020
Local Moving in Washington, DC
Hired Zip in July 2016 for an In town move.
Guys were very professional. Came on time and packed up our valuable items such as art work and lamps with great care. Zip did a great job on our move. It was the first time we hired movers for a move and they were worth every penny. Highly recommend them.
Local Moving in Potomac, MD
I used Zip Moving to move from Rockville to Silver Spring last month. I had never used a moving company before, and was hesitant to say the least. Edwin and Orlando showed up on time got to work immediately. They were efficient, respectful, and professional. Unpacking was the hardest part! I can't image moving without a company in the future and I will definitely hire them again.