The moving company in Arlington, Virginia that can safely move you across the city, county, and state! You can expect professional assistance and affordable prices from Zip Moving & Storage! With us, your needs and expectations will be met! Start your quote today and find out what all the buzz is about.
Moving Details
Next

Location Details
Next

*We respect your privacy, we don't share your name with others.
SUBMIT

Your information is essential to receive your moving quote.
*We respect your privacy, we don't share your email with others.
VIEW QUOTE

Your phone number will help us provide you with the most accurate moving quote.
PLEASE ENTER
YOUR PHONE NUMBER
*We respect your privacy, we don't share your phone number.
GET MY QUOTE

Help Us Out
How did you hear about us?
Your request was sent!
Please check your inbox to see the quote.
One of our move consultants will reach out as soon as possible regarding your request.
Disclosure: Phone calls between you and us may be monitored and recorded. You agree that Zip Moving And Storage can make calls and/or send text messages to you at the telephone number associated with your account. Consent may be revoked at any time by calling 855-947-6543 or email info@zipmoving.us

Top Rated Arlington Movers!
Thousands of happy customers and growing every day!
Arlington's Favorite Moving Company
Looking for an Arlington moving company that prides itself in customer satisfaction? That disassembles and reassembles your furniture free of charge? Doesn't have any hidden fees, and it's near you? Look no further! Zip Moving and Storage got you covered on all fronts! 

With seasoned moving experts taking care of your items, you won't have anything to worry about but just to point in the right direction. We will ensure that your needs and expectations are met from beginning to end. Start your free quote today and see for yourself why so many people are turning to Zip Moving and Storage as their top choice for a local Arlington mover.
Moving Services that ZIP offers in Arlington, VA

Are you planning to retire in Bluemont? We are the right moving company for seniors of all generations!

If you need to move a single item or only a few belongings, our small move service is perfect for your needs!

Need to move quickly? Zip Moving and Storage has experience executing quick moves with the utmost care and dedication!
Our top Arlington moving tips
Did you know Arlington got its name from the Earl of Arlington and the Arlington Plantation?

Today, the Arlington Plantation is better known as the Arlington National Cemetery. Nestled along the scenic banks of the Potomac River, Arlington represents the heart of the vibrant metropolitan area. 

What's so great about Arlington? Well, for starters many things. From its climate, business corporations, and health care to tourist attractions.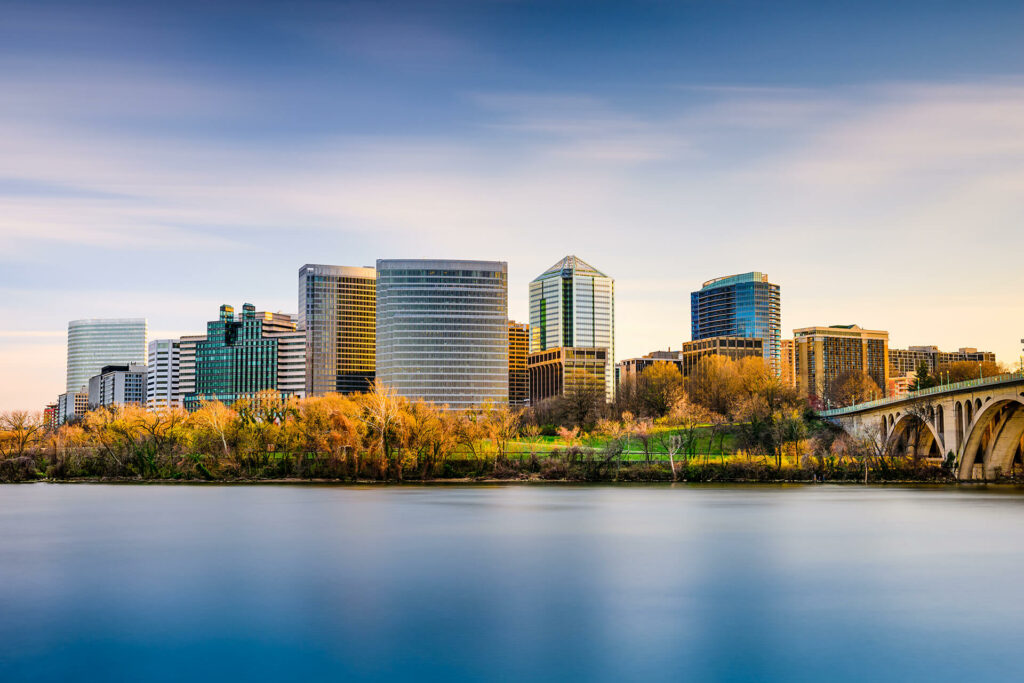 Climate – Arlington can be your perfect place if you are a fan of warm and sunny summers. In contrast, wintertime can be quite cold and even snowy. So, you do get the best of both worlds! Arlington experiences a delightful range of temperatures throughout the year, fluctuating between a cozy 28°F to a pleasant 87°F.


Living expenses – Arlington's cost of living is 41% higher than the national average. This means Arlington offers a wonderful life filled with many unique opportunities. Its local economy is absolutely thriving and booming. 


Real estate prices – The same goes for the Arlington real estate market. Within Arlington, you will find two areas, North and South. These two sides of Arlington are equally beautiful, but they differ regarding real estate prices and offers. The diverse real estate landscape in these two areas caters to a wide range of preferences, ensuring there's something for everyone in Arlington. The home value showcases various properties reaching an average value of $769,757. 


Prominent schools in Arlington

– Arlington is famous for its reputable public schools. If you are seeking quality education for your kids, this is the place to go. The Arlington Public Schools (APS) community is known for its dedication to academic and educational excellence and creative teaching methods. Some of the best schools include

Arlington Traditional

,

Arlington Science Focus

, and

Tuckahoe Elementary.


Recreation areas – If you are a nature lover, you will be captivated by the vast green sanctuary surrounding the Dominion Hills area. This can be an ideal escape from the hustle and bustle of fast city life. The famous Rocky Run Park is also perfect for relaxing evening activities.


Navigating the streets of Arlington

– If you are a regular commuter, you can relax knowing that Arlington has many different transportation options. Arlington is one of the top places where traffic is primarily hassle-free because it has an efficient and relatively fast transit system. Buses and trains are well-connected, making commuting easy for all residents.
How Do We Give The Best Moving Experience in Arlington, VA?
Fill out the basic information regarding your move, like date, zip codes, size of the move, type of services you are looking for, etc…

Those are all important pieces of  information that will help us provide you with an accurate quote. Finding a moving company can be overwhelming, but we make it easy!
2. Get a Precise Estimate
With a phone call, a virtual survey, or even an in-home, we would be able to go over what to expect on moving day. Either way, we will ensure that all the details are covered before scheduling so there wouldn't be any surprises.
A 26-foot truck will come to your door with our experienced movers. Apart from wrapping and protecting your items to ensure everything is moved safely, they will also reassemble and disassemble the items at no additional charge.
Seeing our clients smile at the end of the move is our goal each and every day. That is why we love hearing your feedback! On our follow-up call at the end of the move, feel free to let us know what services we can improve on.
Arlington Loves Our Movers
Very awesome experience! Zip movers are punctual, and professional. They were once meeting me at my storage unit, unloading my belongings from my U Haul truck, and the second time bringing everything to my new home. Priced to fit your budget, Try them you'll be glad you did.
This is my third time moving with zip. Every single time they've been early, quicker than expected, and courteous. Milos and his team were great!
Thank you Zip & the team for all your hard work!

From speaking with the sales agent (David) who was very experienced and courteous to Milos and his crew who I met on the move day, I only have the kindest words to say. ...