FULL SERVICE MOVING COMPANY
We are a full-service moving company, always ready to relocate your belongings safely across the city or state. We provide a first-class moving experience and affordable prices for all our customers. Start your quote today and see what all the buzz is about!
Moving Details
Next

Location Details
Next

*We respect your privacy, we don't share your name with others.
SUBMIT

Your information is essential to receive your moving quote.
*We respect your privacy, we don't share your email with others.
VIEW QUOTE

Your phone number will help us provide you with the most accurate moving quote.
PLEASE ENTER
YOUR PHONE NUMBER
*We respect your privacy, we don't share your phone number.
GET MY QUOTE

Help Us Out
How did you hear about us?
Your request was sent!
Please check your inbox to see the quote.
One of our move consultants will reach out as soon as possible regarding your request.
Disclosure: Phone calls between you and us may be monitored and recorded. You agree that Zip Moving And Storage can make calls and/or send text messages to you at the telephone number associated with your account. Consent may be revoked at any time by calling 855-947-6543 or email info@zipmoving.us

Thousands of happy customers and growing every day!
Moving services suited for your every need
We will manage your move to perfection, from packing your most valuable items to safely transporting them to our moving trucks. There is no moving task that we can not handle!

You will receive precise and transparent prices for all your moving services. With our moving company, you will know where you stand. We have designed moving services and packages to fit your specific needs and demands. Tailored moving services and top-notch assistance – that's what Zip Moving and Storage guarantees!

No matter how big or small your move is, our team can handle anything. From a 1-bedroom apartment to a 6-bedroom home to an office or warehouse, we're here to help!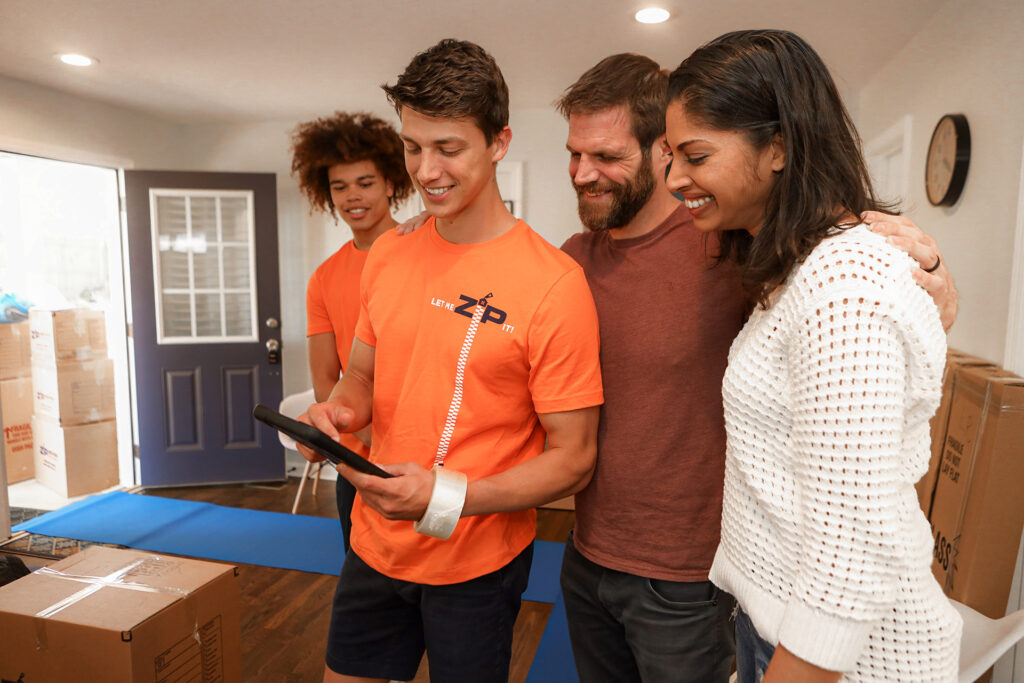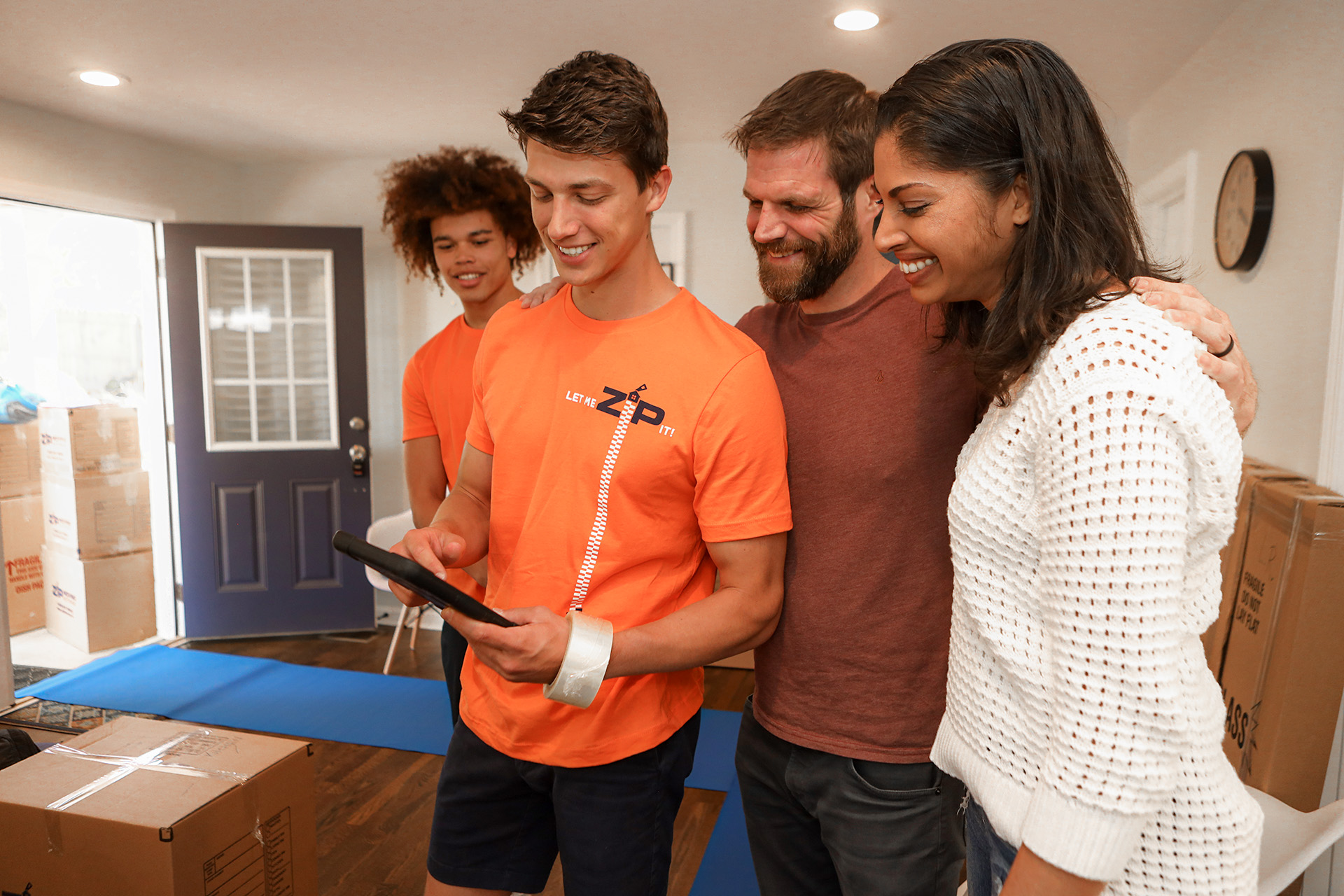 Our moving services will show why we are the right moving company for seniors. We assure you that our senior moving services will sweep you off your feet.

Always at your service with our nimble moving service! You need us to relocate just one item or a couple of smaller ones? Not a problem for us.

We can assist with your student move! Zip has helped many students move to their new dorms. Our student moving service has got you covered.

Need to move quickly? We got your back even in a hurry!
Do you need moving services in any of these cities?
The following cities are just some of the areas where we operate. If you don't see your town listed below, don't worry! We cover an even greater area! Please give us a call at 855-947-6543 for more information.
Is Zip Moving and Storage licensed through FMCSA?
The Federal Motor Carrier Safety Administration (FMCSA) is a United States government agency responsible for regulating and overseeing the safety and security of commercial motor vehicles (CMVs).

We are licensed by The Federal Motor Carrier Safety Administration (FMCSA) and hold active USDOT and MC numbers, demonstrating our credibility and commitment to safety.
How long has Zip Moving and Storage been in business?
Our journey began in 2014 in Rockville, Maryland. Since then, our moving company has been successful in moving business, growing and earning the esteemed position of No. 877 on the prestigious Inc. 5000 list. We are truly committed to offering exceptional moving services to all our customers. That's why we take great pride in our legacy and providing different moving services.
Do our movers disassemble and reassemble furniture?
To put it simply, certain furniture pieces may need to be disassembled for transportation, and our movers can handle that with professionalism and efficiency. Bed frames, bureaus, vanities, large dining room tables, and bookcases or shelving units can all be disassembled and wrapped separately to ensure their protection during transit. Rest assured that your move will be a seamless journey with us, as we take care of every detail, making it easy for you every step of the way.
Is this company a broker or a carrier?
We want to clarify that our moving company, Zip Moving and Storage, is a carrier, not a broker. We have two divisions: Zip MD, which handles both interstate and intrastate moves, and Zip GA, which focuses on intrastate moves within Georgia.

As a carrier, we physically transport your belongings to the destination. We act as the main organizer of the entire moving process. At Zip Moving and Storage, we have our own moving consultants who will guide you through the booking process. Once the details are sorted out, we will organize one of our trucks to transport your items from point A to point B.
Our Customers Adore Our Moving Services
Went in nervous about my local move given all the moving horror stories. I was pleasantly surprised by the great customer service from securing a quote to final payment. The virtual inventory was a great way to get a realistic quote.
We had the best experience with Zip Moving and Storage. Rico and Gullermo were amazing!! They were very upfront about all the nitty gritty details and even called to see if they could come a little early to speed up the moving process.
Professional. Everything was done quickly, efficiently, safely, and consciously. Everything I expected and more. Alex, Julio, and Jacob were an effective team and enjoyable to work with. No complaints. The best mover experience I've had. The affordable price was a bonus. Thank you, Zip movers!
I can't thank you guys enough for a stress free move. Edwin and his team member took great care in moving me from my moms home to my brand new house. I was so worried about damage to my furniture or new home, but they took extra care.
Hector and his team were amazing! They worked non-stop; packed, moved and unloaded my belongings in 8 hours! Thank you for making this stressful move stressless.
Great service from initial contact to follow up, scheduling and finally the actual move. The team that moved our bookstore office was punctual, quick and easy to work with. Highly recommend!