ZIP MOVING & STORAGE CAN HELP YOU OUT!
Get your free
MOVING QUOTE
Phone numbers
(855) 947-6543 - Main Number
(202) 905-0607 - Washington D.C
(770) 799-2596 - Georgia
(301) 637-8074 - Maryland

LOCAL WASHINGTON DC MOVERS
With Zip Moving DC Movers, the move is finally stress-free and secure. You know that for sure: friends and acquaintances have no time or little desire to help you with the move.
Regardless of whether you are moving for business or pleasure, the local movers of our company carry out moves professionally. Since your satisfaction is particularly important to us, you pay only when the move has taken place. Zip Moving & Storage also serves local moves in Northern Virginia and Maryland.
How nice that there is moving company in Washington DC, such as Zip Moving & Storage, that not only give you high-quality service but also ensure you against possible damage during moving to Washington DC.
So your move will no longer be associated with stress. In the future, you can think about setting up your new home, while our out of state movers will do the unpleasant work for you, such as transport.
The team at Zip took great care in making sure all of our items were well wrapped and protected, and were incredibly efficient with the packing up and the delivery. I would 100% recommend this team for anyone looking for prompt, professional, and courteous movers.
Moving has gotta be one of the most stressful events in life, however, Zip Moving and Storage Co took 100% of that stress away from start to finish for my April 2018 move.
They provided the highest quality customer service I have ever experienced from a moving company. I was in the Navy for 25 years and moved around but these 3 gentlemen were the most exceptional movers I have ever met. I would hire them in a second!
The movers were quick and efficient, and carefully documented all of my items before putting them on the truck. I look forward to using Zip Moving and Storage again in the future.!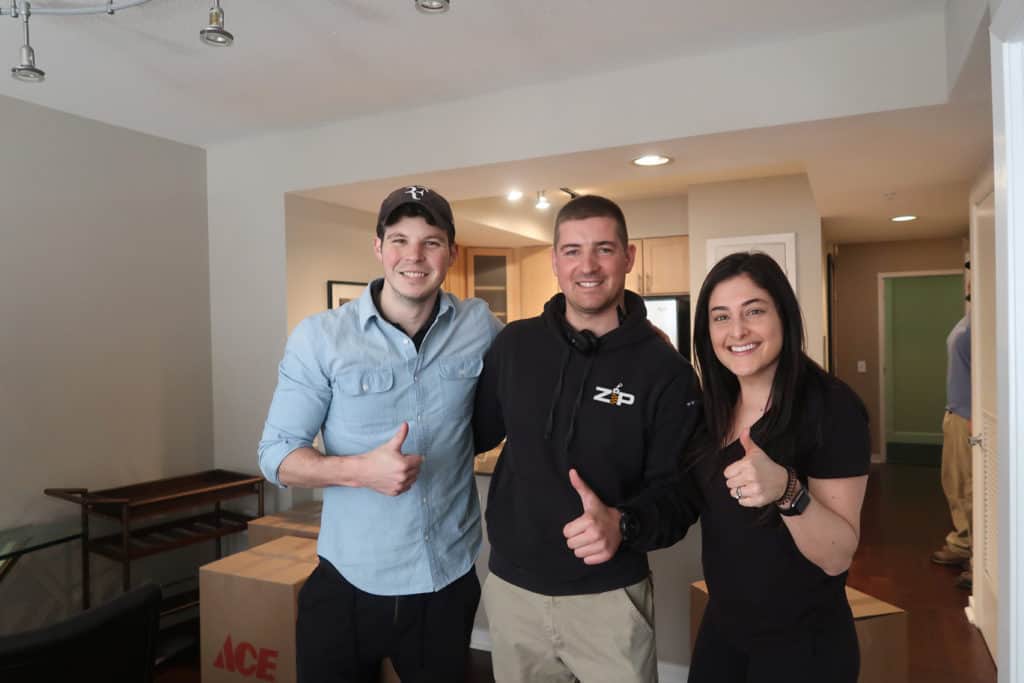 Zip Moving & Storage makes your move as simple as possible. Our team of furniture movers in Washington DC are based online to be easier for our customers.
Have you been hopelessly comparing Washington DC moving companies?
You don't need to sacrifice quality movers to save money. Moving companies in Washington DC are not all the same. Trust only professional furniture movers an packers in Washington DC like Zip Moving and Storage. Curious to see how our rates stack up against other Washington DC furniture movers?
Our expertise and experience allow us to offer unbeatable prices along with a high-quality service. Ask your friends, chances are big to have heard of our professional furniture movers in Washington DC and our referral program. Our moving company is streamlined and our staff knows what they need to do. Zip Moving and Storage will make settling into your new home as easy as possible.
Just enter a few details about your individual needs and our experts will provide a reliable and affordable quote, or get a video estimate.
SERVES WASHINGTON DC AND NEARBY AREAS
Chevy Chase
Colonial Village
Shepherd
Park
Barnaby Woods
Friendship Heights
American University
Park
Spring Valley
Palisades
Foxhall
Crescents
Foxhall Village
Wesley Heights
Cathedral
Heights
Georgetown Reservoir
Georgetown
Burleith
Hillandale
Cleveland Park
Glover Park
Woodley Park
Kalorama Heights
Dupont Circle
Lanier Heights
West End
Lanier Heights
Mount Pleasant
Crestwood
Woodland-Normanstone
North Portal Estates
Golden Triangle
Foggy Bottom
Cardozo
Shaw
Zip Moving and Storage 8620 Dakota Drive Gaithersburg, MD 20877
(855) 947-6543