No matter how big or small your move is, we got you! Our small move service is the perfect choice for customers with only a few belongings. We are available 7 days a week, so feel free to contact us and get your free quote today!
We Make Moving Easy!
No Hidden Fees

Professional Movers

Fully Licensed
Moving Details
Next

Location Details
Next

*We respect your privacy, we don't share your name with others.
SUBMIT

Your information is essential to receive your moving quote.
*We respect your privacy, we don't share your email with others.
VIEW QUOTE

Your phone number will help us provide you with the most accurate moving quote.
PLEASE ENTER
YOUR PHONE NUMBER
*We respect your privacy, we don't share your phone number.
GET MY QUOTE

Help Us Out
How did you hear about us?
Your request was sent!
Please check your inbox to see the quote.
One of our move consultants will reach out as soon as possible regarding your request.
Disclosure: Phone calls between you and us may be monitored and recorded. You agree that Zip Moving And Storage can make calls and/or send text messages to you at the telephone number associated with your account. Consent may be revoked at any time by calling 855-947-6543 or email info@zipmoving.us

Thousands of happy customers and growing every day!
Zip Moving & Storage is here to take the load off of your shoulders with any size move. From moving a couple of pieces of furniture to a one-bedroom apartment to an entire house, there is no move too big or too small for our experts to handle!


What is a small move load?
In the moving industry, a small load move is considered to be any move under 2000 lbs. Perhaps you are looking to relocate the belongings of a small apartment, or some boxes and a few furniture pieces? Don't hesitate to call Zip Moving & Storage – we are able to help with a small load move locally or long-distance.
Here are some examples of a small load move:
One-bedroom apartment

Small office move

Moving in/out of a college/university dorm

Moving big pieces of furniture

Helping your loved ones move to an assisted living facility
Zip Moving & Storage can assist you with every step along the way, from packing, loading\unloading, transporting, and rearranging your belongings quickly and efficiently.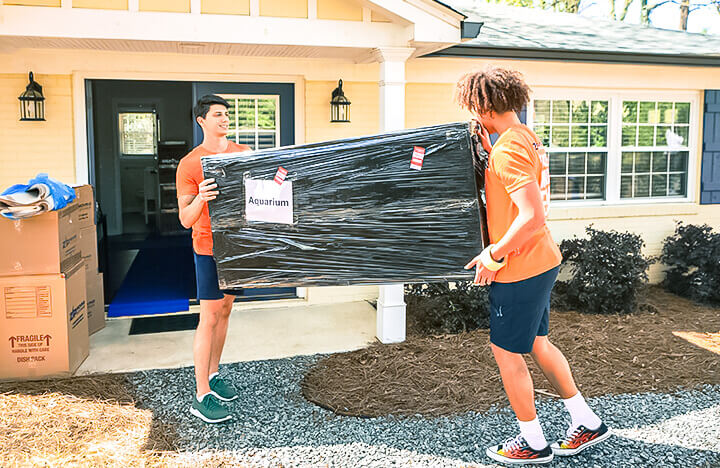 Here are our prices for small moves completed within a three-hour window with a team of two movers. Keep in mind, every move is unique and the time to complete the move varies.
| | | |
| --- | --- | --- |
| Small Move | 3-Hour Moving (minimum) + Moving Team | Price |
| 1 sofa + 1 mattress | 3-hour (minimum) with 2 movers | $520 |
| 5 boxes | 3-hour (minimum) with 2 movers | $520 |
| 1 sofa + 1 table + 1 dresser + 3 boxes | 3-hour (minimum) with 2 movers | $520 |
| Piano (upright) | 3-hour (minimum) with 2 movers | $770 |
*Small move charges have been given for the sake of the example
What is included in your move with Zip Moving & Storage?
Zip Moving & Storage is dedicated to bringing the same level of professionalism, expertise, and care to every scale of move.
What is included when you book a move with us:
Personal moving coordinator
Free quote and consultation
Loading, transporting, and unloading household items
Disassembly and reassembly of your furniture pieces
Full Value Protection (unless waived) 
Rearranging of furniture
Qualified drivers and expert moving team
Fully equipped moving truck
Smaller moves often require special considerations such as moving your belongings in/out of small tight spaces, multiple flights of stairs, and reserved parking spaces. The Zip Moving & Storage team has years of experience in the industry, making your move easy, seamless, and stress-free.
We offer a variety of add-on services, to tailor your move uniquely to you, such as:
Packing

Storage

Disposal of furniture and household items

Rearranging and staging of furniture

Additional move protection options

Minimum hours for a local move?
Every move is unique, therefore the time to complete the move will vary. Factors such as the inventory, the distance, and the services you will need will determine how long it takes to complete the move. For example, the total time it takes to complete a local move for a 1-bedroom apartment is typically between 3-4 hours. Note that Zip Moving & Storage has a 3-hour minimum for local moves.
If you have a few furniture pieces to relocate or store for some time, don't hesitate to call us at 855-947-6543. Zip Moving & Storage will handle your move with the utmost care!
Our Moving and Storage Reviews 
From booking through the move, everything was handled in a punctual and professional manner. Zips has a very transparent and fair cost structure, and never once did they try to upsell me. Booking was exceedingly simple.
This moving company met and exceeded my standards. The movers were very professional and courteous. They packed and moved my things in a efficient and effective manner.
a year ago- We had a great experience with Zip Moving and Storage. The price was much lower than the competitors and the movers were very courteous and professional. We chose partial packing and they did an excellent job.
Zip Moving and Storage really exceeded our expectations! I don't usually take the time to write a review (unless it's a terrible experience ) but these guys are superb.
These guys did a wonderful job for my bestie, The Duchess. They were polite and efficient. I wouldn't hesitate to use them again.
Read more of our Moving Service Reviews