Discounts, coupons, and deals for moving services
ZIP MOVING & STORAGE CAN HELP YOU OUT!
Moving Details
Next

Location Details
Next

*We respect your privacy, we don't share your name with others.
SUBMIT

Your information is essential to receive your moving quote.
*We respect your privacy, we don't share your email with others.
VIEW QUOTE

Your phone number will help us provide you with the most accurate moving quote.
PLEASE ENTER
YOUR PHONE NUMBER
*We respect your privacy, we don't share your phone number.
GET MY QUOTE

Help Us Out
How did you hear about us?
Your request was sent!
Please check your inbox to see the quote.
One of our move consultants will reach out as soon as possible regarding your request.
Disclosure: Phone calls between you and us may be monitored and recorded. You agree that Zip Moving And Storage can make calls and/or send text messages to you at the telephone number associated with your account. Consent may be revoked at any time by calling 855-947-6543 or email info@zipmoving.us

Every move is equally important to us, and we want to ensure our customers have the best moving experience.
Zip Moving & Storage is happy to provide customers with various moving discounts and generous offers. Check out our newest moving coupons down below.
We bet you'll love them!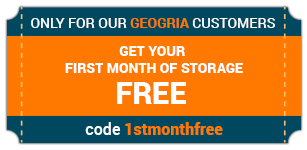 10% OFF for
Long Distance Moves
– code ZIPLD10%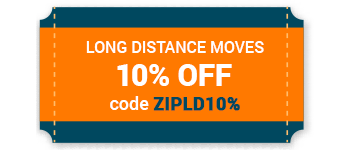 5% OFF for
Monday – Thursday Local Moves
– code ZIPWEEKDAYS5%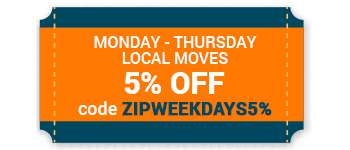 Trying to save on your move?
Plan ahead and save on your August move by booking now.
Moving consultants are available to speak with you 7 days a week.
Contact our moving consultants (855-947-6543) to receive your quote and grab the summer deal!
Keep in mind
*Limited time available
**Rates tend to increase 07/20
Receive 3% OFF of your entire move – Special Group
Zip Moving & Storage wants to do our part to show our appreciation for the people who are always there when we need them most. Below is a list of those who can receive 3% OFF of their move:
Seniors
First responders
Veterans
Army
Keep in mind
*You will receive 3% OFF for cash payment*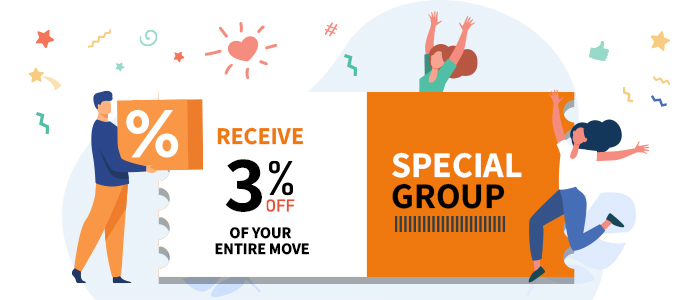 Receive 5% OFF of your entire move
We appreciate our customers who spread the word about our services and those who would love to use our services again. Read on to discover who is eligible for a 5% discount:
Referrals –

If your family member or friend referred you to Zip Moving & Storage, you will receive a

5% OFF

on our moving services. See our

Referral Program

for further details about what sweet deals you qualify for!

Early Booking –

Receive

5% OFF

your move when we provide you with a moving quote and you book your move the same day.

Repeating Customer –

If you used our services in the past and would like to move or store with our company again, as a returning customer you will receive

5% OFF.

 
Keep in mind
*Please note: Promotional deals and discounts can not be combined together*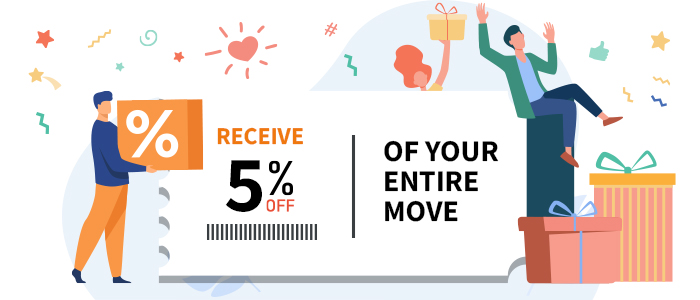 Summer months are the busiest and most expensive for moving. During the off-season, we are able to provide you with better deals and more availability to assist you with your move. 
Off-season deals you can receive include:
 Local moves –

During the off-season,

the lower rates for local moves

will result in significant savings for your moving cost. For more detailed information, consult with our moving coordinator.

 

Long-distance moves –

On all of our long-distance moves, a discount will be applied to your final moving price. The discount can vary from

5% OFF up to 15% OFF,

depending on our availability. Consult with our moving coordinator, about your move and receive the best deal possible!

Planning your move in the off-season can result in huge discounts, saving you a large chunk of money in the long run.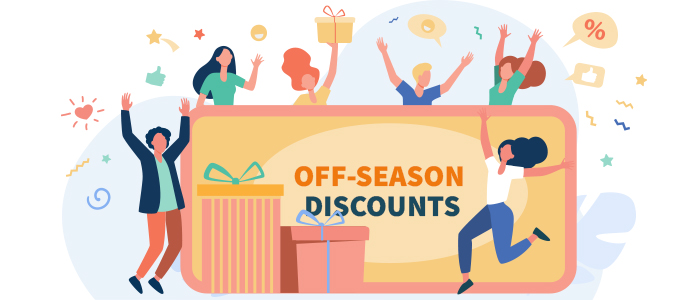 The 2021 Black Friday deals event is just around the corner! The date of this year's Black Friday falls on Friday, November 26th, and besides amazing deals at your favorite retail places, now you can also get a special discount on your move!
First 10 customers who book their move with us on that day will receive 15% off of their entire moving price! (only for local moves in the DMV- Washington DC, Maryland, Virginia and Atlanta, Georgia).
This is your code: BlackFridayZip 
How to redeem our code: When you give us a call, state the code above to your personal moving consultant to redeem it.  
Don't miss out on this great opportunity to receive the biggest discount with Zip Moving and Storage! 
Call us at 855-947-6543 and book your move!
Countdown To Black Friday
How do I use online discounts?
Zip Moving & Storage cares deeply about each customer.

Whether you are a senior, veteran, or returning customer, learn how you can receive a special deal to cut the cost of your relocation below.

We have some special discounts and offers for you, so please check them out:
Military, Senior, Veteran 3%

– you will get 3 % off your move if you don't have some other discount

Same-day booking 5%

– if you book your move on the same day of getting your precise moving quote

Virtual Survey 5%

– if you decide to do a virtual survey with us, you will automatically get 5 % off (for 3 + bedroom homes)
Keep in mind
*Please note: Discounts are not able to be combined!
Customer satisfaction is our top priority, which is why we love to create opportunities for our customers to receive the best moving deals. Please let us know if you belong to any of these groups; our moving coordinators will do everything else! 

To receive these discounts, contact our moving coordinator at 855-947-6543. They will discuss the details of your upcoming move and provide you with all information within minutes.