how to get a moving price guarantee?
ZIP MOVING & STORAGE CAN HELP YOU OUT!
Moving Details
Next

Location Details
Next

*We respect your privacy, we don't share your name with others.
SUBMIT

Your information is essential to receive your moving quote.
*We respect your privacy, we don't share your email with others.
VIEW QUOTE

Your phone number will help us provide you with the most accurate moving quote.
PLEASE ENTER
YOUR PHONE NUMBER
*We respect your privacy, we don't share your phone number.
GET MY QUOTE

Help Us Out
How did you hear about us?
Your request was sent!
Please check your inbox to see the quote.
One of our move consultants will reach out as soon as possible regarding your request.
Disclosure: Phone calls between you and us may be monitored and recorded. You agree that Zip Moving And Storage can make calls and/or send text messages to you at the telephone number associated with your account. Consent may be revoked at any time by calling 855-947-6543 or email info@zipmoving.us

ZIP MOVING & STORAGE OFFERS A GUARANTEED MOVING PRICE!
Moving prices at Zip Moving & Storage are competitive and accurate. Once you have received your moving estimate, your price is guaranteed! 
To prevent hidden costs throughout the moving process, it is important to provide Zip Moving & Storage with as many upfront details as you can. Furniture size, furniture value, and driveway accessibility are vital pieces of information that are used to formulate an accurate moving estimate.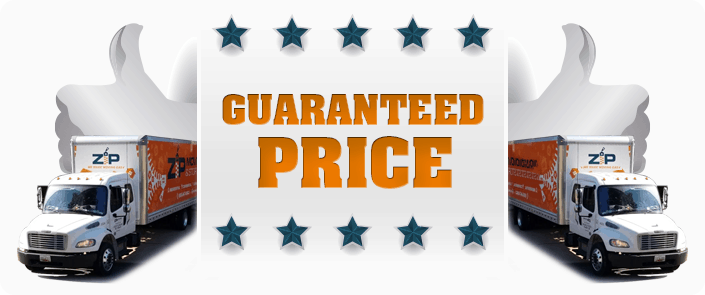 Zip Moving & Storage strives to provide a stress-free moving experience for our customers. We are known for being trustworthy and upfront with costs. With an accurate estimate, your price is guaranteed!
OUR AGENTS ARE ALWAYS AVAILABLE!
If you would like to update your inventory list or add additional services, our moving coordinators can schedule a Video Survey to provide you with a new estimate. 
If you would like to ship additional items on moving day, use additional packing, or add any additional services that were not included in the original estimate, a revised written estimate should be completed. This estimate must be signed prior to packing and loading the truck. Be advised that if there are more items than initially agreed upon, the moving company has two options: to cancel the move, or to create a revised written estimate.
Our moving coordinators are always available to answer any questions you may have throughout your move!