What is a revised written estimate?
ZIP MOVING & STORAGE CAN HELP YOU OUT!
Moving Details
Next

Location Details
Next

*We respect your privacy, we don't share your name with others.
SUBMIT

Your information is essential to receive your moving quote.
*We respect your privacy, we don't share your email with others.
VIEW QUOTE

Your phone number will help us provide you with the most accurate moving quote.
PLEASE ENTER
YOUR PHONE NUMBER
*We respect your privacy, we don't share your phone number.
GET MY QUOTE

Help Us Out
How did you hear about us?
Your request was sent!
Please check your inbox to see the quote.
One of our move consultants will reach out as soon as possible regarding your request.
Disclosure: Phone calls between you and us may be monitored and recorded. You agree that Zip Moving And Storage can make calls and/or send text messages to you at the telephone number associated with your account. Consent may be revoked at any time by calling 855-947-6543 or email info@zipmoving.us

WHAT IS A REVISED WRITTEN ESTIMATE?
An estimate or revised estimate, whether binding, non-binding, is a crucial part of moving paperwork.

A binding or non-binding estimate may be increased or decreased in price at any moment before the actual move begins. Following an adjustment in price, a revised written estimate is created. A revised written estimate is used if the customer decides to ship additional items, requests additional packing, or adds any other service that was not included in the original estimate.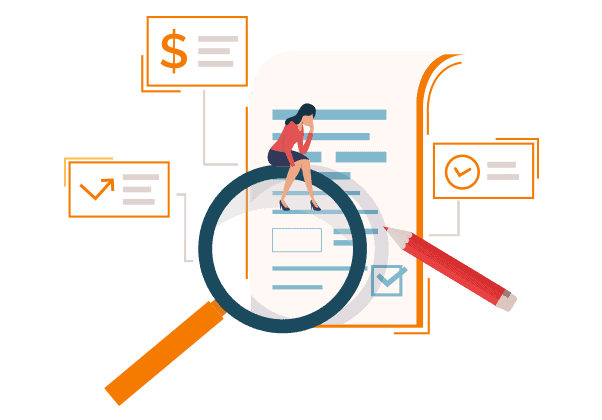 If there is a need for the revised written estimate, it will replace any other estimate that was initially drafted. The revised written estimate cancels the original estimate and acts as the new governing estimate. The revised written estimate must be signed before the shipment has been loaded.
The revised written estimate must be signed prior to packing and loading the truck.
Here's an example of when a revised written estimate would be necessary:
We, the movers, receive an over the phone binding estimate based on 200 items that need to be shipped. Upon arrival on pick-up day, we determine that there are 400 items that the customer wants to be shipped, instead of the original 200. The original estimate is then canceled and a revised written estimate is drafted. 
If there are more items than initially established, the moving company has two options:
To cancel the entire move

Create a revised written estimate (based on the new number of items)

If the customer signs the new revised written estimate, the price of the entire move changes, based on the additional items.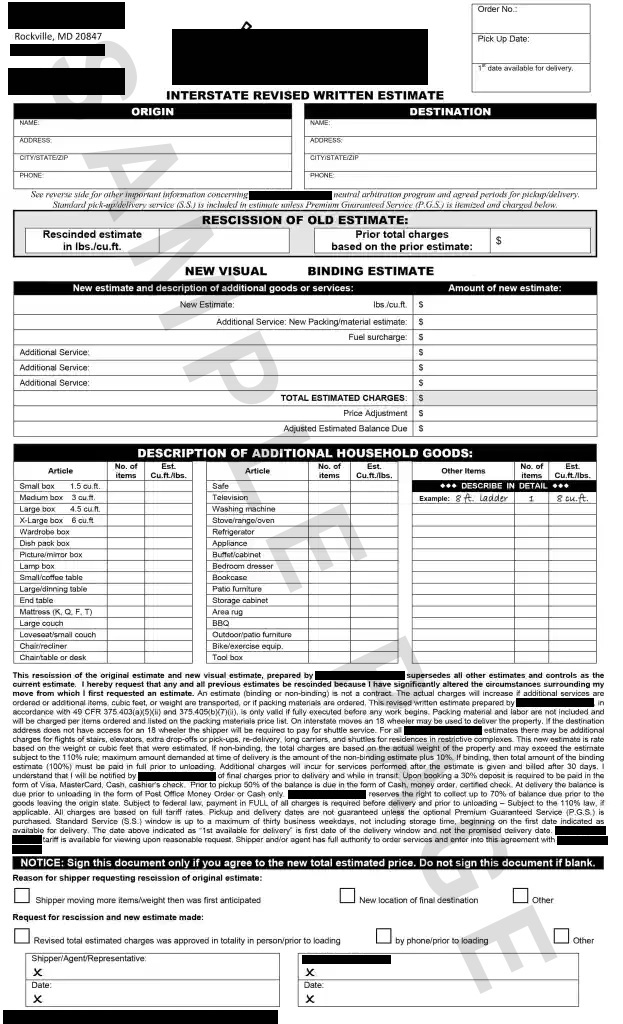 HOW TO AVOID A REVISED WRITTEN ESTIMATE?
If you do not want to be in a situation where a revised written estimate is needed, there are some steps that you can take.
First, make sure you list all of the items you wish to be moved so that the movers can provide you with an accurate estimate that will not need to be altered. You can also request an in-home estimate, which is the most accurate way of creating an estimate.
Zip Moving & Storage offers a video survey estimate, where our moving coordinators will schedule a video appointment with you. 
HOW DO MOVING COMPANIES MAKE MOVING ESTIMATES?
There are four ways Zip Moving & Storage can provide you with a moving estimate. You can talk with our coordinators over the phone, via our website, schedule a video survey, or schedule an in-home estimate. 
Phone Estimate 
Once in phone contact with your moving coordinator, you will list all of the items you have to move. The moving coordinator will then be able to provide you with an estimate. 
Website Estimate
You may also receive an estimate via our website, which is more precise than a phone estimate. You can choose the types of items you want to ship, how many boxes you need, etc. 
Video Survey
Our moving coordinators can go through the items in your home in a video survey. 
In-Home Estimate
If your home is within 50 miles of one of our warehouses, you can schedule an in-home estimate. Our professional movers will visit you and go through your inventory in person.
The teams at Zip Moving and Storage are trained to handle challenging moves. Their experience allows them to overcome any obstacle that might appear along the way. Zip movers take the utmost care when it comes to transporting items, as they possess the knowledge needed to handle even the most unique and valuable items.