ZIP MOVING & STORAGE CAN HELP YOU OUT!
Moving Details
Next

Location Details
Next

*We respect your privacy, we don't share your name with others.
SUBMIT

Your information is essential to receive your moving quote.
*We respect your privacy, we don't share your email with others.
VIEW QUOTE

Your phone number will help us provide you with the most accurate moving quote.
PLEASE ENTER
YOUR PHONE NUMBER
*We respect your privacy, we don't share your phone number.
GET MY QUOTE

Help Us Out
How did you hear about us?
Your request was sent!
Please check your inbox to see the quote.
One of our move consultants will reach out as soon as possible regarding your request.
Disclosure: Phone calls between you and us may be monitored and recorded. You agree that Zip Moving And Storage can make calls and/or send text messages to you at the telephone number associated with your account. Consent may be revoked at any time by calling 855-947-6543 or email info@zipmoving.us

Most people can plan and pack for a move in around 8 weeks, but sometimes life has other plans! You may be offered a last-minute relocation for an exciting job opportunity, or you have simply run out of time to pack all of your belongings. Between planning your move, gathering necessary supplies, hiring professional movers, finding a new place to live, and packing all of your belongings, moving quickly can be a tough task.
Fortunately, the team at Zip Moving & Storage has years of packing and moving experience. If you are facing a last-minute move and are struggling to figure out how to plan and pack, follow these effective steps that will speed up your moving process:
When you're in a time crunch, calling a professional moving service will help alleviate the stresses of moving. Explain your situation and that you're in need of last-minute movers – many companies offer last-minute and even same-day moving services! Professional movers are highly experienced and trained in these situations, making them your best option for safely and securely moving your belongings on time. Moving companies also offer an array of services, such as furniture disposal services, efficient packing, or storage units for long or short-term storage.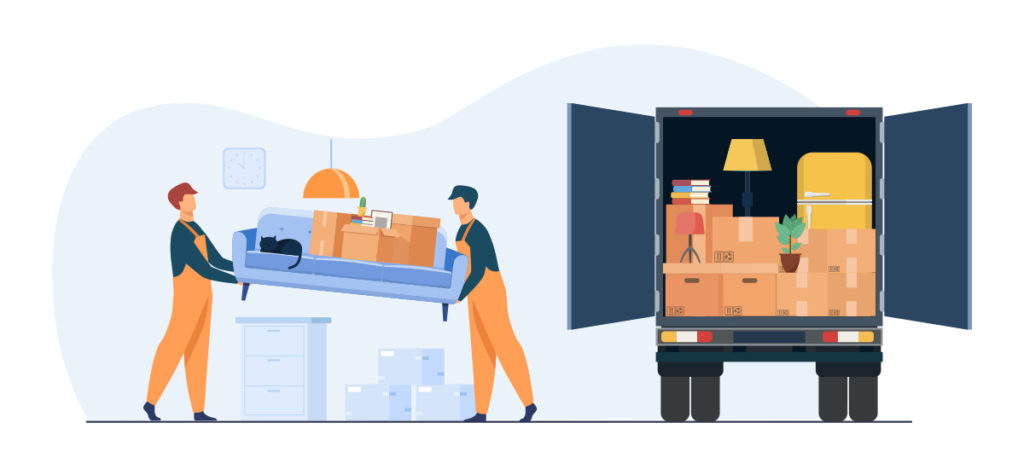 When moving last minute, it pays off to be smart and efficient with your packing. Getting rid of items you don't use or need will make your move faster, easier, and cheaper! 
The best way to declutter is by going room to room and separating items into three piles:
Keep –

items you frequently use and need will stay in 'keep' piles and be packed
Donate –

belongings you don't really use or need that can be donated to the goodwill or given to family or friends

Toss –

dispose of unwanted items
If you are moving within a short time frame, the best thing to do is buy packing supplies directly from a moving store. Make a list of all of the things you need, such as boxes, tape, markers, scissors, bubble wrap, etc. If you're moving locally, reduce your carbon footprint by searching for green movers who supply plastic bins for your packing needs. Not only is it good for the environment, but also eliminates the tasks of finding boxes for moving and getting rid of them after the move. Most of these companies will drop the bins off on the scheduled day and pick them up once you've finished unpacking.
In a situation where time is of the essence, there is really no time to take your time packing, you simply need to do it. Here are a few pointers on efficient and quick packing:
Pack room by room –

Start packing room by room and don't forget to label all of the boxes. Put things where they fit, even if your kids' toys are in the same box as the contents of your filing cabinet. As long as everything is packed safely and securely, you can deal with sorting once you're in your new home.
Wrap breakables with towels and socks –

  Before packing fragile items such as glassware, vases, and other fragile items, wrap them in soft items you're already packing. This will save you money on packing supplies as well!

Pack clothes as they are –

Don't worry about folding clothes and packing them in order. The fastest way to pack is by simply packing clothes as is. To save boxes, pull out your suitcases and pack whatever you can in them.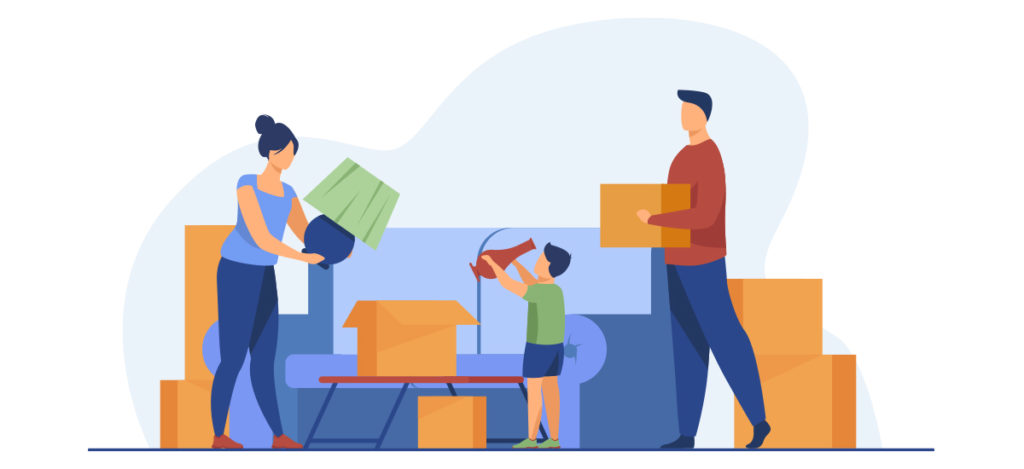 5. Ask For Help From Your Family and Friends
We understand that many people love to do things on their own, including moving. However, if you are in a pinch, call some of your close friends, family members, or even neighbours to give you a hand. Most people are happy to help someone that's going through a sticky situation and is needing to move last minute. It's likely they have been in a similar situation and can relate to how stressful the case might be.
6. Pack An Essentials Bag
When you're moving, consider packing an essentials bag for the first few days in your new home. Since you will not be unpacked right away, this will save you from ravaging through every single box to find what you need. This bag should contain a change of clothes, pyjamas, toiletries, and anything else you might need for the first couple of days. Keep this bag with you when moving and label it clearly.

Moving can be stressful no matter how much time you have to prepare. If you're crunched for time, don't panic, focus on the big picture, write down important tasks, and follow our tips to make sure your belongings arrive safely to your new home. Zip Moving & Storage is here to help and make your move easy and stress-free!