WHAT KIND OF A MOVING BOXES I SHOULD USE?
ZIP MOVING & STORAGE CAN HELP YOU OUT!
Moving Details
Next

Location Details
Next

*We respect your privacy, we don't share your name with others.
SUBMIT

Your information is essential to receive your moving quote.
*We respect your privacy, we don't share your email with others.
VIEW QUOTE

Your phone number will help us provide you with the most accurate moving quote.
PLEASE ENTER
YOUR PHONE NUMBER
*We respect your privacy, we don't share your phone number.
GET MY QUOTE

Help Us Out
How did you hear about us?
Your request was sent!
Please check your inbox to see the quote.
One of our move consultants will reach out as soon as possible regarding your request.
Disclosure: Phone calls between you and us may be monitored and recorded. You agree that Zip Moving And Storage can make calls and/or send text messages to you at the telephone number associated with your account. Consent may be revoked at any time by calling 855-947-6543 or email info@zipmoving.us

Starting your moving process is an exciting time! By procuring the types of specific moving boxes you need early, you can avoid problems that you may encounter later in your moving process. Before buying miscellaneous boxes, make a list of the items you will be packing.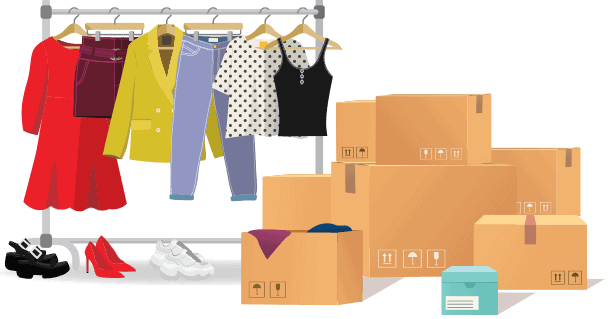 Due diligence will allow you to choose suitable moving boxes without purchasing too many. Moving boxes come in many different sizes and have been designed for moving specific items. The following list will discuss options and recommendations to help your move be as smooth as possible.
Types of Moving Boxes - Sizes and Packing Options
Having moving boxes by your side while moving is crucial. Here's a quick rundown on the different types of moving boxes:
Small Box – A small box, also known as a book box, is a 1.5ft3 box most commonly used for heavier items such as books, CDs, canned goods, or any items that will not break under the weight of other items. Small boxes are usually loaded into the moving trucks first.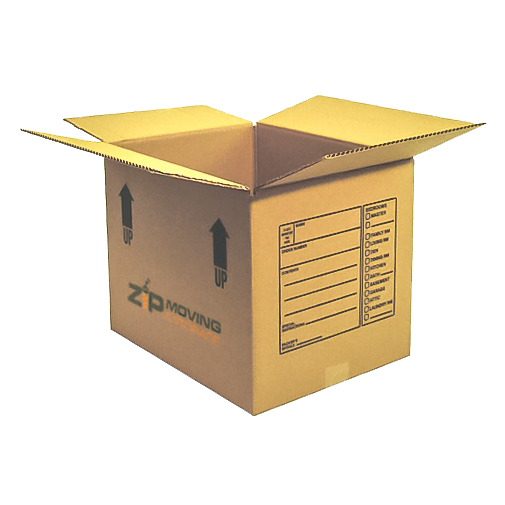 Medium Box – This 3ft3 box is used for packing clothes, electronics, or miscellaneous items from desk drawers or kitchen cabinets. Once loaded, these boxes are positioned in the middle of the moving truck because they are not excessively heavy.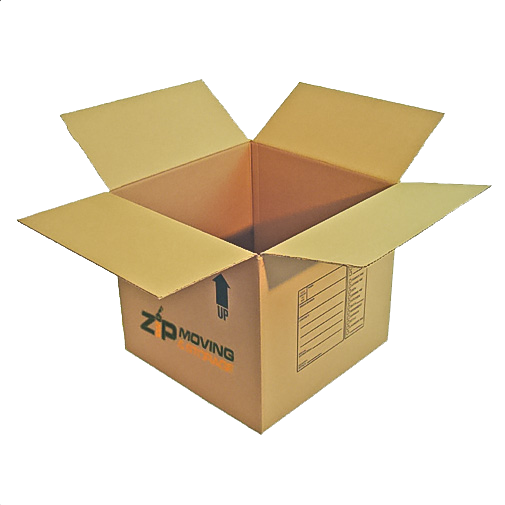 Large Box – With its 4.5ft3 capacity, this box is perfect for packing bulky items that do not weigh much – bedding, pillows, sweaters, stuffed toys, couch pillows, etc. Expert movers load these boxes towards the top of the moving trucks.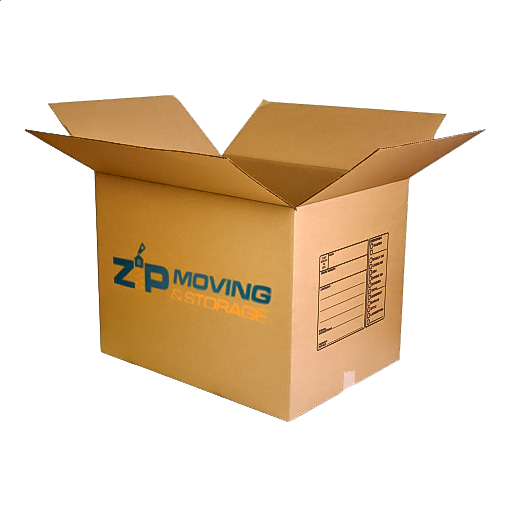 Wardrobe Moving Box – With 8.6ft3 volume and a height of 46 inches, this box is perfect for hanging clothes that you do not want to get wrinkled during your relocation and for clothes that are usually hung in a closet.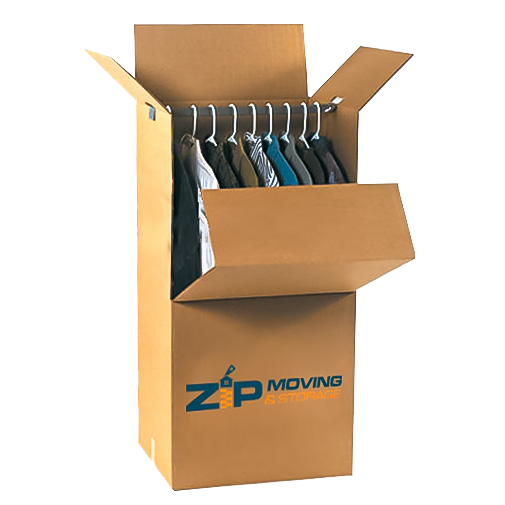 Dish Box – This 5.2ft3 box is specifically designed for packing delicate items such as glasses, plates, crystal, ceramics, and other fragile items. A dish box is reinforced with a double wall for extra durability. The professional packers at Zip Moving & Storage do not recommend reusing these dish boxes, as the structural integrity of the cardboard may be compromised during a move.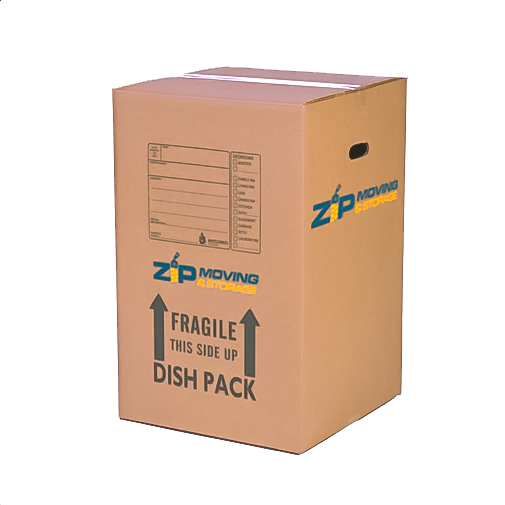 Picture/Mirror Box – this 3ft3 box is usually used for large mirrors, picture frames, TVs, glass shelves, or glass tabletops. The box comes in 4 interlocking pieces which can be adjusted for the size of the item being packed.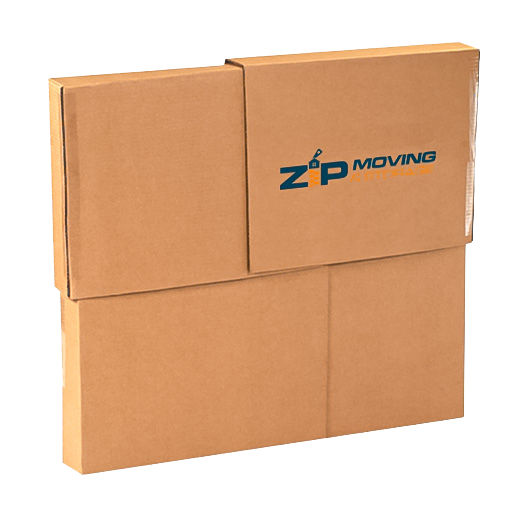 WHERE CAN YOU BUY A BOXES FOR MOVING
Everyone likes some competitions among friends. That is why we put 3 of these popular stores head to head to see which one would be the best option when it comes to packing materials. Be warned, the actual box sizes and shapes, and the amount of tape, look very different at each location. The moving supplies and the moving kits are different from store to store. Below are the different types of boxes and their prices for each store.
|   | U-HAUL | HOME DEPOT | LOWES |
| --- | --- | --- | --- |
| Book box | $1.39 | $1.38 | $1.33 |
| Medium box | $1.85 | $1.98 | $1.88 |
| Large box | $2.35 | $2.83 | $2.41 |
| Dish box | $6.95 | $6.98 | $4.88 |
| Mirror pack | $9.95 | / | / |
| TV pack | $22.95 | $33.98 | $39.98 |
| Wardrobe box | $13.95 | $17.98 | $17.48 |
| Packing Paper 200 sheets | $9.95 | $23.98 | $22.98 |
| Tape 30 yards | $3.95 | $4.24 | $4.66 |
Also worth mentioning is the program U-Haul started called Take a Box Leave a Box. After a move, customers can drop off still-good boxes at the nearest U-Haul. There you can pick them up and reuse them for free. Remember to return any good boxes left after your move is done. Pay it forward.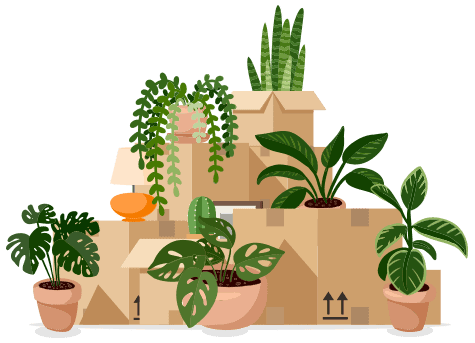 TIP: Rethink the idea of getting Moving Kits from any of these stores. They might seem like a good deal but they are usually double the price of individual items combined.
AVERAGE PRICES OF MOVING BOXES?
Online shopping is as fickle as it always has been and it is no different for moving boxes. In comparison to the boxes from the stores, there isn't that much difference regarding the size and shapes of boxes. The boxes tend to look very different from website to website. But not to worry, we have made a little comparison in pricing for websites as well. Below are some popular websites where you can order boxes for your move.
|   | U-LINE | Used CB Boxes | UBoxes |
| --- | --- | --- | --- |
| Book box | $1.58 25min | $2.07 25min | $2.18 25min |
| Medium box | $2.67  20min | $2.74  20min | $3.28  20min |
| Large box | $3.39  15min | $4.16  12min | $5.46  12min |
| Dish box | $10.68 5min | $12.98  4min | $11.68  4min |
| Mirror pack | $4.49  20min | $8.65  3min | $14.84  3min |
| TV pack | $20.70  5min | – | $30.94  1min |
| Wardrobe box | $22.65  5min | $17.31  1min | $19.97  1min |
| Packing Paper 400 sheets | $41.00  1min | $41.95  1min | $34.95  1min |
| Tape 30 yards | $5.25  6min | $5.23  2min | $4.70  4min |
ULine.com has the most variety for boxes for any type of move. They have specialized boxes for anything, from artwork to bicycles.
UsedCardBoardBoxes.com is an amazing environmentally conscious company. They take rejected boxes that were originally ordered by a manufacturer or retailer. The boxes might have a slight logo flaw or a label issue and then they give these cardboard boxes a new life. Last time we checked they saved 3,794,119 trees! 
FreeCycle.org is another kool resource to try. Simply select your area, then search for "free boxes" in the search bar at the top of the page. 
Facebook isn't only for posting family photos and unnecessary statuses. You can search "free moving boxes" in your town and see what pops up. 
There are many options when it comes to finding moving boxes.You can always check out the stores we listed to purchase new boxes, or social media platforms for free boxes to help you save a few dollars.
We know every house is different, but we created moving bundles based on our experience in the moving industry. You can purchase a moving bundle made especially for your particular needs.

If you choose our moving bundles, you won't have to worry about anything!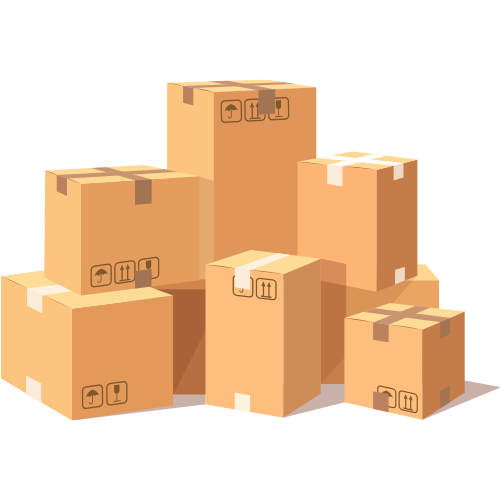 STUDIO Moving Kit –  The moving studio kit is specially made for a studio or smaller apartments. It includes moving supplies, boxes of all sizes, and quality packing paper.
1 BEDROOM Moving Kit – This moving bundle is perfect for moving dorms or 1-bedroom apartments. You will find everything you need for a smooth relocation in our kits. It's specially tailored to fit your needs.
2 BEDROOM Moving Kit – Our 2 bedroom moving bundle offers everything you need for a safe and efficient move. It has everything you need to pack your valuable possessions safely, including cardboard boxes of all sizes, tape rolls, bars, and packing paper.
3 BEDROOM Moving Kit – Zip moving bundles are specially designed for different items, and our 3 bedroom moving kit is no different. This specialized kit contains everything needed for your items to be safely protected and relocated to your new home.
For additional information on how to get free boxes please call our Support Center at 855-947-6543.