ZIP MOVING & STORAGE CAN HELP YOU OUT!
Moving Details
Next

Location Details
Next

*We respect your privacy, we don't share your name with others.
SUBMIT

Your information is essential to receive your moving quote.
*We respect your privacy, we don't share your email with others.
VIEW QUOTE

Your phone number will help us provide you with the most accurate moving quote.
PLEASE ENTER
YOUR PHONE NUMBER
*We respect your privacy, we don't share your phone number.
GET MY QUOTE

Help Us Out
How did you hear about us?
Your request was sent!
Please check your inbox to see the quote.
One of our move consultants will reach out as soon as possible regarding your request.
Disclosure: Phone calls between you and us may be monitored and recorded. You agree that Zip Moving And Storage can make calls and/or send text messages to you at the telephone number associated with your account. Consent may be revoked at any time by calling 855-947-6543 or email info@zipmoving.us

As an experienced moving company, we know that the kitchen is one of the most challenging rooms to pack. Also, packing the entire kitchen area will probably last the longest, and transporting delicate items such as glasses, plates, and bottles requires special skills and packing.

The good news is that many moving supply stores and companies sell perfectly designed boxes for fragile kitchen items.

Follow these simple steps, and you will learn the best ways to pack dishes safely and transport them to your new home.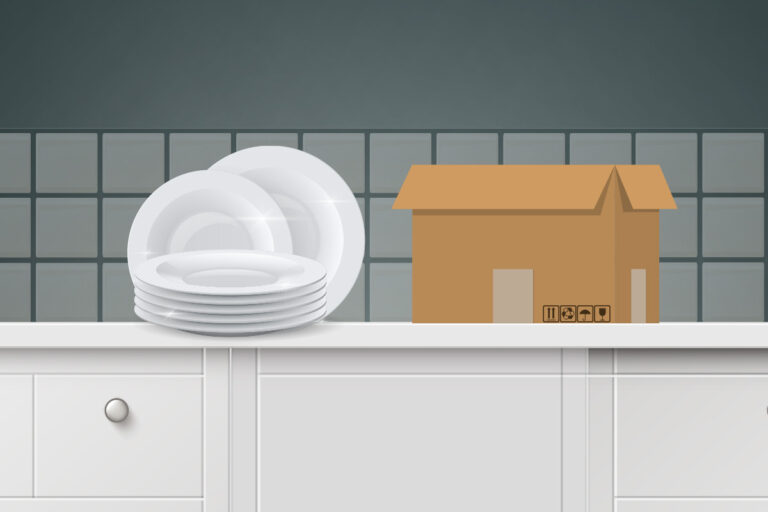 1. Find quality moving boxes and supplies
Dishes are incredibly fragile and breakable items. It's best to put them in small or medium size boxes. Also, ensure the boxes are padded and use only quality packing paper and bubble wrap to protect your dishes adequately.
2. Put your dish in the center of the packing paper
Pull the corners of the packing paper over your plate and then safely wrap it, ensuring the dish is fully covered. You can repeat this process one more time, just for that extra security.
After your plates have been secured and wrapped in quality packing paper, it's time to stack them. It's best to stack four plates together. After that, carefully turn the stack upside down on another sheet of paper and wrap the entire bundle one more time. Don't forget to seal it with tape.
For heavy and fragile items, it's best to use smaller or medium-sized moving boxes. Place your wrapped plates in a small box, standing dishes up vertically. Don't pack your dishes flat; they're more likely to become damaged during transportation.
5. Stuff your dish box with paper and tape it
Make sure you adequately stuff your boxes with packing paper. If you have some gaps, fill them in. Your plates must stay fixed; that's how you prevent potential damage. Tape your boxes from all sides, and ensure everything is packed and wrapped correctly.
It's essential to label each box properly. This will significantly ease your moving process and make unpacking more straightforward. Whether you are moving on your own or with the help of professional movers, labeling boxes will help you stay organized and know where each item is stored.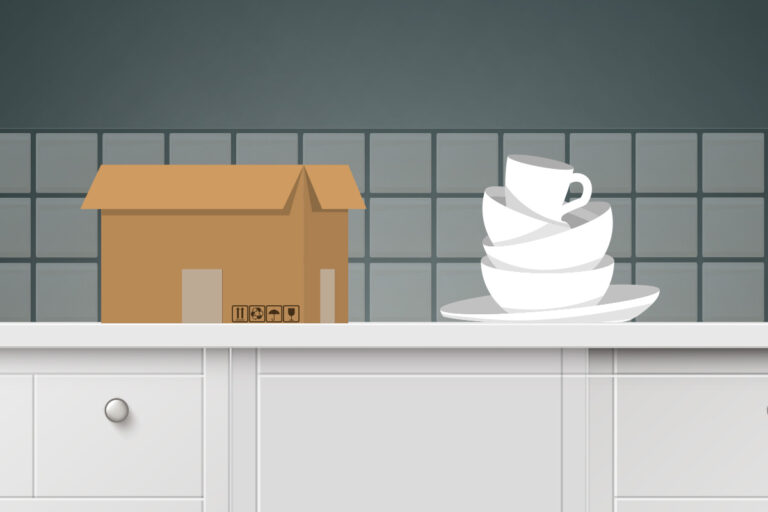 1. Stuff your cups and glasses with compressed packing paper
Try to crumple your packing paper to create padding, and then wrap each glass or cup individually in quality packing paper.
2. Line your small boxes with paper
Pack your glasses and cups in an upright position. Don't forget to fill in the gaps between them. You can also use cardboard separators. It will keep things tidy, organized, and safe.
3. Double-boxing for fragile glasses
As an experienced moving company with many years of experience, we know how easily glasses can get damaged. Sometimes, no matter how prepared you are, an accident still happens during relocation. That is why we always advise double-boxing, especially delicate items. Wine glasses are incredibly delicate, so we advise you to pack them using this technique.
4. Place the box in another larger box
After packing your glasses and cups, put that box in a larger one completely padded with packing paper. You can also use rolled kitchen textiles, such as dish towels, to fill in the gaps. This will reduce the chances of breaking or damaging fragile objects.
Packing other kitchen items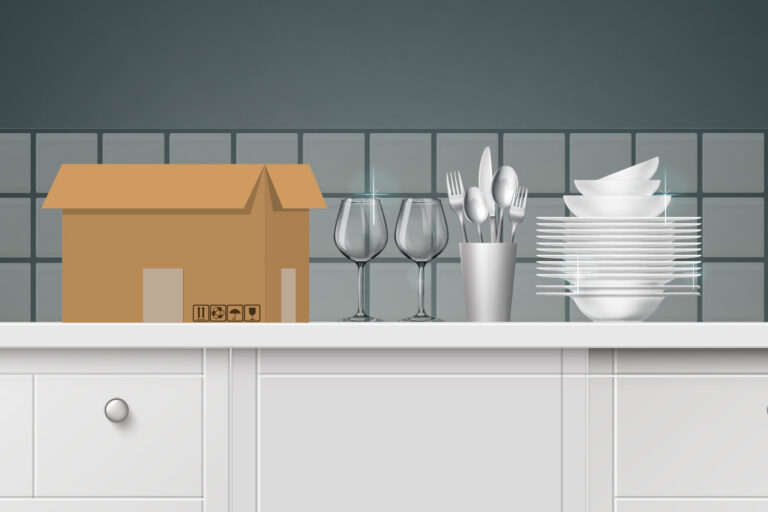 Wrap knives first in packing paper, then in bubble wrap for extra protection

Pots and pans are best packed in nesting groups and placed upside down on packing paper

The teapot lid needs to be packed separately from the pot, put them in the same box, again place them upside down in the box

Kitchen appliances should be packed in original boxes, but if you don't have them, no worries; you can also use a regular moving box.