How to Get a Free Moving Quote
ZIP MOVING & STORAGE CAN HELP YOU OUT!
Moving Details
Next

Location Details
Next

*We respect your privacy, we don't share your name with others.
SUBMIT

Your information is essential to receive your moving quote.
*We respect your privacy, we don't share your email with others.
VIEW QUOTE

Your phone number will help us provide you with the most accurate moving quote.
PLEASE ENTER
YOUR PHONE NUMBER
*We respect your privacy, we don't share your phone number.
GET MY QUOTE

Help Us Out
How did you hear about us?
Your request was sent!
Please check your inbox to see the quote.
One of our move consultants will reach out as soon as possible regarding your request.
Disclosure: Phone calls between you and us may be monitored and recorded. You agree that Zip Moving And Storage can make calls and/or send text messages to you at the telephone number associated with your account. Consent may be revoked at any time by calling 855-947-6543 or email info@zipmoving.us

As a trustworthy moving company that has been servicing our customers for years, we strive to make every aspect of your move as easy as possible. Therefore we developed a system where you can easily in just a few steps book your move online!
This is a very easy user-friendly tool that saves you time!
We explained in the video how to create an account with us and very easily book your move.
Step 01 - Filling out a quote with information
To receive a free quote, the steps are really simple- on our homepage on the right-hand side you will find a box with the name FREE MOVING QUOTE, and that's where you will get your information.
1st step Search: Search for example  "Zip Moving and Storage Maryland ", or it depends on your location.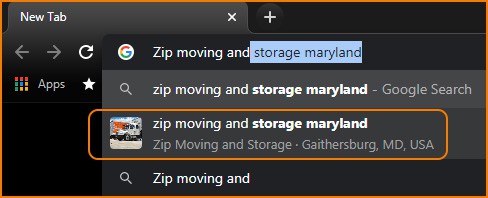 Enter a zip code you are moving TO and FROM.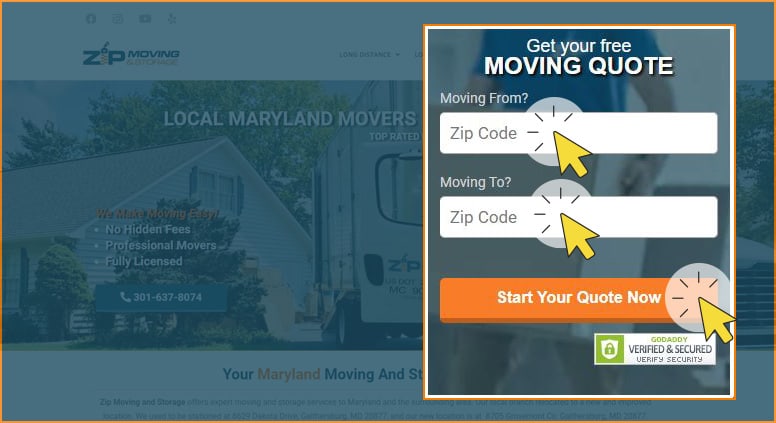 2.Pick a type of service you need:
Long-distance 

Local moving

Loading Help Only

Unloading Help Only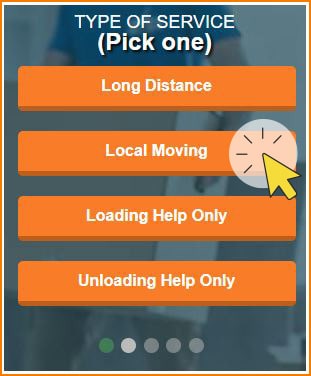 3. Pick the size of the home you are moving from:
A. Studio
B. 1 Bedroom
C. 2 Bedroom
D. 3 Bedroom
E. 4+ Bedroom
F. Office/Commercial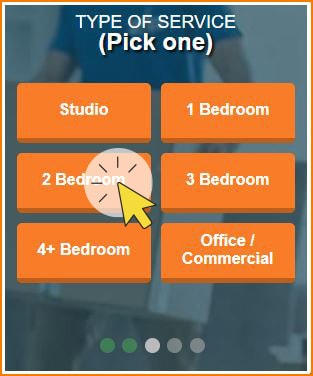 4. Put in your desired move date.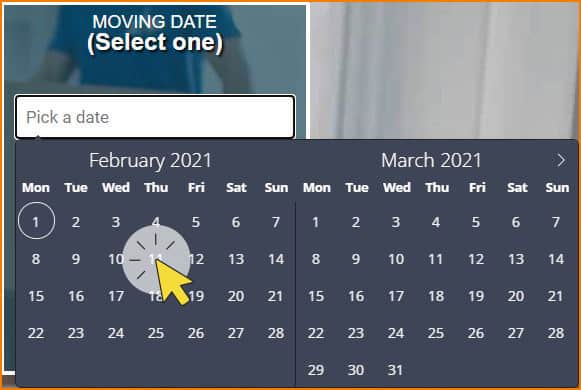 5. Include your full name, email, and phone number.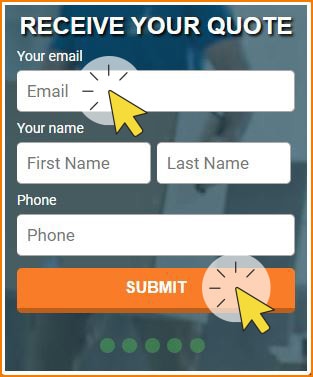 When you are done with these steps, your account is created on our website containing your quote.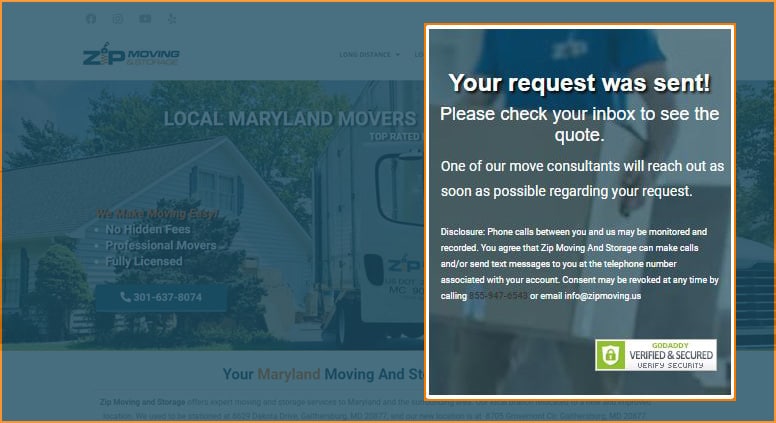 Step 02 - Creating an online account
After finishing the first step, your online account is created. You will be sent an email with a link, once you click on it, it will take you straight to your account with Zip Moving & Storage.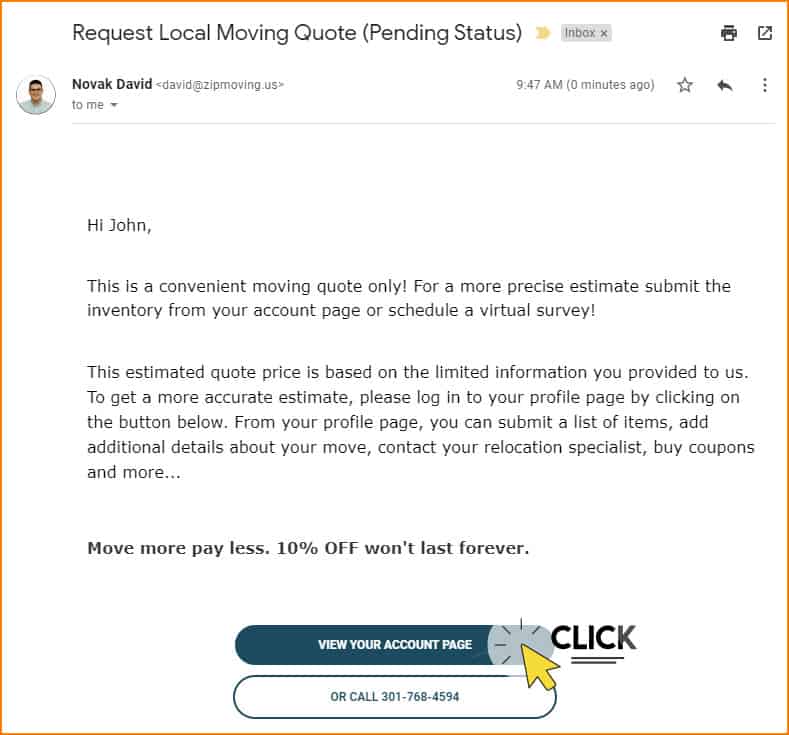 One of our sales representatives will be notified, and will very soon give you a call and discuss details about your move and answer any questions you might have. If you wish to communicate via email only that is certainly an option as well.
On the left bottom corner, you will see your sales representative's photo, name, email, and phone number, therefore you can call or email anytime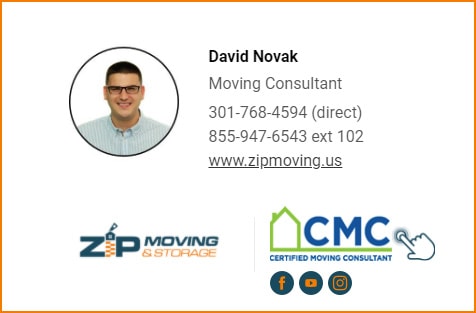 Step 03 - Managing your online account and adding information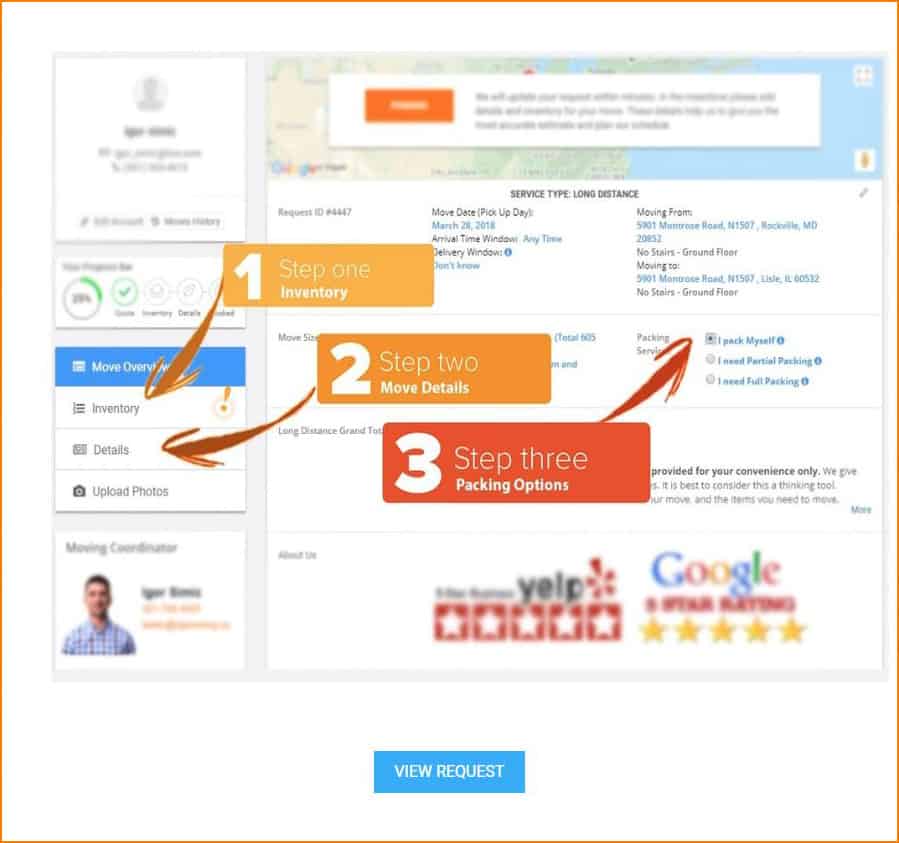 Once in your account, on the left-hand side underneath your information, there will be 4 boxes.
Move Overview– When you click on it, the breakdown of your estimated price will show.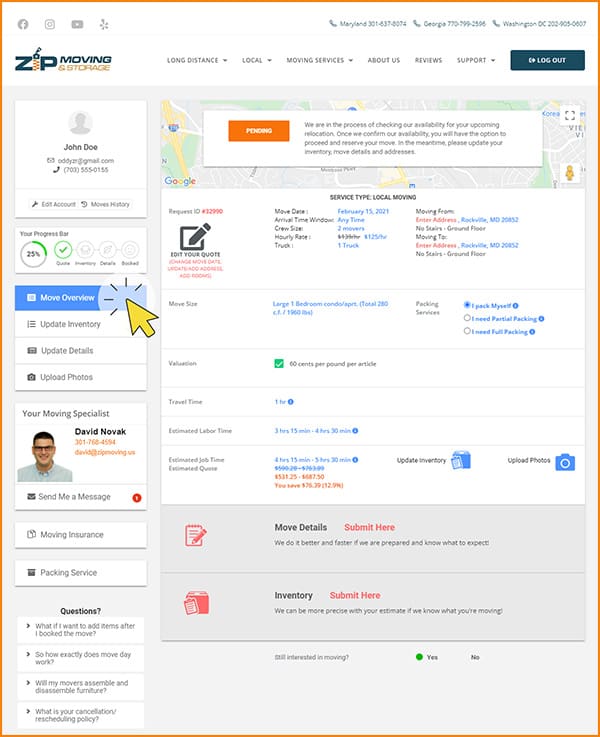 2. Update Your Inventory – This is an easy tool where you can add all of your household inventory you wish to move. Once you click on it, it will display different rooms in your house eng(living room, kitchen, bedroom, etc) and once you click on it, it will show you every single piece of furniture you might own, and that's how easily you can pick out what you have in your house.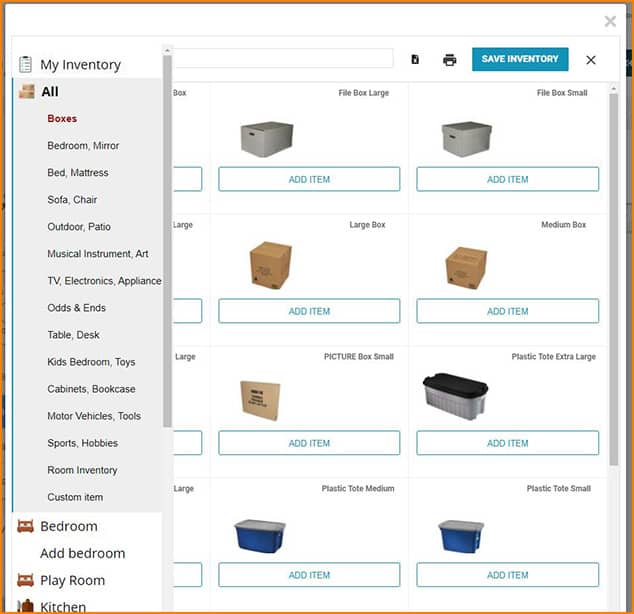 3. Update Details– In this section, you can update your information as you like. You can add an address for pick up and drop off or special instructions for the movers.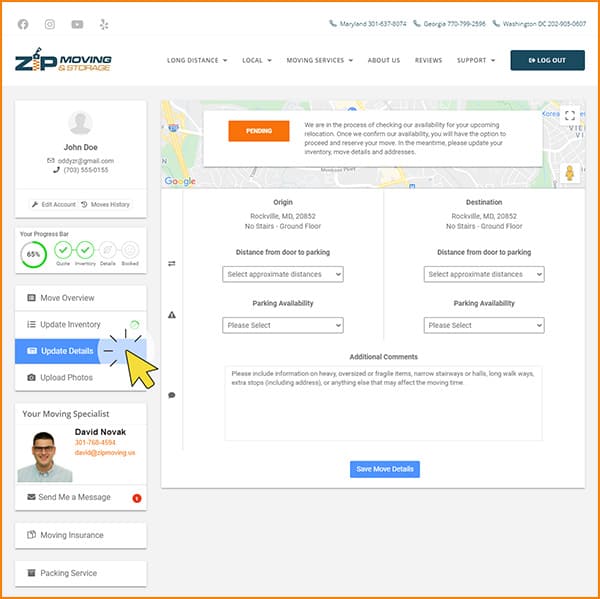 4. Add Photos – This section is created so you can add photos of rooms of items you want to move.
Finally, when you're all done and ready to book your move, contact your sales representative and let them know you are all set, and they will change your status from pending to not booked, and from there you can go into your account, book your move and it will take you to a page with our companies policies and agreements, and at the end, it will have a section to pay your deposit. It's very easy, fill in the appropriate boxes with your personal information, and credit card. Once your deposit is approved, you will be sent a confirmation email.
This is a fantastic tool that gives you all the power to be in charge of your own move. Especially if you're busy with work or other daily errands and don't have time to talk on the phone about the details of your move, simply create an account, add your inventory, pay the deposit and you are all set
Zip Moving & Storage is always looking for advanced technology and ways to make moving easy for our customers. With help of a phone or laptop, you can book a move online from the comfort of your own home, and not to mention it will significantly shorten your booking process from weeks or even months to less than 10-20 minutes.
It is very easy. Once you're logged into your account, on the left-hand side click on the box called ''Moving Inventory'' and there are buttons with + and – and that's how you can add or delete items from your inventory.
The best and safest way to access your account is through your email. There is a link that once you click on it, takes you straight to your account.
There is no password or username. You will access your account through your email, and it will take you straight to your account. Therefore you will not have to create a username and password