ARE MOVERS RESPONSIBLE FOR FURNITURE DAMAGE?
ZIP MOVING & STORAGE CAN HELP YOU OUT!
Moving Details
Next

Location Details
Next

*We respect your privacy, we don't share your name with others.
SUBMIT

Your information is essential to receive your moving quote.
*We respect your privacy, we don't share your email with others.
VIEW QUOTE

Your phone number will help us provide you with the most accurate moving quote.
PLEASE ENTER
YOUR PHONE NUMBER
*We respect your privacy, we don't share your phone number.
GET MY QUOTE

Help Us Out
How did you hear about us?
Your request was sent!
Please check your inbox to see the quote.
One of our move consultants will reach out as soon as possible regarding your request.
Disclosure: Phone calls between you and us may be monitored and recorded. You agree that Zip Moving And Storage can make calls and/or send text messages to you at the telephone number associated with your account. Consent may be revoked at any time by calling 855-947-6543 or email info@zipmoving.us

DEALING WITH DAMAGED ITEMS OR DAMAGED PROPERTY
Accidents happen, even when all precautions are taken and detailed plans are made. Moving is a complicated process and there is always a chance of something going awry. Luckily, Zip Moving & Storage is available to answer any questions or help with issues that come about when moving homes. Even a perfect move can be stressful and professional movers understand that their job is to help customers in any way they can.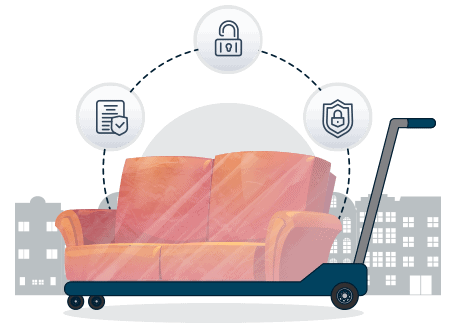 Because the moving operation has so many steps, there is a chance that items might get damaged or items might cause damage to property during the packing, loading and unloading process.
Sometimes the fault lies with a member of the moving team and sometimes the situation could not be avoided. Responsible and reputable moving companies offer Value Protections. The Value Protection that the moving companies offer their customers is there to protect all parties involved. Customers should rest assured that Value Protection provides reimbursements in the event of loss or damage to belongings.
DAMAGE TO THE PROPERTY BY MOVERS
Damage to a customer's home usually happens when movers are carrying heavy furniture, moving boxes, or other items and accidentally make a dent in the wall or scuff the floor. In most cases, the damage is minor and easily remedied. Be aware, however, that the mover will not be at fault if the damage was due to a faulty repair on the home, such as a loose stair or handrail.
How to protect the property before moving day?
Before the moving day, take photos/video of the home before the movers arrive. This will provide proof of the original condition of the home if the customer needs to file a complaint.
ARE MOVERS RESPONSIBLE FOR FURNITURE DAMAGE?
Zip Moving & Storage prides itself on taking the utmost care of customer belongings. In the event that damage is sustained, Zip Moving & Storage will be there to assist customers every step of the way.
Occasionally customers have opened boxes to discover broken glasses or noticed new scuffs on furniture even when the items are packed securely and wrapped with care. Furniture can be damaged, be it during the loading and unloading process or during transportation.
Older furniture pieces are especially prone to damage, so customers should make sure that vulnerable pieces are sufficiently wrapped and properly loaded. Damage is also likely to occur when drawers in furniture pieces are not emptied.
HOW TO PROTECT THE BELONGINGS
By hiring a responsible and trustworthy moving company, customers should feel secure that their belongings are in good hands. Zip Moving & Storage employs trained and professional movers who take pride in their job and take extra care of items in transit. 
To take every precaution, customers are advised to:

If customers have immensely valuable items, Zip Moving & Storage suggests the customer take responsibility for these items and pack them. In many cases, it makes sense for customers to take photos of belongings in transit before they are packed. Also, when customers make a meticulous list of all items that go on the moving truck, it provides a complete inventory in the case that reimbursement is requested.  
The best way to protect items during moving is to ensure they are properly wrapped and securely packed. Using appropriate boxes to pack specific items is always recommended and Zip Moving & Storage employees know which boxes to use for specific item types.
For example, dishes and glassware go into specially designed boxes that prevent breakage. Another way to protect belongings is to make sure that desk drawers and wardrobe compartments are emptied before movers load these items onto the truck.
A responsible and trustworthy moving company offers customers many levels of Valuation Coverage. There are multiple options when it comes to Valuation Coverage:

Full Value Protection is the most comprehensive plan. The minimum level of liability for the shipment is $6.00 per pound multiplied by the weight of the shipment. 
Waiver of Full Value Protection carries minimal protection (released value of 60 cents per pound per article). This protection is covered by the moving company as part of the agreement with the customer.
Third-party insurance is another option. Zip Moving & Storage does not provide customers with options for third party insurance. As a moving company we can refer our customers to a third-party insurance provider.
FULL VALUE PROTECTION VS WAIVER OF FULL VALUE PROTECTION
For example, if a lamp, which weighs 20 pounds, is damaged or broken and the customer has chosen the Full Value Protection option, the customers will be reimbursed $6.00 per pound, which amounts to $120. However, if the customer decides to use the Waiver of Full Value Protection option, the weight of the lamp is multiplied by $0.60 and the customer is reimbursed $12.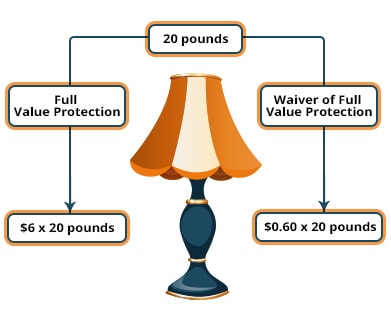 How to file a moving claim, step by step.
If damage occurs during the move, customers need to file a claim for damaged items after the move is complete. Here is a step by step guide to help customers receive reimbursement for damage.
Contact the movers

Reach out to the moving coordinator or moving consultant

Collect Evidence of the damage

Take multiple clear and focused images with a phone or camera

Fill in the claim form

Complete the form with all the details of the damage

Claims must be filed within nine months after the move according to FMCSA. Filing claims as soon as possible is advised.
When filing a claim, be sure to have the necessary documents concerning the move. This includes:
The Bill of Lading

The inventory list

If possible, a receipt showing the original value of the item