HOW TO STORE CLOTHES FOR TRANSPORTATION
ZIP MOVING & STORAGE CAN HELP YOU OUT!
Moving Details
Next

Location Details
Next

*We respect your privacy, we don't share your name with others.
SUBMIT

Your information is essential to receive your moving quote.
*We respect your privacy, we don't share your email with others.
VIEW QUOTE

Your phone number will help us provide you with the most accurate moving quote.
PLEASE ENTER
YOUR PHONE NUMBER
*We respect your privacy, we don't share your phone number.
GET MY QUOTE

Help Us Out
How did you hear about us?
Your request was sent!
Please check your inbox to see the quote.
One of our move consultants will reach out as soon as possible regarding your request.
Disclosure: Phone calls between you and us may be monitored and recorded. You agree that Zip Moving And Storage can make calls and/or send text messages to you at the telephone number associated with your account. Consent may be revoked at any time by calling 855-947-6543 or email info@zipmoving.us

Packing clothes may seem straightforward, but can oftentimes pose some challenges when moving. The first troubling part of packing clothes is transporting the garments without causing stains or wrinkles. Another obstacle is how to keep the clothes organized for easy unpacking.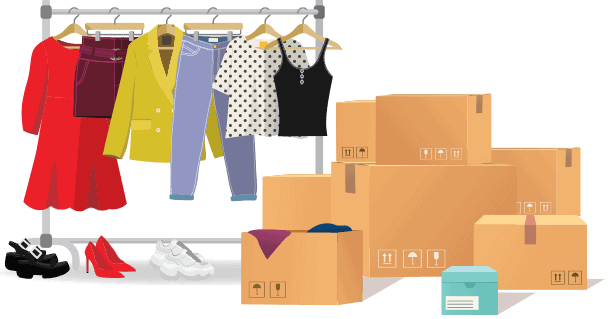 Before packing your clothes away, consider taking a few steps to streamline the process. These steps will reduce the workload of relocating the wardrobe and assist unpacking by maintaining some sense of organization.  
Before packing anything, make three categories: keep, sell, or donate. Keep clothes that are comfortable and worn regularly. Donate or sell clothes that do not fit or that you simply do not wear.
Consignment shops or buy/sell/trade apps are a good option for name brand clothes that have been recently purchased. Local charities often offer pick-up services for clothes you would like to donate.
Sort Clothing Before Packing
Once it has been determined which clothes will make the journey to your new home, it is time to begin sorting the clothes. There are different ways to sort clothing, but keeping things simple minimizes the work.
Sort by type – sorting items by type may be a good idea because the items will be stored together when unpacked. Shirts, pants, overcoats, shoes, casual jeans, work clothes are all separated and kept together. One may need to further break down a category by material type. Tops or bottoms that are of the same material could be one box, such as silk tops, linen clothes, denim, etc. Using material to further organize clothes is a good option for a large wardrobe and will help with any necessary laundry later on.
Sort by season – Sorting by season is useful for many reasons. If one is moving during winter, they will only have to unpack the winter clothes right away and the rest can be kept in storage until needed. Sorting clothes by season will also minimize the boxes that need to be unpacked immediately. This method also allows one to slowly evaluate closet space in the new home.
Sort by family member – Sorting by family member is important and will help immensely with the organization when moving. Keep each person's clothes in their own box and consider color-coding the label or tape to further ease the unpacking process.

HOW TO STORE CLOTHES FOR TRANSPORTATION
Garbage Bags for Transporting Clothes
Using garbage bags for moving clothes may seem like an easy solution, but it's not recommended for several reasons. Plastic bags are easily snagged and torn, which can lead to lost or damaged clothes.
Using garbage bags for clean clothes will also cause wrinkles and unnecessary laundry during the unpacking phase. Another pitfall of using garbage bags for transporting belongings is that the garbage bag could potentially be mistaken for actual garbage and find its way to the bin! 
Expert packers agree that certain cardboard boxes are the best method for transporting your wardrobe. More details on the type of boxes recommended can be found below.
Packing Clothes in Cardboard Boxes
Packing your clothes in cardboard boxes will prove to be very practical and easy. However, do not just throw your clothes in and tape the box shut! Here are a few steps you can take to optimize your packing:
Pick the right size box – Use small or medium-sized boxes for packing clothes. Clothes are bulky and if a box is overpacked it will be unwieldy and may cause the bottom of the box to break. 

Properly assemble the box – Read the instructions before assembling the boxes. If the box is assembled incorrectly, it may fall apart during transportation. 

Isolate the box from inside – Use plastic wrap to protect clothing from water damage – especially important for boxes intended for long term storage.

Fold clothes – Carefully fold clothes to avoid wrinkles.

Tape and label the box – Use a marker to label the box and secure it with tape. Adding details to the box's contents will help identify the box and prevent the need to open it several times.
Read more about the type of moving boxes.
Utilizing the Wardrobe Box
The wardrobe box will keep garments from becoming creased or wrinkled and allows for easy unpacking. These boxes are small, portable closets, two feet wide and three feet long, with a built-in hanger bar.
Clothes like jackets, shirts, skirts, pants, and suits will not become wrinkled while being transported. Wardrobe boxes have space at the bottom intended for shoes.
Whenever possible, pack delicate shoes in their original box. For sneakers or casual shoes, choose a medium-sized box and wrap each pair of shoes with packing paper.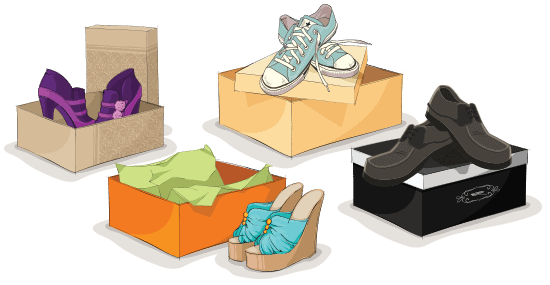 Fill in any gaps in the box with crumpled paper. Purchasing shoe bags is an alternative for delicate footwear and the bags can be used in the future while traveling.
Do not put shoes with random clothes boxes as they will be mixed up and could damage clothes during transportation.