What is The Best Moving Truck Size for Your Move?
ZIP MOVING & STORAGE CAN HELP YOU OUT!
Moving Details
Next

Location Details
Next

*We respect your privacy, we don't share your name with others.
SUBMIT

Your information is essential to receive your moving quote.
*We respect your privacy, we don't share your email with others.
VIEW QUOTE

Your phone number will help us provide you with the most accurate moving quote.
PLEASE ENTER
YOUR PHONE NUMBER
*We respect your privacy, we don't share your phone number.
GET MY QUOTE

Help Us Out
How did you hear about us?
Your request was sent!
Please check your inbox to see the quote.
One of our move consultants will reach out as soon as possible regarding your request.
Disclosure: Phone calls between you and us may be monitored and recorded. You agree that Zip Moving And Storage can make calls and/or send text messages to you at the telephone number associated with your account. Consent may be revoked at any time by calling 855-947-6543 or email info@zipmoving.us

Moving comes with a lot of decision making; hiring a moving company will help minimize the learning curve that goes with moving. For example, one decision that the moving company routinely makes is what type of moving truck to use.
The truck that will be used should match the needs and meet the requirements of the move. For individuals handling their own moves it is important to consider the type of moving truck that is going to be used for the relocation.
Choosing to hire a moving company allows customers to focus on settling into the new home instead of the minutiae of furniture transportation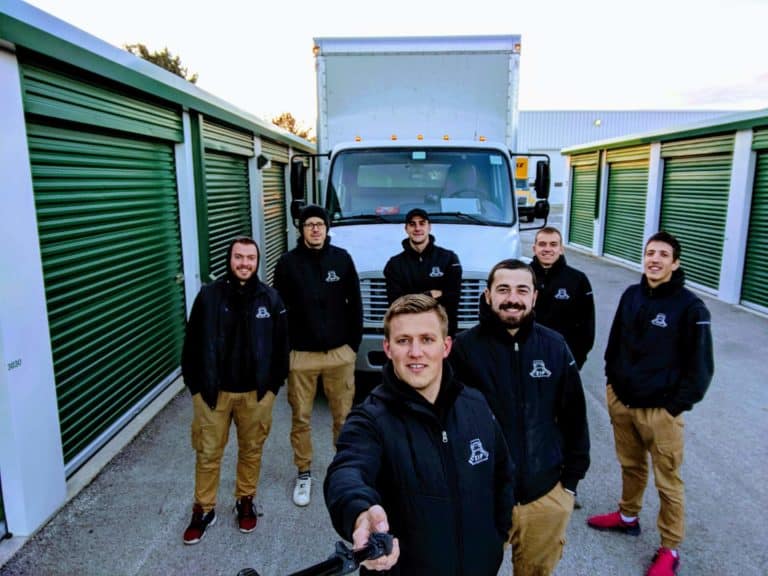 Zip Moving and Storage recognizes that not all individuals are able to hire a moving company to manage their moves; the following article should help customers acquaint themselves with moving truck options.
The options for moving trucks include: the size of the truck, the necessary equipment to load/unload, and the rental prices to help families decide how to transport their home.
Quality and price are usually the determining factors when choosing a moving truck, but there are many other details to consider.
What are different types of moving trucks?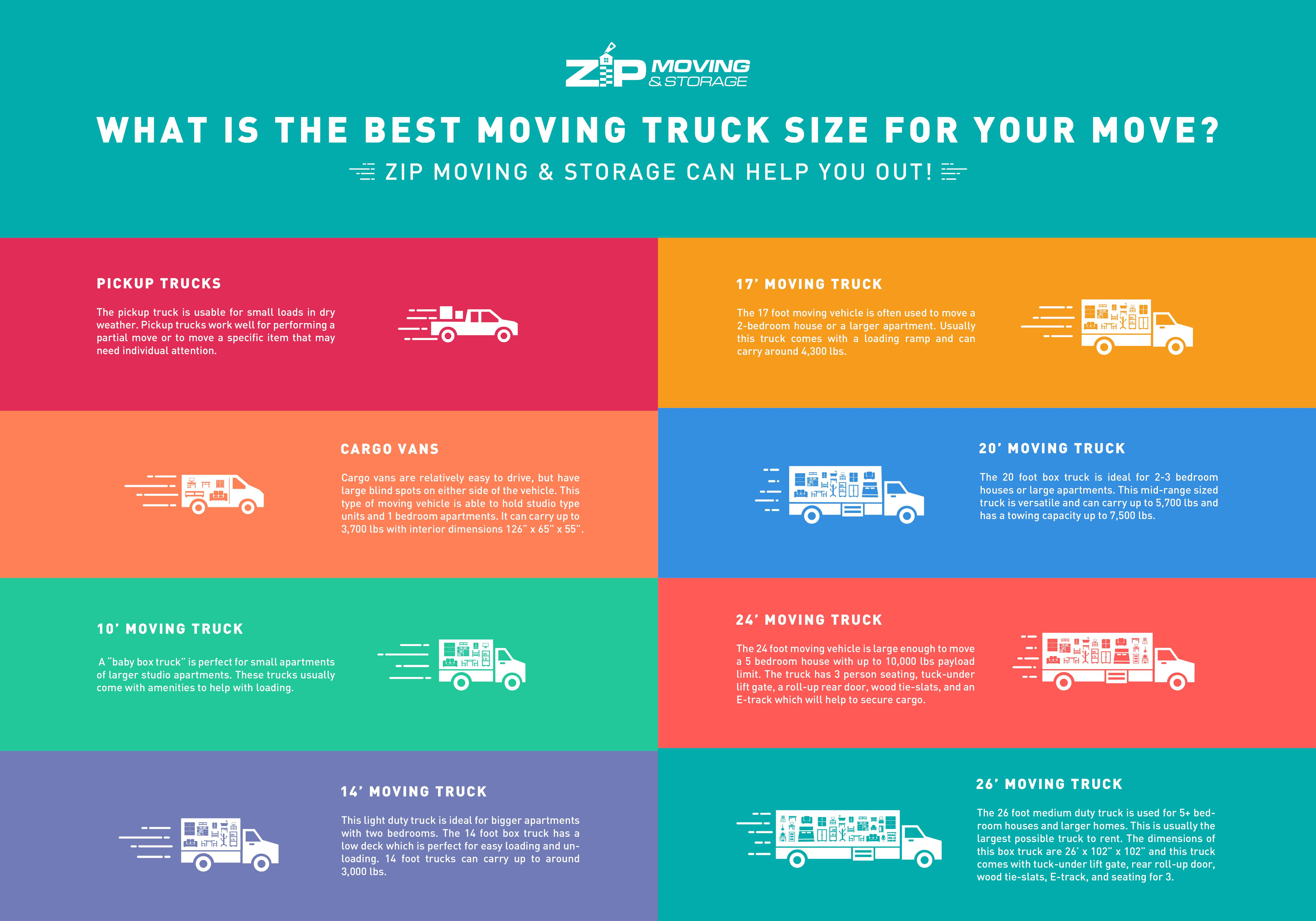 Pickup Trucks – The pickup truck is usable for small loads in dry weather. Pickup trucks work well for performing a partial move or to move a specific item that may need individual attention.
Cargo Vans – Cargo vans are relatively easy to drive, but have large blind spots on either side of the vehicle. This type of moving vehicle is able to hold studio type units and 1 bedroom apartments. It can carry up to 3,700 lbs with interior dimensions 126" x 65" x 55".
10' Moving Truck – A "baby box truck" is perfect for small apartments of larger studio apartments. These trucks usually come with amenities to help with loading. 
14' Moving truck – This light duty truck is ideal for bigger apartments with two bedrooms. The 14 foot box truck has a low deck which is perfect for easy loading and unloading. 14 foot trucks can carry up to around 3,000 lbs. 
17' Moving truck – The 17 foot moving vehicle is often used to move a 2-bedroom house or a larger apartment. Usually this truck comes with a loading ramp and can carry around 4,300 lbs. 
20' Moving Truck – The 20 foot box truck is ideal for 2-3 bedroom houses or large apartments. This mid-range sized truck is versatile and can carry up to 5,700 lbs and has a towing capacity up to 7,500 lbs. 
24' Moving Truck – The 24 foot moving vehicle is large enough to move a 5 bedroom house with up to 10,000 lbs payload limit. The truck has 3 person seating, tuck-under lift gate, a roll-up rear door, wood tie-slats, and an E-track which will help to secure cargo. 
26' Moving truck – The 26 foot medium duty truck is used for 5+ bedroom houses and larger homes. This is usually the largest possible truck to rent. The dimensions of this box truck are 26' x 102" x 102" and this truck comes with tuck-under lift gate, rear roll-up door, wood tie-slats, E-track, and seating for 3.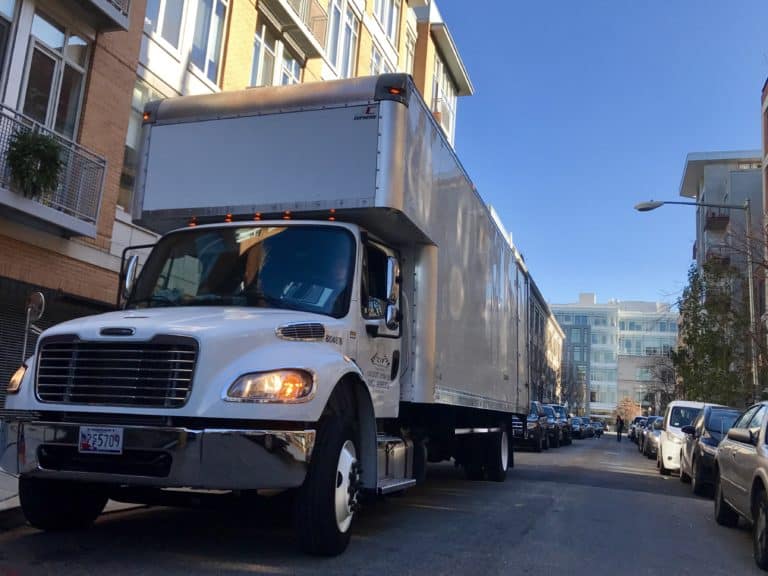 What Equipment is Found in the Moving Truck?
Truck rental companies vary with the equipment they include with truck rentals. Contact a few truck rental places nearby to determine which rate includes everything the move will require. Here's a list of equipment moving trucks may come with:
Padded Blankets

Loading Ramp

Moving Boxes (Small, medium, large, wardrobe, dish, picture or mirror boxes)

Tape and Shrink Wrap

Piano Board

Dollies 

Hand Trucks

Tool Box

Straps (8-10 straps for securing your items)

The amount of the necessary moving equipment will depend on the size of the move. The bigger the move is, the more equipment and packing materials will be needed. Hiring a moving company means the above equipment will be provided by the movers so there is less to worry about.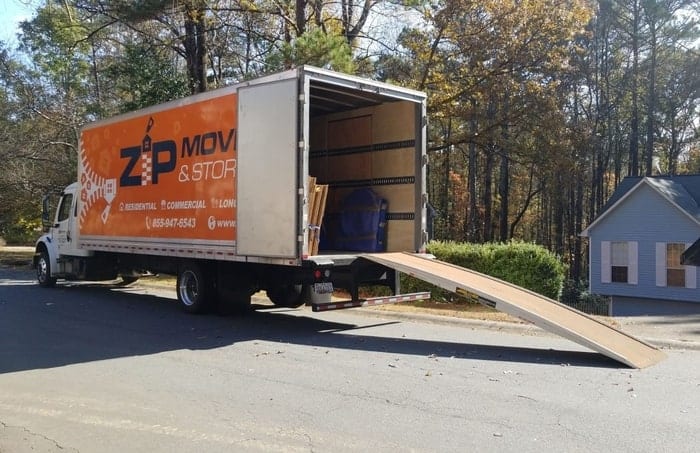 Which moving truck rental is the best?
The most popular rental trucks for relocation are U-Haul, Budget Truck Rental, Penske Truck Rental, and Enterprise Truck Rental.
All rental moving trucks are not the same. Renting a truck from the right company can make a big difference in the stress involved with moving homes without hiring movers. 
U-Haul – The U-Haul company maintains over 20,000 locations and has the largest rental fleet in the United States. They are able to rent all truck sizes, from 10 foot to 26 foot trucks, including 8-foot pickup trucks and 9-foot cargo vans. 
Budget Truck Rental – Budget has less vehicle options, they only carry three types of truck sizes, but it makes up for the lack of choice by offering lower prices. As the name suggests, it is one of the most economical truck rental options. 
Penske Truck Rental – Penske is the third largest rental truck provider in the US and offers one of the newest truck fleets. Penske is able to rent 12, 16, 22 and 26-foot trucks. 
Enterprise Truck Rental – Enterprise boasts the largest variety of moving vehicles, but truck rentals are often for round-trip rentals so long distance trips will take more phone calls as only some locations will accept the returned rental.
How much is it to rent a rental truck?
Moving Truck Rental Prices
The following chart gives a quick estimate for renting a small box truck.  The average comes to $155 for local moves, $225 for medium distance moves and $971 for a long-distance moves.
If the truck is brought back with less fuel than when it was rented the rental company will charge for gas. Some rental companies are charging triple the gas price per gallon than the price found at the pump. Read the rental agreement carefully to avoid hidden fees.
| | | | | |
| --- | --- | --- | --- | --- |
|   | Penske | U-Haul | Budget | Enterprise |
| Local Moves | $159 avg. | $128 avg. | $147 avg. | $150 avg. |
| Medium-dist | $311 avg. | $290 avg. | $278 avg. | $304 avg. |
| Long-distance | $1,222 avg. | $1,057 avg.  | $939 avg.  | $706 avg.  |
| | | | | |
| --- | --- | --- | --- | --- |
|   | Penske | U-Haul | Budget | Enterprise |
| Local Moves | $159 avg. | $128 avg. | $147 avg. | $150 avg. |
| Medium-dist | $311 avg. | $290 avg. | $278 avg. | $304 avg. |
| Long-distance | $1,222 avg. | $1,057 avg.  | $939 avg.  | $706 avg.  |
The price includes the average daily rate, cent per milage, basic Valuation Coverage and taxes.
Renting Moving Trucks VS Hiring a Moving Company
Renting a moving truck may seem less expensive than hiring a moving company, but consider the work of packing/unpacking, purchasing moving supplies, and the time involved to transport the items before deciding how to proceed with the move.
Some people really appreciate having total control of the moving schedule, however, this also means that the heavy lifting, packing, and moving supplies fall on one person's shoulders.
Loading and unloading furniture single handedly is not a safe option so it does require some friends or family willing to help.
One also must consider that moving without a moving company means there is no insurance for the belongings so if damage occurs there will be no coverage.
Alternatively, hiring a moving company relieves families of the stress of moving. Professional movers are able to handle everything from start to finish.
Movers will make sure belongings are expertly packed, loaded, transported, and unloaded. Furniture is wrapped and secured to be safe and sound in the moving trucks.
Moving companies offer Valuation Coverage in the form of Full Value Protection , which provides customers with coverage in the case that something is damaged.
How to Pack a Moving Truck
Want to learn how to pack a moving truck like a pro? Loading and unloading a moving truck requires a lot of knowledge, energy, and planning, to ensure your belongings arrive safely from point A to point B. Here are a few guidelines and tips to follow for a safe and easy move. Loading a moving truck requires a lot of strategic planning to ensure you maximize the truck's capacity and minimize any risk and damage.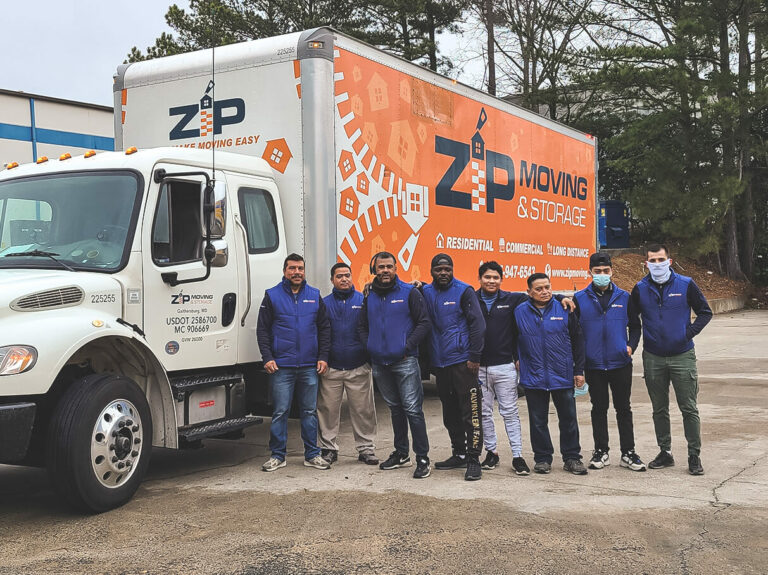 Before loading or packing anything make sure to disassemble your furniture such as beds, table legs, drawers, cushions from sofas. It will make packing and loading a lot easier.
What is the best way to load a moving truck?
There's many ways to load a moving truck, but this way is the easiest and safest.
Load boxes first– floor to ceiling. Organize the moving boxes by sizes and shapes to help maximize the space. Do your best to avoid holes or gaps between boxes to prevent any damage. Start by placing down heavier boxes and work your way up to the lightest (you don't want to crush your lighter items).
Wooden square furniture next – such as, night stands, dressers, tv stands etc. Heavier furniture as this will help keep boxes secured and in place.
Mattresses, box spring – placed always vertically. Play a great role in safe transit for TV's and glass table tops, which you place in between the mattress and box spring to prevent damage.
Headboards and footboards– go next vertically as well. Last but not the least Couches and if there's a bit of space left, fill it in with loose items such as bicycles, bbq, fitness equipment.
Heavy items such as wooden dressers, tables, mattresses secure with straps located on the side of the truck for safe transit.
As a 'Top Load' for example on top of the boxes pack kids toys, cushions, garden chairs to fill the empty space. Continue throughout the load to fill the spaces.
How long do movers take to load a truck?
What will movers not move?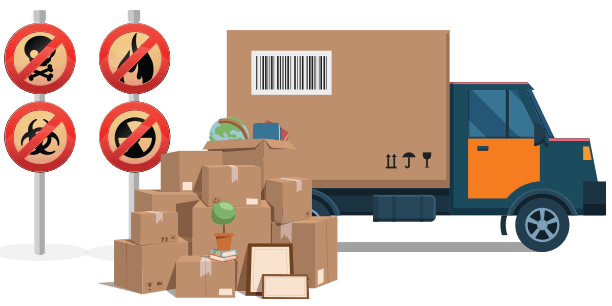 For safety reasons there are items that are not allowed on the moving trucks. Movers will not load flammable materials, household chemicals, fragile, or perishable items. It almost seems easier to leave all your clothing in drawers and just load your dresser in a moving truck, but we are here to explain why that's not the best idea. Leaving your wardrobe in drawers results in the dresser becoming a lot heavier and during transit drawers could open, get damaged and damage your other items. Also once you arrive at your destination the last thing you want to find is your clothing scattered all over the truck once you open it.
Which Trucks are in Zip's Fleet?
Zip Moving and Storage uses 26-foot moving trucks. The Zip trucks undergo preventative maintenance every month to keep them in the best condition and therefore minimize breakdowns.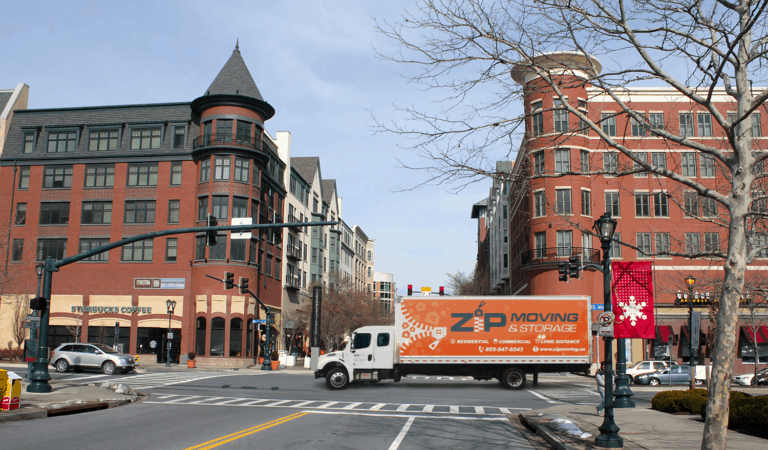 Zip's Fleet of trucks are the 2019 model year and the fleet is refreshed every 4 years. The trucks used for moving are owned by Zip Moving and Storage so proper maintenance can be controlled and ensured. All of the Zip vehicles have passed the DOT safety test and are equipped with all the necessary amenities that moving trucks can possess.
All of the drivers at Zip Moving and Storage are professionally trained and properly licensed. Zip has high expectations for drivers and demands extensive background and driving tests.
Drivers at Zip have a minimum of 4 years professional driving experience and have proven themselves to be responsible individuals who take pride in their work.