We've moved many students locally and cross-country. Zip Moving & Storage knows exactly how to make this relocation as seamless as possible.
We Make Moving Easy!
No Hidden Fees

Professional Movers

Fully Licensed
Moving Details
Next

Location Details
Next

*We respect your privacy, we don't share your name with others.
SUBMIT

Your information is essential to receive your moving quote.
*We respect your privacy, we don't share your email with others.
VIEW QUOTE

Your phone number will help us provide you with the most accurate moving quote.
PLEASE ENTER
YOUR PHONE NUMBER
*We respect your privacy, we don't share your phone number.
GET MY QUOTE

Help Us Out
How did you hear about us?
Your request was sent!
Please check your inbox to see the quote.
One of our move consultants will reach out as soon as possible regarding your request.
Disclosure: Phone calls between you and us may be monitored and recorded. You agree that Zip Moving And Storage can make calls and/or send text messages to you at the telephone number associated with your account. Consent may be revoked at any time by calling 855-947-6543 or email info@zipmoving.us

Thousands of happy customers and growing every day!
For many young people, their first moving experience happens when they're off to college. It is an exciting time and symbolizes the beginning of a new chapter in your academic and personal life. Besides the excitement, the first time moving can be very stressful – that's where we come in!
Zip Moving & Storage's team is made up of expert sales consultants and movers working in the field for years. We've moved many students locally and cross-country and from experience, we know exactly how to make this move as seamless as possible.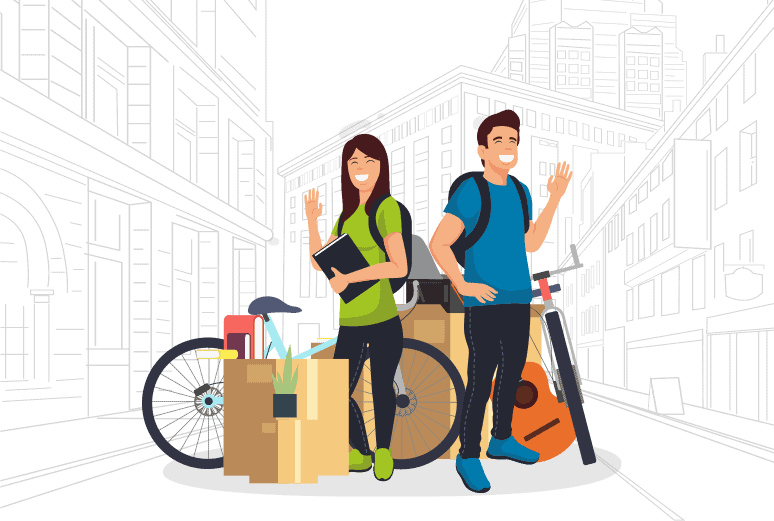 If you are a fresh college student looking for a reliable moving service, we are happy to say that you have come to the right place.  Zip Moving and Storage knows how to make your college move feel like a breeze!

That's why we offer our college moving services tailored to your needs and demands. Moving for the first time can feel particularly challenging, but we are here to make it easier for everyone involved in the moving process. Our moving company will assist every aspect of your upcoming relocation, whether you are moving from a dormitory, an off-campus apartment, or a shared house.

Our skilled and trained college movers will provide top-notch services and take care of your belongings with utmost care. Our team has extensive experience in handling college moves. We will cover every aspect of your college move, from carefully securing and loading your prized possessions to whisking them away to their new destination
Why Choose Our College Moving Service?
We understand that there are many moving companies to choose from, but what makes us unique? Simply put – our meticulous attention to every detail and years of experience in the moving industry.

Zip Moving and Storage know that relocation can be expensive, so we offer affordable and competitive prices. You will always know where you stand with us because transparency is our second name. We believe that quality moving services shouldn't break the bank.

Our moving company understands the needs and budget of students embarking on a new chapter in their new life. With our student moving service, your belongings will be safely transported to your new place.

We aim to make your college move as convenient and favorable as possible. Zip's moving consultants will go above and beyond to organize your relocation perfectly, and you will be informed of every little detail. There are no surprises with us!
REVIEW DORM RULES AND REGULATIONS
Before packing, make sure to review your colleges' policies, since there is a list of items that are prohibited on the premises. Speak with your parents to find a moving schedule to reserve a date convenient for you. Look up the parking situation and if it's not taken, reserve a spot closer to your dorm. Gather information about your room, such as does it come with furniture, how large is the space, etc. This will be of great help when packing!
PACK SMART
We know you would like to bring everything with you, but remember you probably won't have that much room in your dorm. Make a list of necessities early on in the process of your move. The only thing you need to worry about is consulting with our sales agent about the items you would like to bring and leave the rest to us. Our experienced crew will carefully wrap and pack all of your belongings and load and unload your items with the utmost care
RENT A STORAGE UNIT
We've helped countless students relocate, therefore we understand there will be extra items you will need to bring, and Zip Moving & Storage has a solution for you. Depending on how long you'll be gone for your studies and whether you will go back home during the summer, storing your items in our storage will save you time and money. There's only so much space in your room, so you will definitely need to keep your workout equipment, extra clothing, and other items in a safe place. Our storage units come in various sizes and are 100% secure. Our climate-controlled storage spaces have 24/7 video surveillance and are checked up daily by our designated staff members ensuring your belongings are safe and stay intact.
Schedule Your College Move Today
Are you ready to embrace your new college adventure? Look no further! With us by your side, you will be covered from start to finish. Let our moving experts deal with all the logistics, and you can focus on other essential tasks (like making new friends and memories). Contact us today and receive your free moving quote! Your stress-free college move is just a phone call away.
OUR AWARDS & ASSOCIATIONS
Our Student Moving Service Reviews 
Having had a few bad experiences in the past with moving companies, I wasn't quite sure which company to go with. Luckily my cousin recommended Zip Moving & Storage, and when I read awesome reviews, I decided to give them a call.
The whole moving process was made so much simpler by using Zip Moving. Calling to get a quote was quick, easy, and informative. It was nice to be able to reserve my move with a small deposit. I will use it again for my next move.
Very awesome experience! Zip movers are punctual, and professional. They were once meeting me at my storage unit, unloading my belongings from my U Haul truck, and the second time bringing everything to my new home.
It is advised to book your move 4-8 weeks in advance.
Yes, movers are frequently needed for a single item move. Professional movers are a great choice to take care of a single bulky item. For example, if a piano is being moved it requires an experienced team of movers to load and unload safely.
Items such as explosives, flammable, and perishable items, unfortunately, cannot be moved by our professional movers, due to safety regulations.