Self-storage is a great option for families and individuals who are looking to free up space in their homes or to store belongings during a move. Self-storage is also great for business needs as well since some companies need to store old furniture, office equipment, or tools. The best thing about self-storage is that you can access your unit anytime you want and take out or add items as you please.
There are many things to consider when renting a storage unit for the first time. Do you need climate control? What size of unit is the best for you? Everything you might wonder about renting a self-storage unit will be answered below by our experts. 
Let's get right into it.
What is self-storage?

Common reasons for using self-storage

Most common items people put in self-storage

Items you should not put in self-storage

How much does it cost to rent self-storage?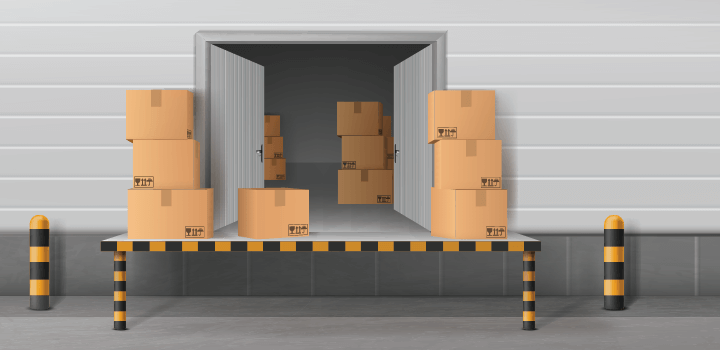 Self-storage is a unit that you are able to rent out and store your possessions in. The units are typically located in a secure facility. Payment for self-storage is usually on a monthly basis. Depending on the facility and the contract you are signing, it may be that you will receive a discount if you sign a long-term lease. 
When renting a storage unit, it is important to think about the size of the unit you will be renting. Many people make the mistake of renting a storage unit that is the wrong size. For example, the unit is too big for the items that they have, meaning you are spending too much on space in the unit. On the other hand, you'll want to avoid the headache of renting a place that is too small.
Here are different storage sizes that are commonly offered compared to the size of your home:
These are the smallest storage units you can find and they can be perfect if you don't have a lot of items to store. A 5 x 5 storage unit is 5 feet wide and 5 feet long. You can compare it with a small walk-in closet.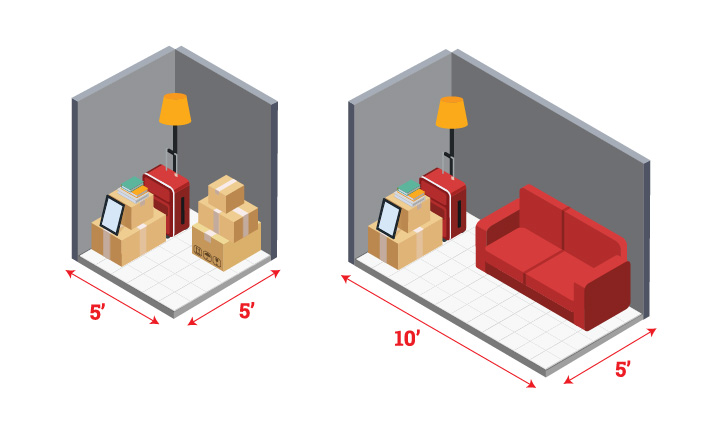 When to rent  small self-storage units
Even though 5 x 5 and 5 x 10 are among the smallest storage units you can find, you can still store a lot of items in them. You should rent them if you don't have too many large belongings. Small self-storage units are also a great option for seasonal storage.
Think of them as your regular large closet. So, you should rent a small self-storage unit if:
You need some extra space in your home

You need summer storage for students

You've decided to renovate your home
What to put in small self-storage units
As we previously said, small self-storage can be incredibly useful. They are convenient for storing:
Festive decorations

Garage tools

Children's old clothes and toys

Bed mattress

Old furniture: desk, chairs, boxes, etc…
Medium self-storage units
Choosing the correct storage dimensions can be the hardest part. If you decide to rent a medium self-storage unit then you should expect to put numerous medium to large boxes inside. They are great for short-term moving uses and additional storage to declutter your space at home.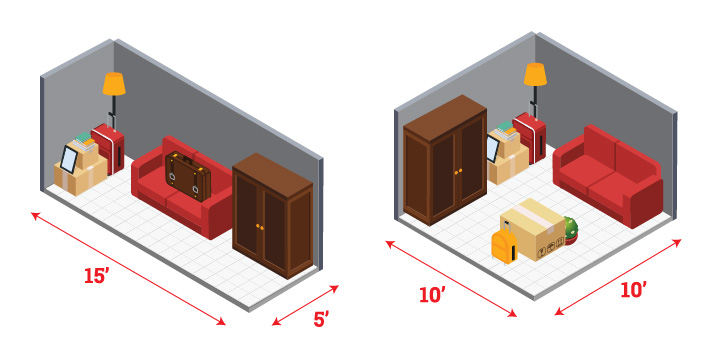 When to rent medium self-storage units
These types of units are popular if you are moving from a small apartment. 5 x 15 storage units are comparable to a spacious walk-in closet that's bigger than the regular ones. That's why they are great if you need storage for a small home or studio apartment. You can also use them for general home clutter.
What to put in medium self-storage units
Medium storage units are big enough to hold the contents of the entire room. You can even store some additional items. They are convenient, practical and can be immensely useful when relocating to a new home. Some of the things you can store in them are:
King size set

Motorcycles

Kitchen table

Seasonal items

Different Equipment 

Contents of a one-bedroom apartment
In large self-storage units, you will have enough space to store the large items and the contents of a house while moving. Many people use these kinds of units for their instruments, vehicles, or smaller boats and RVs.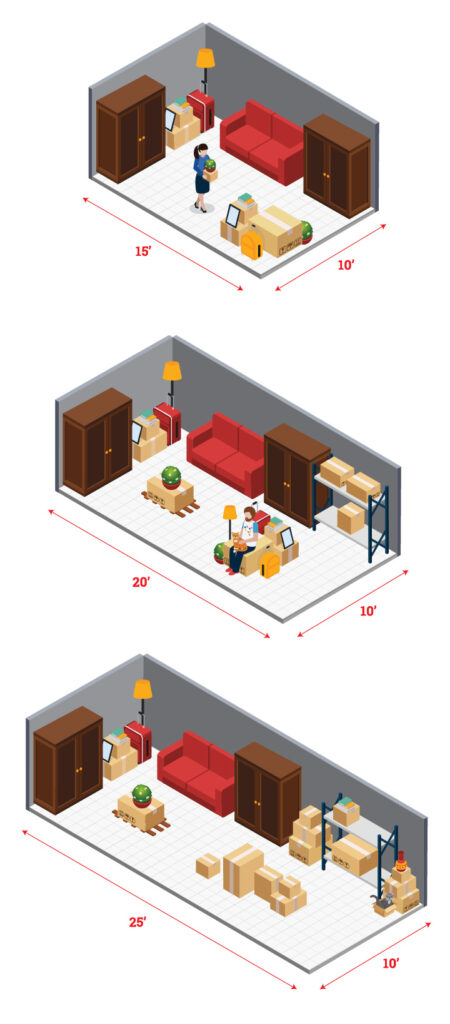 When to use large self-storage units
If you are planning to move from a big house with a lot of items, then renting a large storage unit can be your best option. Also, if you are undergoing major renovations at your home, large storage units may be exactly what you need. You should also use them if you are thinking about getting rid of unnecessary and big things in your home.
What to put in large self-storage units
Large self-storage units provide approximately 250 square feet of storage space, meaning that you can put plenty of large and different items in them. Some of them are:
Appliances like refrigerators, washers, freezers, air conditioners, etc

Home office furniture

King-size mattress and large dressers

Bookcases and bed frames

Large TVs and other electronics

Large boxes, file cabinets, floor lamps

Outdoor decorations

Small tractors and trailers

Sports gear
If you want to keep your vehicles from rain, snow, and sun, then vehicle storage units are the right choice for you. This type of storage unit provides enough space for most standard automobiles, trucks, motorcycles, and ATVs. Usually, there are perfect for standard-size vehicles, but you should always measure a car first before renting a storage unit.
Up to 35' (most RV's & boats)
Up to 50' (oversized vehicles)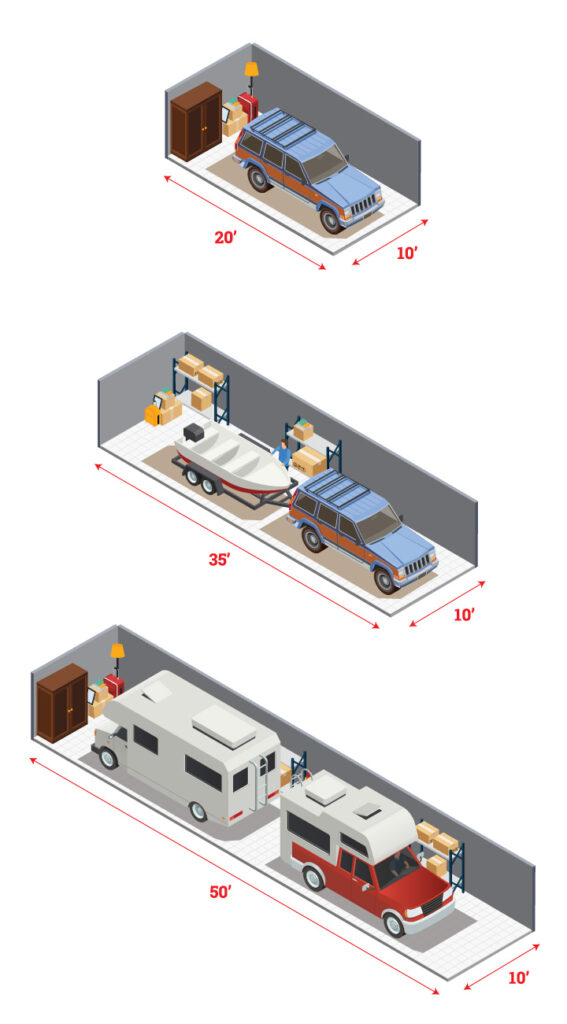 When to use vehicle self-storage units
More often than not vehicles need storage too. Some vehicles can be difficult to store in regular garages. That's how you know you'll need a proper storage unit for them. Also, many vehicles such as ATVs or boats are used occasionally, depending on the season. That's why you need some extra space to put them away. Maintaining good care of them is essential, especially when you're not riding them.
What to put in vehicle storage units
You can put many different types of vehicles, but always make sure to know their exact measurements, before you rent a storage unit for them. Take time to wash, clean, and properly protect your vehicles and then safely leave them in storage units. You can store all sorts of vehicles, and here's some of them:
Cars

Motorcycles

RVs

Boats

Jet Ski

ATV
Common reasons for using self-storage
There are many storage facilities out there, but not all of them will provide the same storage experience or suit your needs. Typically, there are 2 different types of storage:
Short-term storage

– ideal if you are planning to store your items for up to 1 month

Long-term storage

– any rental term longer than 1 month
There are many reasons why people use self-storage services, and it usually goes beyond simply having too many items in your home. Different life circumstances and events may cause you to need some extra space for your belongings for the long or short term. Common reasons include: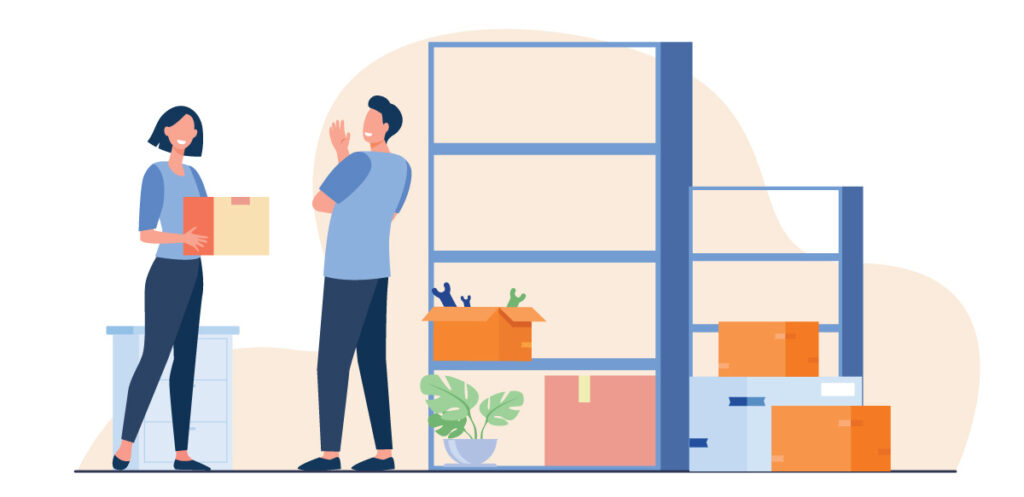 People often find themselves needing a place to safely store their belongings when moving. 
Moving can be a complex undertaking and not always a straightforward process that can be accomplished in a day. Storing things temporarily can help you keep organized during this transition, and beats the alternative of selling your old stuff and buying everything new.
Keep in mind, if you are using professional movers to help you relocate, many companies offer storage services uniquely designed to fit your needs.
With housing costs going up, many people are renovating instead of purchasing a new home. While this is a cheaper option, fixing up your home can be time-consuming as well, and home renovations can often be extended. Self-storage is an ideal solution while the builders are in and out of your home to keep the house clear of clutter and ensure worker safety.
3. Downsizing a home or an office
Downsizing a home or office automatically means there won't be enough space for all of your belongings to fit. You never know when the old furniture and items may come in handy, making storing them in a self-storage unit until a later date a great option.
4. Students going home for the holidays
Going home during the summer break often leaves students indecisive about what to do with their dorm room furniture. Instead of hauling all of their belongings home and back to the campus, self-storage is a great option. That way you can rest easy and enjoy your summer break knowing your belongings are safe until you need them again.
5. A change in a relationship
A divorce or a breakup is never a pleasant experience. It usually follows up with one or both partners leaving the residency, and in that event, self-storage comes in handy. Until life gets back to normal and you find a permanent place to live, storing your personal belongings may be the best thing to do.
6. Storing equipment and vehicles
Households or organizations who use equipment that operates on a seasonal basis such as gardening tools, ski equipment, or camping gear, typically don't want this stuff cluttering up their home. Self-storage units are perfect in these situations, to keep items safely stowed away during the periods they aren't used.
Self-storage can also be used as seasonal storage for vehicles such as cars, boats, motorcycles, trailers, RV's, etc.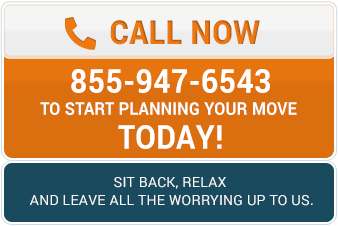 Most common items people put in self-storage
Many American households have a lot of stuff. Some of those items are incredibly important to owners or have some sentimental value. That's why self-storage units are quite useful. We did some research and found out the most common items people put in storage. Here is our list:
Holiday decorations

– with the festive season right around the corner, this type of storage can be convenient when it comes to storing your precious decorations

Old clothing

– we all have been there, clothes are slowly taking away your entire closet, making self-storage a convenient place where you can put some old clothes or things that don't fit anymore

Old furniture

– it is safe to say that many storage units are full of old furniture you can't throw away, but also you never know when you'll need it again

Baby items

– this can be a bit surprising because not many people expect to find baby clothes in storage units, but perhaps you are hoping for another little one so it can be smart to save all that baby clothes

Different kinds of equipment

– ski equipment, gardening tools, camping gear, can all be safely stored until you need to use it again
Many people use self-storage units so that they can have more space at home. Plus, it's always a good idea to have some safe place where you can store loved ones' belongings. Of course, if you are planning to move or renovate your home, self-storage is also incredibly useful.
Items you should not put in self-storage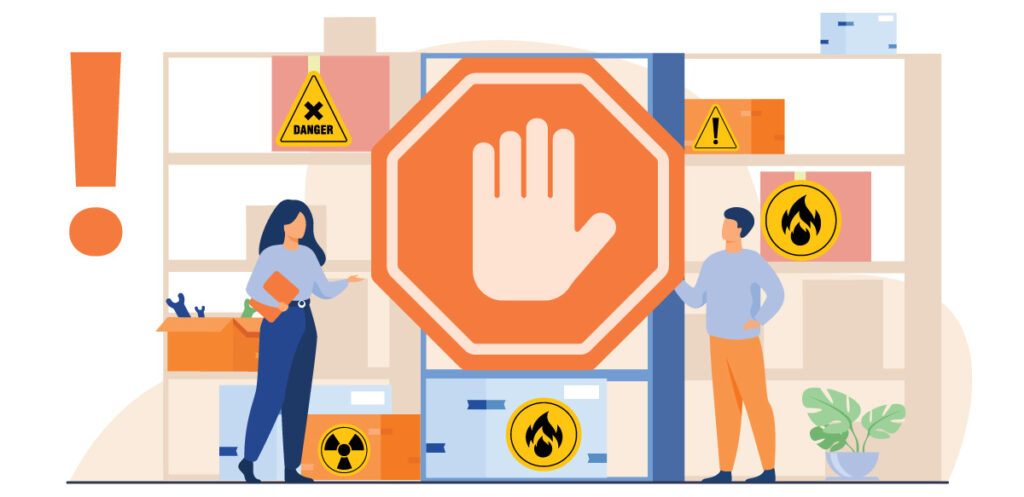 Self-storage is a great solution when you need to free up some space in your home or office. However, there are certain items that you can not store in self-storage under any circumstances. 
Whether you require short or long term storage, double-check to make sure you don't plan to store any of these items:
1. Firearms and ammunition
It is typically illegal to store firearms and ammunition in a storage unit. Not only do they pose a hazard inside the storage facility, but they are also potentially dangerous to the public should they fall into the wrong hands.
Self-storage facilities prohibit just about every dangerous substance you can think of. Check with the storage company you are planning to use, but chances are you can't put any of these items in the storage unit:
Acid

Compressed gas

Fertilizer

Fireworks

Gasoline

Grease

Kerosene

Narcotics

Paint

Propane tanks

Cleaners

Explosives
Self-storage facilities do not allow perishable foods. Food will eventually spoil, grow mold, or attract pests into the unit. Perishable food items include meat, cereal, fruits, vegetables, and dairy products. This also includes pet food.
4. Living (and dead) things
The rule for every storage company does not allow you to store living things. Whether it's a tiny plant or a pet, it absolutely can not be stored. You can safely assume that it's illegal to store any of these items in a storage unit:
Animals

Ashes(human or animal)

People

Flowers

Plants
Anything of monetary value shouldn't be stored in a storage unit. While some storage units are safe and secure, we would recommend storing these items somewhere with a higher level of security. We would suggest a safe deposit box, which can be kept at home or in a designated location.
6. Priceless and irreplaceable Items
Storage companies are a great place for storing many of your household items, nevertheless, storing irreplaceable items, such as family heirlooms or very expensive champagne glasses, may not be the best in this case. We strongly advise not storing items such as legal documents, jewelry, family heirlooms, antiques, etc.
How much does it cost to rent a self-storage unit?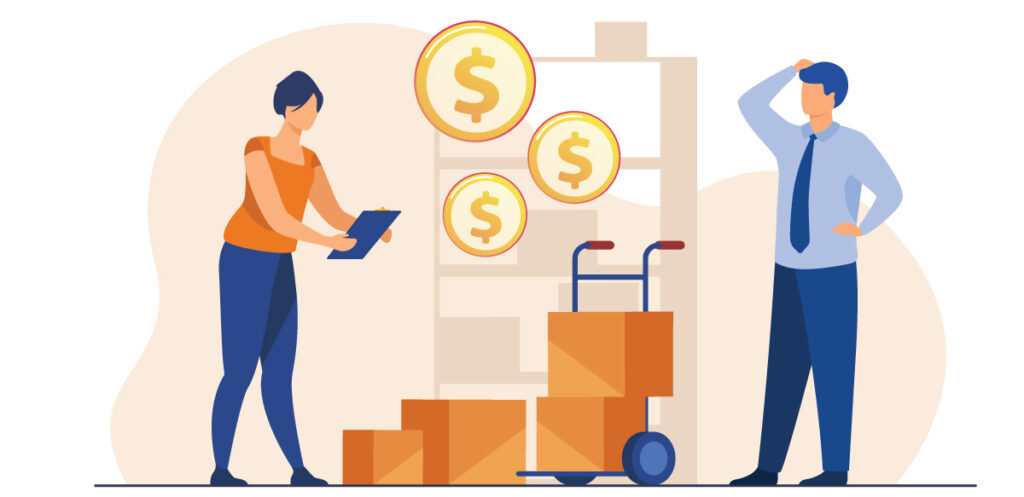 The cost of renting self-storage units differs from company to company. Moreover, prices differ based on variables such as unit size, location, services offered, level of security, etc. Some companies include insurance fees in the price as well. 
We compared self-storage prices from different companies for a 10 x 10 medium size storage:
| | | | |
| --- | --- | --- | --- |
| Self-storage company | Unit size | Special price online (per month) | Price in-store (per month) |
| Public storage | 10 x 10 | $139 | $179 |
| Extra space | 10 x 10 | $136 | $188 |
| Life storage | 10 x 10 | $158 | $182 |
| U-Haul | 10 x 10 | $115.90 | $115.90 |
| CubeSmart storage | 10 x 10 | $160.55 | $247 |
As you can see in the chart above, the cost for the same size storage units varies from company to company. Some self-storage places offer climate-controlled units, 24/7 video surveillance, and insurance, resulting in different prices.
Most of the self-storage companies charge monthly, so, for example, if you store your items only for two weeks, you will still be charged for a full month.
It is always better to research different companies and give them a call to find out more information and ask important questions specifically about what you are storing.
Self-storage is a service that puts you in full control of your belongings. When renting your self-storage units, make sure that your unit is well organized. This will help you save time whenever you visit it again. Simply put your padlock on the door, take your key, and enjoy easy access when you need it. You're able to take away or add items as you please, as long as they fit into the storage. It would be best if you could find a self-storage location somewhere near you. This is a great way to declutter your home and to know that all your belongings are safely stored in the unit, waiting for you to use them whenever you need them.