It's hard not to think about politics if you're considering moving to Washington, D.C.
Not only is this city the political capital of America, but it is also an international metropolis, a picturesque tourist destination, and a cosmopolitan center that retains a neighborly small-town ambiance.
In addition, Washington D.C is also a city that is growing rapidly, attracting young, educated people from across the country and the world.
We completely understand why you would want to move to Washington, D.C – keep reading to learn what kind of life you could live in the nation's capital!
As far as jobs go, a career in politics is at the forefront of Washington, D.C's job market. That said, there are also many other great professions and career opportunities for new residents of the nation's capital.
D.C. is home to four companies on the Fortune 500 list, including Fannie Mae, Danaher, Carlyle Group, and FTI Consulting. The city is home to 176 foreign embassies as well as the headquarters of many international organizations, trade unions, non-profit organizations, lobbying groups, and professional organizations. The surrounding areas of Virginia and Maryland also house major companies, all within easy commuting distance. The current unemployment rate in the District of Columbia is 6.9%, which is a decrease by 1.2 percentage points from the revised July 2020 rate of 8.1%.
Washington D.C. lies on the Potomac River, nestled between the beautiful Blue Ridge Mountains and the Atlantic Ocean. 
Summers are hot with plenty of sunshine, with temperatures during summer averaging 31.1℃ in July. Spring and autumn are relatively less humid and pleasant. January is the coldest month with an average low of -1.9℃. Snowfall is common during the winter months and can reach up to 15''.
In Washington D.C., you get to enjoy all seasons and a mild climate. The recommended month to visit the nation's capital is spring and fall, from March to May and September to November.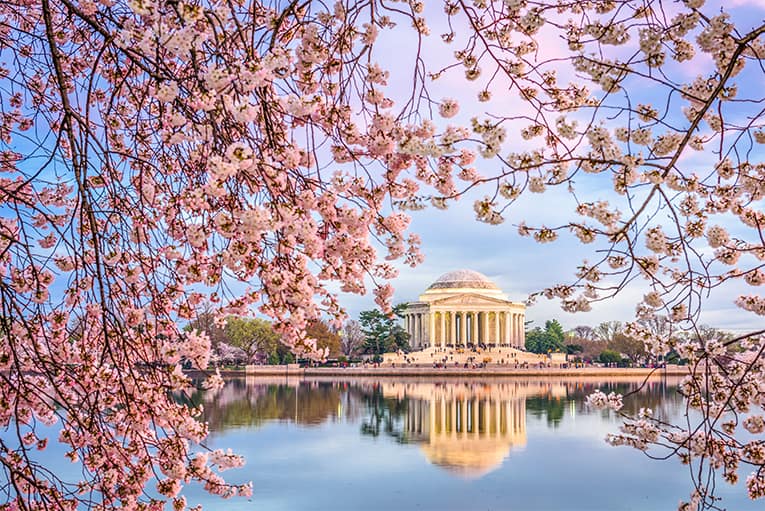 For those who would love to be away from the busy city life and visit beautiful parks and nature, Washington D.C. is the city for you, with many breathtaking parks and gardens for everyone to enjoy. 
The cherry blossoms are without a doubt the most exciting bloom of spring in Washington, D.C. The National Cherry Blossom Festival, which takes place from March 20 – April 12, features the whole District blanketed in pink by the blossoms. The U.S. National Arboretum has one of North America's largest collections of bonsai trees and miles of trails make this a perfect scenic hike. Rock Creek Park is home to native species such as snapping turtles. This natural oasis is filled with plenty of things to do. Hirshhorn Museums Sculpture Garden is a zen treasure in the middle of the National Mall. You can visit and admire 60 contemporary and modern art sculptures. There are many parks for families and couples to enjoy, such as Meridian Hill Park, Lincoln Park on Capitol Hill, and Kenilworth Park & Aquatic Gardens.
If you're a fan of beautiful gardens with many different kinds of flowers and trees, you can choose from Dumbarton's Garden, Tudor Place Historic House & Garden, U.S. Botanic Garden, and many more.
There are plenty of options when it comes to getting around the city. It takes on average 40-50 minutes to travel the city by metro. Fortunately, Washington, D.C. has one of the cleanest and busiest public transport systems in the country.  You can choose to drive but beware of the traffic, especially during rush hour. 
D.C. also has one of the highest taxi-to-person ratios in the country, with over 6,000 taxis available. The easiest way to hail one is by using the DC Taxi Rider app, for iPhone or Android.  If you're a bike rider, the city has more than 3,000 bicycles in its Capital Bikeshare Program.
Also, the District is very pedestrian-friendly, with wide sidewalks and plenty of historic monuments and inspiring museums you can see along the road.
The sports scene is among the top activities of things to enjoy in Washington, D.C. With major teams in almost every sport, you will always have many options for enjoying a game with family and friends. The district is home to the Nationals, who won the World Series in 2019, beating the Houston Astros and becoming the MLB champions. 
The district is also home to the Washington Capitals, the NHL team that won the famous Stanley Cup in 2018. The NBA team the Wizards and the NFL Redskins also call Washington, D.C their home.
D.C. is a hub for millions of tourists each year. The unique history paired with the beautiful scenery attracts visitors from near and far.  There is always something happening here! Weekends are filled with festivals, exhibitions, fairs, concerts, and a myriad of other events. Plus, the entrance to national museums is free; anyone can have a great experience visiting interesting and engaging with exhibits year-round. 
Furthermore, the central position of the city is extremely suitable for residents to enjoy weekend getaways. Options include nearby Virginia wineries, Delaware's spectacular beaches, or Baltimore's impressive aquarium. The list of entertainment options is endless. There is no excuse for being bored when you live in Washington, D.C.!
As far as the restaurant scene goes, the district offers cuisines from all over the world. Some of the best pizza places, Ethiopian, Modern Indian, Thai, Japanese, Balkan, and Vietnamese places can be found in Washington, D.C. From the classiest restaurants, there are also hundreds of local food trucks that wander the town. It would take you years to taste all that D.C. has to offer!
If you've never had a chance to try different cuisine, then Washington, D.C is the town for you! Explore and indulge in some yummy meals.
Education is important, and there is no place better for that than the capital of the United States. Washington, D.C. is filled with fantastic schooling options. Public, private, and international schools, as well as universities, are all located in this bustling city. It's no wonder that D.C. offers some of the best education in the whole country, and it's a terrific place to live for many students, pupils, and young professionals.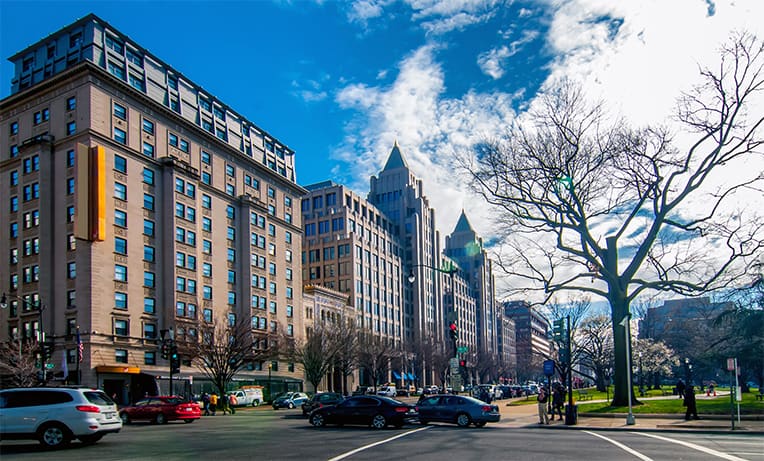 The location of Washington, D.C. is great for those living in one of the many nearby suburbs. Three major airports are in close proximity, so everything is very well connected. There is Reagan National Airport in Arlington, Baltimore International Airport, and Dulles Airport in Virginia. Another great thing about D.C. is the proximity to the beach. You will need to drive only two to three hours to reach some of D.C.'s most beautiful beaches. Everything is well connected by public transport, a huge plus for anyone thinking about relocating to Washington, D.C.
Cultural and Ethnic Diversity
The district is a veritable melting pot of different cultures, orientations, and communities. D.C. prides itself on offering a welcoming environment, which is why people from all over the globe choose Washington, D.C. to be their new home. The city has large ethnic neighborhoods that offer residents a taste of "the old country."

These neighborhoods offer cuisine, music, and entertainment from countries such as China, Ethiopia, Italy, and many more. Additionally, over 10% of Washington, D.C. residents identify as LGBTQ+ members; this city has the highest number of same-sex couple households.

Washington, D.C. is famous for its cultural diversity and inclusivity. It's not just a political center; it has evolved into much more than that. The population is well-organized and tolerant. Differences in minorities are largely respected and valued. America's capital is a community that nurtures and respects different cultures and nationalities.

D.C. and Maryland were ranked amongst the most diverse places in the country. The region has become more diverse and vibrant than ever before. Most communities are friendly and welcoming, creating a safe space for all cultures and nationalities.

According to the statistical atlas, these are the percentages of the total population of Virginia and the Washington area.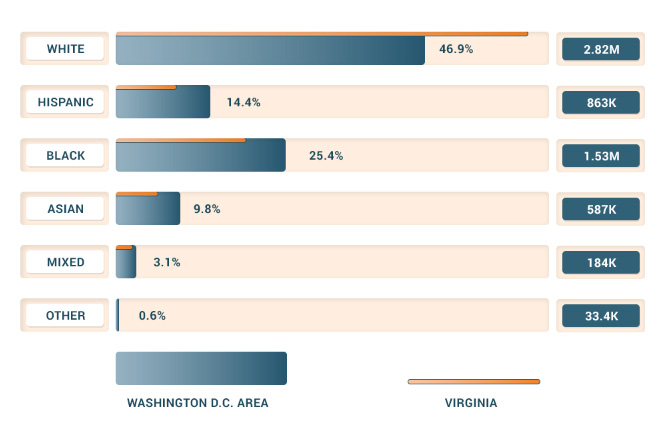 The amazing things pros of living in Washington, D.C., unfortunately, come with a price. According to Expatistan.com's data, Washington is the 3rd most expensive city in North America. D.C. can be quite pricey, but it's good to remember that a high cost of living doesn't mean affordable options aren't available.
According to data USA, these are the news numbers based on statistics done in 2020.
Population: 701,974

Poverty rate: 15.5%

Median household income: $90,842

Median property value: $618,100

Employed population: 382,108
The majority of traffic problems in Washington, D.C. are caused due to the ongoing construction of the Purple Line metro. The city is working to resolve the problems, but until then, traffic in Washington, D.C. can be quite frustrating. 
Rush hour is no joke in D.C. The Washington Metropolitan Area Transit Authority (WMATA) statistics show a positive increase in residents commuting by public transportation, but it's not nearly enough. Many residents' number one complaint is the heavy traffic.
In a city teeming with entertainment, one must expect some trade-offs. The city can easily become overcrowded at times. Residents and tourists often flock to the same areas and businesses have had to evolve to cater to large groups of people.
Demanding Work Environment
It can be hard not to become a true workaholic in the nation's capital city. Many people come to D.C. for work, which means that competition is tough. Many D.C. residents even put some personal relationships at risk because of their current job. You have to be on top of your game if you want to succeed in a city such as Washington, D.C.
Income inequality is easily visible in Washington, D.C.This city represents a mix of high-profile people and those trying to make ends meet, often working more than one job. The poverty rate is also high, which means that almost every fourth resident lives below the poverty line. There is an enormous division between the rich and the poor.
When you live in a big, metropolitan city, income inequality is quite common. Arguably, this can be one of the biggest cons of living in Washington, D.C. The city is filled with high-profile people, but at the same time with those who are forced to work two jobs at the same time.
Washington, D.C. is often swarmed with tons of tourists. When you are a regular resident of Capitol Hill, this can be a slight problem. Tourists invade D.C. almost every summer season, and distracted tourists can often congest the sidewalks. Tourists sometimes slow things down, but they have become an integral part of this populous city.
Why should you move to Washington, D.C.?
This concludes the examination of Washington, D.C. Recognized as one of the top ten best places to live in the U.S., it's also the 12th best place to retire in the U.S. You may be more or less inclined to move to the city after researching the facts, but before you make a decision, be sure to familiarize yourself with the nearby suburbs as well. The capital of the United States is one of the safest cities in the world according to Safe City Index's most recent report. Washington, D.C. was ranked No. 7, scoring particularly well in the security section. 
Hopefully, this article has provided food for thought when it comes to understanding life in Washington, D.C. We recommend creating your own "needs list" and see where the U.S. capital stands in regard to your priorities. Many are choosing to make the move this year, and Washington is one of the best places to start fresh! Click here to read more about moving and storage in Washington, DC.