Where To Donate Your Furniture Before Moving?
ZIP MOVING & STORAGE CAN HELP YOU OUT!
Moving Details
Next

Location Details
Next

*We respect your privacy, we don't share your name with others.
SUBMIT

Your information is essential to receive your moving quote.
*We respect your privacy, we don't share your email with others.
VIEW QUOTE

Your phone number will help us provide you with the most accurate moving quote.
PLEASE ENTER
YOUR PHONE NUMBER
*We respect your privacy, we don't share your phone number.
GET MY QUOTE

Help Us Out
How did you hear about us?
Your request was sent!
Please check your inbox to see the quote.
One of our move consultants will reach out as soon as possible regarding your request.
Disclosure: Phone calls between you and us may be monitored and recorded. You agree that Zip Moving And Storage can make calls and/or send text messages to you at the telephone number associated with your account. Consent may be revoked at any time by calling 855-947-6543 or email info@zipmoving.us

When moving homes, you often want to give your new home a fresh look and don't want to move all of your old furniture. That's where the big question comes in- what should I do with my old furniture? At times, selling your unwanted furniture pieces can be time consuming, therefore donating your furniture is another great way to get rid of the unwanted items and also make a positive difference in a community. 
The easiest way of doing this is dropping your furniture off and other unwanted household items at a local Goodwill Donation Center. If your furniture is too heavy or you have a lot of items, Goodwill also offers pick up services. Call the location in your area and ask if they offer pick up services. 
Keep reading to find out where and how to donate your old furniture: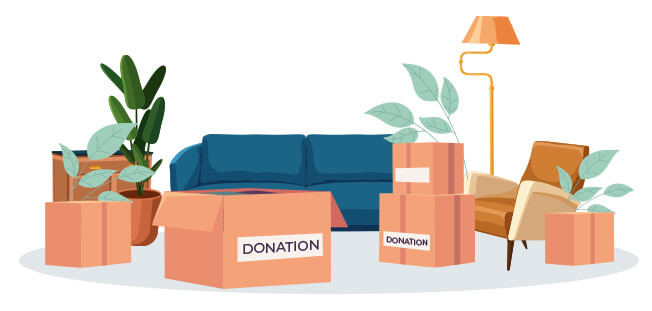 Donate your items to Goodwill
Goodwill Industries International is one of the most well-known charities in the country. With over 3,200 stores nationwide, finding a Goodwill near you shouldn't be a problem. All the donations, new and gently used, will be sold in stores or on shopgoodwill.com and use the revenue generated to provide valuable employment training and job placement services for people in your community. Great thing about Goodwill is that they accept almost anything- clothing, small appliances, furniture, books, accessories etc. This way you will easily get rid of your unwanted items before the big move and your generosity will inspire those around you.
There are multiple locations available in all of the states- Maryland, Virginia, Washington D.C., and Atlanta, GA. Therefore finding a Goodwill near you won't be difficult.

Donating furniture in Maryland (2022)
You can donate your furniture and household items to charities in Maryland like Habitat for Humanity. This non-profit organization is more than happy to receive your donations. Habitat for Humanity also offers pickup for large furniture items and appliances, which can be convenient, especially if you are in the midst of moving.
Annapolis

– 1103 A Annapolis Rd, Odenton, MD 21113

Ellicott City

– 10164 Baltimore National Pike, Ellicott City, MD 21042

Owings Mills

– 11411 Reisterstown Rd, Owings Mills, MD 21117

Baltimore

– 7928 Eastern Ave, Baltimore, MD 21224

Rockville

– 4816 Boiling Brook Pkwy, Rockville, MD 20852

Frederick

– 101 Willowdale Dr, Frederick, MD 21701

Donating furniture in Washington, D.C. (2022)
Washington, D.C. has it all, including many great organizations that can help you with old furniture items. A Wider Circle is an organization that accepts drop-off donations, including beds, dressers, chairs, tables, televisions, baby furniture, and home decor items in good condition.
2200 South Dakota Ave NE, Washington, DC 20018

Donating furniture in Virginia (2022)
Donating furniture can make a difference. Many families are in need of furniture, and your donation can be of great help. If you decide to donate to Habitat NOVA's ReStores, you can be sure that your furniture will end up in the home of someone who truly needs it. Before donating, always make sure that your furniture is properly cleaned and in good condition. Habitat NOVA's ReStores accepts all furniture items and household goods.
Richmond

– 6301 Midlothian Turnpike, Richmond, VA 23225

Virginia Beach

– 4461 Shore Dr, Virginia Beach, VA 23455

Falls Church

– 6136 Arlington Blvd, Falls Church, VA 22044

Arlington

– 4714 Columbia Pike, Arlington, VA 22204

Colonial Heights

– 1500 Boulevard, Colonial Heights, VA 23834
Alexandria-

8228 Richmond Hwy, Alexandria, VA 22309

Donating furniture in Atlanta, GA (2022)
Suppose you decide to donate your furniture to American Kidney Services (AKS) in Atlanta; you may be helping in more ways than you can imagine by supporting an organization that helps people with kidney disease. This organization accepts common furniture and household items, as well as clothing. If you decide to donate, know that your help is much appreciated.

3906 Roswell Rd NE, Atlanta, GA 30342

2135 Piedmont Rd NE, Atlanta, GA 30324

888 Ralph David Abernathy Blvd SW, Atlanta

5071 Peachtree Blvd, Atlanta, GA 30341

6300 Powers Ferry Rd NW #100A, Atlanta, GA 30339
Donate your items to Salvation Army
Another popular way of donating your items is to the Salvation Army. All the proceeds from the Family Stores fund Salvations Army Adult Rehabilitation Centers. These centers help over 60,000 people work through their life issues and help them integrate in the community as productive members. There are many Salvation Army stores across the U.S. and those donating furniture can either bring it to a drop off location or schedule a pick up.

Donate to Habitat for Humanity ReStore
If you have a Habitat for Humanity ReStore in your area, it's an excellent place to donate large items, and other household accessories. It gladly accepts large furniture donations like couches, dining tables, desks, chairs etc. They would sell your donated goods in its thrift stores , and use the proceeds to fund its programs. 
Habitat for Humanity is a non profit organization that provides affordable housing for those in need in the U.S. and worldwide. It works to repair and build homes.
You can drop off the small items at your nearest Habitat for Humanity ReStore, and schedule a free donation pick up. Just contact your local store to schedule it.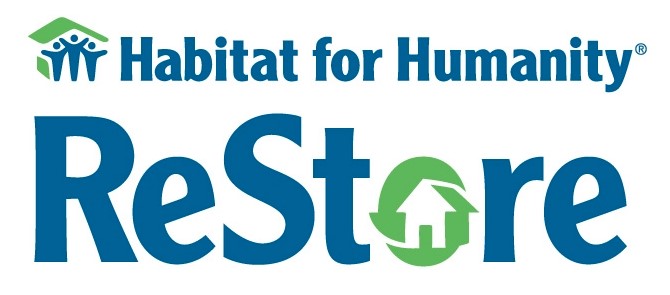 Another great option is PickUpMyDonation
PickUpMyDonation isn't a charity itself. Rather it's a service that connects you with local charities that can pick up your donations. That makes it a convenient option for donating heavier goods. Which often require a special vehicle to transport such as pick-up trucks or trailers. 
Specifically PickUpMyDonation assists non profit thrift stores in your local area, so the causes you can support depends on what's available. 
To donate your furniture, visit PickUpMyDonation and enter your zip code to start a donation request, which includes listing the furniture you want to donate.
If charities express an interest, you can choose which one gets it, then the thrift store will schedule a free pick-up.

We'll list other organizations where you can donate your goods locally:
Furniture Banks

Homeless Shelters

Local Women's and Family Shelters

Community Theater Groups

School
If you want to get rid of unwanted furniture, there are plenty of charity organizations that are more happy to take it off your hands. Call your local thrifty store, visit a homeless shelter or schedule furniture donation pick up online. Research these charity organizations, and decide which one works the best for you.