Moving marks the start of an exciting new chapter in your life. As you begin planning for your move, it's important to start thinking about which furniture pieces you'd like to bring with you and which items you'll be leaving behind. 
Whether you are thinking of hiring a professional moving company or doing it yourself, moving bulky furniture is time-consuming and costly. By proactively separating the furniture you no longer want from the items you'll be taking with you, you'll have a less stressful and more cost-efficient move.
There are many great options for what you can do with the unwanted furniture when moving, keep reading to find out!
Sell your unwanted furniture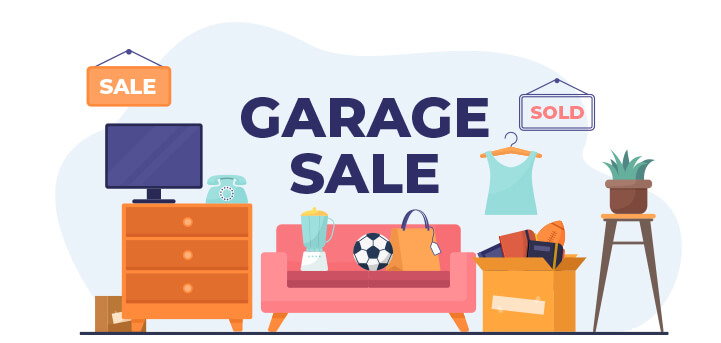 There's no better time to declutter your home than right before a big move. The fewer items you have to move, the simpler and cheaper your relocation will be. Even better, selling your items will put a few extra bucks in your pocket, perfect for offsetting the cost of buying new furniture for your future home! 
In this day and age, selling furniture has never been easier. Platforms such as Craigslist or Facebook offer a free-of-charge way for your furniture posts to receive tons of views, with very minimal effort on your part. Further, advertising a yard sale online has the potential to attract many more buyers for your items. 
Here are a few ways you can sell your furniture:
Yard sale is a great way to get rid of your old furniture. It is a fun event that will bring your neighbors and friends together, while you make a few extra bucks.
Holding a yard sale on the right day and at the right time is crucial to a successful sale. Most people work and have daily responsibilities during the week, making it not the best time to try and hold a yard sale. By choosing a Saturday or Sunday, you'll have a ton more potential customers.
As soon as you've decided on a date, spread the word to your family, friends, neighbors, and coworkers about your upcoming sale. Even if your friends and family don't need any furniture, they can spread the word to more people they know. Make posters advertising the sale and place them in strategic places around your neighborhood and on various social media platforms, such as Facebook and Instagram. On the day of the sale, make sure to put up big signs guiding everyone to the right place!
Prepare your furniture and other items
Before the big sale, be sure to clean and prepare your furniture so it looks presentable. Think about including small items and appliances you don't want anymore in the sale too, you never know what someone else is looking to buy! Add some colorful balloons to your yard and play some music to make the atmosphere fun and inviting.
Give your buyers a good deal
Be ready to negotiate prices with customers and give them a good deal when purchasing multiple items. Though you may have paid a good amount of money for your furniture, your primary goal is to declutter your home in preparation for the move!
2. Sell your furniture online
If you don't have enough time or energy to plan and set up a yard sale, selling your furniture online is a great option. Simply snap a few good photos, post your ad online, and wait for interested buyers to contact you. Usually, buyers will be the ones coming to pick up the furniture they want to buy, so you don't have to stress about figuring out how to disassemble big furniture pieces and finding a vehicle big enough to deliver it.
Facebook Marketplace, Craigslist, Nextdoor, Letgo, and Offerup are the most popular apps for buying and selling items, featuring a wide range of users looking for deals on furniture, appliances, and other home goods. You can easily adapt selling to your calendar, by scheduling buyers to come over to take a look at your furniture at your convenience.
3. Give away furniture to family and friends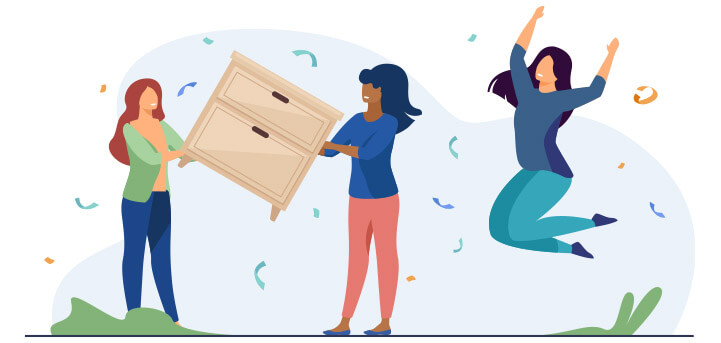 If you don't want to go through the hassle of selling your furniture, you can always gift it to the people closest to you. Maybe your sibling has admired your dresser for years, or your closest friend loves the mirror in your hallway that is too big to take to your new home. Offering your furniture and home goods to those closest to you is a thoughtful and kind gesture that will surely be appreciated!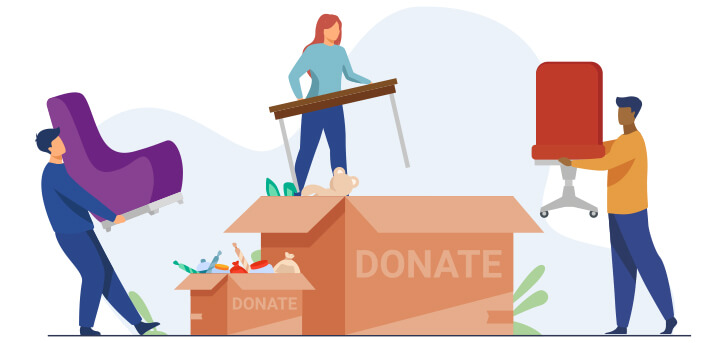 Perhaps you would simply like to donate your unwanted furniture to a good cause! There are plenty of charities and non-profit organizations that would make great use of your items. Do a simple google search to find out which charitable organizations are in your area (some organizations also offer to pick up).
Here are a couple of charitable organizations that will gladly take your unwanted furniture in many cities:
The National Furniture Bank Association

Donation Town

The Salvation Army

Vietnam Veterans Of America

Goodwill

The United Way

Keep in mind, some local organizations such as homeless shelters and missions, schools, and theater groups may also be able to put your old furniture to good use. Give them a call and ask if they're in need of gently used furniture pieces, and schedule a pick-up or drop the items off yourself. 
When you donate furniture, don't forget to request a receipt. This way you'll be able to claim the donation when the time comes to file your taxes. 
Gift your unwanted furniture to strangers
Charitable organizations can sometimes be picky when it comes to the condition of your furniture, or perhaps you haven't had any luck selling your items online. In this case, why not list your unwanted furniture on a website like Freecycle or in the Craigslist free section? 
You can also call 1-800-GOT-JUNK and schedule for someone to come and pick up your furniture, and they will make sure it gets donated or recycled properly.
5. Dispose of your furniture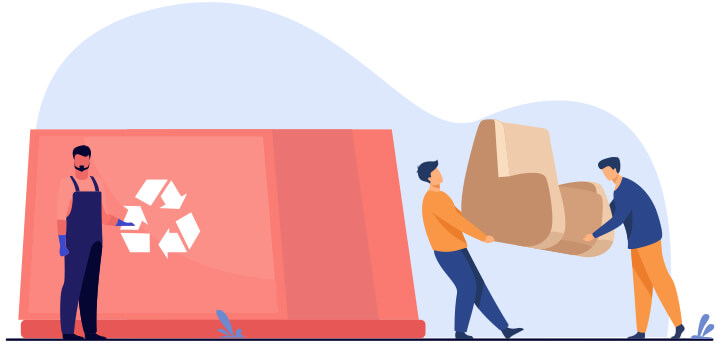 Another option is to dispose of your unwanted furniture. This will most likely cost you a fee, but it is a sure and safe way of getting rid of your old furniture.
There are several options when it comes to furniture disposal; the right choice for you will depend on how many items you have and how fast you'd like to dispose of your furniture pieces.
Here are some of the ways you can dispose of your furniture:
Ask your moving company if they offer disposal services
If you are using professional movers, give them a call and ask if they offer disposal services. Many companies do offer this service, though it may come as an extra charge. Moving companies have employees that are trained in securely removing and disposing of your furniture, making it a safe and efficient choice for furniture and household appliance removal. 

Depending on how much furniture you have to dispose of, you may want to look into renting a disposal container. The disposal company will drop off the container at the scheduled time in front of your home and pick it up when it's ready. One downside to this option is that you have to load the container yourself. 

Hire a junk removal service
 The junk removal professionals will come to your home, load up the unwanted items, and haul them away. Most companies charge based on the volume of items you have, so if you have many bulky furniture items it might cost you more.
Take it to a scrap dealer
If you have metal chairs, tables, or bed frames, you can recycle your furniture at a local scrap metal dealer. Before recycling metal furniture, you'll want to determine whether the metal is ferrous or non-ferrous. Though most scrap yards will take either kind, non-ferrous metal furniture will cost more to dispose of. To determine what kind you're dealing with, hold a magnet to your furniture. If the magnet does not stick, it's a non-ferrous metal.

When it comes to the task of disposing of your unwanted furniture, don't feel stressed one bit! You have many options available, simply choose which one will work best for you. As a professional moving company, Zip Moving & Storage will provide you with a quick and smooth relocation. Additionally, we can also dispose of your unwanted furniture and other household items. For more moving tips, check out our Room-By-Room Packing guide that will make your relocation even easier!