Whether you are moving your home or office, moving companies and real estate agents may use moving-specific terms that can leave you bewildered. Not to worry, we've all been there before! At Zip Moving & Storage, we prioritize providing a positive moving experience, and that starts by explaining all of the moving terminologies you may hear during the moving process. If you are confused at any moment, don't hesitate to ask! Our customer service representatives are patient and willing to take the time to explain the many terms in our moving dictionary.
Without further ado let's get started!
Zip Moving & Storage has the infrastructure to generate an accurate moving estimate remotely! You will simply receive a video call from your moving coordinator and do a walkthrough of your home. During the walkthrough, let the coordinator know everything you wish to move. Your inventory will be taken note of by the coordinator and an accurate moving estimate will be generated.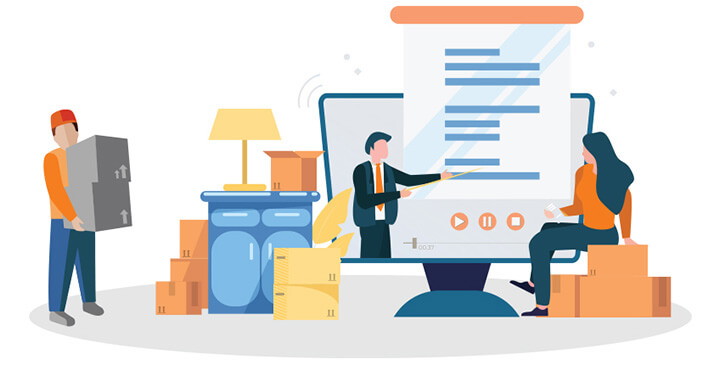 One of our moving agents will visit your home and perform a walkthrough. During the walkthrough, let the moving agent know everything you wish to move. The agent will take note of your inventory and generate an accurate moving estimate.
The crème de la crème of moving services! This service consists of full professional packing by our experts, the efficient loading of your belongings onto our moving truck, and the transportation and unloading of all of your belongings at your destination.
#4 Cash on Delivery (COD)
Payment is required upon delivery of your belongings, prior to the unloading of the items at your destination.
A document authorizing a motor carrier, in this case, our employee, to transport your household goods. Note, this is not a contract
An acronym for the estimated time of arrival. Our agents will use that term when communicating with our on-the-ground movers.
Pieces of furniture or items that are valued at more than $100 per pound. Our movers carry a document with notes about your valuables ensuring the best care possible.
#8 Long and Short-Term Storage
An estimate of how much your move will approximately cost. A quote is generated with one of our sales representatives over the phone or online and is free of charge!
A list of all of your belongings you wish to move. Inventory is done together with our moving coordinator. It's of great importance to be as detailed as you can since this list also serves to note the condition and value of your belongings.
A small amount of money that is paid to the moving company once you book your move to secure the move date. A security deposit is standard practice by many moving companies. The deposit is refundable with sufficient notice of cancellation.
The total sum of money that needs to be paid by the customer by the set due date. Paying the balance usually happens before the movers unload your belongings at your new location.
Your moving coordinator is your point of contact to guide you through the entire moving process, ensuring a smooth, efficient, and stress-free move.
The moving company that transports your belongings, for example, Zip Moving & Storage!
In case of damage to your belongings during the moving process, our protection plan will cover:
#16 Certificate of insurance
A document from the moving company's insurance company. Building managers know that accidental damage is at times caused during the moving process and usually, they would request COI. Note, most reputable moving companies will provide a certificate of insurance.
#17 Binding\Non-Binding Estimate
Binding

– a contract stating the final price of the move, which means you will not be charged more or less. It is important for the customer to understand and agree with the terms before signing the contract since the price is non-negotiable.

Non-Binding estimate – the estimated price of the move is approximate, and it can change at any time. You could pay more or less based on the actual amount of work required to complete your move.
A contract that states that the moving company is required to provide you with the services agreed upon, and you as the customer are required to pay the charges for the services. The Bill of Lading also contains all of the details regarding your move. Before signing, make sure to read through it, understand everything, and agree to the terms and conditions.
#19 Revised Written Estimate
We offer various packing services to lighten the load of moving for you:
Partial pack – our expert movers will pack fragile items, TVs, mirrors, large paintings, glass tables tops, mattresses, etc.

Full pack – our professional packers will carefully wrap and pack every piece of furniture you own
#21 Disassembly and Assembly
When hiring Zip Moving & Storage to assist with your move, our expert movers will disassemble and assemble your furniture at no additional cost.
Disassembly

– our movers will take apart necessary furniture for safe transportation

Assembly

– once at your new location, our movers will put all the furniture together.
This charge applies in an instance where the moving company carries items an excessive distance from a home to a moving truck or vice-versa. For example if the parking is a far distance from the entrance, long carry charges may apply.
A move that begins and ends within the same metropolitan area. Any move under 50 miles is considered a local move.
For the safest transportation of your belongings, our company protects furniture by wrapping it in the bubble and shrink wrap. Larger items are wrapped in furniture blankets.
A box of essential items that is not packed onto the moving truck. You can pack items such as pajamas, a change of clothes, toothbrush, soap, etc. This box is a lifesaver when you arrive at your new home!
Prohibited items are items that can not be moved or stored by a moving company. This includes perishable and flammable items, as well as explosives and firearms.
A term used by moving companies when determining the time frame your belongings will be transported to your new location.
When all of your items do not fit in the moving truck, our company has to use an additional truck. To avoid this situation from occurring, try and be as accurate as you can with your inventory.
Congratulations, you have learned a new language! Not only does the Zip Moving & Storage team strive to make your move easy, but we also search for ways every day to provide you with knowledgeable information about moving as well. If you have any questions, don't hesitate to reach out and ask!