What are Moving Insurance Types?
ZIP MOVING & STORAGE CAN HELP YOU OUT!
Moving Details
Next

Location Details
Next

*We respect your privacy, we don't share your name with others.
SUBMIT

Your information is essential to receive your moving quote.
*We respect your privacy, we don't share your email with others.
VIEW QUOTE

Your phone number will help us provide you with the most accurate moving quote.
PLEASE ENTER
YOUR PHONE NUMBER
*We respect your privacy, we don't share your phone number.
GET MY QUOTE

Help Us Out
How did you hear about us?
Your request was sent!
Please check your inbox to see the quote.
One of our move consultants will reach out as soon as possible regarding your request.
Disclosure: Phone calls between you and us may be monitored and recorded. You agree that Zip Moving And Storage can make calls and/or send text messages to you at the telephone number associated with your account. Consent may be revoked at any time by calling 855-947-6543 or email info@zipmoving.us

There's a lot of tasks to check off your list when moving, and moving insurance should be prioritized at the top of the list. In addition to looking for the best company to pack and transport your belongings, it is important to consider choosing the most suitable moving insurance to protect your personal property during the move. Read on to learn more about different protection plans to fit within your budget.
We are here to explain everything you need to know and make your move an easy and seamless transition!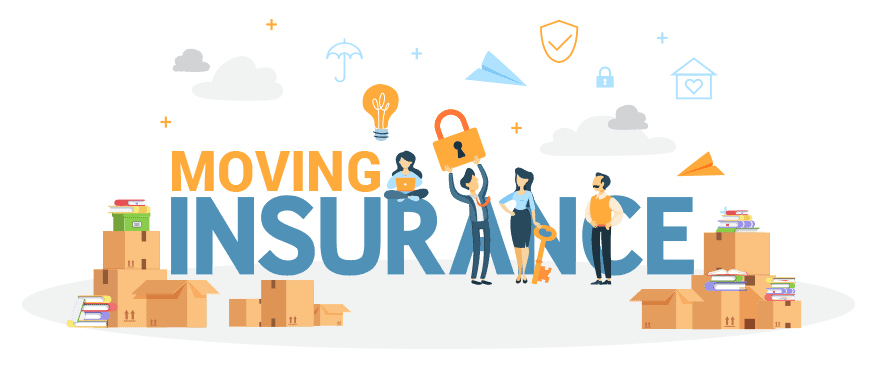 What is Moving Insurance?
Third-party moving insurance is actual moving insurance, which can be purchased from an independent insurance company. If you feel that you need additional insurance for your belongings when moving, start by calling your current home insurance provider. Some include coverage for movers, whereas others are willing to add on moving coverage to your existing policy for a small fee. If your current provider does not offer insurance for your move, several reputable national companies provide third-party coverage. 
If you want a full coverage for your items it is a good idea to go with third-party moving insurance, especially if you are relocating valuable items. 
Consumers purchase insurance to cover damage from:
Natural disasters

Mechanical and electrical accidents

Mold and mildew

Moths and insects

Temporary storage

Damage to one part of a collection or set
Do I need moving insurance?
Insurance is not required by law or the movers, but ideally, you want enough insurance to protect yourself if your belongings get damaged.
What Does Moving Insurance Cost?
The cost of a third-party insurance policy varies based on the type of insurance you purchase and the details of the coverage. It varies anywhere from $1 to $5 of the total valuation. For example, insured items valued at $5,000 would cost you $150 at a 3% rate.
Here are some reputable moving insurance companies:
Relocation Insurance Group

Baker International
Protection Plans Offered by a Moving Company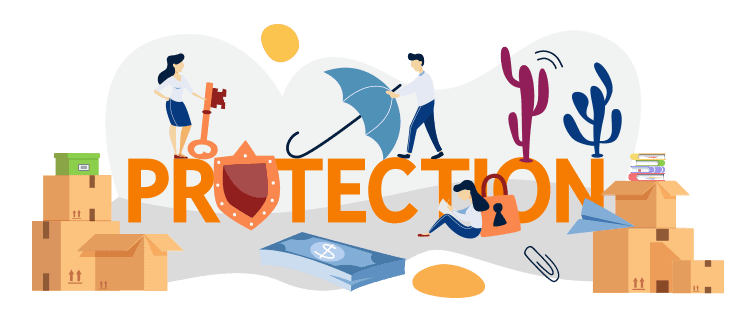 A moving protection plan is a plan offered by the moving company. Protection plans are not exactly 'insurance', since moving companies by law are not allowed to sell moving insurance policies. Protection plans, however, serve the same purpose: the moving company offers compensation for your belongings in case of loss or damage. Different types of protection plans are:
Wavier of Full Value Protection
Full Protection Plan
What is Waiver of Full Value Protection
Waiver of Full Value Protection
This is a lower level of protection and is provided at no additional cost beyond the base rate.  However, it provides minimal protection that is considerably less than the average value of household goods.
 If any item is lost, damaged, or destroyed while in the movers' custody, you will be reimbursed at 0.60 cents per pound per article. For example, a settlement for a sofa valued at $1,000 that weighs 400 pounds will be $240. (400 x 0.60 cents)
What is the Full Protection Plan
Full Protection Plan
The Full Protection Plan is the all-inclusive plan available for the protection of your goods. In many cases, Full Protection Plans have deductibles. 
When you decide to purchase this plan, you have to calculate the worth of your belongings and itemize the property you want to insure. Your movers will use this number to calculate your valuation's compensation limit. This limit usually works the same as a regular insurance policy.
Some states have regulations that state what the minimum coverage can be, ranging anywhere from $4 to $6 per pound on your household items. 
For example, if you're moving 10,000 pounds of goods and you declare the minimum value on your goods is $6 per pound, your household goods will be valued at $60,000. This is the amount you'll receive if everything in the shipment is lost or damaged. 
When you file a claim under Full Value Protection, your moving company has 3 options when fulfilling your claim:
Repair the item

Replace the good with an item of comparable value 

The value of your goods will be deemed to be equal to $6.00 multiplied by the weight
Note that a Full Protection Value won't cover very expensive items, such as jewelry or antiques, and usually doesn't cover property that's worth more than $100 per pound. For example, your bracelet that weighs 4 ounces and costs thousands of dollars will be excluded from the coverage because it's too valuable. 
When planning your move, carefully consider all protection plans moving companies offer and go with the one you feel the most comfortable with. 
With the Full Protection Plan, the moving company will replace your damaged item with the same or similar item in monetary value. Before the claim can be satisfied you must pay $250 – $1,000 in deductibles. On the contrary, there are no deductibles in the Waiver of Full Protection, and after making a claim you will simply receive compensation of 0.60 cents per pound of the item damaged.
What is fine art insurance?
Moving is a complex process, and sometimes accidents can happen even to the best movers.
Sculptures, drawings, prints, and paintings have incredible value. It's crucial to protect them properly. That's why it's always a good idea to have a solid insurance plan.
If you have proper moving insurance, you can prevent any potential damage to those items during your relocation. One type of special insurance policy is fine art insurance. If you decide to go with this type of insurance, you will be provided with protection for valuable and rare art pieces.
What type of objects can be insured under this policy? – Regular insurance is likely not enough for many individuals or organizations that work with fine art items. We understand how important it is to protect your valuable belongings, so we always recommend taking fine art insurance for items like priceless paintings, antiques, sculptures, prints, and drawings. However, other items like rare coins or materials can also be covered under this insurance policy. 
Unfortunately, Zip Moving & Storage doesn't offer this type of insurance, but we like to emphasize its importance. Items with great sentimental and material value should be properly protected. Our advice is to find a reliable and trustworthy company that offers this type of insurance and choose the one that suits your needs the most!
Homeowners and renters policies
Homeowners and renters policies provide coverage for your belongings while your personal property is at your residence, in transit, and in storage facilities, but will not pay for any damage done to personal property while being handled by the professional movers when packing or personally moving the items. 
It is important to discuss with your current insurance provider the coverage options you currently have.
Different options you may want to consider adding are:
Special perils contents coverage – 

will cover breakage of all items, excluding fragile items

A floater – 

will fully protect high-value items such as jewelry, collectibles, china, vases, fine art, etc.

Car insurance verification- 

If you're shipping your vehicle, ask the auto shop company for their insurance certificate – they are required by law to have one. Make sure to check with your insurance company about your coverage. Is it the same while your vehicle is being transported? Do you have to provide the company with any notification?

Storage insurance –

If you're going to need temporary or permanent storage before or after your move, it is important to get the information about how your belongings will be covered. 
In this article, we listed different coverage options provided by moving companies and third-party insurance companies. Ideally, you always want to start planning your move well in advance and have time to go through important tasks such as moving insurance. Every move is unique, therefore budget yourself ahead of time in case you choose to go with the option that costs extra.
According to Zip Moving & Storage transcripts, most of our customers go with the Full Protection Plan, which costs extra depending on how much property you're moving. Accidents do happen even to the most experienced of us, therefore having some type of coverage will put your mind at ease if the worst of situations occur.