What is The Purpose of the Moving Inventory List
ZIP MOVING & STORAGE CAN HELP YOU OUT!
Moving Details
Next

Location Details
Next

*We respect your privacy, we don't share your name with others.
SUBMIT

Your information is essential to receive your moving quote.
*We respect your privacy, we don't share your email with others.
VIEW QUOTE

Your phone number will help us provide you with the most accurate moving quote.
PLEASE ENTER
YOUR PHONE NUMBER
*We respect your privacy, we don't share your phone number.
GET MY QUOTE

Help Us Out
How did you hear about us?
Your request was sent!
Please check your inbox to see the quote.
One of our move consultants will reach out as soon as possible regarding your request.
Disclosure: Phone calls between you and us may be monitored and recorded. You agree that Zip Moving And Storage can make calls and/or send text messages to you at the telephone number associated with your account. Consent may be revoked at any time by calling 855-947-6543 or email info@zipmoving.us

What Is Moving Inventory?
Moving inventory is a list containing all of the items you wish to transport from your old location to the new one. The inventory list is detailed and descriptive for each of the items loaded inside of the moving truck.
Our moving agents will kindly ask you to go from room to room and let them know every piece of furniture you would like to move, and the condition of it.
On the day of the move, our movers will conduct another inventory on spot, in case you have additional items you would like to move.
What Is The Purpose Of Keeping Track Of Moving Inventory?
Moving inventory plays a major role in the moving process for many reasons. Moving inventory helps movers keep track of all the items in the shipment as well as the detailed conditions of items. The list is referred to before and after the shipment for insurance purposes, and to make sure all the items have been transported without any damage.
Inventory is finalized at the time the movers load the shipment. Movers will note any damaged items or unusual wear on belongings before loading.
Each page on the list will need to be signed by both the customer and the member of the moving team. Customers should ensure that all the belongings are included on the inventory list and agree that the condition of each item is described correctly before signing. The mover will provide the customer with a copy of the inventory list to be kept with the Bill Of Lading.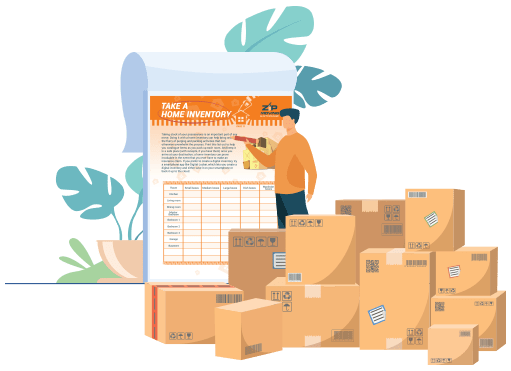 Keep in mind
The inventory list helps movers keep track of items and the conditions the items are in.
What does the inventory list describe?
Item Count

– Movers do a recount of items before loading them onto the trucks.

Item Condition

– Items are inspected and the item's conditions are labeled in the condition at Origin Section. 

The movers will use abbreviations from the table below to label items' condition upon pickup.
| | | |
| --- | --- | --- |
| DESCRIPTIVE SYMBOLS | EXCEPTION SYMBOLS | LOCATION SYMBOLS |
| B/W – Black & White TV | BE – Bent | 1. Arm |
| C – Color TV | BR – Broken | 2. Bottom |
| CP – Carrier Packed | BU – Burned | 3. Corner |
| PBO – Packed by Owner | CH – Chipped | 4. Front |
| CD – Carrier Disassembled | CU – Contents & Condition Unknown | 5. Left |
| SW – Stretch Wrapped | D – Dented | 6. Legs |
| DBO – Disassembled by Owner | F – Faded | 7. Rear |
| PB – Professional Books | G – Gouged | 8. Right |
| PE – Professional Equipment | L – Loose | 9. Side |
| PP – Professional Papers | M – Marred | 10. Top |
| MCU – Mechanical Conditions Unknown | MI – Mildew | 11. Veneer |
|   | MO – Motheaten | 12. Edge |
|   | P – Peeling | 13. Center |
|   | R – Rubbed | 14. Inside |
|   | RU – Rusted | 15. Drawer |
|   | SC – Scratched | 16. Seat |
|   | S – Stretched | 17. Door |
|   | SH – Short | 18. Shelf |
|   | SO – Soiled | 19. Hardware |
|   | ST – Stained |   |
Description Symbols Table
Inventory list and insurance claims
Inventory lists are very important in the case that items are lost or damaged. The inventory list keeps track of the original condition of items being transported so if damage or loss occurs during relocation there is proof for the customer's claim. 
Customers who have the Full Value Protection plan will have at least the minimum liability for the shipment which is $6.00 per pound multiplied by the weight of the shipment. However, the Waiver of Full Value Protection will carry minimal protection at the released value of 60 cents per pound per article.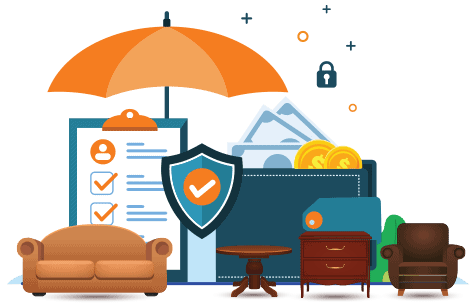 Why Is Inventory List Beneficial For Our Customers
Keeping an inventory list is not only mandatory and helpful for moving companies, but it makes your moving process easier and organized. Here are a few benefits of keeping track of your inventory list:
To Calculate Cost Of Goods
When in the process of moving, the best is to create your own moving inventory beforehand and write down everything you will move to your new house. One of the major factors moving companies base their price on is the number of items being shipped. Therefore, you can calculate the cost of your move simply by knowing exactly how many things you will move and what services you'll require.
Monitor Everything With A Checklist
The biggest nightmare when moving is losing some of your belongings. To prevent this from happening, you should draw up a home inventory list and plan everything carefully.

This way, you can overlook your items being loaded in the truck and go down the list and check them off. The same thing should be done once your items are unloaded, and this way you'll know exactly what you sent with the movers and if anything is lost during transport.
A precise inventory list will help customers unpack more efficiently. Boxes will be labeled and well organized. Customers may find that the inventory list provides an idea of where to start the daunting process of unpacking. The list also keeps track of which box has the valuable, fragile, or urgently needed items (bedsheets, toiletry items, etc).
Printable Moving Inventory Sheet
Zip Moving and Storage strives to assist customers with every aspect of the moving process. One way Zip Moving and Storage may help is to streamline the task of packing. Customers may utilize the printable Moving Inventory Sheet to keep track of possessions.
The table can be used to write how many and what kind of boxes are in each room and the box stickers can label the boxes. This system will prove very useful for the unloading and unpacking.
Download a free version of the moving inventory sheet here.