How much do moving companies charge for storage?
ZIP MOVING & STORAGE THOUGHTS
Moving Details
Next

Location Details
Next

*We respect your privacy, we don't share your name with others.
SUBMIT

Your information is essential to receive your moving quote.
*We respect your privacy, we don't share your email with others.
VIEW QUOTE

Your phone number will help us provide you with the most accurate moving quote.
PLEASE ENTER
YOUR PHONE NUMBER
*We respect your privacy, we don't share your phone number.
GET MY QUOTE

Help Us Out
How did you hear about us?
Your request was sent!
Please check your inbox to see the quote.
One of our move consultants will reach out as soon as possible regarding your request.
Disclosure: Phone calls between you and us may be monitored and recorded. You agree that Zip Moving And Storage can make calls and/or send text messages to you at the telephone number associated with your account. Consent may be revoked at any time by calling 855-947-6543 or email info@zipmoving.us

Whether you're relocating or just renovating your home, storage solutions are convenient when you need to add flexibility to your move and find the perfect place to keep your items safe and secure.
How to add flexibility to your move?
No matter how well-prepared you are, life can be unpredictable sometimes. Remodeling your home or buying a new house can take longer than you initially planned it. In such cases, it's good to have a backup plan, and storage solutions are certainly one of them! 

That's why knowing you can store your most valuable possessions in several ways brings peace of mind. Some options for storage are:
Rent a POD

 

Use public storage
Turn to a professional moving and storage company
Benefits of using a full-service moving company for your storage needs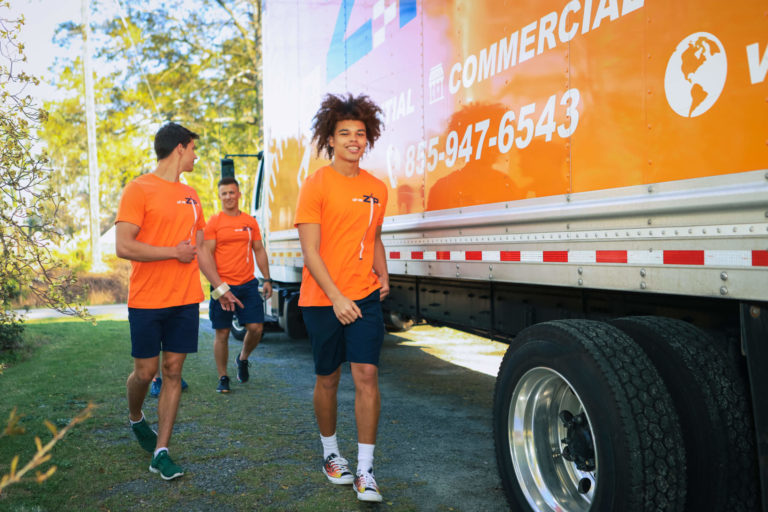 Full-service moving and storage companies have great storage solutions!
Many moving companies offer affordable and convenient storage solutions. You can rely on their help whether you need storage space for just several weeks or a longer period of time.
your items will be properly protected and stored

also, your items will be kept in great conditions

storage units are climate controlled with 24/7 surveillance

the same movers that pack your possessions will store and deliver them to your

new address
Factors that can affect storage prices with moving company
Putting your items in storage can depend on many different factors. Some of them are the type of your move, the size of it, the number of items, and the length of time.

Every moving company operates differently. That's why we always recommend researching before choosing the right moving company for your needs. The cost of storage solutions ranges from one moving company to another.

One of the first things you should consider is the length of time that your items need to be stored in a storage unit. The longer your items remain in storage, the more money you will have to pay for them.

When it comes to moving companies, the weight or volume of your belongings affects the ultimate price of a storage service. That's why we always recommend having an inventory list. You will know the exact number of items you plan to store, and everything will be very organized.

Of course, as stated, every moving company has different prices and ways to charge a storage service. Also, the costs can vary from state to state, so make sure to ask your moving coordinator about all important details.

If you decide to book a storage place for your belongings during the season, many units may already be occupied. That happens during the summer months when it's the peak of the moving season. However, if you plan to put your items in storage during spring, winter, or fall months, you can get some pretty good deals, even discounts.

So, to sum up, these are some of the most important factors that can affect the prices of your storage service: 
Size

Availability

Bulky items

Type of move

Length of time

Number of items
What else should you know about the price of a storage service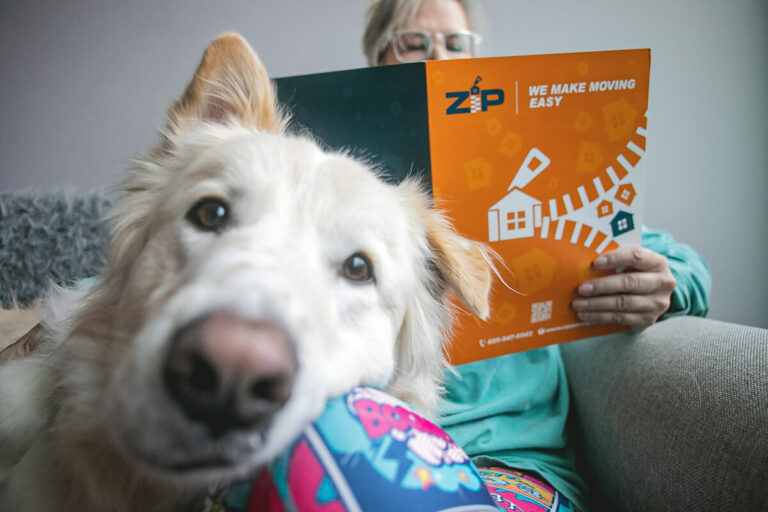 In some situations, other fees and promotions can also affect the price of your storage unit, but it's best to check that with your selected moving company. 

Some moving companies have vaults, and others have units

Certain moving companies will charge for storage monthly, and some will charge by the day. The good thing is that most moving companies will prorate after a certain time.

We recommend finding storage that's near your home. That means your move will be less expensive. Simply put, the longer the driving distance, the more you will have to pay.
The average cost of storage service based on the size of your move
Size of the move:
Price range for 1st Month:
Price range for Other Months:
 

MIN

MAX

MIN

MAX

Studio apt

$ 274.00

$ 489.00

$ 180.00

$ 330.00

1 Bedroom Apartment

$ 297.29

$ 530.57

$ 195.30

$ 358.05

2 Bedroom Apartment

$ 393.19

$ 701.72

$ 258.30

$ 473.55

3 Bedroom Apartment

$ 1,016.54

$ 1,813.49

$ 667.80

$ 1,224.30

4 Bedroom House

$ 1,438.50

$ 2,567.25

$ 945.00

$ 1,732.50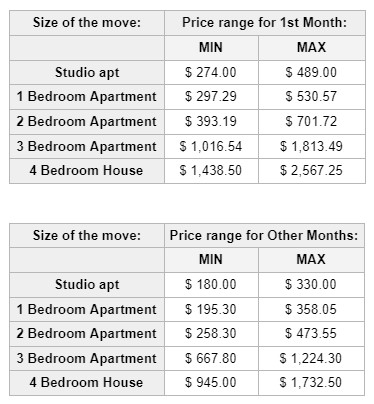 When life gets unpredictable, you can rely on Zip's storage solutions! Our moving company offers both short-term and long-term storage options because the safety of your belongings is our priority!

If you need to add certain flexibility to your move, we are the right guys for the job! Feel free to contact us at  855-947-6543!