The Change of Address Checklist serves as your compass, guiding you through the labyrinth of tasks to be undertaken during this transformative period. From redirecting mail to notifying essential services, this checklist becomes your trusty companion in navigating the intricate dance of relocation.
Change Your Address Online at a Minimal Cost
Visit the official USPS website and access the change of address form. Fill in the required fields with accurate information and provide a valid email address. A $1 identity verification fee may be charged to your debit or credit card.

Embark on the journey of updating your address with the United States Postal Service by visiting their official Change of Address webpage. A 'Get Started' button will catch your attention as you arrive, signaling the beginning of the address change process.

Just one simple click sets everything in motion, allowing you to transition your mail to your new location smoothly. The most convenient way (and also the fastest) is to do it online. It's easy, quick, and very affordable.

For a nominal fee of just $1, you will ensure the security and accuracy of your address change request. This small investment guarantees a seamless and reliable process, providing you with the confidence that your mail will be redirected to your new residence. Rest assured, this fee is only intended for identity verification purposes, serving as a protective measure to prevent any potential address fraud and protect your personal information.

Still, we must advise you to be cautious when updating your address because safety always comes first, especially when sharing private information and details. Unfortunately, you can still find unreliable third-party websites that charge you far more than $1. That's why you should always go straight to USPS.com to change your address online before your moving day. The sooner you do it, the better for everyone involved in your relocation process. Remember, you should never pay more than $1.10 for the identity verification free, so if you notice some unusual charges for that service, contact your bank immediately.
Other Ways to Change Your Address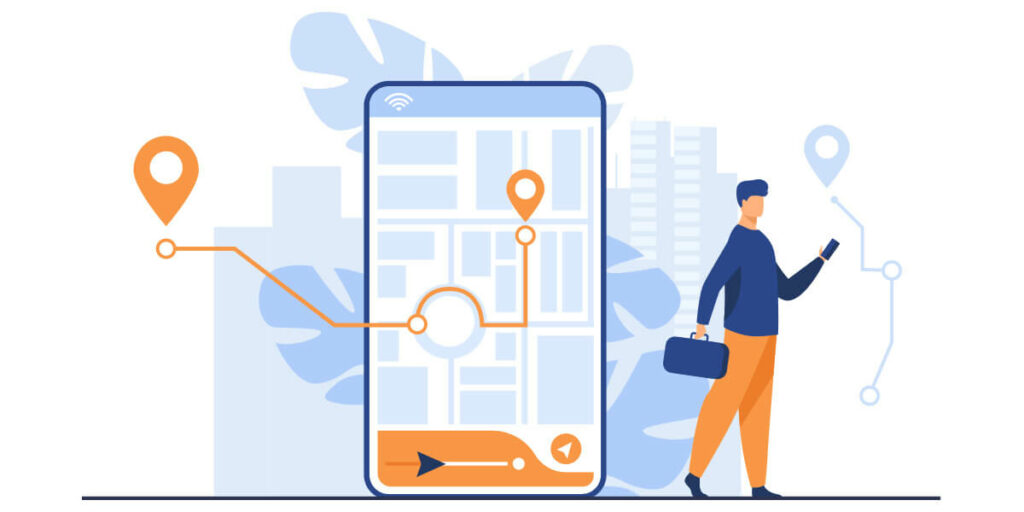 There are several other ways you can change your address. Changing your mailing address is essential when moving to a new house. It ensures that your mail is redirected to your new location, minimizing the risk of important documents or packages being sent to your old address. Here are some convenient and popular methods to change your address:
In-person

– Visit your nearest post office and request a PS Form (Change of Address form). Fill out the form on the spot with the assistance of postal office personnel. No fees are required for an in-person address change, as your identity will be verified on-site.
Over the phone

– Call USPS customer service at 1-800-ASK-USPS (1-800-275-8777) and follow the instructions provided. Be prepared to provide your debit or credit card information to pay the $1 identity verification fee.       
By mail

– Download the printable USPS Change of Address form (PS Form 3575) from the USPS website. Print the form and carefully complete it according to the instructions provided. Purchase first-class postage and mail the filled form to the address indicated for the POSTMASTER at your local United States Postal Service.

After submitting your change of address request, keep an eye out for a move validation letter that will be sent to your old address. This letter serves as a confirmation of your address change. Within approximately ten days of the request being processed, you can expect to receive a confirmation letter at your new address.

Following these steps ensures that your mail will be forwarded to your new address smoothly and efficiently during your move.
How Long Does It Take for a Change of Address?
We strongly recommend filing your change of address form 2 weeks prior to your move. It typically takes the USPS between 7-12 business days to process mail forwarding requests. 
Many places have your address on file, such as your driver's license, the doctor's office, your bank, voter registration, magazines, and other subscription services.
In some cases this is a legal requirement, if you're moving states you need to update your address on your driver's license or state ID within a certain time frame.
Do I Need to Notify the IRS of an Address Change?
Yes, you should notify the IRS of your address change as soon as possible. You can do so by downloading and filling out Form 8822. The instructions are included in the second page of the form, which tells you where you should mail your completed and signed form. You can also call the IRS local office. You have to provide some identifying information, including your full name, date of birth, social security number, old address, new address.
Does a Change of Address Cost $40?
If customers submit a change of address form on the official website of the Postal Service, they will only charge $1.05 to verify the identification of customers. There are websites with domain names who appear to be associated with the Postal Service, but are not and will charge customers up to $40 to change an address and in some cases, that change will never be made. The Postal Service has no affiliation with the businesses who manage these sites. Use the Postal Services official website www.usps.com
What or Who Needs to Be Informed About Your New Address?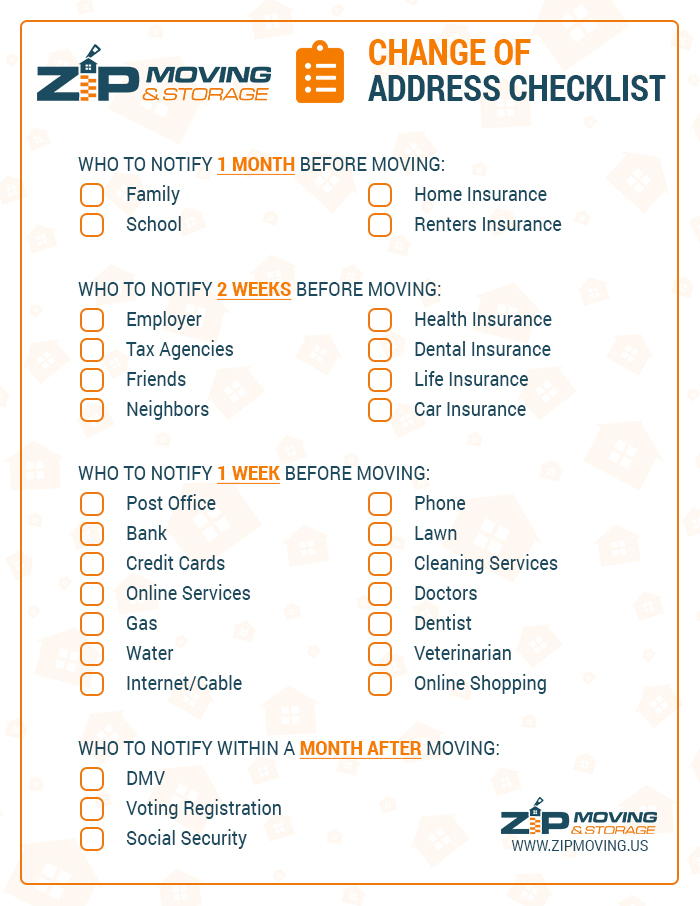 Address checklist download
Zip Moving & Storage recommends downloading the Updater app to help organize your move. Updater is a time-saving tool that enables you to forward your mail, update businesses with your new address, share moving messages with friends and family, access your internet and utility information, and more!
Alternatively, download Zip Moving & Storage's free moving checklist to plan your move on your own.
Our recommendation would be first to find out whether you will need to complete services with your current provider. The best option would be to simply transmit their services to your new home address.

If you have a landlord or real estate agent, you can ask them for advice as well. In the best-case scenario, you will probably be able to start service, end service, and then change your address with their help online or over the phone.

Make sure you're still reachable for those important wedding, birthday, and barbecue invitations! Keep friends and family in the loop by letting them know your updated address early.

Simply update your address with the post office by entering your move date and new address here. Aim to notify the postal service at least a week in advance.

Your Employer and Landlord
Ideally, your employer should be informed about the change of your address and your upcoming relocation. It's considered good practice to tell your manager several weeks ahead and give them enough time to find your replacement. Your previous employer will need to know your new address so they can deliver the tax documents and the insurance information you'll need.
When it comes to your landlord, check your lease agreement as soon as you decide to move out. Go through your rights and responsibilities as a tenant. In some situations, you may need to inform your landlord a month in advance. We advise you to put your notice in writing to avoid any possibility of misunderstandings. Also, it can be nice to say something good about your landlord and their property and ask for your deposit back if everything went well.

Updating your address with utility services will ensure a seamless transition without a gap in service. 
Gas and electric – No one wants to move in by candlelight and without any heat! Let your gas and electric companies know of your move early so you can move into a cozy home.

Internet and cable – Stay online (for business and entertainment!) by updating your address with your internet and cable companies. 

Phone – Don't miss a call during this period of transition by informing your phone provider of your change of address.

Are you running a business? Are you the head of the household? Make sure the IRS and your state tax agency are aware of your new address to avoid any problems during tax season. Easily update your address online.

If you are receiving funds from the Social Security Administration, change your address online or call the service directly.

Banks and Credit Card Companies
Change your address with your bank and credit card companies to ensure proper statement delivery.

Make sure you reach out to the many different insurance providers you may be associated with: health, dental, home, car, life, etc. Accidents can occur during a simple move, so it's important to stay safe and protected.

It's important to stay on top of your loan payments – update your address so you don't miss a beat!

Whether it be PayPal, Credit Union, or investment account holders, ample notification of your new location is appreciated. 

Do you have a favorite magazine? A daily newspaper subscription? Don't miss an issue by updating your address online or over the phone. 

Individual Service Providers
Moving can be hectic, with lots of different tasks to finish and little time. You will also have many things to do, from packing to running errands. If you don't know how to fold a moving box or pack the dishes, we have some great articles that may help you! 
It's easy in such a hurry to forget about your dentist or veterinarian, even about your trusted doctor. 
It's incredibly important to inform them about your new address, especially if you are moving across the country. Your primary care physician, dentist, and veterinarian for your pets should all be informed of your new address as soon as possible.
They will need to know about your new address for mailing and billing purposes, and they may be able to help you with some great referrals.

Changing Your Address in Maryland
You'll need to get your Maryland DMV Change of Address forms in order before you can really settle in as a resident and call Maryland your new home. That includes changing your driver's license address as well as your vehicle's registration.

Changing Your Address in Georgia
In Georgia, you will be required to change and update your address within 30 days of moving to Georgia. You can even do it online! It's much easier and faster that way. You can also do it in person at a DDS Customer Service Center (CSC). Choose whatever suits your needs better.
Timing is everything when moving. The process can be hectic and unpredictable, so don't leave everything to the last minute. Start checking these to-do items off your list early and enjoy a seamless transition into your new home.