How to move a couch through a door
ZIP MOVING & STORAGE CAN HELP YOU OUT!
Moving Details
Next

Location Details
Next

*We respect your privacy, we don't share your name with others.
SUBMIT

Your information is essential to receive your moving quote.
*We respect your privacy, we don't share your email with others.
VIEW QUOTE

Your phone number will help us provide you with the most accurate moving quote.
PLEASE ENTER
YOUR PHONE NUMBER
*We respect your privacy, we don't share your phone number.
GET MY QUOTE

Help Us Out
How did you hear about us?
Your request was sent!
Please check your inbox to see the quote.
One of our move consultants will reach out as soon as possible regarding your request.
Disclosure: Phone calls between you and us may be monitored and recorded. You agree that Zip Moving And Storage can make calls and/or send text messages to you at the telephone number associated with your account. Consent may be revoked at any time by calling 855-947-6543 or email info@zipmoving.us

Just thinking about moving that big and bulky couch through a narrow door of your house or apartment can cause you headaches. The good news is that it doesn't have to be complicated if you do it right.

We have prepared these useful and easy tips for you. If you follow them closely, you won't have any problems with getting your couch through any door.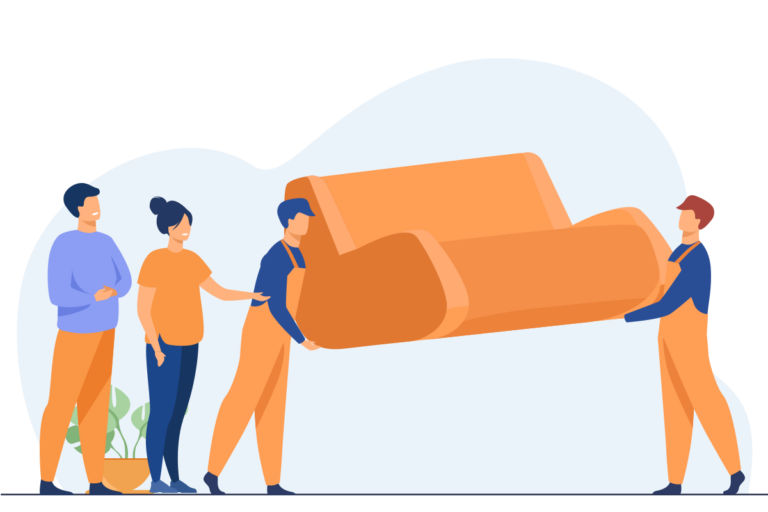 No matter how strong or experienced you are, lifting a whole couch is a difficult task for just one person. Lifting heavy items can sometimes result in back injury, and no one wants that! Safety always comes first, so make sure to ask your friend, neighbor, or in the best-case scenario, a professional mover to help you out with the couch.
2. Get the right moving equipment
Moving supplies are here to make things easier for everyone. You will need a lot of tape, gloves, moving blankets, measuring tape, and hand trucks or moving dollies (if you are moving a smaller sofa).

Have some tools on standby, just in case. Your sofa or couch may have to be disassembled, and it's best to be prepared for that kind of scenario.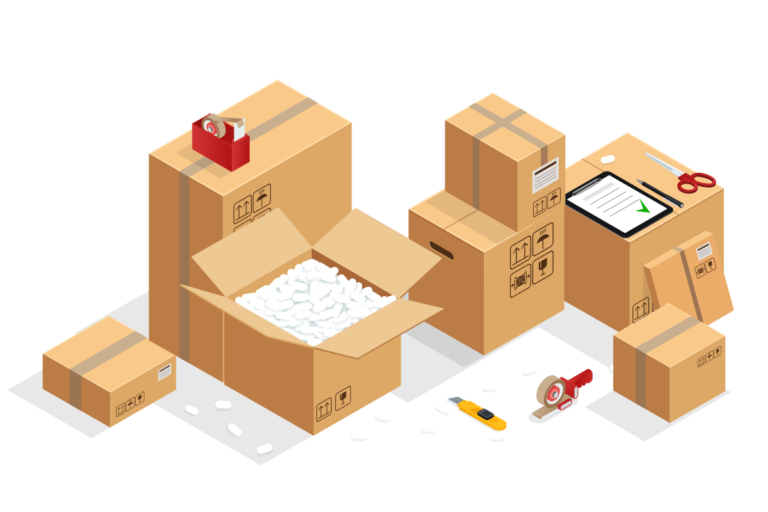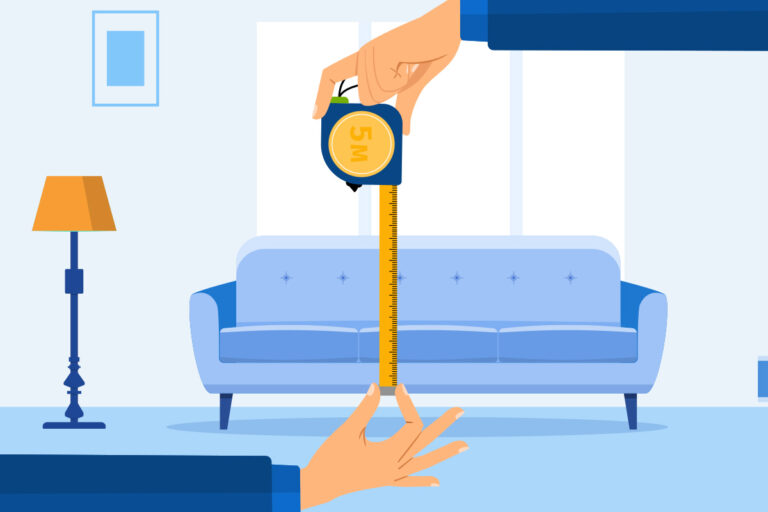 This step is extremely important, especially if you have small doors and narrow hallways. We recommend measuring the external dimensions of the couch and writing them down so you don't forget them later.

You will also need to know the dimensions of the passageways, even of the elevator door (if you are living in the apartment building). Measure both the size and width of the opening between the door frame to make sure that your couch can fit through. 
Once you measured everything, compare the dimensions with the size of your couch. If you see that it will be tough to get that couch through your door, our advice is to remove the doors completely.

Interior doors are lightweight and easy to remove without unscrewing the hinges from either the door or the door frame. They are usually easy to remove, and put back, so you shouldn't have any problem with that.
Before lifting the couch up, make sure to remove its feet and decorative cushions. If your sofa or couch has some other unattached items, remove them as well and pack them in a separate moving box with a special label. 

Also, if your couch is a pull-out, make sure to tie the bed frame up inside the couch, so it won't fall out once you fill it.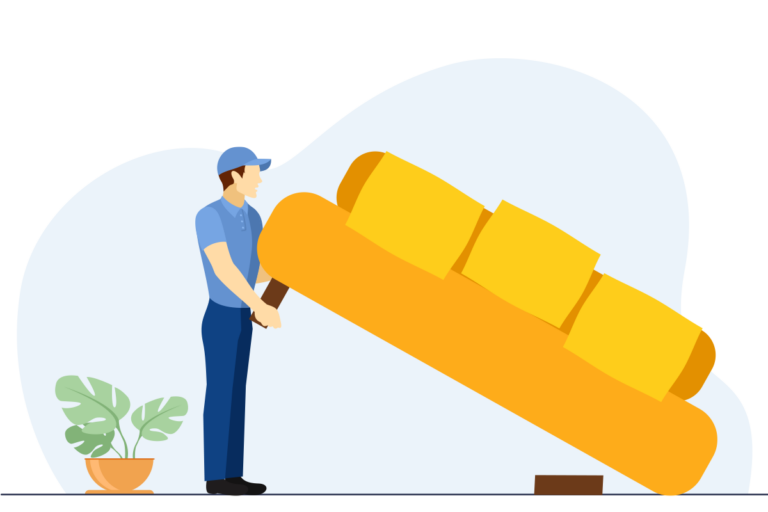 5. Pad the doorway on both sides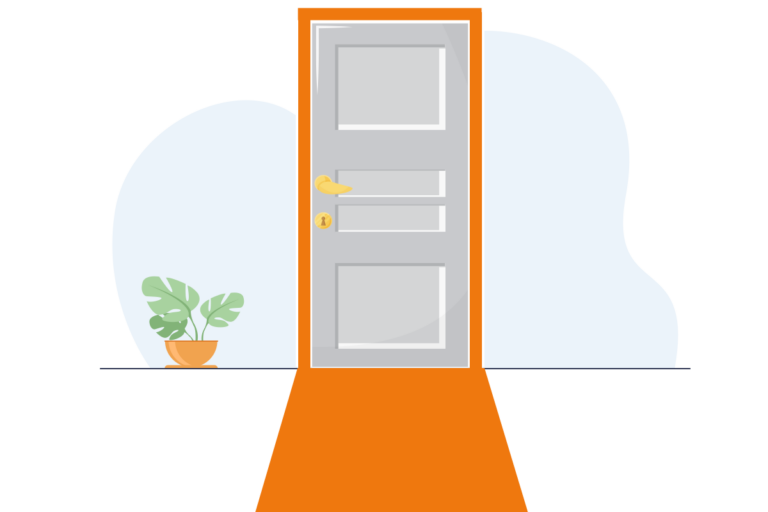 Before lifting your couch up, protect your floor and doorway. We recommend padding the doorway on both sides, and that will help you with carrying the couch through the door. Then, you won't have to worry about scratching your floor or slipping and dropping the couch.

Another important tip is to move other furniture and decorations out of the way. That will create a clear path, and you will be able to protect your floors, preventing them from getting scratched or damaged during the process.
6. Move the couch vertically or on its back
Finally, it's time to remove that couch! We recommend using gloves during this step. With the helping hand of your friend, carefully move the couch to the door. After that, guide the first side of the couch through the doorway. If your couch can be moved horizontally and levelly, then carry the couch directly out in a level position.

Tipping the couch onto its back can also be helpful. The couch needs to be supported at both ends equally (that's why we said that this is a two-man job).  Be ready to tilt and pivot! Tilt the couch so that it's on its side, and don't forget to take it slow and easy.
Take a deep breath, you made it!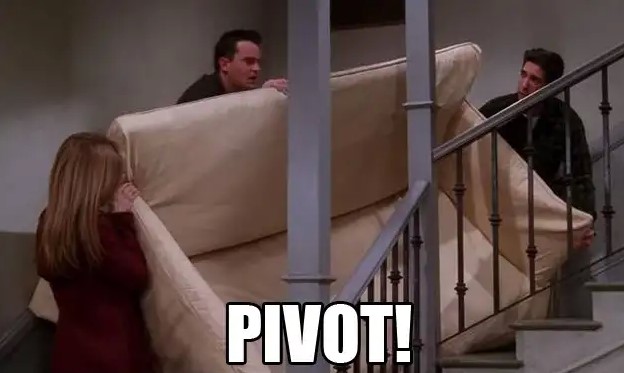 Moving a couch or sofa can be a complicated task, but with little help, careful planning, and the right guidance, everything is possible. 

Of course, you can still leave everything to professionals who have a lot of experience when it comes to moving your furniture. This will save you the hassle, and you will have time to focus on some other important things during your move.

Still, if you decide to move your couch on your own, we hope that this was helpful for you!