How to Move Lawn Equipment
ZIP MOVING & STORAGE CAN HELP YOU OUT!
Moving Details
Next

Location Details
Next

*We respect your privacy, we don't share your name with others.
SUBMIT

Your information is essential to receive your moving quote.
*We respect your privacy, we don't share your email with others.
VIEW QUOTE

Your phone number will help us provide you with the most accurate moving quote.
PLEASE ENTER
YOUR PHONE NUMBER
*We respect your privacy, we don't share your phone number.
GET MY QUOTE

Help Us Out
How did you hear about us?
Your request was sent!
Please check your inbox to see the quote.
One of our move consultants will reach out as soon as possible regarding your request.
Disclosure: Phone calls between you and us may be monitored and recorded. You agree that Zip Moving And Storage can make calls and/or send text messages to you at the telephone number associated with your account. Consent may be revoked at any time by calling 855-947-6543 or email info@zipmoving.us

Having a beautiful, green, and well-maintained lawn is something many of us cherish. But when moving to a new place, we can't take our lawn with us. What about the lawn equipment that helped us achieve that scenic landscape?

Don't worry; we're here to guide you on packing and moving your valuable lawn equipment effectively. This article will provide you with essential tips and information to ensure the safe and hassle-free relocation of your lawn tools. So, keep reading and discover the best techniques for handling your lawn equipment during the moving process.
Commonly used lawn equipment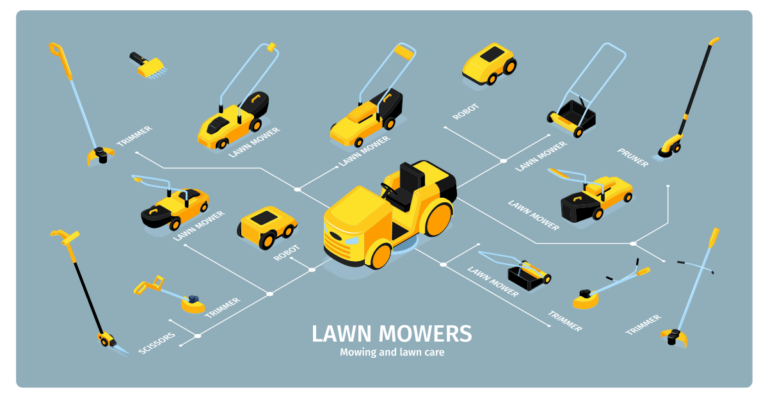 There are various tools that are designed to maintain your lawn and outdoor spaces. These tools are essential when it comes to keeping your lawn neat and healthy looking. Some of the most popular equipment is:


Lawn mower

– Arguably the most popular and important lawn equipment tool! Almost every house has one. Lawn mowers come in different sizes, depending on the type. Luckily for you, we know how to move each and every one of them.

Trimmer

– Trimmers also come in different types, synch as gas-powered, electric, and battery-powered models. This is a great tool for maintaining lawn edges and taking care of grass in hard-to-reach areas.

Leaf blower

– This popular tool is often used for cleaning leaves that have fallen from the trees. It's designed to blow a stream of air that will move and gather loose materials.

Sprinkler system –

This amazing system is connected to a water source, with each sprinkler designed to spray water in specific areas evenly. They are essential and valuable tools that help your lawns look as majestic as possible.

Lawn aerator –

A lawn aerator is a specialized lawn equipment tool used to improve the health and vitality of the soil by creating small holes or channels in the ground. This process is known as aeration and offers several benefits for the lawn.

Fertilizer spreader

– There is no lawn without good fertilizer. Every lawn owner would agree. This tool will distribute seeds and other materials across your lawn, making it healthy and well-maintained.
How to properly pack lawn equipment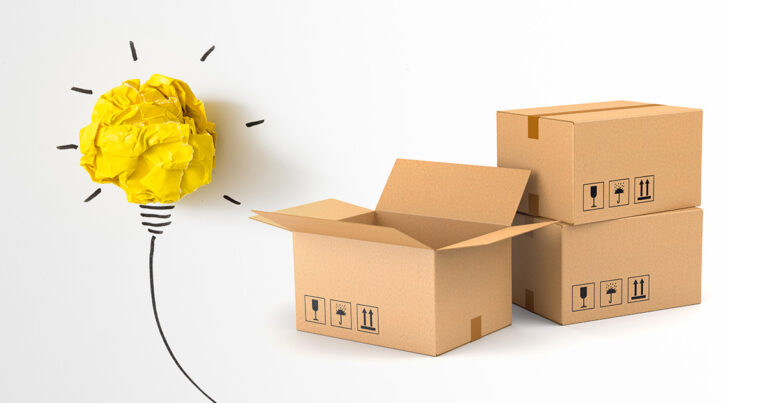 Packing requires more than just randomly placing items in boxes. It is a challenging and time-consuming job for everyone involved in the process. To help you learn about effective packing techniques, keep reading for some valuable tips.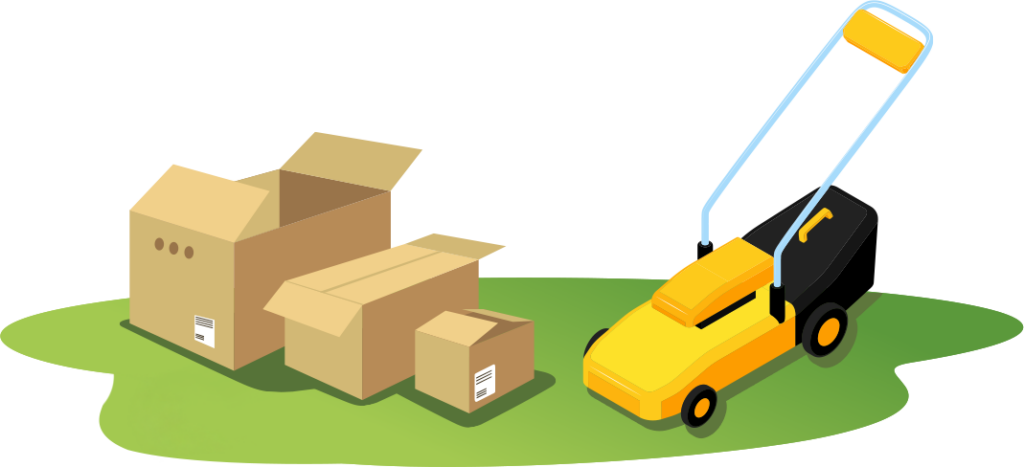 Before you start the whole packing process, cleaning your lawn mower thoroughly is important. This will remove any dirt or grass that can cause damage during transportation. The next step is to empty the fuel tank and drain the oil to prevent any leaks.
After that, it's safe to remove batteries and secure the moving part using ties or cords. Finally, it's time to protect the blades and cover them with a thick cloth. Try to find the original box of your lawn mower, but any quality cardboard box will do. The last step is to secure and seal the box and label it; you can write on the label instruction or a warning for movers.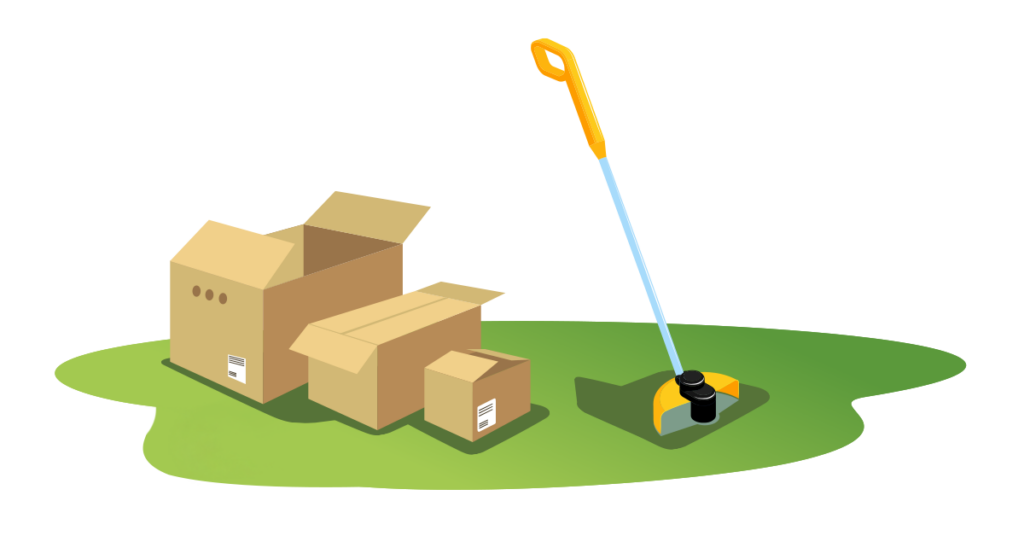 The first step should be to clean your trimmer and remove any grass or debris from cutting heads. Then it's time to disconnect power sources or batteries. This step is crucial for safety during packing and transportation. If possible, you should disassemble the lawn trimmer and protect the trimming blades.

We suggest using cardboard or foam padding with tape. It's also important to use a sturdy box when packing lawn trimmers. Line the bottom of the box with packing paper and bubble wrap to provide extra cushioning. The final step is always to seal your moving box and put a label on it.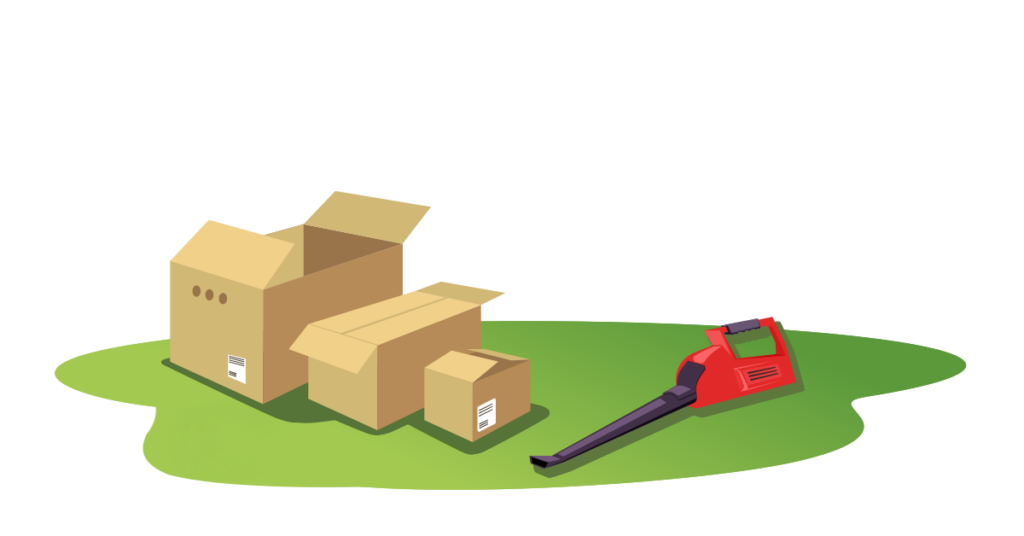 Before packing, ensure the leaf blower is clean and debris-free. Use a brush or cloth to remove any dirt, leaves, or grass clippings from the blower's exterior and air vents. If your leaf blower runs on gasoline, emptying the fuel tank to avoid leakage during transit is important.

After that, it's time to detach accessories like a nozzle or extension tube. You should pack them in a separate box and label them. Wrap the body of the leaf blower in a soft cloth or bubble wrap to protect it from scratches or minor impacts. Secure the wrapping with tape or rubber bands. Ideally, use the original packaging if you still have it. If not, no worries; just choose a quality moving box that provides enough space for proper cushioning.
Packing a sprinkler system

The first thing you should do when starting the packing process is to turn off the water supply and drain the entire system altogether. Then you can disconnect and label all the pieces. Start by disconnecting the sprinkler heads, valves, and any other removable components of the system. Keep all those pieces together so you can reinstall them later with no problems.
Take special care of the fragile components and delicate or breakable parts like a sprinkler head. We advise wrapping them individually using packing paper and then securing them with tape. If your sprinkler system has exposed wires, make sure to secure them properly.
Place the wrapped parts and any smaller pieces in a box and fill any empty spaces with packing material, such as crumbled packing paper, bubble wrap, or soft towels. Clearly label the box and mark it as fragile. The final step is, of course, to seal the box securely with packing tape.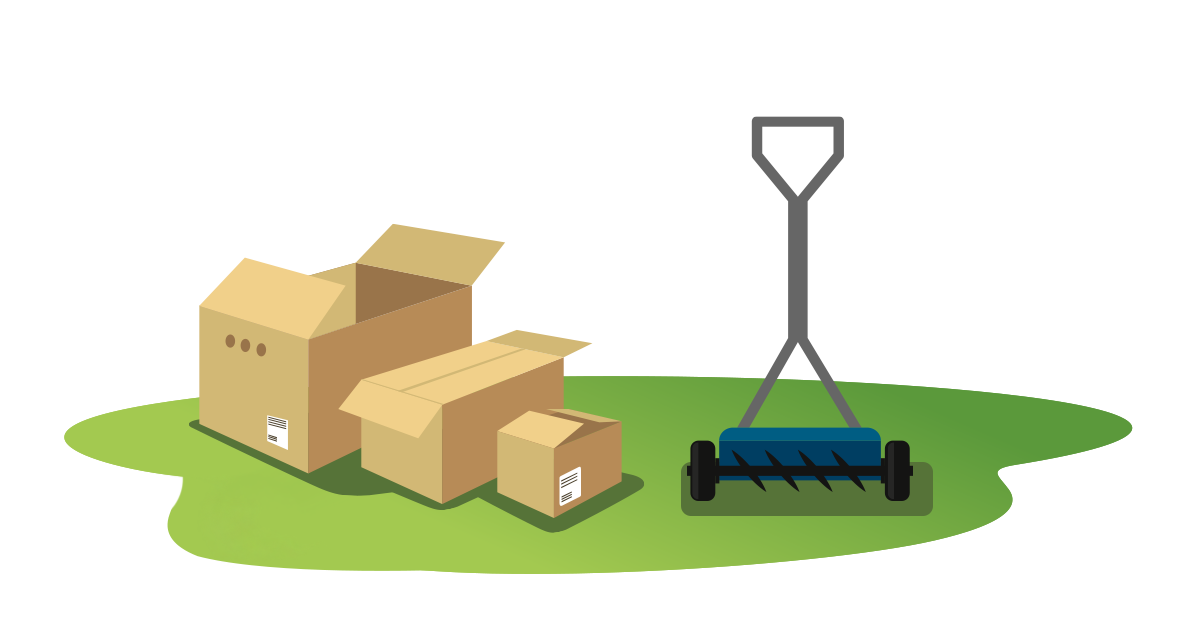 Start by deep cleaning your lawn aerator. The disassembling process is the second step. Follow the manufacturer's instructions to break it down into smaller, manageable parts.

If there are any sharp or protruding parts on the aerator, such as tines or spikes, wrap them securely with bubble wrap or foam padding. As always, select sturdy packing materials that provide adequate protection. Consider using moving blankets, foam padding, or bubble wrap to wrap and cushion the aerator and its parts.
Secure all the parts, keep them together, and then choose a suitable moving box. Again, you should pack the lawn aerator carefully using padding cushioning for extra protection. Once everything is securely in the box, seal it with high-quality packing tape.  Label the box and put some instructions on it (if you are hiring professional movers for transportation). That will make your unpacking process much easier and faster.
Packing a fertilizer spreader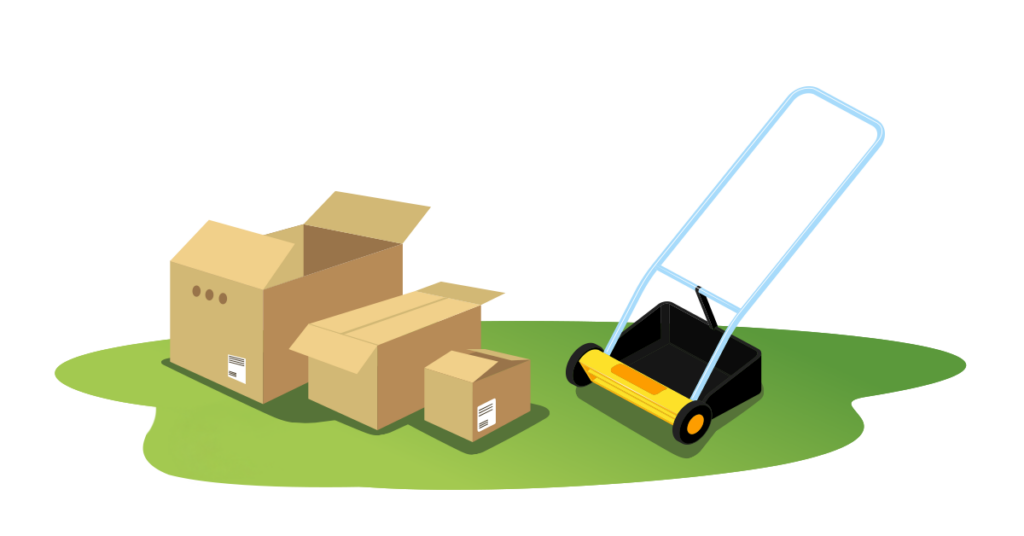 To ensure its safe journey to your new abode, a little extra care and attention during the packing process can go a long way. First, give it a bit of pampering and gently wash away any fertilizer remnants. The next step is to detach handles, wheels, and spreader plates. Protect the fragile elements to prevent any bumps during transportation.

After that, you should utilize tape, zip ties, or other resourceful fasteners to securely corral these parts, preventing any unintended escapades during transit. Pick a box or container that perfectly accommodates your spreader and its newfound companions.  You can choose from many different moving supply kits right here!
Make your packing process easier!
Following these steps will ensure that you have a seamless transition and a quick unpacking process along the way. With these tips, you will ensure the safety of all your lawn equipment.  So, wave goodbye to your old lawn and welcome a fresh lawn at your new home!