One crucial step to a stress-free move is creating a household inventory to keep track of your belongings as you organize and pack them by room. Although many assume that packing and moving boxes is simple, the reality is often more challenging, particularly for first-time movers.
Move with Room-Specific Packing Checklists
Packing involves more than just randomly placing items in boxes. To help you learn about effective packing techniques, keep reading for some valuable tips. Organize your move with ease using our packing checklist by room.
The first step is to gather all the necessary packing supplies, including boxes, packing tape, bubble wrap, packing paper, and markers. Make sure to have enough supplies on hand to ensure that everything runs smoothly in the middle of packing.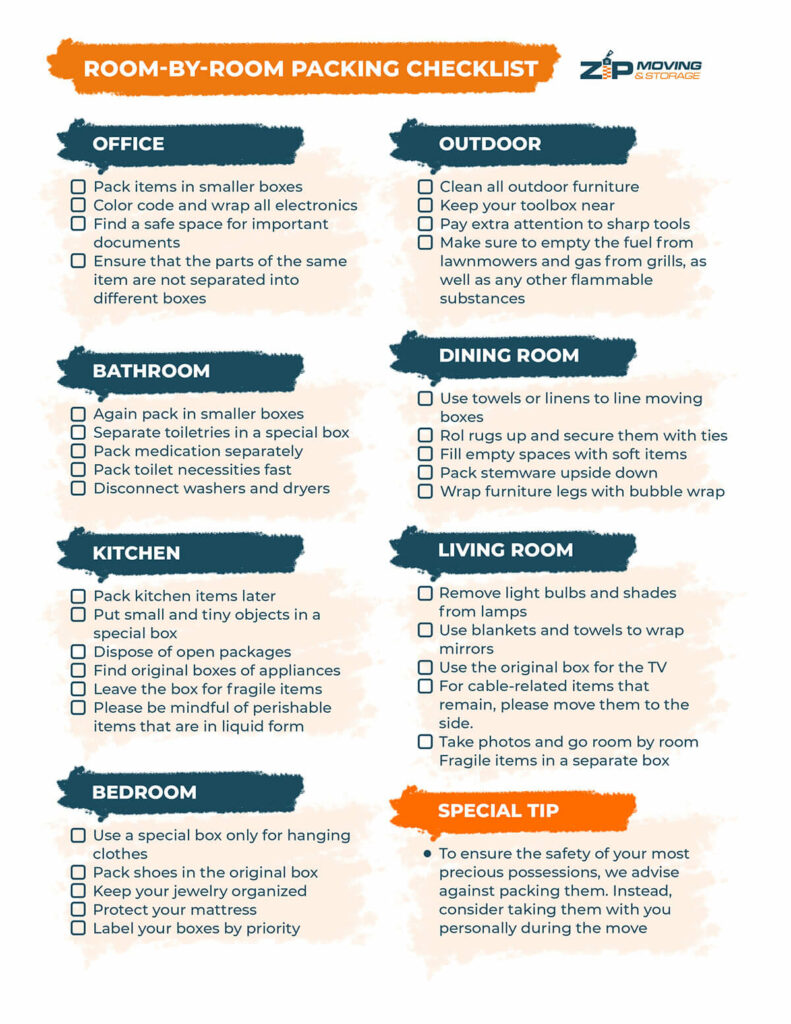 Next, start by decluttering and removing any items you no longer need or want. This will make packing easier and save you time and money in the long run.

When packing, it's essential to label all boxes with the contents and the room they belong to. This will make unpacking a breeze and help movers place boxes in the correct rooms. You can download printable moving labels right here.

Finally, pack essential items separately and keep them easily accessible. These items may include toiletries, medications, phone chargers, important documents, and a change of clothes.

Following this packing checklist can alleviate some of the stress and ensure a smoother moving process.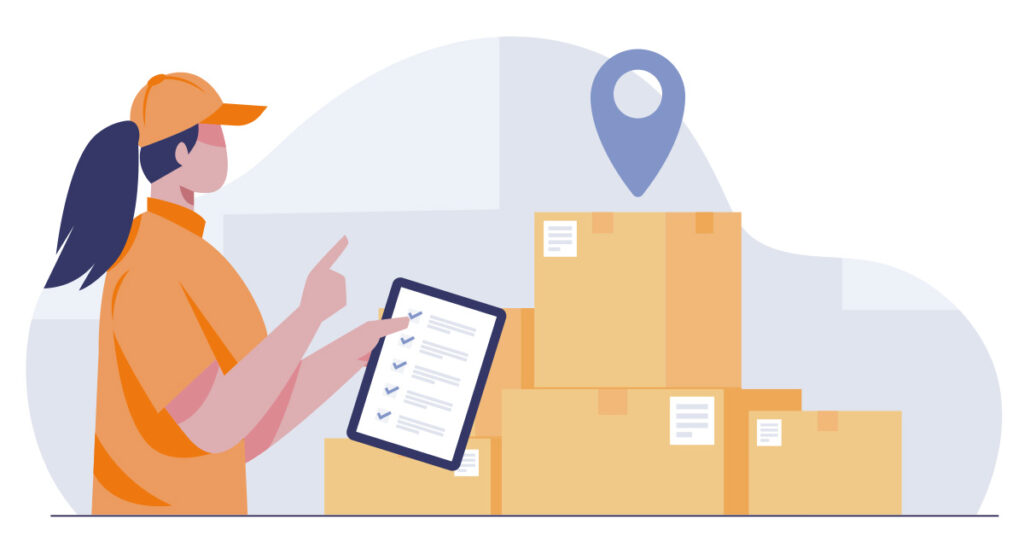 Moving office locations can be an exciting and significant change, but packing up all your office items can be overwhelming. When packing office commodities, using the right packing supplies and techniques is essential. Many office items are fragile and can easily be damaged.

Quality packing supplies include boxes, packing tape, bubble wrap, packing paper, and markers. Again, it's essential to highlight that you must ensure you have enough supplies. That way, everything can run smoothly while packing.
Our tips for office packing
pack items in smaller boxes 

color code and wrap all electronics 

find a safe space for important documents

ensure that parts of the same item are not separated into different boxes
Before you can enjoy your new backyard or balcony, you'll need to pack up your outdoor items and prepare them for the move. The first step in packing outdoor items is determining which items will move with you. This may include outdoor furniture, lawn equipment, gardening tools, and sporting gear. Once you've decided what you're taking, it's time to gather your packing materials.
Our tips for packing outdoor items
clean all outdoor furniture

keep your toolbox near

pay extra attention to sharp tools

make sure to empty the fuel from lawnmowers and gas from grills, as well as any other flammable substances
Bathrooms are infamous for accumulating a lot of small items, such as toiletries, medications, and cosmetics, which can quickly become disorganized and difficult to pack. Also, when you arrive at your new home, one of the first things you will need are your toiletries. One tip for packing your bathroom items is to use your towels and linens to your advantage.

One important tip is to pack any medications separately and keep them easily accessible during the move. Place them in a clear plastic bag or a small container and label them clearly to avoid confusion.
Our tips for packing bathroom items
pack in smaller boxes

separate toiletries in a special box

pack medication separately 

disconnect washers and dryers
When packing up your dining room for your upcoming relocation, it's important to take extra care with fragile items such as glasses, plates, and other dinnerware. Use bubble wrap or packing paper to protect these items, and consider packing them in separate boxes. 

Additionally, make sure to disassemble any large furniture pieces, such as tables or chairs, and label all boxes clearly with the contents and the room they belong in. Remember to wrap your fragile items, such as glass or wine bottles or ceramic jars, in towels or washcloths to protect them during the move.
Our tips for packing dining room
use towels or linens to line moving boxes 

roll rugs up and secure them with ties

fill empty spaces with soft items

pack stemware upside down

wrap furniture legs with bubble wrap
Begin by sorting through your cabinets and drawers and donating or discarding any items you no longer need or use. Then, use dish towels or newspaper to wrap your dishes and glassware, and pack them in sturdy boxes. For small appliances such as blenders or toasters, wrap the cords around the appliance and secure it with a rubber band or twist tie.
Our tips for packing dining room
pack kitchen items last 

put tiny objects in a special box

dispose of open packages

find original boxes of appliances

pack fragile items adequately 

be mindful of perishable items that are in liquid form
As you prepare to pack your living room, take a deep breath and channel your inner interior designer (we know you can do it!) Packing up your precious living space doesn't have to be a chore when approaching it with creativity and good organization.

For those special decorative items, like vases or picture frames, consider wrapping them in fabric or using foam wrap to keep them cushioned and protected. When it comes to electronics and cords, keep them organized by labeling and securing them in plastic bags. 
Our tips for packing the living room
remove light bulbs and shades from lamps

use blankets and towels to wrap mirrors

use the original box for the TV

for cable-related items that remain, please move them to the side

take photos and go room by room

put fragile items in a separate box
As you pack up your bedroom, it's a chance to declutter and let go of items that no longer serve you. Say goodbye to that tattered old t-shirt from high school and donate gently used clothing to make room for your new space.

To protect your delicate items, like your favorite lamp or mirror, give them a tight bubble wrap hug and tape the corners to keep them secure. As for your bed, cover your mattress and box spring with a protective plastic cover to keep them clean and protected during transportation.
Our tips for packing bedroom
use a special box only for hanging clothes 

pack shoes in the original box

keep your jewelry organized

protect your mattress

label your boxes by priority


Special tip

– To ensure the safety of your most precious possessions, we advise against packing them. Instead, consider taking them with you during the move.
We make moving and packing easy!
Preparing for a move can be overwhelming, but with a detailed packing checklist organized by room, you can ensure that your household items are adequately packed and ready to go on moving day.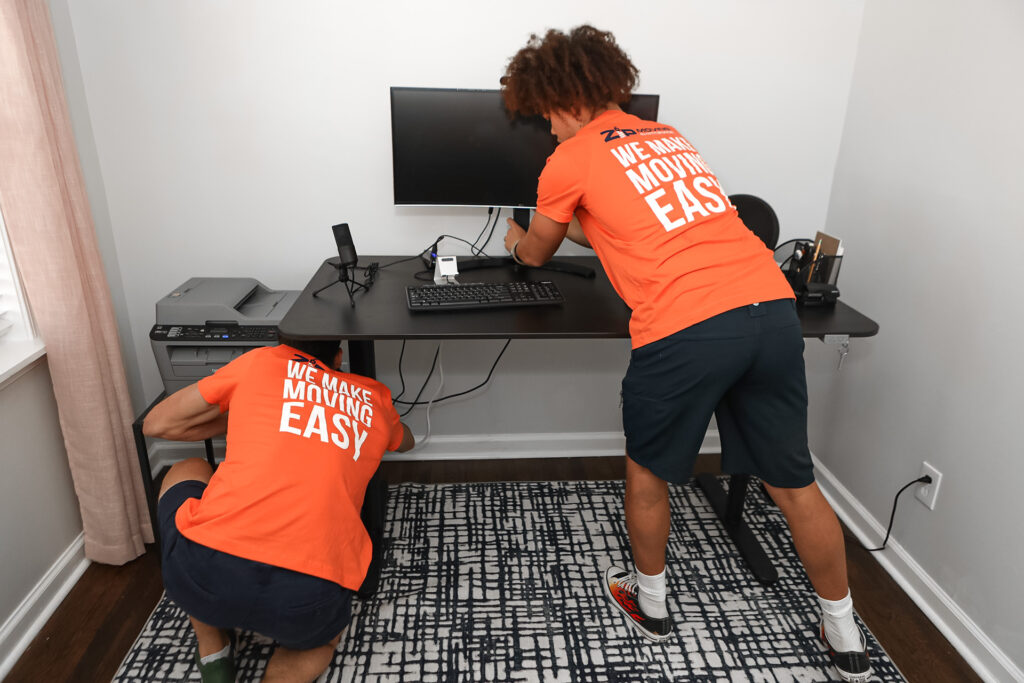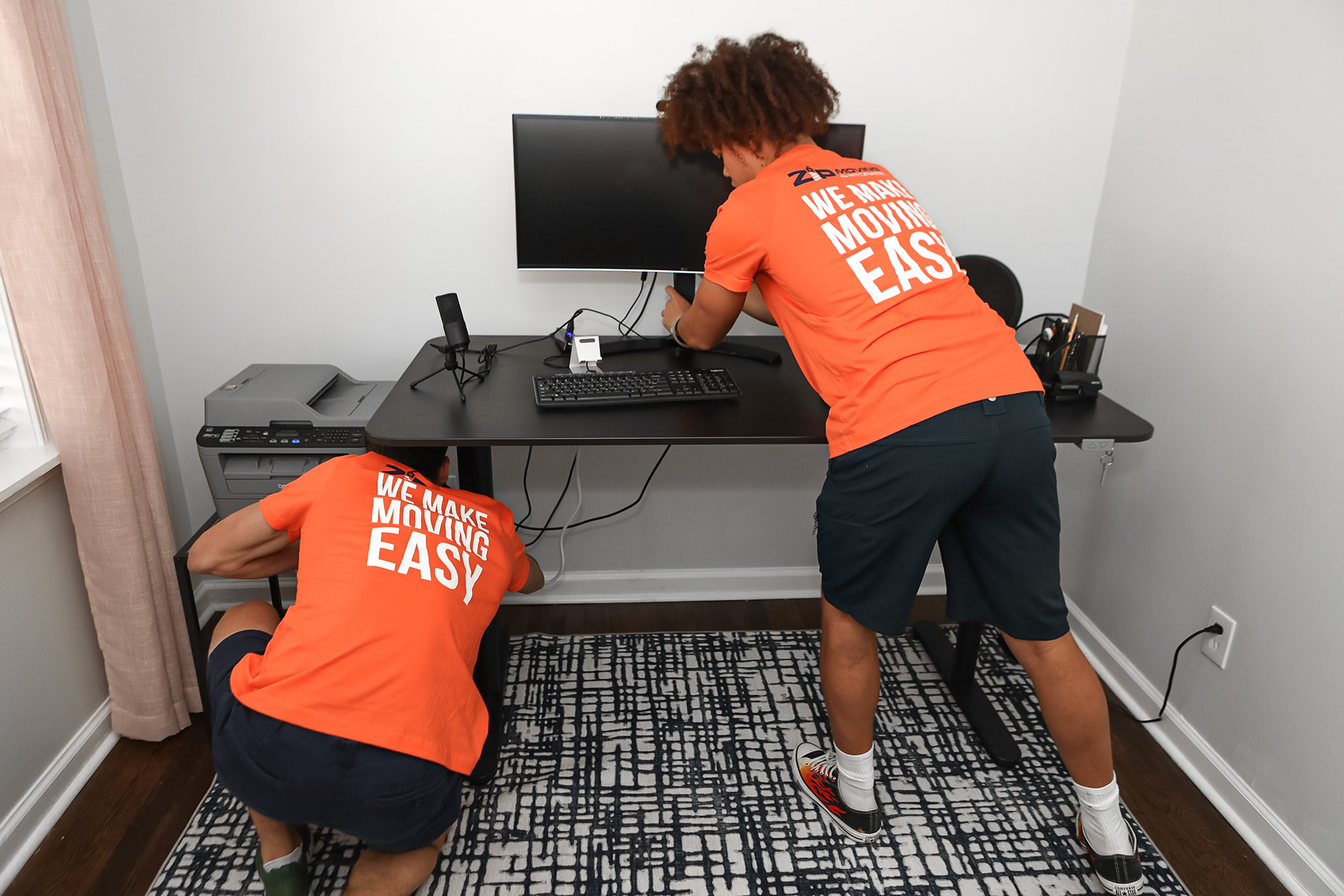 One of the main benefits of hiring a moving company is their ability to make the packing process easy and efficient. Many moving companies offer packing services, and Zip Moving & Storage is no exception!

Our experienced and equipped team will come to your home or office and carefully pack your belongings for you. We use high-quality packing materials to ensure your items are protected during transport and label each box to make unpacking a breeze. This can save you significant time and effort (and, in the long run, even money). Knowing that your items are in good hands will also give you peace of mind!

However, suppose you do decide to move without the help of a moving company. In that case, we hope this article will help you and give you some useful information to make your packing and unpacking process much easier and faster for everyone.