How Movers Prepare and
Protect the Floor
ZIP MOVING & STORAGE CAN HELP YOU OUT!
Moving Details
Next

Location Details
Next

*We respect your privacy, we don't share your name with others.
SUBMIT

Your information is essential to receive your moving quote.
*We respect your privacy, we don't share your email with others.
VIEW QUOTE

Your phone number will help us provide you with the most accurate moving quote.
PLEASE ENTER
YOUR PHONE NUMBER
*We respect your privacy, we don't share your phone number.
GET MY QUOTE

Help Us Out
How did you hear about us?
Your request was sent!
Please check your inbox to see the quote.
One of our move consultants will reach out as soon as possible regarding your request.
Disclosure: Phone calls between you and us may be monitored and recorded. You agree that Zip Moving And Storage can make calls and/or send text messages to you at the telephone number associated with your account. Consent may be revoked at any time by calling 855-947-6543 or email info@zipmoving.us

Imagine the following scenario: you step into your brand-new home, filled with anticipation and excitement, ready to start decorating your new space, when suddenly you notice scratches on your expensive hardwood floor.

Admit it, that truly sounds like a moving nightmare, doesn't it? Luckily, Zip Moving and Storage have a team of experts who can preserve your valuables and protect your hardwood floors. Curious about how they do it? Just keep reading!
Preserving your floors with professional care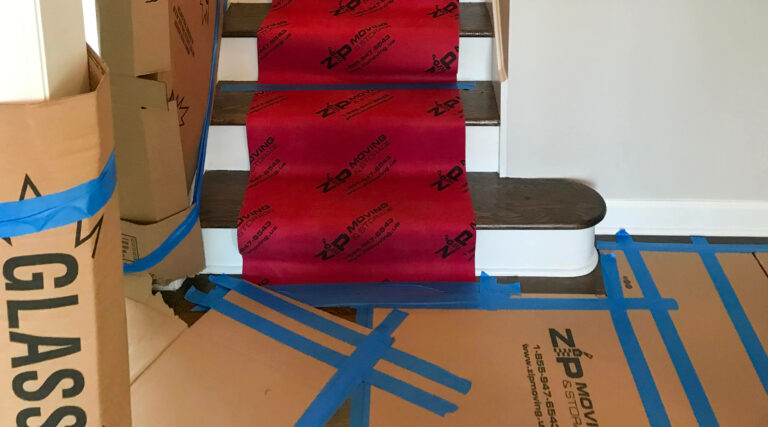 Protecting floors during the moving process is our solemn duty! Our moving experts understand that your floors are an integral part of your home. That is why we have skilled movers with the right equipment and knowledge to provide meticulous floor protection services.

Zip Moving and Storage only uses quality materials, and we are incredibly careful about your home.
How we protect your floors
It all begins with a detailed evaluation of your unique flooring type and conditions. Once we have identified the specific type of flooring you have, movers can carefully select the most convenient and effective protective measures tailored to the unique requirements.


Evaluate the entire process. One of the key aspects we consider is the sensitivity of materials. That's why a professional moving crew should thoroughly assess your floors before the moving process begins.



Gather all the right moving equipment and protection. Our moving company only uses quality materials. We invest in high-quality packing materials and utilize protective paddings to ensure the safety and security of your possessions.
Safeguarding your surfaces
Moving furniture can be incredibly tough and demanding, particularly when handling appliances like washing machines or refrigerators. Without the right expertise, practice, and attention to detail, it's too easy to unintentionally cause damage or scratches to your precious floors during the moving process.
Our expert and skilled movers at Zip Moving and Storage will use a range of protective solutions for your flooring. Some of them include:
Floor protection

– These coverings create a strong barrier, ensuring your floors remain unscathed amidst the bustling movement of heavy furniture and the constant flow of foot traffic.

Furniture blankets

– These thick blankets are perfect for extra protection of your floors and furniture pieces. Our team will wrap your items and prevent any potential floor damage.

Floor mats

– Placing floor mats can be extremely helpful. This is a great way to protect your floors and let mats absorb dirt and moisture.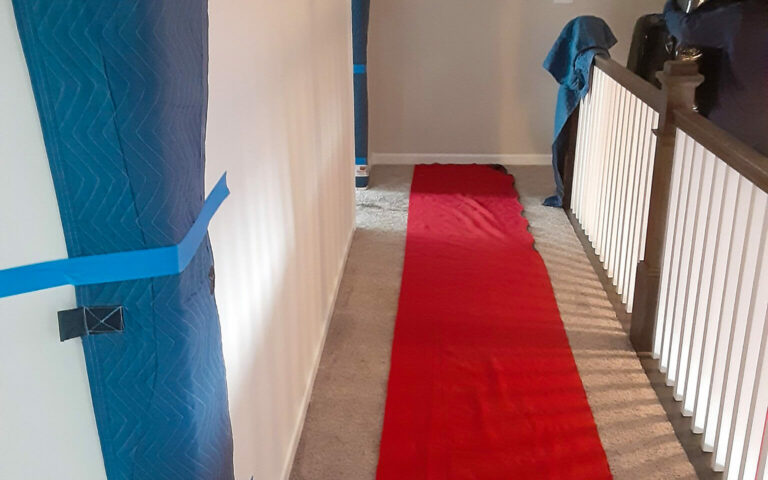 DIY Strategies for floor-friendly moves
Clean any dirt, grit, or debris that could cause floor scratches and scuffs

Create a plan and envision the final placement of each item and furniture 

Embrace the art of slow and steady

Use blankets, foam, and cushions 

Use furniture sliders

Don't drag furniture 

Clear a path

Learn proper lifting techniques 

Take breaks when needed
Protect your floor with us
Zip Moving and Storage always prioritizes the safety of your belongings and floors. With our comprehensive moving services, you can have peace of mind knowing that your valuable flooring is in capable hands.

Contact us today to learn more about our services and experience a seamless relocation with our moving professionals.