ZIP MOVING & STORAGE CAN HELP YOU OUT!
Moving Details
Next

Location Details
Next

*We respect your privacy, we don't share your name with others.
SUBMIT

Your information is essential to receive your moving quote.
*We respect your privacy, we don't share your email with others.
VIEW QUOTE

Your phone number will help us provide you with the most accurate moving quote.
PLEASE ENTER
YOUR PHONE NUMBER
*We respect your privacy, we don't share your phone number.
GET MY QUOTE

Help Us Out
How did you hear about us?
Your request was sent!
Please check your inbox to see the quote.
One of our move consultants will reach out as soon as possible regarding your request.
Disclosure: Phone calls between you and us may be monitored and recorded. You agree that Zip Moving And Storage can make calls and/or send text messages to you at the telephone number associated with your account. Consent may be revoked at any time by calling 855-947-6543 or email info@zipmoving.us

Packing up electronics can feel like a challenging task. In many households, electronics are some of the most expensive possessions. That's why it's best to let professional movers pack all your cables, computers, and electronics. 

However, if you decide to move without the assistance of a moving company, following these simple steps will help you pack and move your electronics safely.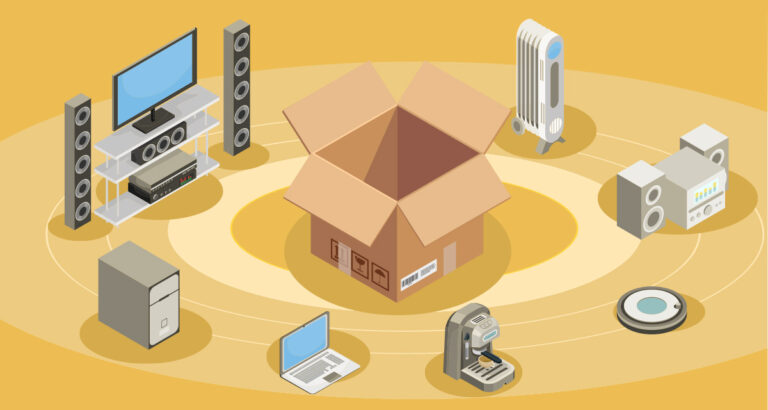 1. Organize your electronics
Before packing away your flat-screen TV or computer, spend some time getting everything in order. First, decide what items to relocate to your new home and separate them from the rest. 

Once you have done that, you can start looking for the best way to pack them, which leads us to step number two safely.
2. Pack your electronics into the original packaging
If you have the original box for your electronic device, it is best to use it for the upcoming relocation.

Original boxes contain pre-shaped foam parts and inserts to keep items from moving and becoming damaged during transportation. That means your electronics will arrive at your new home safely and in perfect condition.
3. Find a quality moving box
When packing electronic devices, our advice is always to use moving blankets. Cover the devices with padded blankets and put them against the wall or fence for that extra support.
5. Label your items and cables
Label everything! It will make your packing and unpacking process so much easier. You can use printable moving labels on every side of your moving box, but remember to label your cords and cables too.

Once you unplug all your devices, put a colored sticker on each end of the cable. You can also take photos of the wires just to know where each one goes when you start reconnecting everything.

You can write the contents of each box, the name of the room you plan to put them in, and even some useful instructions that may be helpful when you start to unpack everything.
Electronics are often delicate, so you need to protect them well. You can use towels or bubble wrap to cushion the top and bottom of the box. It's a good idea to select an anti-static bubble wrap to avoid the potentially damaging effects of static electricity on your electronic devices.

There shouldn't be empty spots inside a box once the electronic devices have been packed. If there is any space left, you can fill it with crumbled packing paper or soft towels. We also recommend cardboard separators to ensure your belongings' safety and to keep appliances neatly organized.

Once everything is packed, tape each side of the moving box, including the bottom.
7. Make a moving inventory list
Create an inventory list of items in each box. This will help you stay organized and know what's inside every box. It will also make the entire unpacking process faster, and you will know exactly where each appliance is located.