The Atlanta BeltLine is a wonderful place to visit for many reasons, and we are excited to share them with you. Biking, hiking, and enjoying fascinating landscapes are just some of the attractions the Atlanta BeltLine has to offer! 

This trendy area is a perfect spot for a family vacation or a romantic first date. Why is that, you may ask? Read on to discover!
What is the Atlanta BeltLine?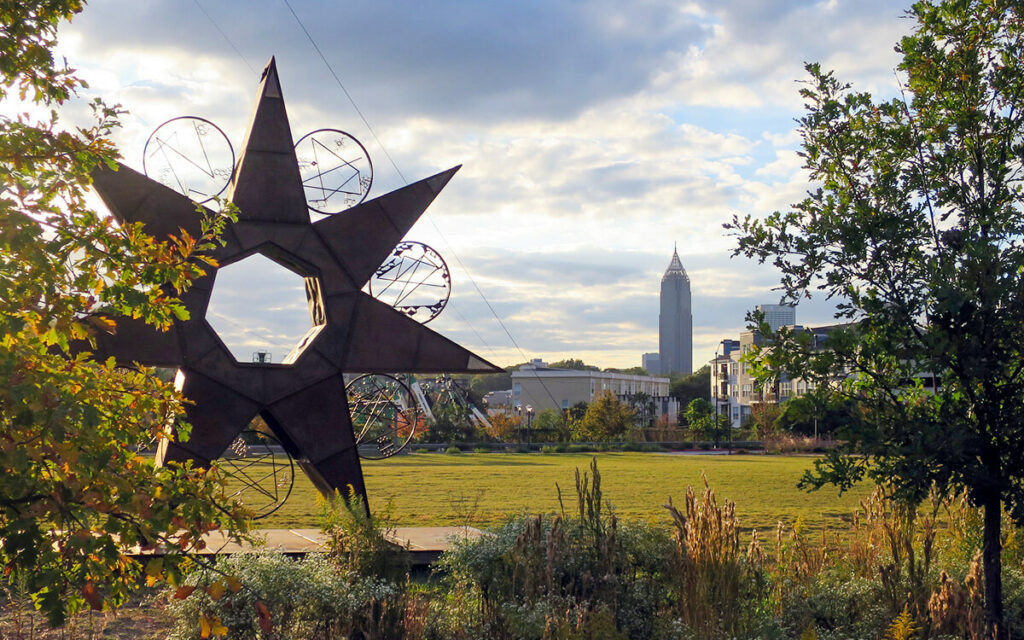 The Atlanta Beltline is an impressive and ambitious project that connects many great Atlanta neighborhoods. Pathways, greenspaces, accommodation, and business developments make the Atlanta BeltLine an excellent place to explore and enjoy. 

Another great thing about this lovely project is its affordable accommodations. The Atlanta Beltline is an exceptional area suited for all ages.

Splendid outdoor space and 22 miles of railroad trails connect Atlanta's vibrant neighborhoods, creating a terrific place to live for many families. The Atlanta Beltline is a special project that connects people, offering them friendly, affordable accommodation and many other excellent entertainment spots. 

Several follow-up projects are still in the works, so it's undeniable that the Atlanta BeltLIne is still developing and growing. Those projects are essential in bringing the Atlanta Beltline vision to life. 

City life will significantly benefit from the project, as will many of Atlanta's popular neighborhoods. The Atlanta BeltLine is on track to be completed in 2030, with even more fabulous spots and attractions!
Where is the Atlanta Beltline?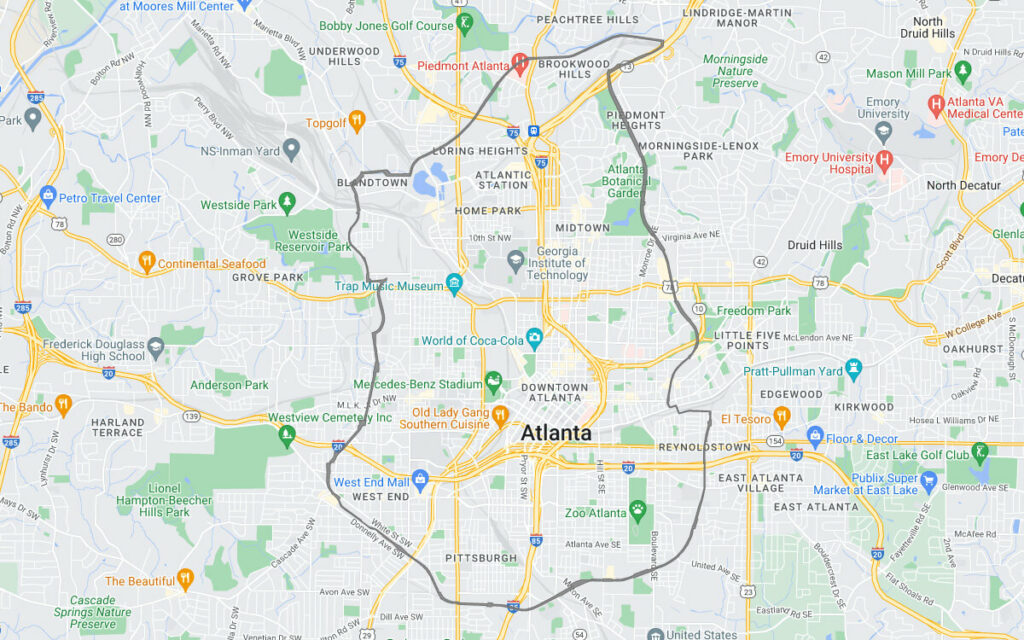 The Atlanta Beltline is creating a new public empire, ensuring a welcoming, open, and friendly environment for all its visitors and residents. It has a 22-mile corridor and many other areas that lead to spacious parks and trails.
What to do in the Atlanta BeltLine?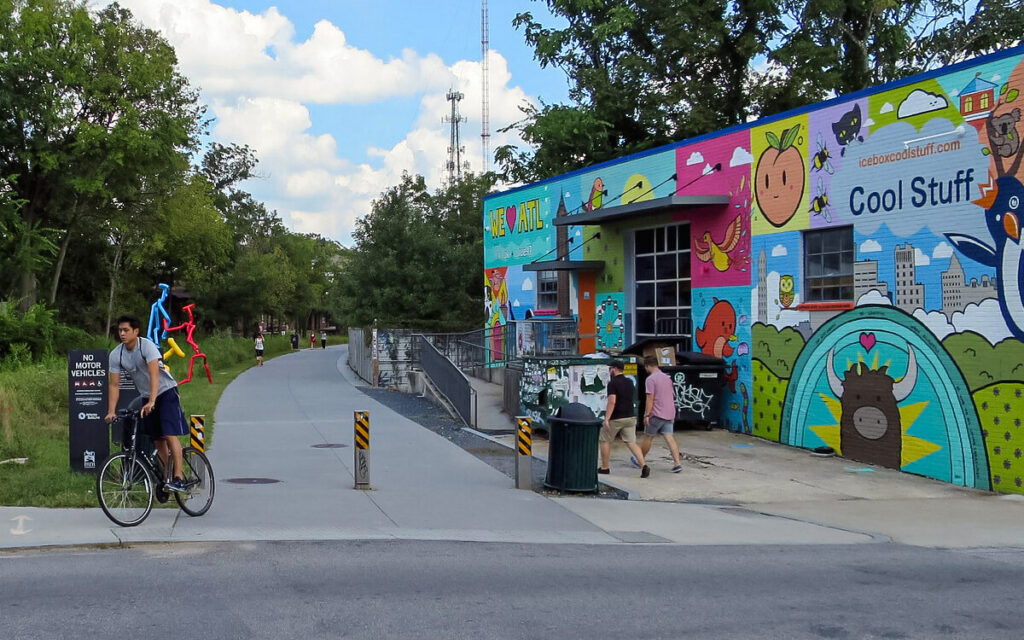 The Atlanta BeltLine features recreation areas, spacious parks, green fields, popular bars and restaurants, city markets, and intriguing artworks. Here are just some of the great things you can explore in the Atlanta BeltLine!
Explore the exciting gastro scene
Restaurants on the Beltline are among the most popular in Atlanta! Here you can find many favored restaurants close to the Eastside Trail. Fantastic food with fresh, healthy ingredients and extensive wine and drink menus make these restaurants stand out from many others.
Spanish, Mexican, American, and Italian dishes are trendy in many prominent restaurants in the BeltLine. The food is so delicious that you will probably want to enjoy its unique flavors again and again! 
Ponce City Market is one of the notable landmarks on the Atlanta BeltLine. As one of the most popular places, Ponce City Market attracts many visitors every day. This market even features a mini-golf course! It also represents a unique mix of modern and industrial architecture design. You will also find great restaurants, exciting performances, and fun community events there.
New Realm Brewing Co. is another awesome place located on the Atlanta BeltLine. You can enjoy great craft beers and a fantastic view from a wonderful rooftop!
Krog Street Market offers delicious food from all around the world! Mexican, Indian, American, Chinese, and European meals are waiting for you in this lovely market. You will be mesmerized by the unique industrial charm. In addition to delicious food, the restaurant staff is polite and professional, while the stunning interiors will leave you breathless! Here are some of the most popular restaurants in this popular market area:
Bar Mercado 

Gu's dumplings

Jai Ho – Indian Gully Kitchen

Makimono

The Merchant
The restaurants on the Atlanta BeltLine have everything you need for a perfect date night! Some of the best destinations for a romantic evening are Buena Vida Tapas, Estrella/Bazati, Kevin Rathbun Steak, Nina & Rafi, and Paris on Ponce. Check them out!
The Atlanta BeltLine has many lovely art galleries. You can enjoy colorful murals, unusual sculptures, and performances from many talented artists. The best hotspot for admiring Atlanta street art is The Krog Street Tunnel. Some of Atlanta's hidden art gems are located in the Atlanta BeltLine and are definitely worth exploring!
You must visit the iconic Illuminarium Atlanta! Laser projections, audio beams, and incredible sensations will transport you to a new world. Seeing this extraordinary place will be one unforgettable experience. 
The entire area is filled with interesting sculptures, so don't forget to check them out as well!
There is always something exciting going on in the Atlanta BeltLine! After exploring the gastro scene and artworks, we recommend enjoying some fun outdoor activities. Rent a bike and visit public parks, or organize a lovely picnic with your loved ones.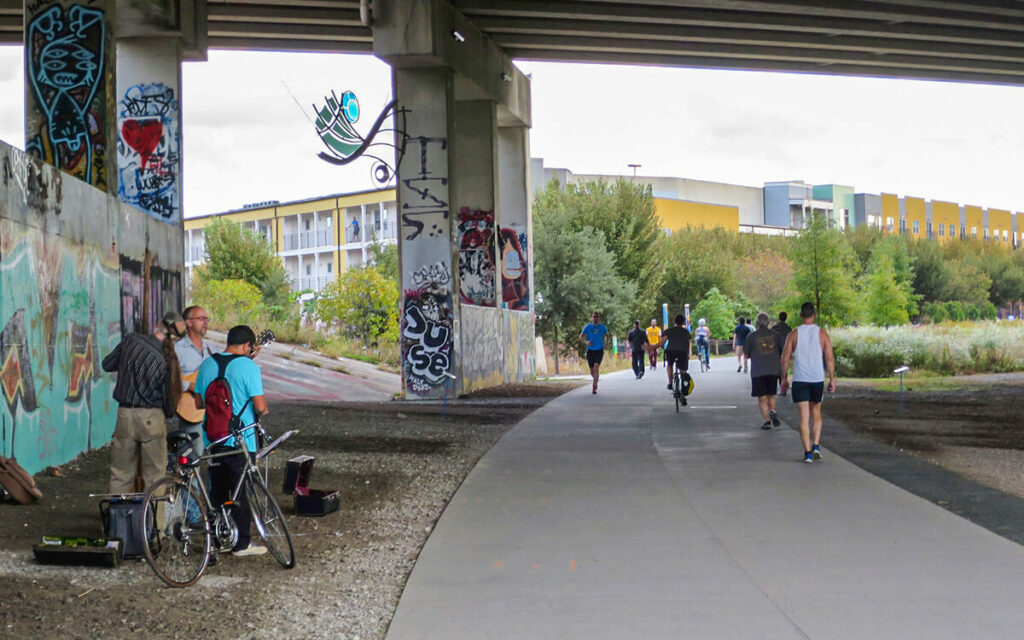 The Atlanta BeltLine is famous for its well-connected public parks.  The largest one of them is Westside Park. It even has a public pool and many fantastic sports fields. If you are a true nature lover, visiting this park should be on top of your list.

The historic Fourth Ward Park, located on the West End Trail, and Arthur Langford Jr. Skate Park are other popular parks. Here, you can bike, hike, and even skate. The Atlanta Beltline has many entertaining outdoor activities, and we are sure that any true nature enthusiast will love to explore the spacious parks and green fields. 

Also, some of the BeltLine parks are popular gathering areas for many community events. Those places connect people and make the entire neighborhood feel special.
Participate in free events
Did you know that the Atlanta BeltLine has many entertaining free events? You can go to fitness classes, educational tours, and nature walks! Numerous events are held at Old Fourth Ward Historical Park, across from Ponce City Market. 

The annual Lantern Parade is one of the most popular events, and it's held each year in September. The event is always free and open to members of the public!
The Atlanta BeltLine is an ideal spot for all bike enthusiasts! There is even an annual fall event called Biketober that celebrates all things bike related. You can take a self-guided bike tour of the Atlanta Beltline and enjoy the fantastic scenery.

You can choose between Westside and Eastside trails. Both are excellent for biking. You can also check out parks and bustling developments along the way. It's very safe and perfect for your kids!
How long is the Atlanta BeltLine?
The Atlanta Beltline is comprised of a 22-mile circle of numerous routes and parks. It also connects 45 of Atlanta's neighborhoods. You can walk the entire area, but be prepared to feel muscle ache afterward! This urban project wholly altered the city of Atlanta. Walking through the entire area will take you around 9 hours, but you will be able to explore the very heart of Atlanta!
Where to park on the Atlanta BeltLine?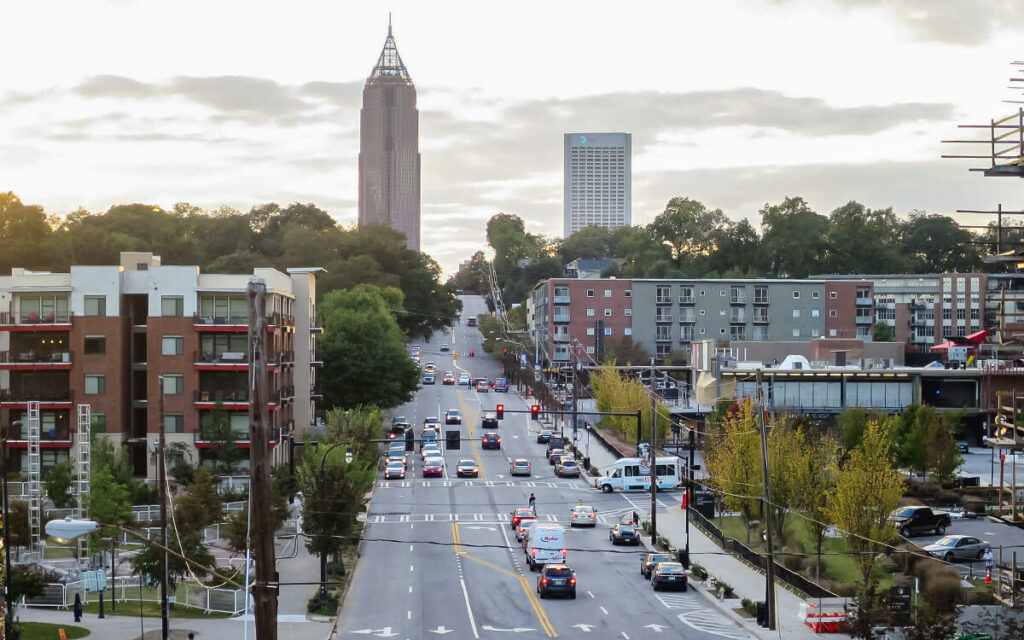 One of the best parking spots is on the trail's northern end. There is also a paid parking lot near Park Tavern. The most popular parking spots are the street parking at the Historic Fourth Ward Skatepark and the Historic Fourth Ward Park.

Another option is to park in the residential districts on the east side. You will have to take a short walk to the Beltline, but it's worth it.
How safe is the Atlanta BeltLine?
The Atlanta BeltLine is a safe place worth visiting. Of course, as with many popular areas, there have been occasional crimes, but nothing too severe. Atlanta police officers are doing a remarkable job in keeping the entire community safe.

With a low crime rate and safe neighborhoods, the Atlanta BeltLine can be the perfect place for starting a family. You will be able to sleep well, knowing that your kids are in a safe environment and part of a great community that knows how to take care of its residents.
Schools in Atlanta BeltLine
Atlanta BeltLine is a place where Atlanta comes together, so it is no wonder that this area also has some of the most prominent schools. This project understands how important education is and the Atlanta Public Schools board decided to help and invest in quality education that is available to every child in Atlanta's diverse community.

Atlanta schools are an extremely important part of this ambitious project.  Atlanta Public Schools (APS) has a clear mission: to offer the best possible education that every child deserves, allowing them to have the best start in life. Nine high school clusters create APS, including 58 neighborhood schools. Some of the most popular APS schools are:


Atlanta Neighborhood Charter School (6-8)

Atlanta Neighborhood Charter School (K-5)

Atlanta Virtual Academy
What makes the Atlanta BeltLine so special?
Exploring the Atlanta BeltLine is a beautiful way to spend your day. It's also more than just a perfect weekend getaway. Affordable housing and low crime rates make this enthusiastic project appeal to many young professionals and people planning to start a family. This place offers many opportunities to all generations. 

The Atlanta BeltLine makes commuting to work much easier by connecting 45 of Atlanta's neighborhoods. At the same time, it offers mesmerizing landscapes and southern charm. New businesses are growing every day, creating promising opportunities for many. 

Atlanta is one of the most popular destinations, and so far, our moving company has moved many happy customers there. Our professional Atlanta movers can help you relocate to Atlanta, so don't hesitate and give us a call to help us with your move!