Whether your retirement is just around the corner or is years ahead, it is exciting to know that such a huge milestone can lead you to new beginnings!

Where is the best place to retire in the USA? There are many factors to consider when deciding where you would like to live out your golden years, such as the local tax rates, housing costs, weather, and overall quality of life. Since tastes, needs, and interests vary from person to person, we cannot come up with one single answer for you. However, with the input of a few different sources, we've narrowed down the list to the top 10 places to retire in the United States.

Many tend to leave big cities for small towns, which allow them to escape the crowds and the traffic of large metro areas, yet still enjoy some of the amenities big cities offer.

Recent moving trends showed a drastic change in where Americans choose to retire and live, due to many factors.
The dominant state in this list is none other than sunny Florida, largely due to the state's affordable homes, low taxes, and high happiness ratings. Zip Moving & Storage's Florida movers have had the pleasure of successfully relocating many seniors to this new chapter of their life. According to the U.S. Census Bureau, 35% more people moved for retirement in 2019 than in the 10 years prior.

If you're dreaming of moving away and retiring somewhere else, keep on reading to find out the perfect top 10 places for retirees!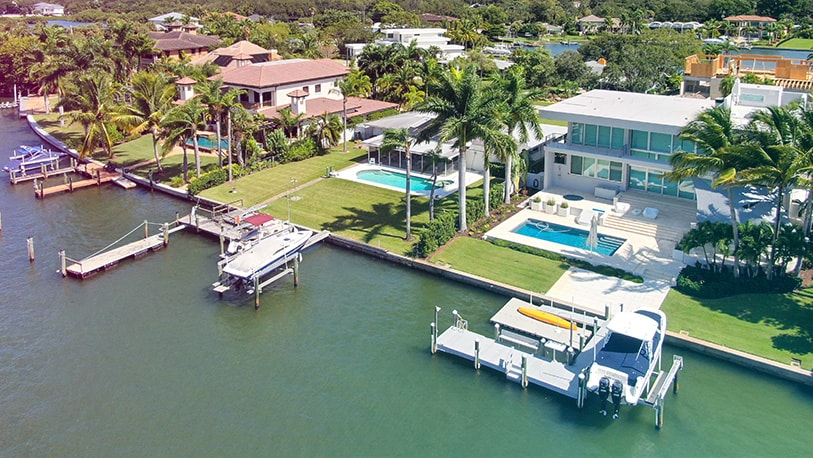 Population: 785,997
Share of population age 60+: 39%
Median Monthly mortgage cost: $2,160
Median Monthly Rent: $1,152

The beautiful white sand beaches of Lido Key and Siesta Key draw many retirees to this area of Florida. Sarasota's residents say they feel strongly supported by their social and community relationships. There's no state income tax in Florida and the moderate housing costs allow retirees on a budget to enjoy Florida's beach retirement. Tourism is a major industry, and luxury hotels, restaurants, and shops serve both residents and visitors. Property and violent crime rates are lower here than in comparable metro areas, and health care is easily accessible. Plus, there is a vibrant retiree community in Sarasota.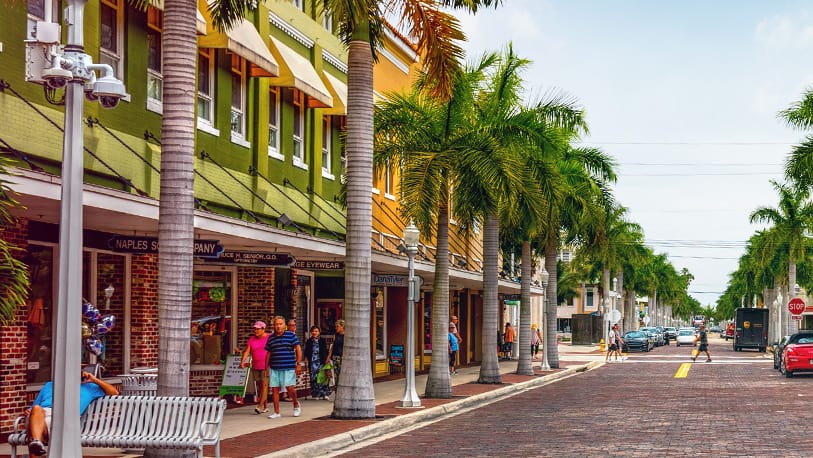 Population: 718,679
Share of population age 60+: 35%
Median Monthly mortgage cost: $1,946
Median Monthly Rent: $1,093

Art and science museums, restaurants, and a large retiree community put Fort Myers on our list of best destinations to retire. This Gulf Coast city scored well on desirability and happiness metrics, with residents reporting they have supportive relationships within their community and are able to comfortably manage their economic life. The median home price of $217,100 makes the Fort Myers area an affordable place to spend your retirement years fishing, boating, or relaxing at the beach. The local economy is driven by tourism, so you know there are many attractions to explore in Fort Myers.
3. Port St. Lucie, Florida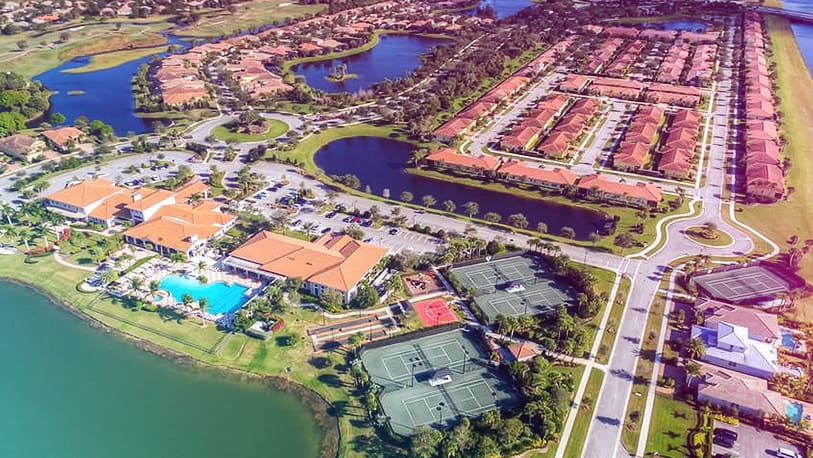 Population: 463,172
Share of population age 60+: 33%
Median Monthly mortgage cost: between $1,800 and $2,285
Median Monthly Rent: $1,126

Located on Florida's southeast coast, this fast-growing city continues to maintain its relaxed style and range of affordable homes. There's much to do outdoors, with the St. Lucie River, Port St. Lucie Botanical Gardens, St. Lucie Aquatic Preserve, and nearby Hutchinson Island, a barrier island just 12 miles off the coast. Golfers love the PGA Golf Club, and for baseball fans, there's the New York Mets spring training season. Port St. Lucie bills itself as perfect for golfers and anyone looking for a small, friendly beach town. If that sounds up your alley, you will certainly enjoy spending your retirement here.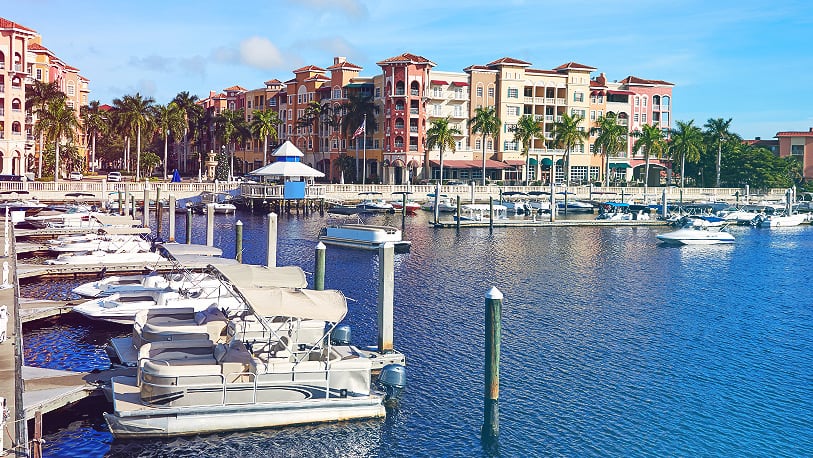 Population: 363,922
Share of population age 60+: 38%
Median Monthly mortgage cost: $2,307
Median Monthly Rent: $1,228

While more expensive than other cities in Florida, residents, and retirees love the high quality of life Naples has to offer. The Gulf of Mexico is known for its beautiful neighborhoods, elegant atmosphere, art galleries, upscale boutiques, and endless white-sand beaches. This is an ideal place for retirees who love nature since you have easy access to the Ten Thousand Islands in Everglades National Park, which boasts more than 35,000 acres of mangroves and wilderness for fishing, kayaking, and wildlife spotting. Mild winters and beautiful weather all year round are also big reasons many choose to reside here.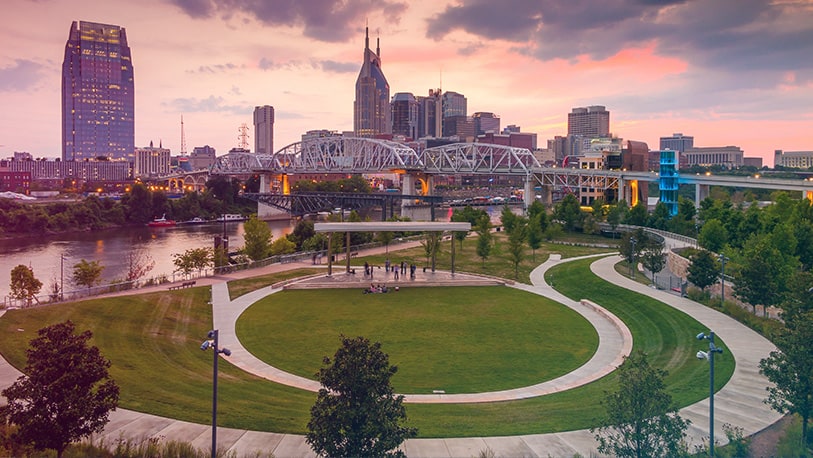 Population: 1,864,138
Share of population age 60+: 18%
Median Monthly mortgage cost: $1,819
Median Monthly Rent: $1,008

The homes in Nashville tend to be more affordable than many of the other cities across the U.S. and as a result, Nashville is becoming more appealing for those retirees that want to experience the wealth of activities that are available in addition to the obvious tax benefits. Live entertainment is the first thing that comes to mind when you think of Nashville. You can spend every day of the week enjoying a concert, festival, or a live performance, which is why we can surely say that you'll never be bored living here! There are 109 parks in the city which gives you more than enough opportunity to enjoy walking, jogging, and cycling for years to come. A range of affordable housing and no state income tax is also attractive to many retirees.
6. Asheville, North Carolina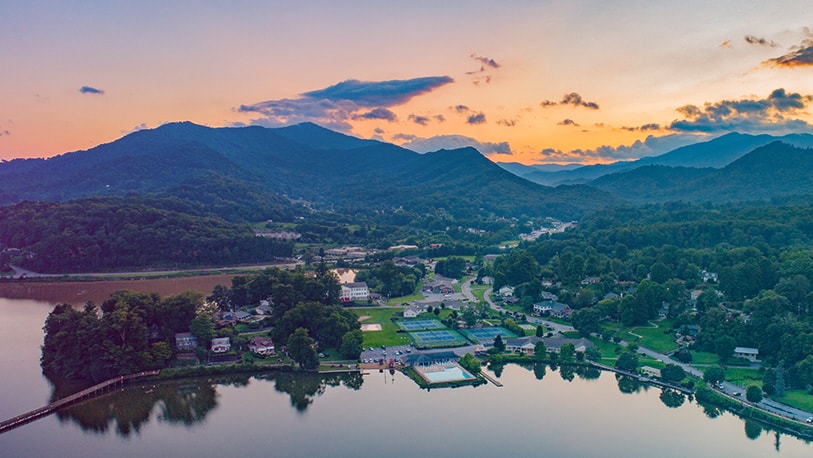 Population: 449,937
Share of population age 60+: 29%
Median Monthly mortgage cost: $1,686
Median Monthly Rent: $874

Nestled in the heart of the Blue Ridge Mountains, Asheville is home to a temperate climate and is a perfect place to retire if you're looking to escape winter blizzards and scorching hot summers. Known for the beautiful blue-toned mountains that surround the city, Asheville boasts one of the most beautiful mountain landscapes on the East Coast. This city is home to numerous National Forests and State Parks with endless miles of hiking trails to explore the scenic surroundings. Seniors retiring to Asheville can relax knowing that they have world-class medical care through Mission Hospital in Asheville. A wide range of 55+ retirement living options is available in Asheville and encompassing towns. From luxury homes, condominiums, and planned communities, there's a wide variety of options to choose from that fit your needs.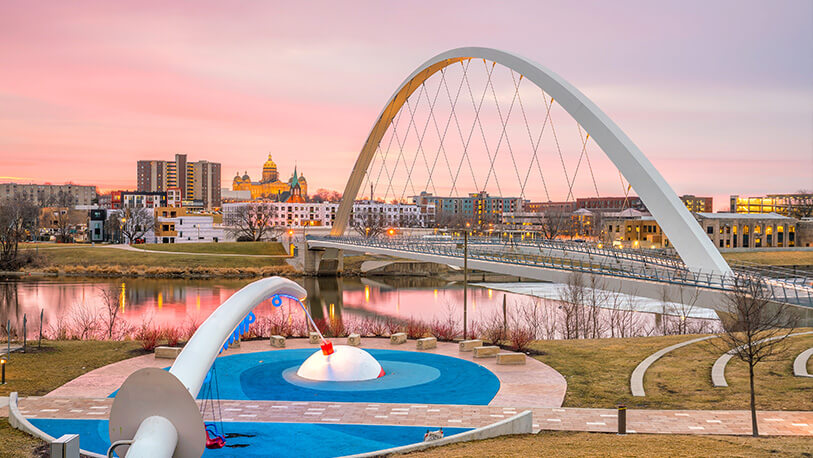 Population: 74,950
Share of population age: 65+ 17.5%
Median monthly mortgage cost: $1,200
Median monthly rent:  $895

Iowa City is one of the best cities for senior citizens as it offers a quality retirement life with easily accessible health care. Iowa also offers a quiet and secluded lifestyle, with a diverse population. Senior citizens can lead pleasant and relaxing lives or engage in everyday activities. One thing is for sure, Iowa will give those seeking it an opportunity for an amazing retirement life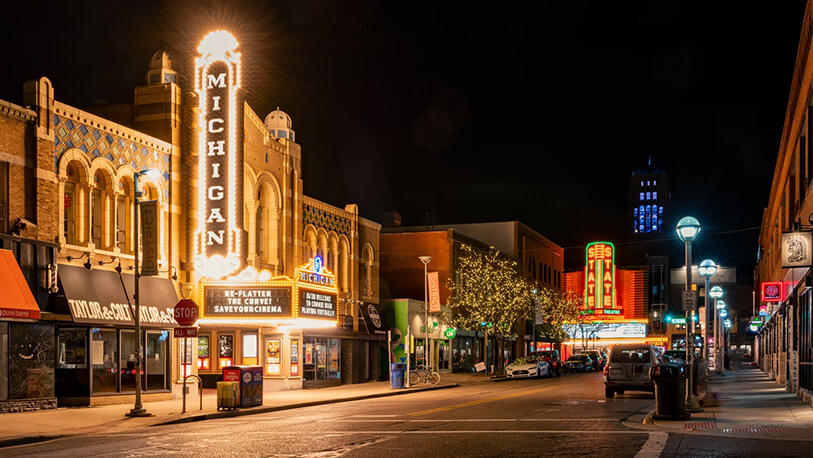 Population: 120,735
Share of population age: 65+ 11.7%
Median monthly mortgage cost: $1,313
Median monthly rent: $418,300

Ann Arbor is a fantastic city for retirement. It is located in the Midwestern state of Michigan, and many claim that this city is one of Michigan's best places to live. Ann Arbor has great restaurants, coffee shops, and spacious parks. Everything you need for a happy and undisturbed retirement is here. Many pensioners enjoy spending their free time taking long walks in the beautiful park areas. Ann Arbor also has a good healthcare system and excellent hospitals with professional medical teams. It's one of the top 20 wealthiest cities in the Midwestern state of Michigan. If you are planning a move in or out of Michigan, our moving company will be there for you every step of the way.
9. Lancaster, Pennsylvania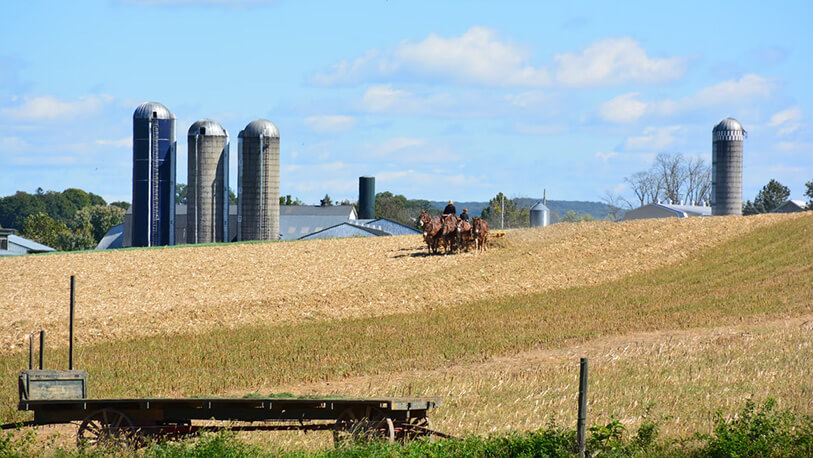 Population: 59,433
Share of population age: 65+ 18.7%
Median monthly mortgage cost: $1,013
Median monthly rent: $985

South Central Pennsylvania is home to beautiful Lancaster. With low crime rates and breathtaking scenery, Lancaster is a great place to live, especially if you are a senior citizen that needs safe and secure surroundings for happy retirement life. Lancaster is also the 13th safest city in the U.S., which is an important factor when considering your retirement options. People are very friendly and welcoming, so that is another huge plus. Our long-distance movers in Pennsylvania can help you with your relocation there.
10. Scranton, Pennsylvania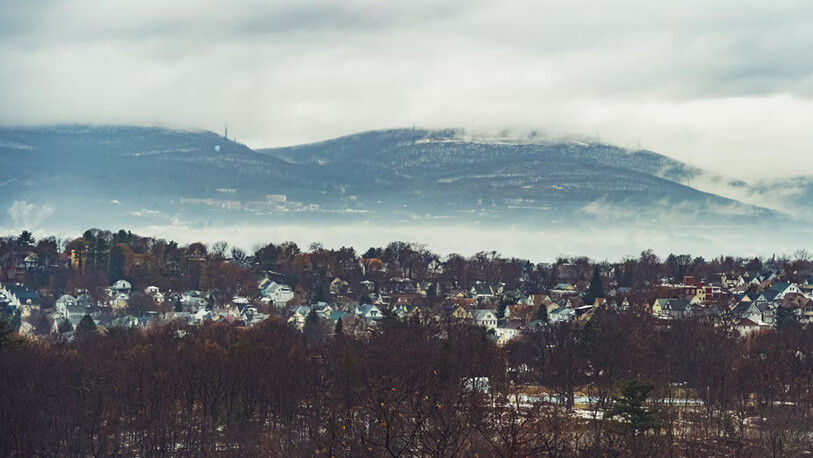 Population: 77,054
Share of population age: 65+16.%
Median monthly mortgage cost: $1,468
Median monthly rent: $1,403

The elderly population is in the sensitive years of their life, and that's why it's essential to find them a safe place to live. Scranton is a stunning city in the U.S. state of Pennsylvania, and it's one of the best places for peaceful and soothing retirement life. There are many perks of living in Scranton, but the most important ones are the low cost of living and low crime rates. Medical facilities are also excellent, which means that a terrific team of doctors and nurses will provide the best medical care to all their patients.
Keep calm and follow the latest moving trends
Researching for the newest information, couldn't help but notice that inflation left its mark in every area, even the moving industry. The prices of gas, electricity, mortgage and monthly rents have been higher. In some states, the prices have doubled, affecting the overall quality of living in many popular areas.

However, you can still find great places to retire in the USA. Of course, it will cost you a decent amount of money, but everything is possible with organization and careful planning. There are many options in the United States for you to choose from.  If you decide to retire, Zip Moving & Storage offers uniquely designed senior moving services to help move you into the new chapter of your life carefree (and don't worry, our prices remain affordable and reasonable)!