Have you been dreaming of purchasing a cabin in the woods or a cottage on the beach? Read on for our tips on how to make your getaway home the perfect fit for you! 
Now before we jump into all the fun stuff, remember that moving paperwork is of great importance, and you should have it safely stored in an accessible area at all times. You must have it on you on the big move day, since there will be paperwork you'll have to double-check and sign with the movers.
Vacation getaways are becoming more and more popular amongst homeowners. This is due to the fact that remote work is on the rise, allowing many to live anywhere in the world and work from the comfort of their own home. 
We've gathered a few tips on how to decorate your vacation home, to create the space of your dreams that your friends and family will love visiting!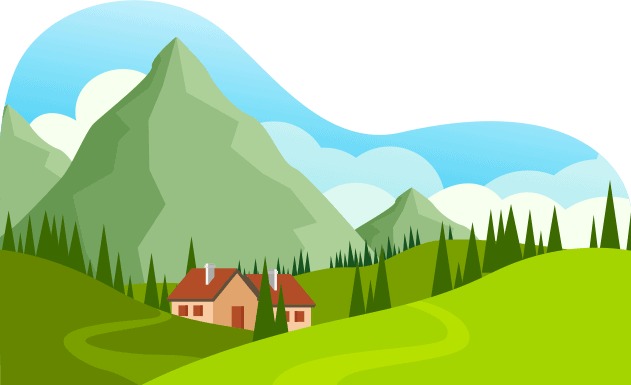 1. Consider your location
These areas have a high humidity level during the day and lower temperatures during the night. You should choose building materials that allow air circulation and also insulate from the cold during the night. Coastal areas also have salty air, so keep in mind that appliances and furniture must be treated accordingly to avoid rust. Interior design color palette should never be dark and dim, but rather light, airy, and open.
Glass doors, large windows, and skylights are key! This is a true coastal design. It's a vacation home, so in order to create a relaxed and easy vibe, try and use natural materials as much as you can, such as wicker, rattan, light woods, and fabrics. White is the most common color when decorating beach homes since it creates an airy interior, but it doesn't mean you can't accent with color!
Accent colors are typically neutral like light greens, khaki, light blues, and greys. An open floor-plan is perfect for beach gateways, so don't over clutter it with furniture or decor. Ideally, you want an open house with light colors and a minimalist vibe. In this case, less is more when creating your dream beach home.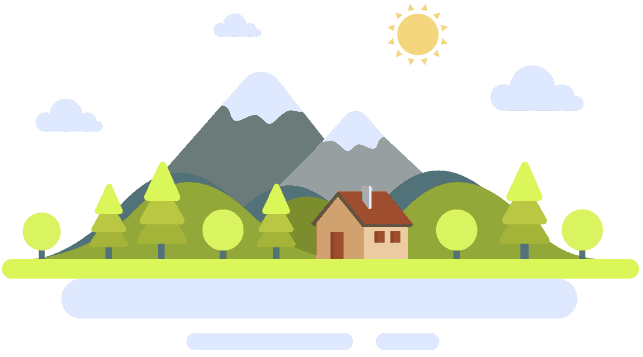 Mountains and hill slopes
When you think of a cottage in the mountains, your brain thinks warm and cozy. There tends to be lots of precipitation in mountainous regions, therefore the building materials should be durable and able to withstand the cold during the winter. A cabin style that's becoming increasingly popular is a mix of rustic and mountain-inspired decor.
Thanks to farmhouse design, rustic-chic decor is taking the design world by storm. This style of decor often includes elements like natural greenery, creamy white colors, and metal for accessories and furnishing. Picking out furniture that blends metal and wood will enhance that rustic-mountain look. Finish off your decor with velvet throws and fluffy pillows, for that cozy feel.
Most importantly, you want the vacation home to be a memorable experience for you and your loved ones
2. Plan your home with purpose
Putting rooms together and deciding on their function is essential in your primary house, and the same is true in a vacation home. A big question to consider is: will you be renting out your vacation home?
This is a thought you should take into consideration when decorating. For example, adding extra beds makes it easier to host larger groups of vacationers. Additionally, furniture should be of durable material so it can stand the wear and tear of frequent use.
It's always recommended to have at least one guest bedroom, as vacation homes are a perfect place to host friends over the weekend. You also want to ensure that the living and dining rooms are large and spacious, so you have enough room to entertain.
Like any dream vacation, we all want to experience extravagant amenities that we would usually not experience at home. If you have the budget, this is a perfect opportunity to invest in high-quality furniture. Build each room with materials like real wood, granite, and marble.

Consider investing in a luxurious outdoor shower with steam, multiple showerheads, and heated floors. This will provide an adventurous outdoorsy feel with a breathtaking view of the ocean or mesmerizing greenery on top of the mountain. Luxury decor and extravagant touches such as an outdoor shower is a great investment, as this will increase the resale price of your home in the future.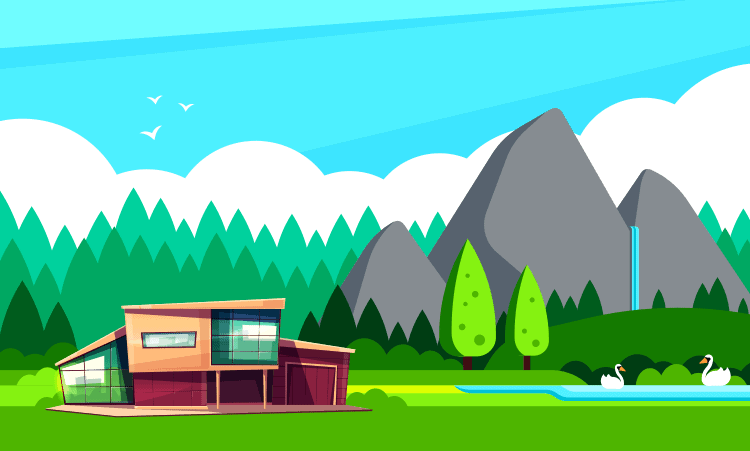 Whether your vacation home is on the beach or in the mountains, it can be both a dream and a budget-buster! Here are a few energy-efficient tips and easy ways to cut back on costs when you're not spending time at your getaway home.
Bring air filters next time you visit
Clogged or dirty air filters not only contaminate air quality, but they also reduce your HVAC system's efficiency, requiring your units to work harder. You surely don't want to spend your time cleaning air filters while on vacation, so next time you plan on coming, bring a stack of reusable air filters that are more eco-friendly.
Turn down the water heater thermostat
Before jumping in the shower after a long car ride or a plane ride to your vacation home, take a peek at the water heater. Most water heaters are preset to 140º F, but the Energy Department recommends turning it down to 120º for maximum energy efficiency. If you don't plan on returning to the vacation home in several months, turn off the water heater entirely and shut off water supply valves to save the additional energy and prevent water damage from burst pipes
Use smart and efficient lighting
For security reasons, many people tend to leave a light or two on when they're not there. Unfortunately, standard home light bulbs consume a lot of energy. You can make a small investment in LED lights and compact fluorescent lamps, however, and you won't have to worry about energy any longer! These types of bulbs last up to twenty-five times longer than traditional bulbs and use 80% less energy.
We hope we've shared some helpful tips with you for decorating, maximizing your space, and adding elegant touches in your new dream home. All of these aspects will help create many wonderful experiences when spending your time here with your family and friends, or when renting out your getaway for others to enjoy.