In the Canadian province of Quebec, "Moving Day" is much more than a day where one simply moves homes – it is also a long celebrated tradition marking the start of a new chapter in one's life. Now that we know that Canadians enjoy celebrating "Moving Day", how about the rest of the world?
Moving can be a challenging process for anyone, as the day of a move can be extremely stressful and intense. Moving day is different for professionals and customers and it's helpful to be informed about both sides of the process. Read on to discover more about this special day.
Moving day for professional movers
Moving day is the day you transfer your belongings from your old home to your new home, and movers play a huge part in that process. Let's face it, packing and moving is a lot of work. For professional movers, it can be even more than just that. Their main job is to make sure that your entire moving process goes safely without any hiccups.
This means that they have to pay a lot of attention to every detail regarding your move. Our trained movers will do all of the packing, heavy lifting, and moving. For our movers, a happy and satisfied customer is always the priority. 
You might be asking yourself what professional movers do on moving day. A professional moving team will:
arrive precisely on time

come with fully equipped trucks 

go through the inventory with you

pack everything properly

make sure that everyone is on the same page

give accurate and precise instructions to customers

know how to handle customer belongings with the utmost care

load their trucks professionally

safely transport your belongings to your new home
On moving day, movers will know how to handle personal belongings and move heavy items safely. Moving day can be full of surprises for customers, but movers with years of experience will know exactly how to handle those surprises. In addition to moving, a moving company will offer you spacious storage units where your belongings can be carefully stored.  When the move is complete, the team of movers hope to have a happy and satisfied customer!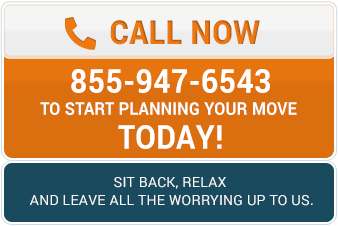 Moving day is the culmination of the entire moving process. That's why many call it the "Big Day" when all of your planning goes into action. Many customers are nervous on moving day, but that is something to be expected. For many people moving for the first time, moving day can be challenging and that's completely normal. Sometimes the best thing that you can do for your moving day is to leave it to professionals. A moving team knows how complex the moving process can be. That's why moving companies are here to take the burden off your back, so you can easily focus on your new home and sorting through the exciting aspects of your new life.
No matter how many times you have moved before in your life, every move can be an overwhelming and unique event. Relocating to a new, unknown area is often difficult, but at the same time, an exciting life experience. For professional movers, moving day is the part of the job, something they are used to doing almost every working day. For many customers, however, moving day is a time when everything changes. Everything is chaotic and new. But don't forget to look at the bright side! Moving day can also be incredibly fun and exciting.
Here are a few tips that will be extremely useful on a moving day. Our goal is to make it easier for you to cope with moving day anxiety and hopefully, following these tips will allow you to feel less worried about the entire moving process. Plus, it's always a good idea to stay on track and be organized. These tips will help you prepare for the day and show you how to avoid making crucial moving day mistakes.
Having a moving day checklist is essential on moving day. It will help you stay organized and focused. A moving day checklist is a great way to remember all the essential things you may forget. Lists like this will help you plan your moving day carefully and in detail.
This will ensure you will have enough time to welcome movers or any other help that you need on a moving day. Also, by waking up early you will be able to double check everything is in order. 
Try to be packed before moving day  
This is one of the most valuable tips when moving! Having enough time to pack and plan everything will make moving day much more manageable. Last-minute packing can cause unnecessary stress. Plus, it's easier to forget something when you are in a hurry.
On moving day, things can get hectic. That's why it's always a good idea to do a final walk-through. Don't forget to go from one room to another, checking even the basement and attic. Look in every direction, check floors, and ceilings. A complete walk-through should take about 30 minutes, but will give you peace of mind after you leave your home.
Hire a professional moving company
It is up to you to decide whether to choose professional movers or not, but one thing is for sure, during the moving day, you will need help, and sometimes it is best to turn to professionals. The professional moving company will provide you with stress-free moving and storage services. 
Remember that it's crucial to take inventory of all your belongings, as this is the only way to keep track of your items as the movers transport them to  your new home. It's probably a good idea to take notes as well, in case something goes missing or you notice any damage.
Create a plan for kids and pets 
If you have small children or pets, it might be best to have them hang out with your friends or family members for the day. Sometimes it can be a bit tricky to take care of the kids and at the same time think about all the things you need to do on moving day.
It's completely natural to feel a bit anxious on a moving day, but our professional moving company will make your move seem effortless. A great way to reduce moving day anxiety is to have a positive attitude and to laugh. We are here to help you with that as well! Research has shown that laughing can be highly beneficial for our well-being. If you want to smile and reduce stress, check out our favorite moving memes. We guarantee you good fun, laughter, and something that will surely distract you for a while. After that, we believe you will have enough encouragement to face moving day with a smile on your face.