Almost everyone has moved or will move at some point in their lives. Relocating is one of those inevitable changes we make as we go through the different phases of life. Transitions in life can be challenging but are necessary for our growth! Embracing that change will open you up to many new experiences. 
The majority of people relocate to a new place within a short distance of their old home. This means that most house moves are local. Still, every once in a while, some people will also find themselves in a situation where they have to relocate to another state and find a new neighborhood to settle in.

Long-distance moves are naturally more challenging than local ones. This is partly due to the stress of being on the road for several hours at a time. It is also because of the slimmer margin for error that exists in a long-distance move. Simply put, long-distance moves require more planning than local ones.

Perhaps you are in a situation where, although you have done local moves in the past, you find yourself planning for a long-distance move. You may be worried that you don't know enough about moving long distances and want to ensure that you don't overlook any important part of the process. This article will help you figure out the right steps by showing you the major differences between a local and a long-distance move.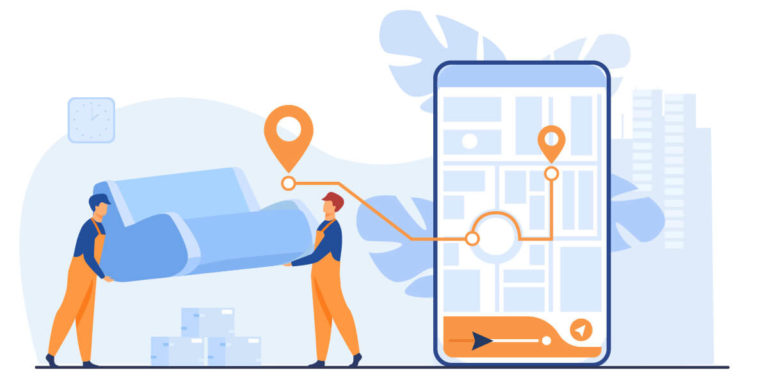 When relocating between locations within 50 miles or less, your move is classified as a local move. Most professional moving companies charge an hourly rate for local moves. Typically, when doing a local move, the new home is within the same town, city, metropolitan area, or suburb as the old one.

Local moves don't typically involve crossing state lines and the cost of a local move depends on many different factors. The number of belongings you are planning to relocate and the fragility of your possessions can greatly affect the price of your local move. Even for short moves, hiring experienced and expertly trained movers is a great idea!
What is a long-distance move?
Any move that crosses state lines is classified as an interstate move. A long-distance move, also known as a long haul, will often take you across state lines. What exactly comprises a long-distance move? If the move is over 400 miles, many moving companies will consider it to be a long-distance one. It's also important to highlight that certain moving companies consider a long-distance move to be any move over 100 miles. Planning this kind of move needs to be done strategically and carefully. One of the most important tips for an interstate move is to start planning early!

Long-distance moves are, typically, more complicated than local ones, as they demand more time and planning. You should also consider purchasing moving insurance, especially if you are planning an interstate move. Licensed and certified moving companies offer basic coverage or full value protection. Because you will be dealing with the laws and regulations of two different states, long-distance moves have specific conditions that are not necessary for a local move.
Long-distance movers versus local movers
Local movers are not as regulated as long-distance movers. Some states require local movers to be licensed by the state moving authority, while others don't require a license at all. Interstate movers must be licensed by the Federal Motor Carrier Safety Administration (FMCSA), and they must have a United States Department of Transportation (USDOT) number as proof of licensing.
Long-distance moves can be much more complex.
Local movers will usually calculate your moving cost based on the number of movers they will need, how many hours it will take to complete the move, and any special requirements, such as moving bulky objects. Long carry, stairs, and packing materials can also affect your moving costs. Local movers are less expensive and are usually priced depending on the amount of labor they require. Many different factors can affect the cost of your local move, some of them being the number of items you want to relocate, the number of bedrooms your house has, and the fuel used by movers.
Cost of a long-distance move
The main difference between local and interstate moves, besides the distance, is how they are priced. A long-distance move may involve crossing state lines. However, even if you do not cross state lines, your move will probably be charged as interstate if it is greater than 400 miles. Long-distance moves are calculated using a special formula. When moving across the state, you have to take into account the number of miles your possessions need to travel to your new home and the total weight or volume of all of those items. Many interstate moves need to have additional paperwork and proper insurance, which can also affect the price of your relocation.
Updating important documents and information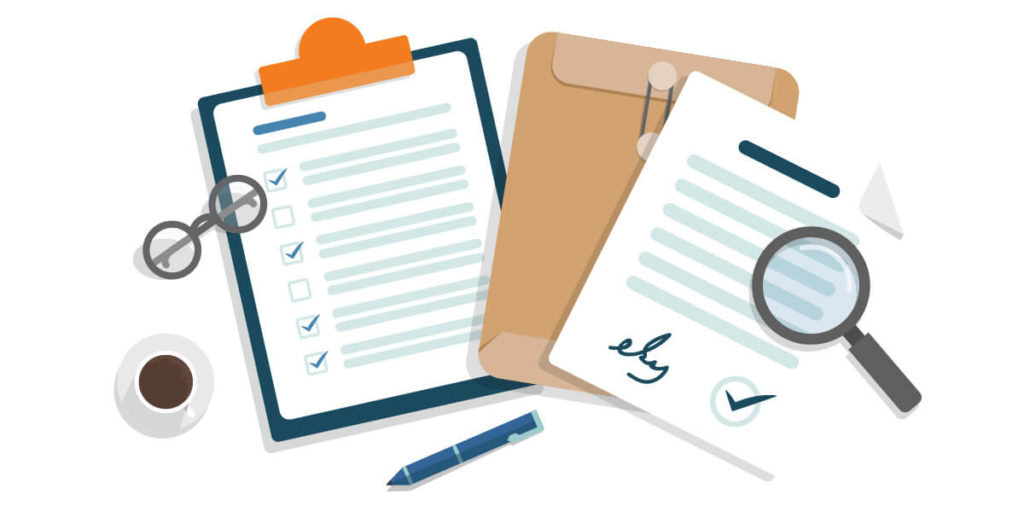 Updating your personal information can be tricky when moving long-distance. During an interstate move, it is possible that you may not have leased or bought a new home yet and will have to stay in a hotel in the interim. You may also need to update your driver's license and registration when you move to a new state. Further, don't forget about institutions that need to be provided with your new address, especially when you're moving cross country.  We recommend logging on to USPS.com, filling out a change of address form, and selecting a date that suits you best.
Long-distance moving costs are typically calculated by the weight of the items you are moving. Thus, it is not a good idea to move bulky items like large furniture or old appliances across state lines. The cost of moving those items could easily be as high as the cost of buying new ones. It often makes more sense to sell or donate such items. You can find many great non-profit organizations that will gladly accept your donations. Of course, make sure that your furniture and appliances are clean and in a good condition prior to donating them.
Prohibited items for local and interstate moves
All moving companies have a list of items that are prohibited to move. These materials are deemed dangerous to humans and the environment. The list of prohibited items is longer when moving across state lines and states may have requirements that are specific to them. Make sure you ask your mover for the list weeks ahead of your moving date. As previously stated, long-distance moves require more organization, so it's essential you start planning your interstate move with plenty of time.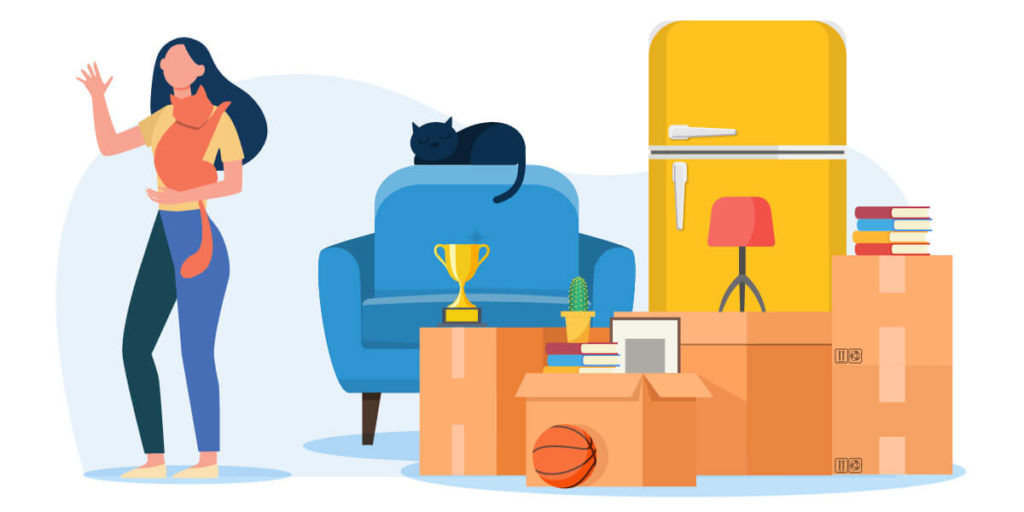 Moving can be a stressful experience for most of us, and our pets feel the same! Relocating with animals can be challenging, but if you follow all the instructions, you probably won't have any problems when relocating your furry friend. Still, it's important to highlight that you will face more stringent regulations when moving interstate with pets. 

Most states will require you to provide the following for the pet: Certificate of Veterinary Inspection (CVI), Official Health Certificate (OHC) which shows that the pet is fit to travel, and your pet's rabies vaccinations. Keep your animal in a crate nearby and fill the crate with your pet's favorite toys and treats to keep them occupied during your relocation. Don't forget to put on a seatbelt to ensure the safety of your pet during the move! Once you have finally arrived at your new home, give your pet ample time to settle into their new surroundings. Also, it's extremely important to ensure that the microchip in your animal is updated with your new address and contact information.
Whether local or long-distance, moving is never easy. Hiring a professional moving company with years of experience can lift some of the burdens off your shoulders. Experienced and skilled movers know how to pack your belongings with utmost care and precision. Moving cross-country is an adventurous and time-consuming task that involves a lot of meticulous planning and solid organization. 
Sometimes, it's best to leave such things to experienced professionals. We hope that this article was helpful in planning your relocation. If you have any worries about your move or additional questions, don't hesitate to contact a professional moving company, like Zip Moving & Storage. Our moving coordinators will give you detailed information about your move and an estimate of your relocation. They will also be with you every step of the way, ensuring the safety of all your belongings during your move.