In recent times, there has been a growing demand for the use of plastic containers for both long-distance and local moves. Instead of traditional cardboard boxes, many clients are opting for plastic containers for many different reasons. 
Couldn't help but wonder about what sets these containers apart from cardboard ones? Read on to discover more about this increasingly popular moving method.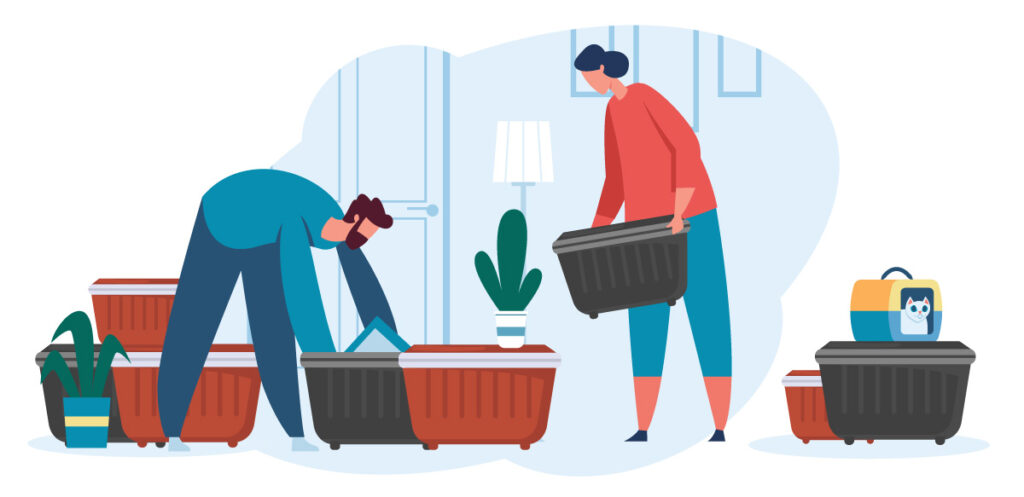 Many say that moving with plastic containers will make your relocation easier. Firstly, plastic bins are very strong and sturdy. That is, perhaps, the biggest difference from regular cardboard ones. Plastic containers are, believe it or not, very eco-friendly. This is because you can use them several times over the course of many years, as they last a lot longer than cardboard boxes. Here are some other advantages:
Plastic bins are crushproof, dustproof, and waterproof

You can easily lock them for that extra safety

Plastic bins can be made from recycled materials

Using them saves a lot of storage space

Plastic bins are incredibly strong

You can stack them and put them neatly one on top of the other

Overall they are a pretty good long term investment
What are the disadvantages?
Our goal is to provide to our readers and customers all the right information. You can find many articles on the internet that write about the benefits of using plastic bins, but there are very few posts about their disadvantages. Moving with plastic totes has a lot of positives, but what are some cons? Here is what we have found out, plastic bins can be:
more expensive than cardboard ones

– cardboard is much cheaper than plastic

heavier than cardboard ones

– when completely filled, a plastic tote can be a lot heavier than a cardboard box, meaning you will need a strong pair of hands

limited sizes

– sometimes it can be hard to find proper plastic bins in many different sizes, and when moving to a new city, having many boxes in different sizes can be essential

more difficult to find

– generally speaking, it's easier to find cardboard boxes and many professional moving companies will provide them (Zip Moving & Storage included)
When moving and packing, it is important to consider all options then decide what works best for you. Make sure to research both the positive and negative sides, then choose the right option for your move.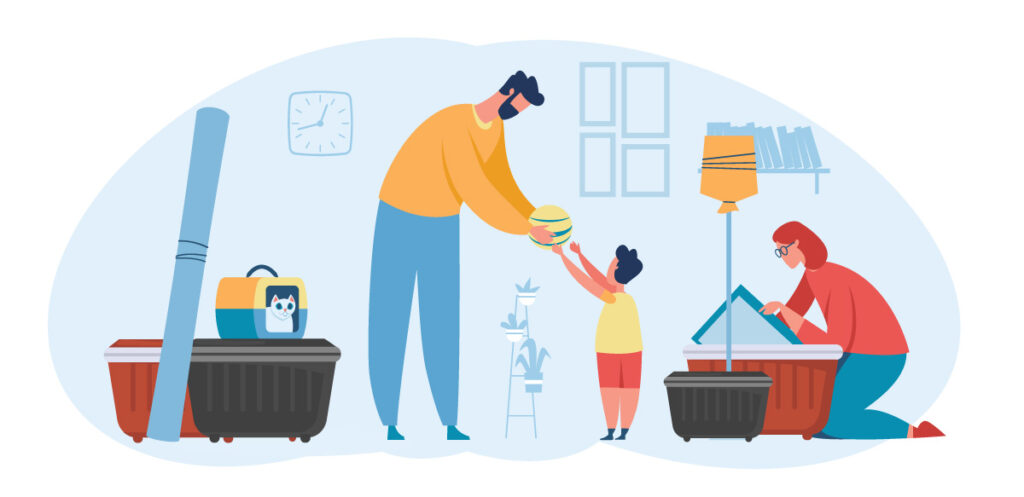 You've decided to choose plastic containers for your move – now you may be wondering, when is the right time to use them? The best answer we can give to you is to use them when you need space for all your belongings during the move.
A major advantage of plastic bins is that they are waterproof. You can be sure that all your clothes will always be dry, no matter where you store them if they are stored in plastic bins. Plastic containers are also great for stacking. When you put them on top of one another, your belongings will be carefully stored and will look tidy as well.
Using these bins will be immensely helpful to stay organized during the planning and packing process of your move. Plastic containers are also a great idea if you are planning a winter move as they will keep your things dry and safe.
The best time to use plastic containers is when your storage requires maximum strength and resistance. If you move with plastic containers, you won't have to worry about bad weather conditions and humid environments. You can focus on the other aspects of your move and know that all your belongings are stored safely in plastic bins.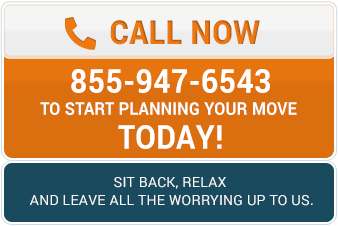 How to properly use plastic bins
If you plan to move using plastic bins, you are probably wondering what the best way to pack your stuff is in them. First of all, you should know that moving with them is quite easy and using them can be incredibly helpful. Here are a few useful tips:
First of all, check the plastic bins to make sure they are completely dry

Put some packing paper on the bottom of plastic bins

Make sure not to overfill the boxes so that you can properly close them
Pack your things in plastic containers using packing paper and wrap to protect all the things you store in them

Add some tape to the side for that extra security

Don't overdo the stacking

Fill every plastic bin with some gaps and pieces of crumpled paper to prevent items from shifting around

Try not to put heavy items on the top

Use proper packing material 

Label every plastic bin that is not transparent
Where to rent plastic bins
You can find many good and reliable companies that rent plastic containers of all sizes. Some popular ones are Bungo Box, Rent a Green Box, and Land a Box. These companies are famous for delivering plastic totes of solid quality. The boxes will be delivered to your doorstep at the prearranged time. After you settle and unpack in your new home, you can call the company to pick the bins up!
The decision to move with plastic bins or cardboard boxes can be a difficult one to make! We hope our pros and cons list provides you with the information to make an informed decision. Even though our company does not offer a packing service with plastic bins, we are always looking for new ways to help our customers and to make their move go as smoothly as possible. Zip Moving & Storage offers you a full packing service, and we can still successfully relocate you using classic, good old-fashioned cardboard boxes. They are biodegradable and very easy to fold and use again, whenever you need them. Our team of expert packers and movers can pack things for you, safely store them in boxes and ensure you easy and stress-free relocation.