Planning to make Virginia your next permanent destination? Virginia is a lovely region and a home to plenty of cultural attractions, alluring natural wonders, an expansive local cuisine, and fascinating people!
Don't be alarmed if anyone asks, are you moving to ''NOVA''? You might think to yourself, what are they talking about? NOVA is a nickname for Northern Virginia Community College and the Virginia region around the nation's capital used by the locals.
Northern Virginia is part of the Washington D.C. metropolitan area, within the Commonwealth of Virginia. We've outlined the pros of living in Northern Virginia, one of America's most historic regions, as well as some cons. As anywhere in the world there is always a downside when moving places. 
Let's get started!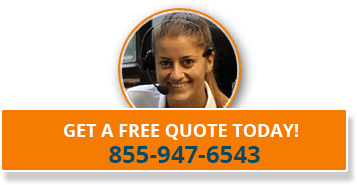 Pros when moving to Northern Virginia
Top 5 neighborhoods in Northern Virginia
Lovers of nature, technology, history, education, entertainment, and culture will all find their calling here. Virginia's solid economy, excellent colleges and universities, and rich history are just a few of the many things that residents love about the Old Dominion.  

Zip Moving and Storage wants to make your move to Northern Virginia easy by providing you with research to help inform your decision about where to move. Here's a list of the top 5 places to live in Northern Virginia:
Arlington – Arlington County sits on the border of Washington D.C. and Virginia. It's been consistently rated as one of the best places to live in America, and it's easy to see why! Just across Potomac, Arlington is conveniently located close to the capital, while maintaining a suburban feel that attracts families and those who work in D.C.  The cost of living in Arlington is reasonable if you compare it with Washington D.C., Boston, or New York.
Falls Church – Falls Church offers residents a top-notch place to call home. A small population of just over 12,500 residents creates a small-knit community for families. It also scores high marks for the low unemployment rate. The perks of living here might come at a price since the median house prices are higher than average. 
The Old Town of Alexandria– The Old Town of Alexandria is a historic district visited by many and once home to the first president of the United States, George Washington. This lively city located along the Potomac River has been named one of the top 3 best small cities to live and work in. It is home to several big high-tech companies that employ many in the city. Even though this is a smaller city, there's no shortage of fun. If you walk down King Street, there are endless retail stores, restaurants, hotels, gift shops, and many different attractions to keep residents entertained.
Fairfax City– According to

the Niche website

,

Fairfax City is graded an A+ and loved by young professionals and families. In this popular suburb of D.C., you'll find a vibrant community filled with coffee shops, restaurants, museums, and many more things to do for all ages. Fairfax City also features top-rated public schools, a low crime rate, and bustling nightlife.

Chantilly–  Residents of Chantilly are mostly young professionals and families enjoying the diversity of restaurants, coffee shops, and parks this lovely place has to offer. The unemployment rate here is 2.5% and the crime rate is 68% lower than the national average.
World Class Education System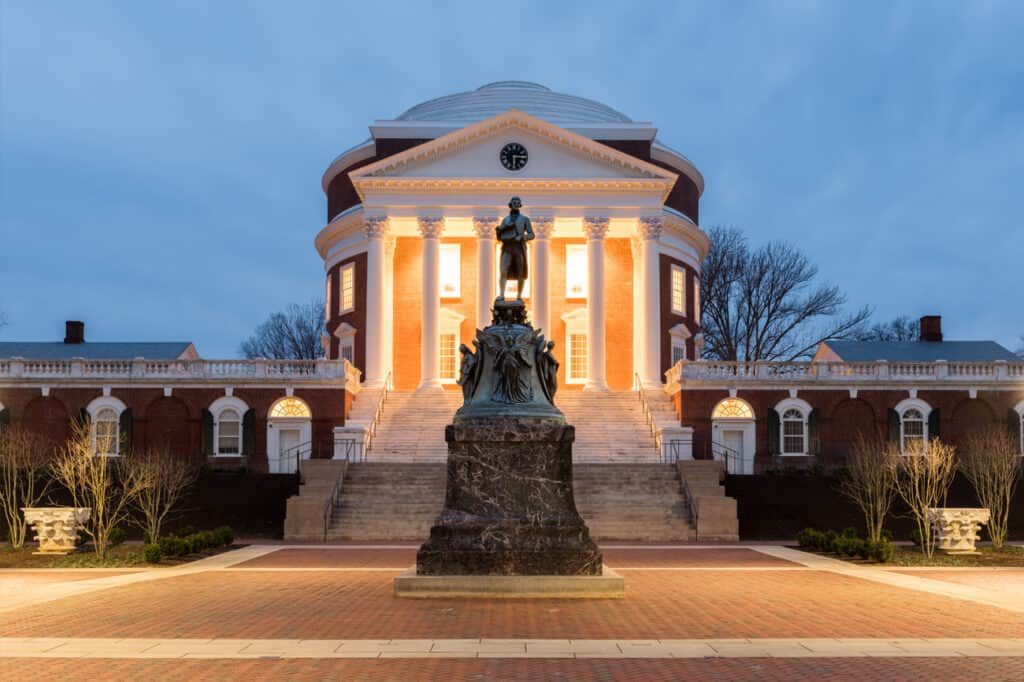 From grade schools to graduate schools, Virginia is home to top-notch education systems. As a resident of Virginia, you will receive reduced tuition at an in-state resident rate. If you want world-class education for you or your children without a high price tag, Virginia is the place for you!
Here are the top 5 Universities in Virginia:
University of Virginia

Washington & Lee University

William & Mary

Virginia Tech

University of Richmond
Excellent Job Opportunities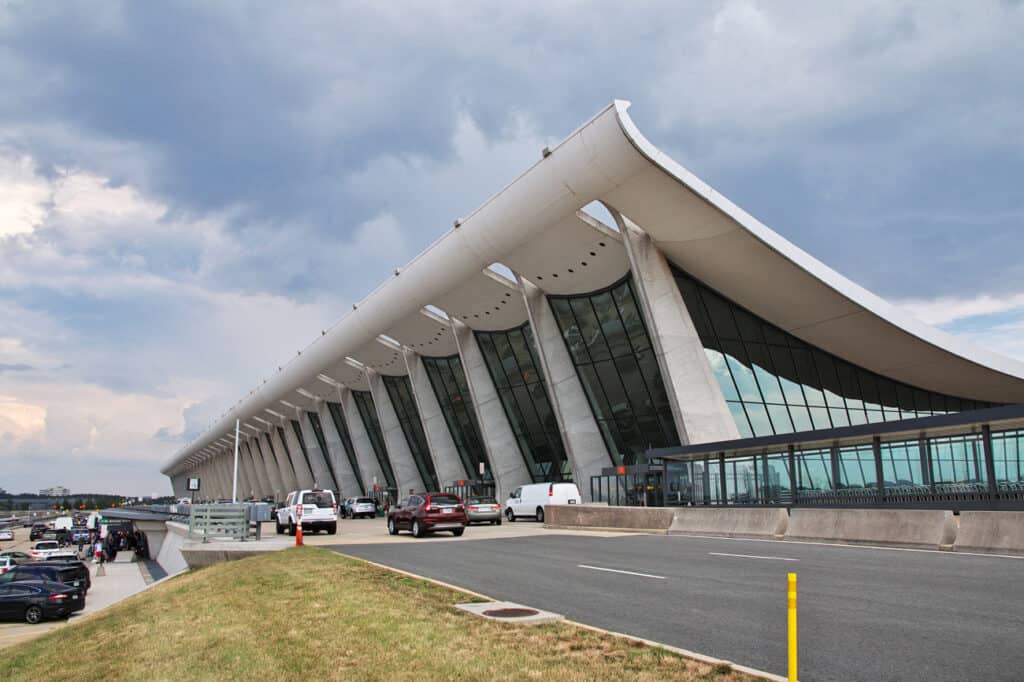 A quarter of the folks in Virginia work for the government, nevertheless, its job market has much more to offer. Virginia's unemployment rate is below the national average at 3.4%. Forbes has ranked Virginia #1 for business, with 23 Fortune 500 companies ranked here. The median income in Virginia is $72,577, which is higher than the median annual income of $61,937 across the U.S.
The economy in Virginia is well-balanced with a diverse source of income. Shipbuilding, military installations, tobacco, and peanut farming are all important aspects of the Virginian economy.
The cost of living in Virginia is considered higher than the national average, but the state also features a high average income. Below we'll list the breakdown of average monthly expenses when living here.
Monthly rent – $1,231

Median house price – $576,000

Average salary – $6,724

Utilities – $430

Public transportation – $60

Healthcare – $446

Food (for 1 person) – $280
Transportation in Northern Virginia
Traffic can be hectic in a populated state like Northern Virginia, but luckily there are many other ways to get around the cities and nearby areas.
Virginia Railway Express –

In service since 1992, the Virginia Railway Express provides commuter railway service from the Northern Virginia Suburbs to Washington D.C.
Arlington Transit-

ART is Arington County's fixed-route bus system that operates within the 26 square miles of Arlington County, Virginia. Its service is designed to connect the city neighborhoods with the nearby Metro Stations and Shirlington Bus Transit Station.
Loudoun County Transit-

Operates 50 commuter buses that run during peak AM and PM hours. The county also provides local fixed-route bus service from Leesburg. 
Fairfax Connector-

A public bus service provided by Fairfax County, Virginia. Service began in 1984 and covers over 180 square miles. 

Alexandria Transit Company Dash-

Provides local bus service within the city of Alexandria, and connects with the City of Alexandria, Metrobus, Metrorail, Virginia Railway Express, and all local bus systems.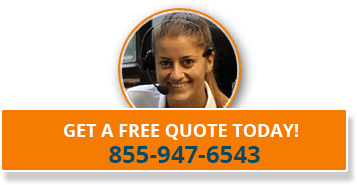 Safety and low crime rate
Across the board, Virginia is one of the safest states in the U.S.The latest FBI data shows that the state had the 4th lowest crime rate in 2018, and its major cities all boasted violent crime rates below the national average.
The property crime rate in Virginia is 16.7 per 1,000 compared to 22.0 per 1,000 across the country.
When looking to relocate, the crime rate may not be the one to make or break your decision, but it is always nice to know you're moving to a safe area.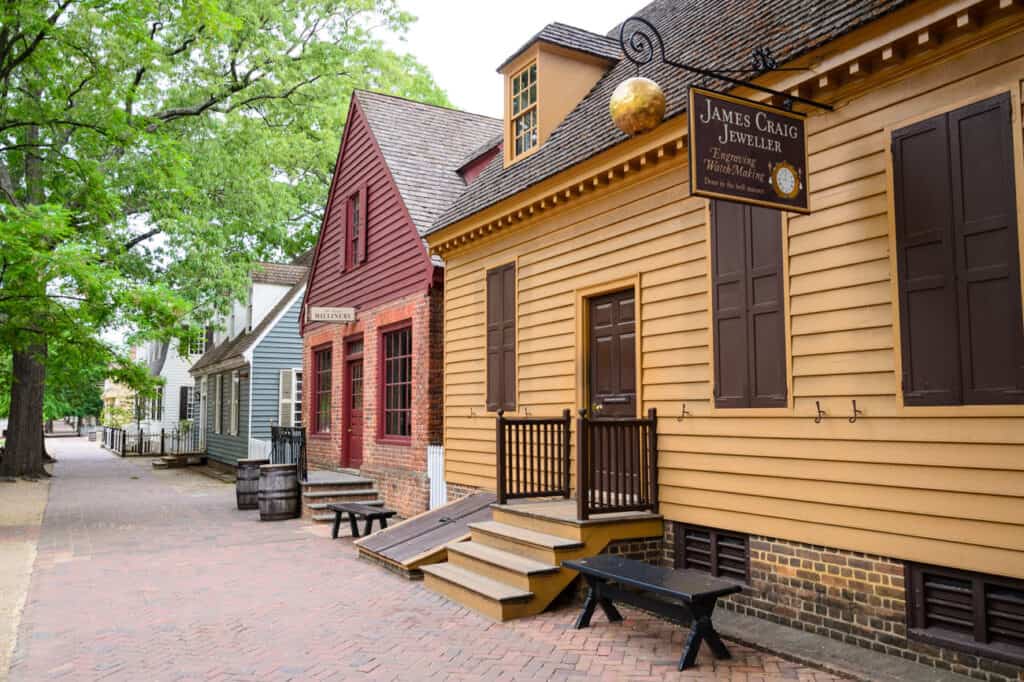 It's no secret that Virginia is home to many phenomenal beaches. Besides the amazing shoreline, this state is very rich in history with no shortage of tourist sites that will transport you back in time. There's something for everyone here! Shoppers will be inundated with many local stores, couples will find the chance for romance, and families will enjoy the outdoors with their little ones.
Here are some must-see attractions in Virginia:
Colonial Williamsburg– Walking the historic area of Colonial Williamsburg will bring you back in time to truly experience 18th-century life in America. You can visit dozens of buildings still standing on their original foundations. You can also visit the sites that great historical figures once frequented, such as the place where Patrick Henry gave his famous speech, or the streets Thomas Jefferson used to walk down, or even dine at the place George Washington often enjoyed his dinners. 
Virginia Beach– A very popular destination with many hotels and amusements. If the Atlantic Ocean is not warm enough for the children, not to worry, take them to 19-acre

Ocean Breeze Water Park

with Caribbean-themed water slides, a wave pool, and a water playground. The Virginia Aquarium and Marine Science Museum explore the climate, seafloor, and fauna of the coast with an 800,000-gallon aquarium featuring hands-on exhibits and a touch tank. More than 9,000 acres of coastline have been protected by Back Bay National Wildlife Refuge, where you'll find walking and hiking trails and picnic facilities. There's also Old Cape Henry Lighthouse and the Atlantic Wildfowl Heritage Museum. With all of these fun things to do, boredom doesn't have a chance!

Shenandoah National Park and Skyline Drive– This National Park protects portions of the Blue Ridge Mountains, which range in height between 2,000 and 4,000 feet. Along their crest and running the length of the park is the Skyline Drive, the northern continuation of the Blue Ridge Parkway, with stopping points to enjoy the views and attractions, like President Hoover's summer residence and the Old Cave Cemetery below Dark Hollow Falls. 
Arlington National Cemetery– Spread across 600-acres overlooking Washington D.C., this is where some of the most famous people in the United States are buried. The most visited graves are the ones of President John F. Kennedy and the tomb of the Unknown Soldier. Arlington House was built in the early 1800s by George Washington Parke Custis as a tribute to his step-grandfather, George Washington.
With endless attractions in Northern Virginia, here are some attractions in nearby cities for you to enjoy. 
National Aquarium– A popular attraction in Baltimore, located in a striking building overlooking the Inner Harbour.
Inner Harbour and Historic Ships–

Located in Baltimore, tourists usually spend a few days in this area because many attractions surround the Inner Harbour area. A highlight is a collection of historic vessels moored here and open for public viewing.
Lewis Ginter Botanical Garden– Although this may not be the first thing that comes to mind when thinking about what to do for fun, these beautiful botanical gardens located in Richmond are fun for both kids and adults, making this the perfect place to visit on a nice day.
National Cherry Blossom Festival– This is a must-see in Washington during the spring!  The appearance of beautiful cherry blossoms alongside the Potomac River is a sight to see.
The health care facilities in Virginia are considered top of the line. There are more than 100 hospitals in Virginia, and 21 meet U.S. News' highest standards. 
Improvements mentioned in the Agency for Health Research and Quality (AHRQ) are in line with the VHHA board of directors' vision to make Virginia the healthiest state by the end of 2020. 
Since a visit to the ER or hospitals is often a critical portion of your healthcare coverage, we've listed some major hospital and medical centers in Virginia below:
Inova Fairfax Hospital

Virginia Commonwealth University Medical Center

Sentara Norfolk General Hospital

University of Virginia Medical Center

Bon Secours St. Mary's Hospital
Enjoying All Four Seasons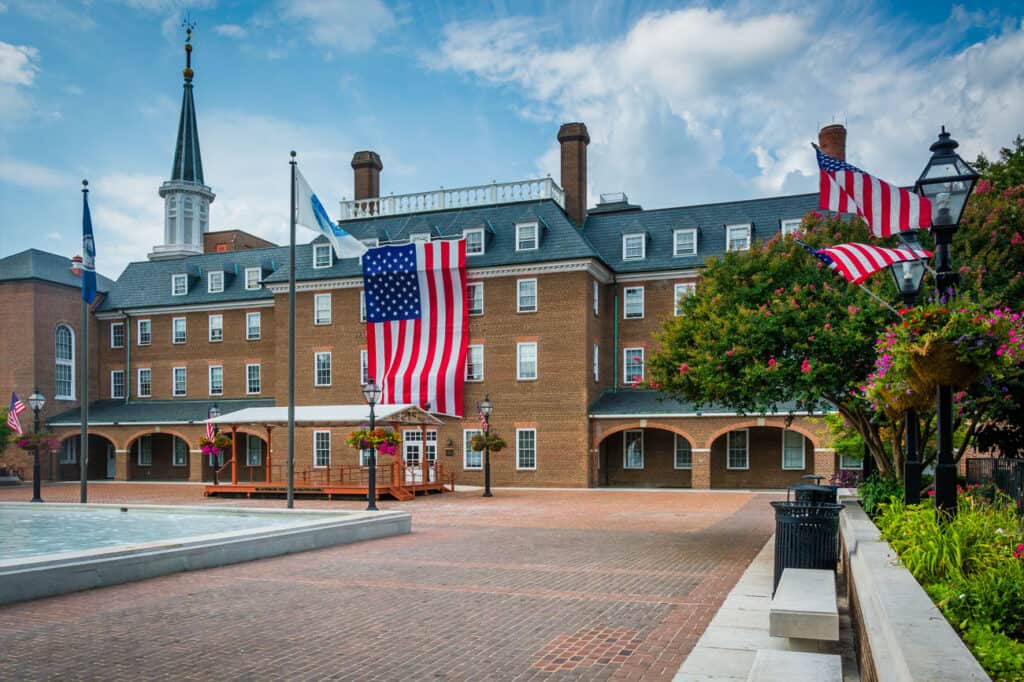 The weather in Virginia doesn't get too hot or too cold, so you get to enjoy all 4 seasons. The climate is humid, subtropical, featuring pleasantly hot summers and relatively mild yet crisp winters with moderate rainfall throughout the year.
The temperature can change drastically without warning, so to find balance by adding a vest or a light jacket to your outfit for quick wardrobe alterations.
If you're planning to visit Virginia before your big move, the best time to do so is from April to October. Long bright days and sunshine bring many tourists here to explore and enjoy many historic and natural attractions.
| | |
| --- | --- |
| Season | Average Temperature |
| Winter | 22 ℉– 53 ℉ |
| Spring | 56.8 ℉  – 74.5 ℉ |
| Summer | 66 ℉  – 87 ℉ |
| Fall | 29 ℉ – 46 ℉ |
The population in Northern Virginia is growing! Since 2010, Northern Virginia has accounted for 60% of the state's population growth. This has created a melting pot of cultures and demographics. It is amazing to see how many cultures can be mixed in and still keep a strong connection to their heritage.
Cons when moving to Northern Virginia
As Northern Virginia is a home to over 3 million people, moving this large volume of residents each day can be a challenge. For new residents, the traffic in Northern Virginia may be a shock. With time you will get a feel for the traffic flow and learn what times of the day are the best to travel.
Virginia is a home to four nuclear power plants. Two are located 40 miles from Richmond and the other two are located near the coast. Though the majority of folks are not bothered by this, some do not feel comfortable living in a 50mile radius contamination zone of any nuclear plant.
Not long ago in 2015, 10 Worst States for Income Tax, ranked Virginia #7 on the GOBanking Rates list. According to the Tax Foundation and other sources, the overall burden of state and local taxes is higher for Virginia residents, than it is for people living in many other states.
As you can see there are many beautiful places to live in Northern Virginia. Deciding where to live exactly is the tricky part, but once you figure it out Zip Moving & Storage can help relocate your belongings on time in perfect shape. There are pros and cons to every place, but we can say that in this case pros outweigh the cons. If you enjoy the hustle and bustle of city life or laid back southern hospitality, this state has it all. I hope you enjoyed this guide and having the chance to explore everything this state has to offer!