As a professional moving company, our main goal is to make moving safe and easy for our customers. Relocating is often a stressful process, and in many cases, will require some help. Respected real estate professionals often recommend the Updater moving app to their clients and we couldn't help but wonder how helpful the Uploader moving app is. Read on to learn more!
Updater is a moving app that helps track and organize every step of your relocation. This innovative app helps you choose the best movers, transfer utilities, and find a way to dispose of items you no longer want before you relocate.
Updater helps you compare and choose the best services for you. It can also help you search for a new nail salon, gym, or library in your new neighborhood. This app organizes and prioritizes your tasks and assists you with checking them off, which helps you manage your time in the best way possible.
This app is supposed to assist you with every step of the moving process. It also develops a personalized list specially designed for your needs. It's simple and user-friendly. You'll have easy access to the Updater app on your phone and easy navigation whenever you need to use it. The moving process can be an incredibly hectic experience, and the Updater moving app makes it easier for everyone.
How do I use the Updater app?
Simply put in information about your upcoming move and the app will develop a personalized list based on the details you have provided. 
With Updater, tasks that used to take hours now take only a couple of minutes. Updating valuable records and address changes has never been easier. The instructions and options are incredibly straightforward. The user-friendly interface offers a simple menu to find the required information.
Your real estate agent will send you an email invitation to direct you to the application. Fill out the form on the Updater website, update your important accounts, and you are ready to start crossing items off your moving checklist! With Updater, you can also connect your TV, internet, and set up your home security. Updater makes it easy to update and transfer your utilities and change your address. The Updater app also searches for the best providers with the best prices.
The Updater moving app is an invite-only platform, meaning that you need to be invited by your trustworthy real estate agent or apartment community. Also, your private data is safe and secure by using your personal phone.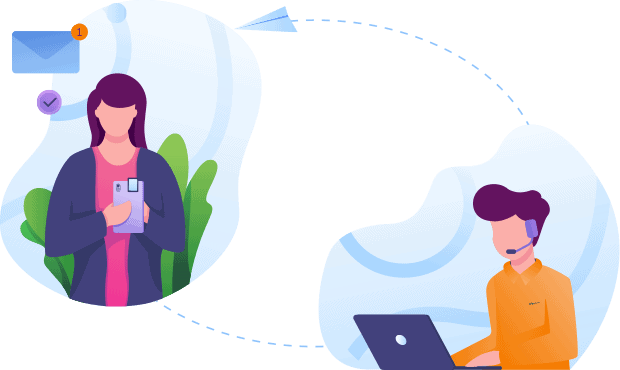 The pros and cons of using the Updater app
As a trustworthy moving company, we want to be as open as possible with our customers. It is important to us to give you a real and honest review of an Updater app. There is no doubt that this moving app offers many great things, but does it have any disadvantages? Let's find out!
The cons:
The waitlist sign-ups

The services are dependent on your location

Some areas can have problems with updating utilities

Updater requires you to share an abundance of personal information with the app

Not all utilities you wish to update for your new location are available online. Some companies still request you to contact them directly
The pros:
Valuable and helpful app

User friendly

Helps you stay organized

Provides great checklists 

Allows you to keep track of all moving-related tasks
As you can see, this app is helpful in many ways. Updater assists with every step of the moving process, starting with the tasks and moving logistics, such as what moving boxes to buy, detailed task lists, packing lists, and cost estimates.
Using updater is simple and free
Updater is free of charge to download and use. This app helps you choose the best services with the best prices and saves you money in the long run. Those about to move have been wishing for an easier way to update utilities for ages, and finally, the solution is here! You'll have easy access to the Updater app on your phone and easy navigation whenever you need to use it.
Updater serves two groups of people. Those who are moving and real estate agents. Tasks you, as someone moving, can do over the Updater app include:
Purchase moving boxes

Create and check off moving task lists

Find the right box sizes

Compare and compare professional movers 

Get estimated prices on moving services

Create a personalized packing list

Ship your car to your new address
Another great thing is that if you purchase packing materials directly from the app, you'll see precisely how much it costs and have your packing kit arrive at your door when you need it. 
Once you're prepared to move, you want to ensure that your new home is ready and set up. The moving process is challenging; the worst thing is finding out you will have to wait a week to get the internet connection set up!
The updater will help you compare services and set up utilities at our new home; you don't have to wait. These services include:
Internet

TV

Electricity

Gas

Water

Insurance
You can review different packages and prices directly from the app. When Updater schedules your services and utilities to start at your new home, they also schedule a service and utility cut-off at your former residence. Updater makes sure all your accounts have your new address, in addition to:
Updating your address with specific companies, mailing lists, and organizations

Forwarding mail to your new address

Updating your driver's license

Updating your address for voter registration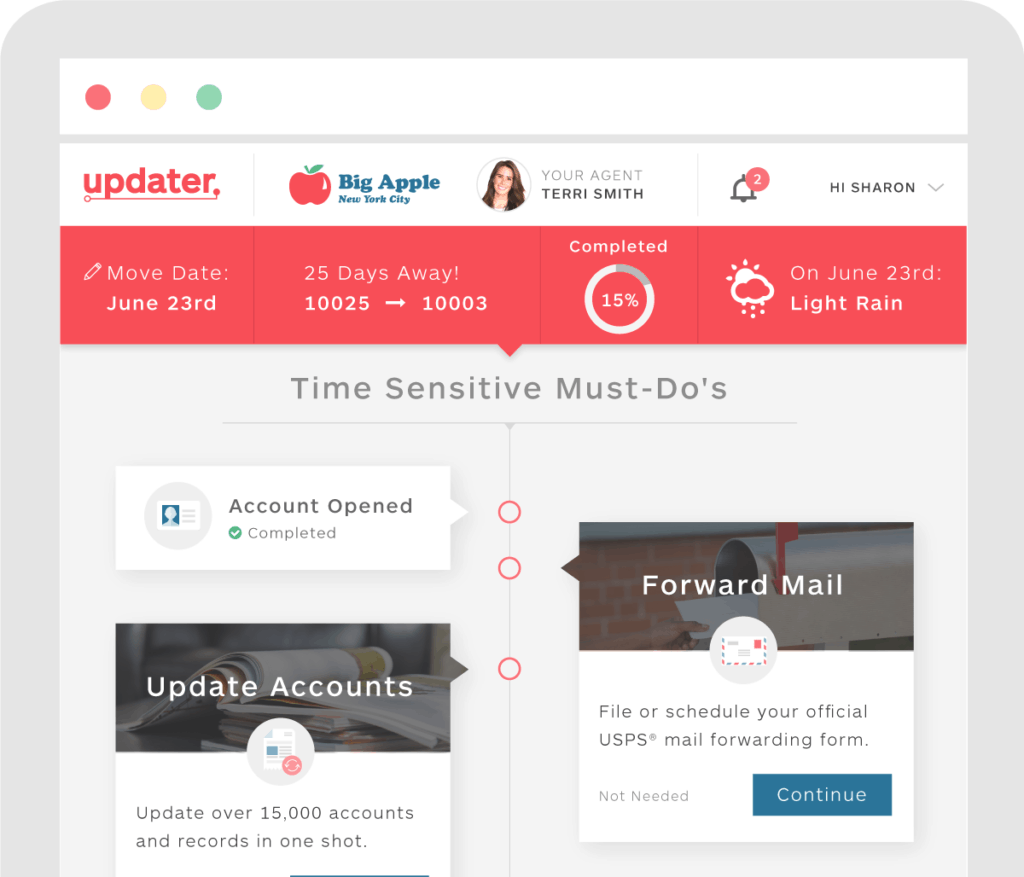 Updater helps you even after you relocate
Once you're all settled into your new home, Updater can assist you with finding services you might need for your new home, such as:
Handyman services and home improvement

Cleaning services

Home automation setup

Home security system installation 

Pest control services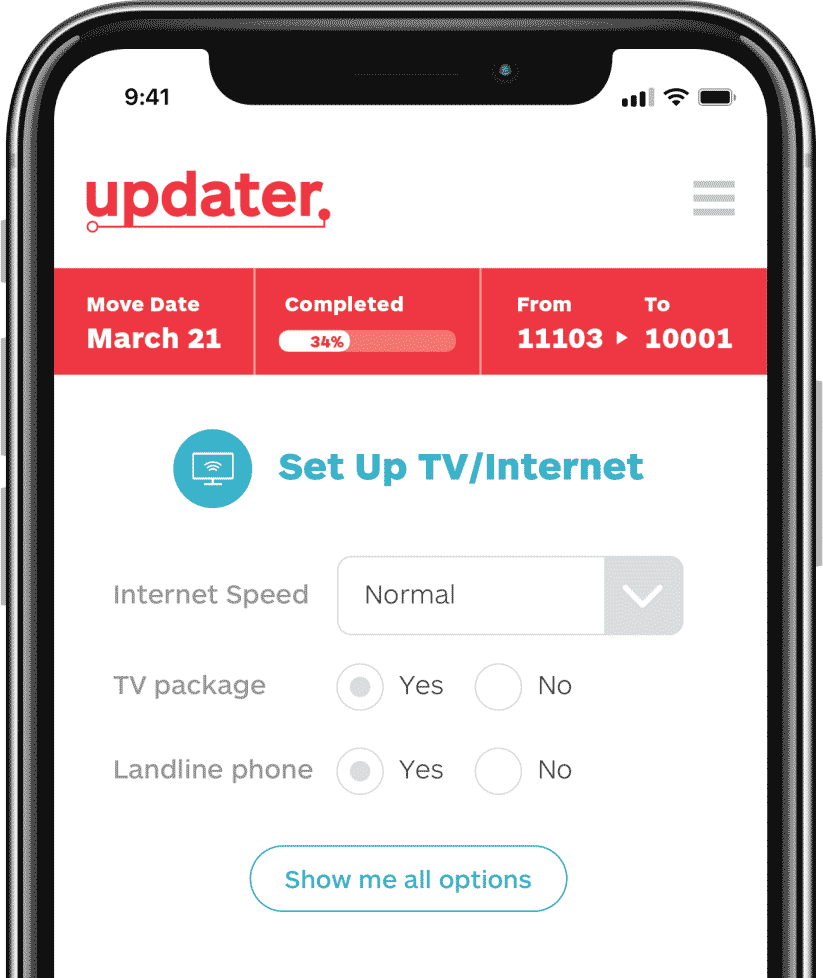 Our customers' satisfaction matters most to Zip Moving & Storage. We know you value feedback and reviews directly from people going through the same process. Reviews can give you a good insight into the quality and popularity of certain products. It's always good to hear a second opinion and do your research.  
The Updater app has helped many. It's easier to complete the endless tasks related to moving, and many good reviews show how grateful Updater users are. Though reviews have been mainly positive, you should still consider some of the slight disadvantages we wrote about. Nevertheless, there is no doubt the Updater app is a necessary tool for people in the moving process, as it alleviates a large amount of the stress associated with administrative tasks.
This amazing app will not cost you anything, and it will serve as a great help in assisting you with the entire moving process. Using it will help you keep and check off all important tasks ensuring your move goes smoothly and successfully.
If you decide to stop using Updater, no worries! All you will need to do is contact Updater's support team and request your information to be deleted from their database – it is that simple!
Once you consider all pros and cons, Updater proves to be an extremely valuable asset for any move!