Moving presents a unique set of challenges with plenty of options. Many questions will pop into your head as soon as you decide to move. 
Suddenly, everything can seem overwhelming and challenging. If you choose to move independently, be prepared to face many challenges. 
Did you know that U-Haul has more than 20,000 locations across America and Canada?
Let's start from the very beginning. You will need to rent a proper moving vehicle. If you are considering renting a moving truck, you will probably first think of U-Haul.

It's no surprise that U-Haul has been in the moving business for many years; it's one of the most trusted names in the industry. In addition to moving vans, the company offers cargo vans, pickup trucks, and U-Box containers for towing.

If you are moving without a moving company, you are probably considering renting a U-Haul vehicle.
Putting all the advantages and disadvantages of renting a U-Haul truck on paper is the best way to help you decide.
Let's discover all the pros and cons of renting U-Haul vehicles without further ado!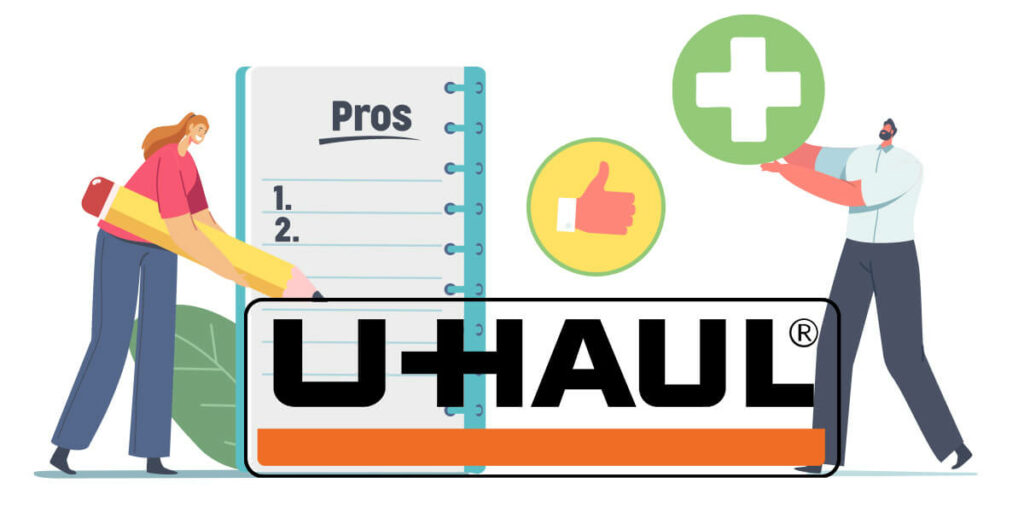 • You will save some money
Choosing to move with a U-Haul rental truck is less expensive than moving with a professional moving company. However, it's important to highlight that hiring professional movers has many advantages. Almost every aspect of your move is more straightforward if expert movers and packers are by your side.

If you decide that hiring a professional moving company is not the right choice, renting a U-Haul truck can be a good idea. It's cheaper, so you can save some money along the way.
• It's easier to park and drive
U-Haul van rentals are more accessible to maneuver than a typical moving truck. Driving a large moving truck can be incredibly difficult, especially if you don't have previous experience. 

Parking a U-Haul van is also much more manageable than parking a bulky moving truck. Van rentals are designed to drive under low bridges and parking garages. Driving them will probably feel like driving your own car.
Gas prices have never been higher. U-Haul vans are much more fuel efficient. The usual moving trucks are pretty large, and they need more gas. 

Moving is an expensive endeavor. Knowing all potential moving costs and finding the best ways to relocate without spending too much money is essential. Driving a U-Haul rental is a great way to save money on gas and fuel.
• U-Haul rental trucks come in many different sizes
When it comes to moving, one of the most important things is to choose the right size of your moving truck. Having a detailed inventory list can be extremely helpful. You will be able to keep track of all items you are planning to move, and you will know their precise size.

U-Haul rental trucks come in various sizes, so you can find the one that best suits your needs.
• You get to choose the moving date
One of the advantages when moving on your own is that you get to pick when precisely to move. It's best to start your move as early as possible. Relocating during weekdays can save you money and get better rates on your moving truck.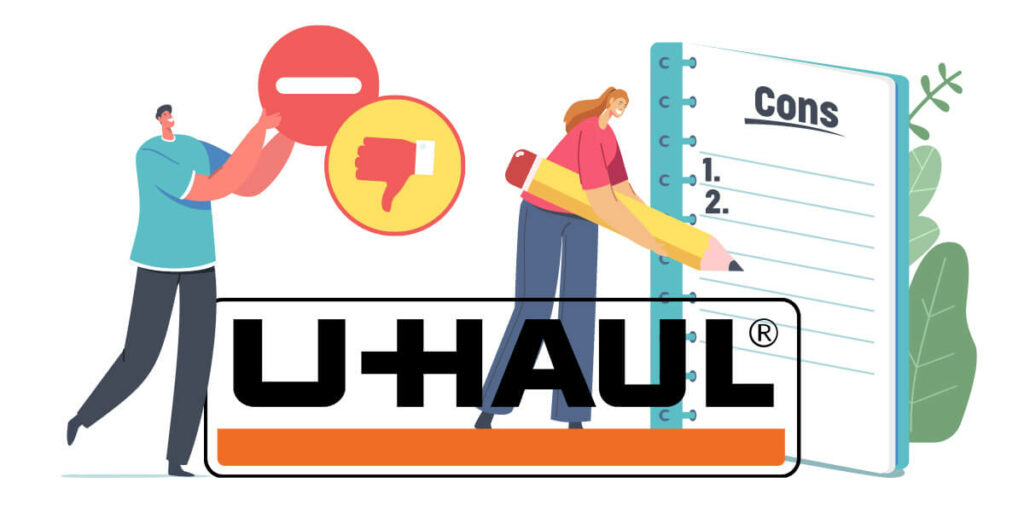 • Potential problems with truck rental insurance
Many auto insurance policies don't cover truck or trailer rentals. Every move is unique, and it requires a lot of careful planning. Sometimes, despite all the planning, accidents simply happen.

You probably won't be covered by insurance if you get into an accident while driving a U-Haul rental truck. That can create some additional problems as well. 

Safety always comes first, and U-Haul offers great protection plans. For more information, check their protection plans.
• A limited number of passengers
Most truck rentals are capable of seating only three passengers. It's important to emphasize that moving trucks are not safe for children. We understand that moving with kids is even more complex, but safety should always come first.

If you plan to move your family simultaneously, you should consider renting one more moving truck for them or some other vehicle better suited for kids.
U-Hauls largest rental truck gets 10 miles per gallon of gas. You will probably need gas station stops, as with any other large moving truck. 

If you are moving across the country, that can be a big problem. It will require a lot of money and time. However, this won't be a huge problem if your move is local.
• Lack of moving assistance
Moving takes a toll on anyone, even on the best planners. Also, packing and loading heavy items can be incredibly difficult, especially if you are not an experienced mover.

Unfortunately, accidents can quickly happen when moving, even when you are particularly careful. You should develop a detailed plan and see how you plan to load and unload the moving truck.

You can ask friends or family for assistance or hire a professional moving company with expertly trained movers and packers. Professional movers know how to handle every aspect of your move. They also know special packing and moving techniques and have the best moving equipment.
Is it a good idea to rent a U-haul truck?
There are many significant advantages to renting a U-Haul moving truck. However, you should be careful and be aware of all downsides before reserving a U-Haul truck. 

In some situations, it's simply better to do your research and find a reputable moving company with skilled movers.

Renting a U-Haul truck or van can be more convenient for small or local moves. For interstate moves, we advise you to find a trustworthy moving company with years of experience. 

Long-distance moves typically require more time and help. Also, when moving long-distance, you should consider purchasing moving insurance. All of those things can be tricky without the assistance of a proper moving company.
In the end, the choice is yours.
Whether or not you should use U-haul rental trucks or vans comes down to your priorities. No matter what you decide, make sure to plan your budget and all potential costs.

If you choose to move with U-Haul rentals, you can save hundreds of dollars on moving expenses, but you won't have professional moving help or assistance. The moving process takes time and a lot of energy. Having an experienced team can be helpful on many levels.

Still, the choice is yours. Hopefully, this article gave you helpful information and informed your final decision. We wish you a safe and seamless relocation!