Dunwoody is a small town that hides fascinating and heartwarming story. The iconic "Everything will be OK" sign is one of the most charming places to visit in Dunwoody. The mural has already attracted many tourists across the country. We couldn't help but wonder, what is the story behind it?
Dunwoody is incredibly proud of its many historical sites. The oldest building in the city, the Ebenezer Primitive Baptist Church, was built in 1829, and soon after, it became a true symbol of Dunwody. 
Dunwoody's roots are deep; they go back hundreds of years. Once upon a time, this lovely town was an early center of commerce. Welcoming and friendly Dunwoody residents transformed the city into a hospitality mecca.
Dunwoody lies at the northern tip of DeKalb County. In the early 1830s, Major Charles Dunwody established the Dunwoody area, and soon after, Dunwoody developed into a small community. Dunwoody is located just 10 miles above Atlanta. DeKalb County is Georgia's fourth most populous county, making it an incredible place to live, full of endearing culture and welcoming people. Dunwoody has also grown to be one of the safest communities in America and a perfect place to raise a family.
The story behind the "Everything will be OK" sign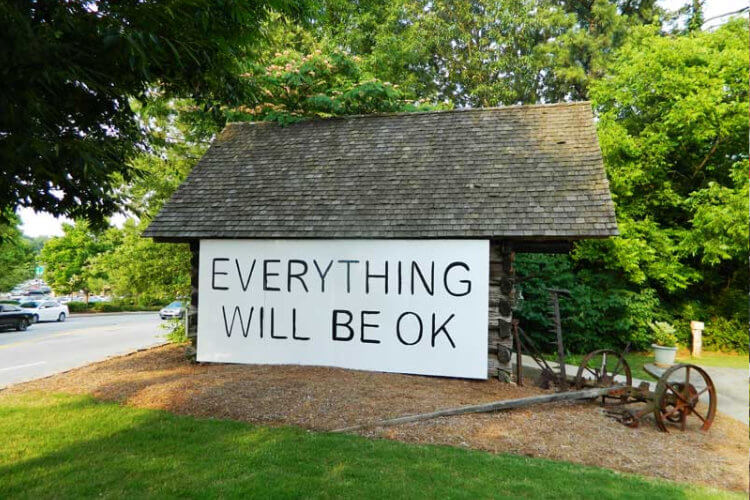 Everything will be okay! How many times have you needed to hear those four simple words? The message is clear: no matter where you are in life, no matter the circumstances surrounding you, eventually, everything will be alright. There is something deeply comforting in those words, and residents of Dunwoody know that the best!
Talented artist Jason Kofke created this now-iconic piece of art in 2009. This artwork easily became a community sensation. The whole town wanted to keep the famous sign, and they refused to put it down. Dunwody residents have shared many special and emotional stories to Kofke about the importance of the sign and how it has helped them in many ways. This unique work of art offered much-needed comfort and helped those in need.
Over time, the mural started to deteriorate. The Everything will be OK sign became so popular and beloved that Kofke decided to make a replica. The seasons changed, but the sign remained the same, offering people from all around the world comfort, hope, and inspiration.
Dunwoody Spruill Center for the Arts
One of the most important and special places in Dunwoody is the Cultural Arts Center. This amazing place was home to the popular Everything will be OK mural, and today it continues to nurture arts, offering amazing programs and classes for art lovers. The center provides classes in literature, performing, and visual arts. It's a special place for many Dunwoody residents, and it attracts many tourists as well. So if you ever find yourself in Dunwoody, make sure to visit this incredible place full of amazing art and life.
What else is there to visit in Dunwoody?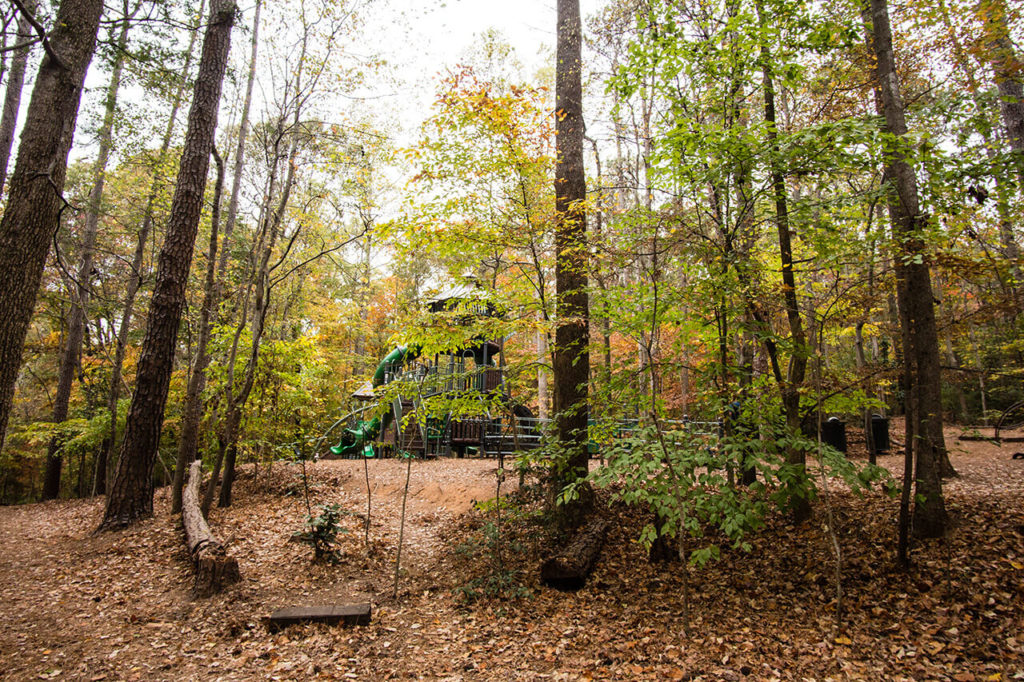 Dunwoody is known as a vibrant community and an urban center near Atlanta. As one of the wealthiest cities in Georgia, Dunwoody offers world-class shopping, popular restaurants, and breathtaking scenery. This town has a unique urban feel and many great places to visit. If you are a true nature lover, Dunwoody may be the perfect choice for you! Consider visiting these popular spots:
Dunwoody Nature Center

– This is a perfect plate to reconnect with nature, where you can hike, climb, and enjoy the stunning scenery. The Dunwoody Nature Center can be an ideal place to take your kids on a family trip.

Brook Run Park

– Are you a baseball lover? If the answer is yes, head to Brook Run Park and visit its two new baseball fields!

Murphey Candler Park

– If you decide to visit Murphey Candler park, we encourage you to check out its spacious green fields, tennis courts, swimming pool, picnic areas, wonderful lake, and many playgrounds.
The legacy of Dunwoody town
The everything will be OK sign became even more valuable and relevant during the height of the COVID-19 pandemic. In such difficult and daunting times, the sign provided what people needed the most: hope. Very soon, it turned into a viral sensation! Dunwoody managed to unite people from all over the planet! Different nationalities, costumes, and traditions turned to this lovely town, searching for inspiration and support. Though the original mural doesn't exist at Spruill Gallery, its effect on people remains strong.
Is it a good idea to move to Dunwoody?
There is something special about living in Dunwoody. The strong sense of community, low crime rates, and more options for outdoor fun are just some of the benefits. Some cities simply have more to offer for families, and Dunwoody is definitely one of them. If you are planning to relocate to this charming town, our expertly trained Dunwoody movers can help you. You are guaranteed peace of mind for a safe move with our skilled team!