There comes a point in life when most of us decide to move. All of a sudden, a million questions start to swirl in the back of your mind. Some of them will probably be if, when, and how to hire professional movers.
Flat rate vs. hourly rate movers
Sometimes, leaving everything to professionals can be the best thing to do. Professional movers are more skilled, experienced, and equipped. They know how to handle even the most difficult moves.

In today's moving industry, you can find moving companies that charge in different ways, but flat-rate and hourly-rate estimates are the ones that stand out the most.

Keep reading to learn more about flat-rate and hourly-rate moving companies and see what type of payment works best for your needs.
What are flat-rate movers?
Flat-rate movers are paid a fixed price for the amount of work, regardless of the number of hours needed to complete the project. Receiving a flat rate estimate basically means that a moving company will give you a binding quote for the total cost of your move.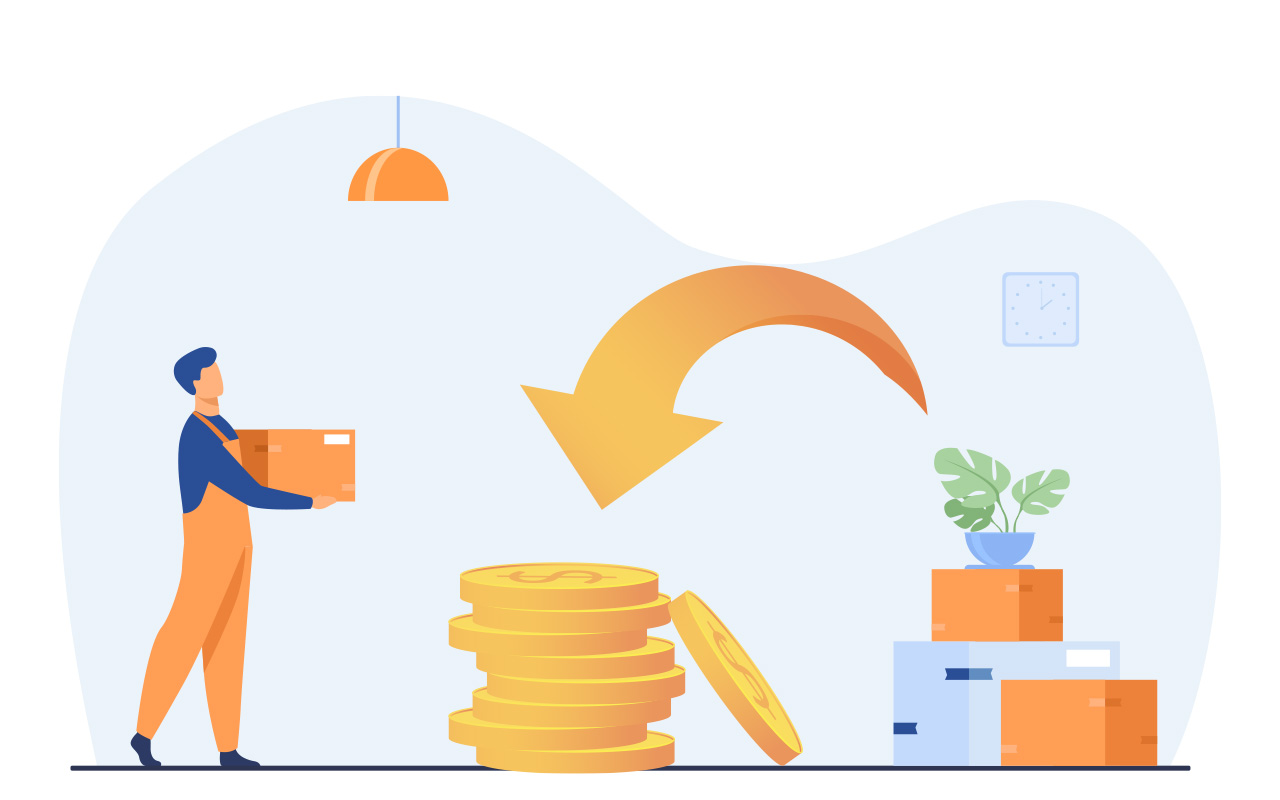 With flat-rate pricing, you will know exactly what your upcoming relocation will cost as soon as you receive your moving quote. Once you get a binding quote from your chosen moving company, the price of your move will be locked. Before that, you will have to go over an entire inventory list with your moving coordinator. Once that is completed, your flat rate movers will determine the total cost and send you the quote and contract.

The price can increase if you have some items you didn't report to your moving consultant, so make sure that you checked every item from your inventory list (if you need some help with creating your inventory list, check out our guide here).
What are the hourly rate movers?
Hourly-rate movers are paid based on the number of hours movers need to complete the move. The more items your home has, the more hours that movers will need to finish their job.
With hourly-rate pricing, you will know precisely how many hours and movers will be required to complete your entire relocation. Just like with a flat rate, you will have to go over your inventory list with a moving consultant.

Friendly advice, don't go with moving companies that don't cover all details of your move like inventory, flight of stairs, elevators, distances from parking to your place, and packing options. 

All professional moving companies have a two or three-hour minimum, and they can not charge for less. The moving minimum can depend on the day of the week; usually, it's from Monday to Thursday (but you can check this with your moving coordinator).

Hourly rate estimates are typically based on the number of professional movers and the estimated time they spend moving, packing, and transporting your items. That means they are paid a set amount for each hour of work.

Another great thing about hourly rates is that on a moving day, you will precisely know your professional movers' start and finish times. In order to have all the right information regarding your relocation, the only thing you will have to do is leave your initials on your moving paperwork.

Keep in mind that there is no one-size-fits-all mover hourly rate, but if you are wondering how many movers you will need for your apartment move, we have just the right article for you!
Main differences between flat rate and hourly rate
The main difference between flat-rate movers and hourly-rate movers is in the way you pay your movers. With a flat rate, you will pay a fixed price for your move, no matter how long your relocation lasts. On the other hand, you will pay hourly rate movers based on the number of hours they actually spend moving your items (with the rate being charged by the hour).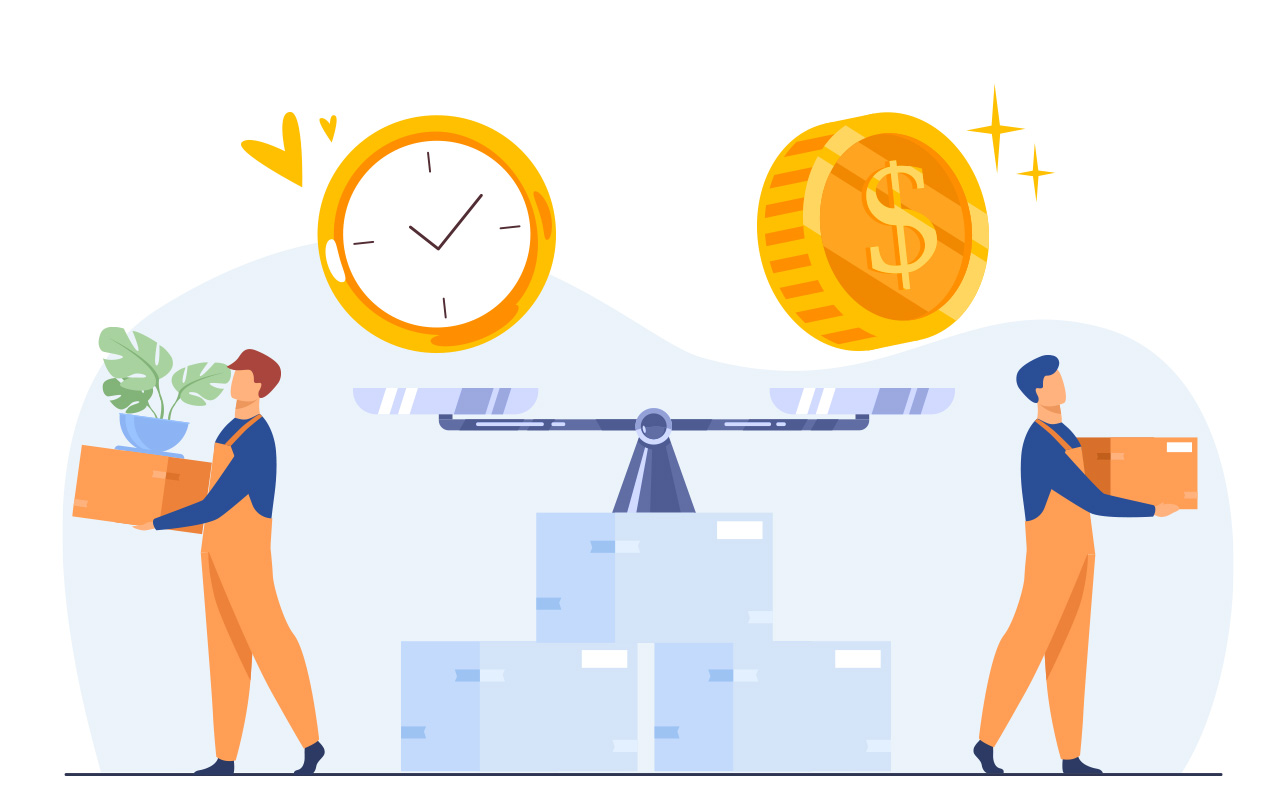 Flat-rate moving may not work well for customers looking to cut their moving expenses. If you are well-prepared for your move and planning to relocate some of your stuff, these types of movers may not work for you because you will still need to pay the total price.

In this case scenario, the disadvantage of a flat rate is an actual advantage for the hourly rate movers. The good news is that you will pay less if the move is completed faster than estimated (this only goes for hourly rate movers).

In some situations, flat rate movers can be in a hurry and put focus on their profit, looking for ways to always stay on their schedule. Being in a hurry can bring a lower level of service and potentially damage your belongings, which is never good.

However, please be aware that there will be price changes on both ends if you have more items to move than you reported.

One of the biggest downsides of a flat rate is that it usually comes with many advanced costs factored in. With an hourly rate, everything is more transparent, and you will get precise information regarding packing and moving all your items. 

Moving can come with some unexpected surprises. Perhaps you couldn't sell your bedroom set or some other furniture, and now you have to move that as well.

If you choose to go with hourly rate movers, you will know exactly what additional cost you will have to pay to relocate the bedroom set or any other furniture piece. Unfortunately, with flat-rate movers, you won't have that information.
How to decide which to choose?
We understand this can be a tough choice to make. That's why we always recommend writing down all the pros and cons. There is no doubt that both flat rate and hourly rate have certain advantages.

Still, we would give a slight advantage to the hourly rate. Hourly rate moves offers customers a clearer picture with more options. All important moving details are covered with hourly rate movers, especially if you follow a detailed inventory list.

Whether you go with a flat rate or hourly rate movers, ask your chosen moving company for details of what's covered in advance. Also, go over your inventory list and ensure you don't miss anything. No matter what you decide, we always recommend checking the moving company's reviews.

Chances are that after that, your move will go impeccably well!