Atlanta is one of the largest metropolitan areas in the U.S.! The Big Peach boasts many alluring qualities such as rich culture, vibrant music scene, beautiful scenery, delicious food, professional sports teams, and expanding job market.

If you decide for Atlanta to be your next destination, that's fantastic news, because this city has tons to offer!

Explore with Zip Moving & Storage all things related to Atlanta, and if you are truly thinking about relocating there, our professional Atlanta movers can help you with your move.

The diverse population is a blend of native Georgians and people from around the country and all corners of the globe. People move for many reasons, such as relocating for work, going to school, or living near family. Whatever brings you to the Big Peach, we'll show you exactly why it's so amazing to live here.

Everything you need to know about Atlanta :
Top 10 Neighborhoods in Atlanta
It's only fair to start this blog discussing the best neighborhoods to live in the Big Peach since anyone looking to relocate will most likely check this out first. Atlanta can be described as a conglomerate of suburbs, each one different from the next. Here are some of the best-known neighborhoods in Atlanta to live in, according to Homesnacks:
Virginia Highland

– A perfect combination of vibrant city living and small-town community charm, Virginia Highland is located east of Ansley Park and close to Downtown. This area consists of four villages connected by walkable blocks with many historic homes over 100 years old. It is one of Atlanta's most desirable places to live. The average home price in the Virginia Highlands is $750,000 and the average rent is $1,700 per month.

 

Midtown

– is the city's cultural epicenter. This centrally located neighborhood offers easy access to transportation, parks, and the arts district. The Midtown area is home to the Woodroof Arts Center,

Fox Theatre

, and the High Museum of Arts. The average home price in Midtown is $700,000 and the average rent is $2,000 per month.

 

Buckhead

–  Located north of Midtown and south of Brookhaven, this upscale neighborhood is a prestigious area dubbed the Beverly Hills of the South. Buckhead is home to the Chastain Park Amphitheatre, the largest park in Atlanta, and the

Atlanta History Center

.

The average home price in Buckhead is $1,000,000 and the average rent is $2,000 per month.

 

Candler Park

– Is a residential neighborhood located in Intown Atlanta. The area is best known for its historic homes and family-friendly amenities. There are lots to do here, from the best restaurants, shopping, parks, etc. Median home income is around $92,000 and 63% of residents make six figures in annual income. The average Candler Park house price is about $575,000.

 

Poncey-Highland

– Has a population of 1,980. Living here gives residents an urban feel, and many young professionals in Poncey-Highland, and residents tend to be liberal. If you're moving with children, this is a great place to live, because the public schools are above average.  The median household income is around $76,413 and the median home value is $402,044.

 

Marietta is only less than 30 minutes drive from Atlanta, is a great place to go visit. Fun activities and sights to see include: Six Flags White Water Park, hiking the beautiful trails in Kennesaw Mountain, Marietta Square Farmers Market, and many more.

 

Rome has grown into a bustling city on seven hills, surrounding three peaceful rivers that meet in the center of the downtown area. You can catch a live baseball match at State Mutual Stadium, meditate at Rome Labyrinth, have a family day out at Ridge Ferry Park, ah there's just so many things to do!

 

Alpharetta is perfectly positioned between the vibrant city of Atlanta and the gorgeous Northern Georgia Mountains, filled with +300 things to do, and +200 mouthwatering restaurants. When residing in Atlanta, you can make a quick stop and enjoy a party of golf at the Legacy Golf Links, a relaxing massage at Mei Mei Wellness Center, or a refreshing drink at the Jekyll Brewing Center.

 

Westview is another popular Atlanta neighborhood, and it's perfect for family life

. This area is becoming more diverse each year. Many young professionals are moving here searching for top-notch jobs. The sense of community is strong in Westview, and residents are friendly and welcoming. This neighborhood is located just

five minutes from

Downtown Atlanta, so everything is well connected and nearby.

 

Atlanta BeltLine is impressive and ambitious project connects many wonderful neighborhoods, creating thriving and vibrant communities. The Atlanta Beltline is an amazing area suited for all generations.
If you are looking for superb yet moderately affordable accommodations as well as popular touristic attractions and recreation areas, Atlanta Beltline could be just the right place for you.


There is always something exciting going on in the Atlanta BeltLine. To learn more about this fantastic project, read our popular blog,

What it's like living in Atlanta BeltLine

.
If you are wondering how safe the city of Atlanta is, we have the perfect article for you! Just go to the Safest areas in Atlanta!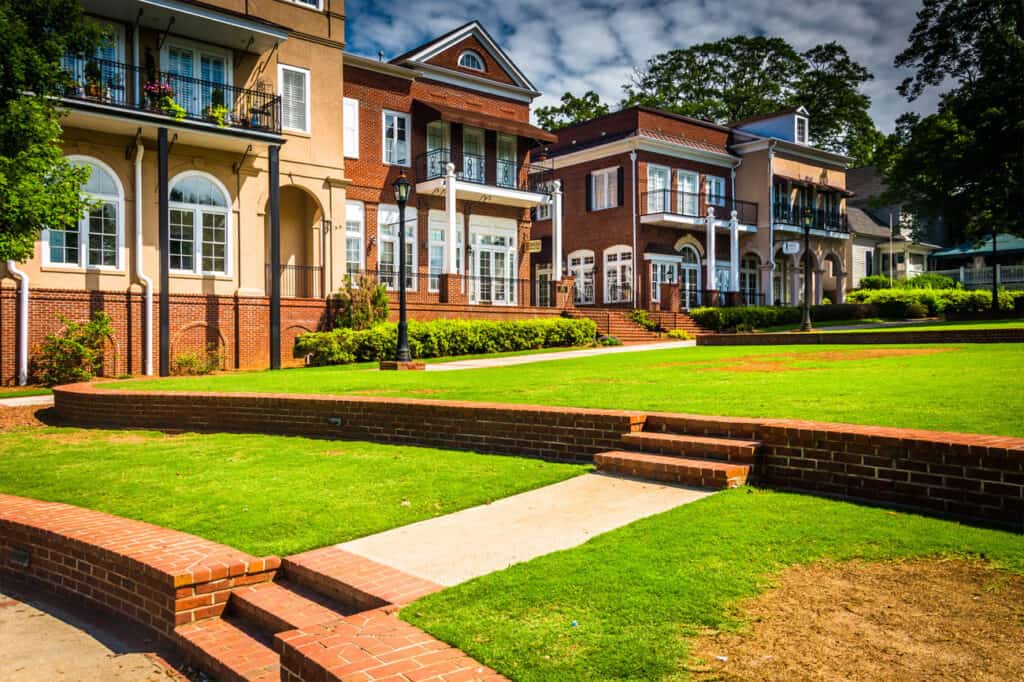 Cost of Living in Atlanta
Thankfully, Atlanta is a relatively affordable place to live. The suburbs offer diverse opportunities for comfortable housing, and utilities and transportation costs are lower than comparable major cities in the U.S. Whatever your budget is, you can live a quality life in the Big Peach.
Let's look take a closer look into numbers and how much approximately would cost to live in Atlanta:
Rent – $1,600/month  
Median Home Price – $399K
Food – $312.65/month 
Utilities – $235/month
Public Transportation – $40/month
Health Care – $5,424 per person
Other Necessities – $727
Average Salary – $91,900 annually
Atlanta is a thriving business metropolis! Several companies of household-name status base their world headquarters in Atlanta, including 15 companies that are on the 2018 Top 500 Forbes list. A few of the most notable names in town are Coca-Cola, Home Depot, UPS, SunTrust Banks, and Delta Airlines, the city's biggest employer.
Atlanta is a very business-friendly place, big-name companies aside. The city ranks #11 on the nationwide list for Best Business and Careers. In recent years, Atlanta has seen a surge in employers relocating to the metro area. More than 5.5 million residents in this city contribute to the 10th largest economy in the United States.
Atlanta is becoming well-known for much more than its air-transportation industry; it also has a booming tech sector, a staff of 15,000 at the Center for Disease Control and Prevention, a strong financial sector, and is a major hub for film & television production.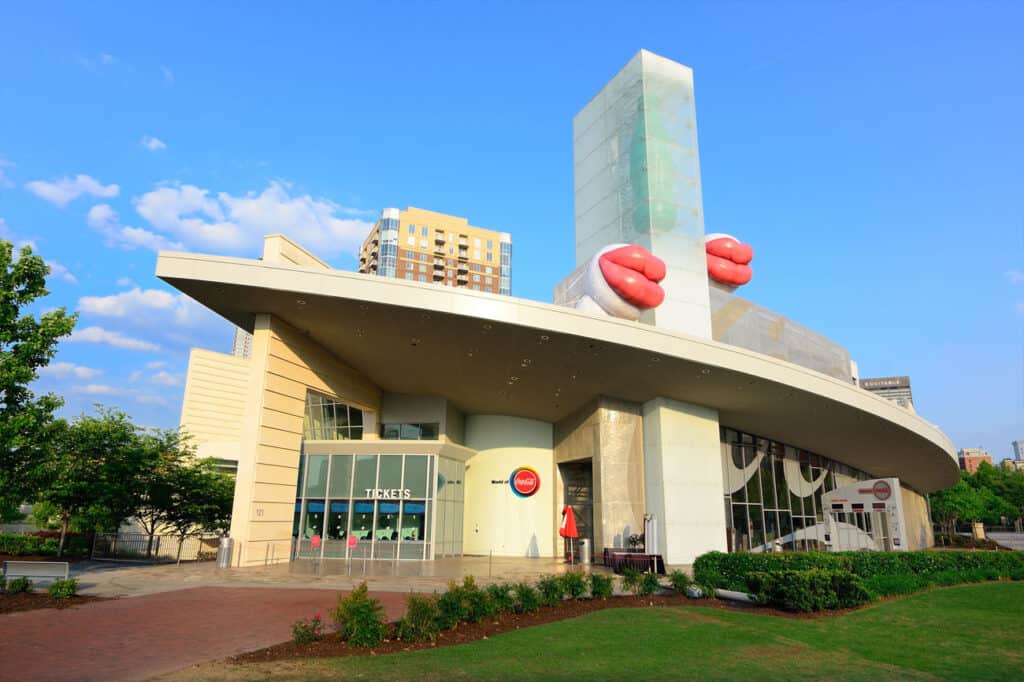 We agree, there are endless attractions and things to do in Atlanta, regardless we'll list attractions you can go visit in nearby areas.
Atlanta and the neighboring suburbs offer a myriad of fun activities for the whole family. Some popular excursions include picnicking in Piedmont Park, visiting the Cascade Springs Nature Preserve, and hiking through the Arabia Mountains.
Here are some of the must-see attractions if you are moving to Atlanta
Atlanta Botanical Garden – This 30-acre botanical garden is located next to Piedmont Park in Midtown Atlanta. The garden offers plant collections, beautiful displays, and changing exhibitions all year round.
Atlanta History Center – This history museum and research center is located in the Buckhead district of Atlanta. Founded in 1926, the Atlanta History Center now has six permanent and several temporary exhibitions. 
Centennial Olympic Park – This 22-acre park is located in downtown Atlanta. The Centennial Olympic Park hosts public festivals, private fundraisers, and an annual Fourth of July celebration. The park was established for the 1996 World Olympics and continues to be a hot spot for tourists and residents alike. 
College Football Hall of Fame

– This hall of fame and attraction is dedicated to college football. The College Football Hall of Fame was founded by the NFL in 1951 to honor and commemorate the players and coaches of college football. 

Georgia Aquarium – The Georgia Aquarium is home to hundreds of species and thousands of animals across 7 major galleries. The Aquarium boasts 10 million gallons of fresh and saltwater tanks. 
High Museum of Art – The High Museum of Art is a leading Southeastern United States museum. It is located on Peachtree Street in Midtown (which is the art district of Atlanta). 
MLK Jr. National Historic Site – The MLK Jr. Historic site consists of several buildings including Martin Luther King Jr.'s childhood home and the original Ebenezer Baptist Church.
Stone Mountain Park – Stone Mountain is a vast park offering several amenities such as golfing, lodging, and a cable car ride to the historic carved peak. 
World of Coca-Cola – The Coca-Cola museum showcases the company's broad history and gives visitors a taste of the iconic beverage. The museum sits on 20 acres of grounds and offers a behind the scenes look at how many Coca-Cola products are created.  
Zoo Atlanta – The Atlanta Zoo has many activities, events, and all kinds of wildlife – including pandas!
Fox Theatre – This is a perfect spot for all theater and movie lovers out there. Fox Theatre is one of the most iconic and popular places in Atlanta. The interior of Fox Theatre is stunning, and the architecture is simply outstanding.
Fernbank Museum of Natural History – If you are a fan of natural history, this museum could be the perfect place for you to visit. The museum hosts great permanent exhibitions, but it also regularly hosts many temporary ones. It takes slightly less than two hours to go through Fernbank Museum, but it will surely be one memorable experience.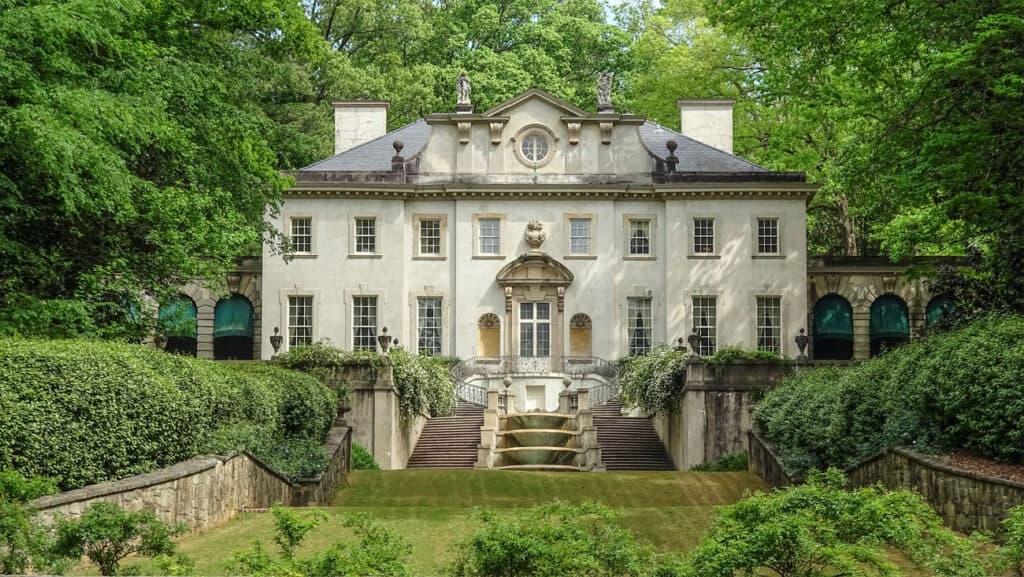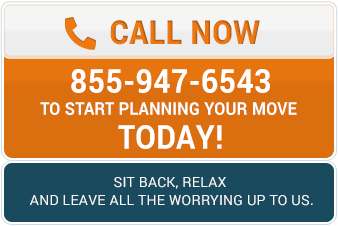 As one of the United States' largest cities, Atlanta is bustling with activities and social events. Hundreds of restaurants are highly regarded and sought out. The numerous bars and nightclubs are diverse and eclectic. The city area also offers great parks and popular outdoor attractions.


Booming business scene – There are 15 Fortune 500 companies that are based in Atlanta. Big business hubs include Home Depot, Delta Airlines, Coca-Cola, and UPS, just to name a few. The unemployment rate in Atlanta is extremely low, which promises opportunities for everyone.


Nightlife – Atlanta is home to some of the top live music venues, nightclubs, brewpubs, and small neighborhood bars. Some of the most famous clubs include Havana Club, El Bar, and Hotel Clermont. Atlanta is known to be home to some of the best places to find live music. If you are looking for a unique musical venue check out

The Earl

,

Northside Tavern, and Eddie's Attic. Comedy lovers rave about the Laughing Skull Lounge and Uptown Comedy Corner.



Diverse Food Scene – Atlanta is an international city and the food scene certainly reflects the variety of its residents. Residents and tourists experience everything from spicy Ethiopian food to the fine dining of French and German restaurants. The menu prices are as variable as the cuisine. Enjoy high dollar restaurants, or, if you prefer, savor a hotdog at the famous Varsity Drive-in. One must also try out a unique Atlanta specialty – soul food: fried chicken and barbecue.


Outdoors – Atlanta is a city offering many different feels. About 20 minutes from downtown lies the Dawson State Forest. Campers enjoy the wildlife, hiking, and beautiful views of the state park. Closer to the city, Centennial Olympic Park provides vast green space and public land to enjoy.


Sports – Atlanta has professional teams in the NFL, NBA, NHL, WNBA, MLB, and MLS. The sporting scene is never dull! Teams play in world-class venues, such as SunTrust Park.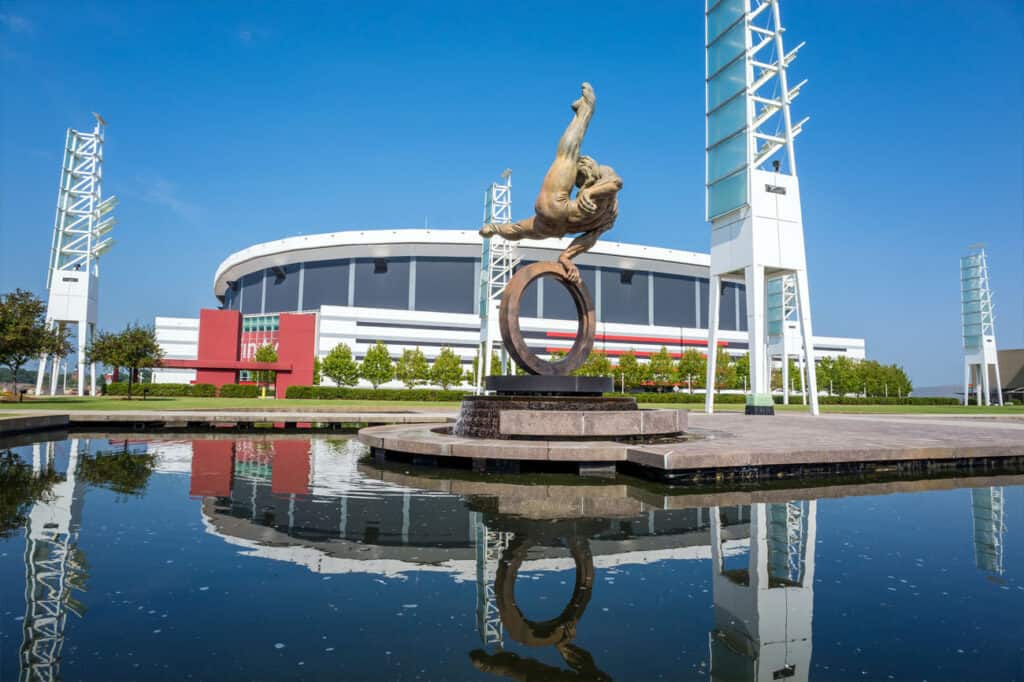 Experience The Outdoors in Atlanta
After a long week of work, you may wish to trade the bustling urban nightlife for an escape into nature. Here are a couple of options for weekend getaways into the outdoors, only an hour's drive from downtown Atlanta:
Sleep in a tree! –  Not many people have had the unique experience of sleeping in a tree! How does it work? In the Panola Mountain State Park, staff will hoist you into a Southern red oak about 20-50 feet high. You will find yourself in a hammock-like tree bed, drifting off to sleep listening to a symphony of forest sounds under the stars. The experience costs $90/night plus a $5 parking fee.


The Palisades – The Chattahoochee River National Recreation Area is home to beautiful forests, giant granite boulders, and a river providing kayakers with a thrill! The east route through the park is the most scenic, as it passes through bamboo forests, over a large rock formation, and provides long-range views of Atlanta. The park is dog friendly with a variety of trails, and it ranks as one of the prettiest walks alongside the Chattahoochee River.


Sawnee Mountain Preserve – With 11-miles of beautiful trails, this enormous mountain preserve is close to Atlanta, just north of Cumming. You can sit in natural rock depressions where Native Americans gathered for ceremonies many years ago. Visit the observation deck on the top of the mountain to witness absolutely breathtaking views. The park offers tree-climbing classes, picnic areas, bathrooms, and a well-appointed visitor center. The best part, you can visit the preserve for free!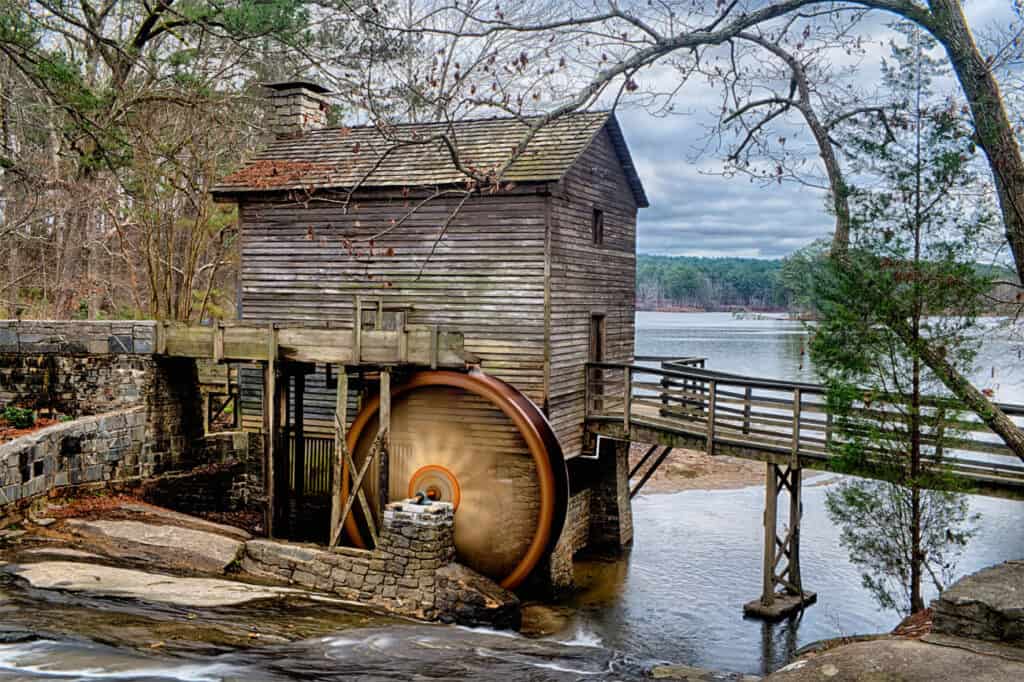 Average Weather in Atlanta
Atlanta is widely known for its nickname ''Hotlanta'', which would make you believe the weather is scorching hot all year round. However, you can actually enjoy all 4 seasons and their moderate climate. While the summers can be hot and humid, the city also enjoys cool fall days, occasional snowstorms during winter, and a beautiful spring season filled with blossoming flowers and temper weather.
Spring in Atlanta: Is gorgeous but varies from year to year. Some years the weather is warm, and some seem more wintery.
Summer in Atlanta: Summers in Atlanta are hot and humid with temperatures regularly exceeding 90℉(32℃). Overnight is slightly cooler, especially in the mountains. Fall in Atlanta: Fall in Georgia is usually sunny, cool, and dry. September and October can still see quite warm temperatures around 80℉ (26℃).
Fall in Atalanta tends to be sunny and dry, though September and October can continue to be quite warm months. During the fall season, the weather in Atlanta is still fairly warm, but it can be a bit chilly in late November and early December.
Winter in Atlanta: Georgia does not experience a truly severe winter compared to the northeastern United States, but the area does receive a little bit of snow and lower temperatures.
Average Temperatures by Month:
January: 53℉(12℃)/33℉(1℃)
February: 58℉(14℃)/36℉(2℃)
March: 65℉(18℃)/44℉(7℃)
April: 73℉ (23℃)/50℉ (10℃)
May: 80℉(27℃)/57℉(14℃)
June: 87℉(31℃)/67℉(19℃)
July: 89℉(32℃)/69℉(21℃)
August: 88℉(31℃)/69℉(20℃)
September: 83℉(28℃)/62℉(18℃)
October: 74℉(23℃)/50℉(10℃)
November: 64℉(18℃)/41℉(5℃)
December: 55℉(13℃)/35℉(2℃)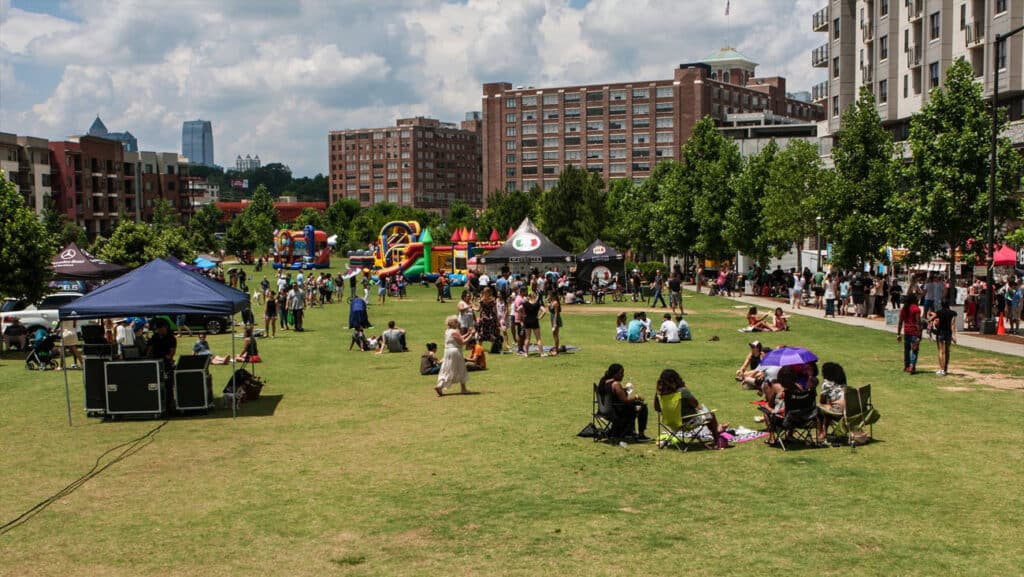 Atlanta is slowly growing faster than some roads can handle. Rush hour in Atlanta can start as early as 4 a.m. Sometimes the traffic will last until 10 am, so arm yourself with strong nerves! The worst traffic is around 3:30 pm until 7:30 pm, which is not a surprise considering how many people commute for work in Atlanta. Many claim that it is better to get on the north side of Atlanta to avoid those nerve-wracking traffic jam moments.
Crime is a problem in Atlanta. The crime rate has been above the national median since the middle of the 20th century. Atlanta has been in the top 5 most violent cities list for the majority of the past three decades. However, the city has improved over the past decade.  From 2009 to 2016, the overall crime in Atlanta has declined 27 percent. The decrease in burglaries, robberies, and aggravated assaults bodes well for the future.

Total number of crimes: 22,359
Crime Rate (per 1,000 residents): 44.83

The murder rate for Atlanta peaked in 1990 and has declined since. During the period from 2000 to 2010, the murder rate declined by almost 50 percent. Various levels of street gang organizations have had a presence in Atlanta since the late 1970s. A report from 2015 stated that the police were tracking around 192 street gangs which doubled the number of gangs reported in 2009. 
Atlanta is served by the Atlanta Police Department, employing approximately 2,000 officers.
Why should you move to Atlanta?
Moving to Atlanta has tons of perks. Some might even say that Atlanta has it all! But, like any major city, Atlanta does have some disadvantages as well. Still, we believe that there are far more benefits than downsides to moving to Atlanta. If you are looking for a cultural and economic center, moving to Atlanta can be a great idea.

Many young professionals and Millennials are moving to Atlanta because of the terrific job market and endless possibilities. If you consider relocating to Atlanta, our Atlanta movers can help you with that. So far, our moving company has safely moved many happy costumes there, and you can be one of them!