Atlanta is known for its southern hospitality and colorful heritage. It's the unofficial capital of the south.
Check out these useful tips
During the last couple of years, Atlanta has become a popular place for many generations.

Something deeply alluring about Atlanta makes so many families, young professionals, and even seniors move to some of the most popular neighborhoods. 

That brings us to one essential question: How safe is Atlanta? 

Well, read on to find out!
Whether you are planning to move to Atlanta or simply visit as a tourist, you are likely wondering how safe the city is.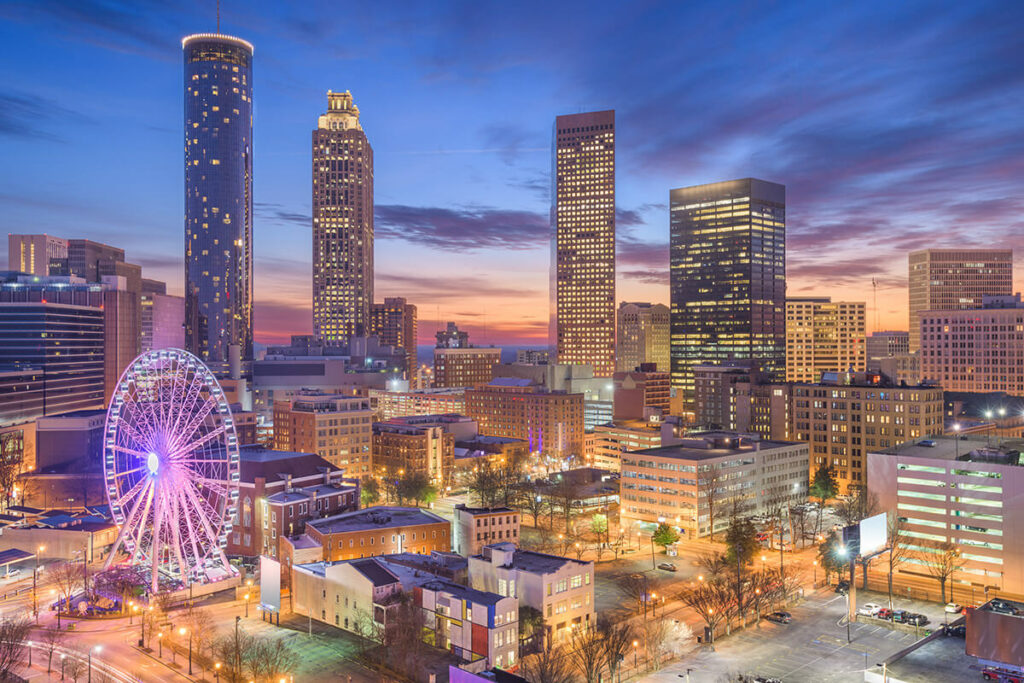 Atlanta's local communities have excellent schools, great restaurants, and beautiful historical buildings. From high-end shopping to lovely homes, Atlanta is charming new residents and visitors.

Also, The Big Peach (what many call Atlanta) is undoubtedly a cultural travel epicenter. The city is on the top of many travel lists, and it's not hard to see why. Tourists, particularly, are drawn to places like the Atlanta BeltLine, a popular spot for all generations. 

According to the newest statistics, Atlanta is a relatively safe place. However, you still need to be careful, especially at night and in some more dangerous areas in the city.

That can create additional safety problems for the citizens of Atlanta and the police department. Of course, like almost every big city, Atlanta, with six million people living in the metro area, has its fair share of safety issues.

In Atlanta, most crime rates are higher than the national average. One of the biggest safety problems in The Big Peach is pickpockets.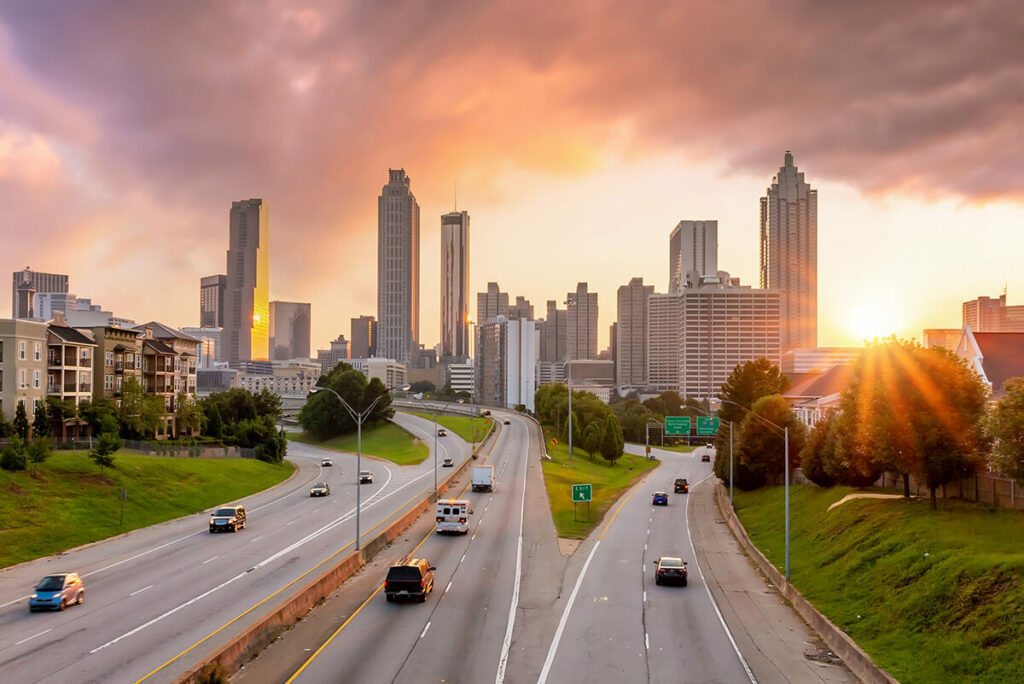 The national average for violent crime is 398.5 per 100,000 residents. Unfortunately, the theft rate in Atlanta is much higher than average, meaning that purse snatching is not uncommon, especially for tourists and newcomers. Reading weekly crime reports published by The Atlanta Police Department can be helpful and give you some valuable information.

Remember that most violent crimes in Atlanta are between people who know each other and are restricted to more dangerous areas.

Regarding property crime, Atlanta's property crime rate is roughly 1.7x greater than the state and national average.

That said, Atlanta has many other perfectly safe areas for you to visit. Some areas are excellent for growing families and young professionals, and this article will give you all the necessary information about them.
The safest neighborhoods in Atlanta
The following areas are considered some of the safest and most popular places. Many boast a fantastic gastro and nightlife scene, but that is not all!

Numerous well-known schools, universities, and businesses are also located in these areas, creating a thriving cultural scene and diverse communities.
Are you looking for peace and quiet, and do you enjoy taking long walks surrounded by beautiful natural landscapes? If the answer is yes, Candler Park can be your ideal choice.

By Elisa.rolle Own work, CC BY-SA 4.0, Link
Founded as Edgewood, this popular residential area developed in the late 19th century. The community continued to develop and flourish, creating signature single-family dwellings, perfect homes for growing families.

With spacious parks, low crime rates, and beautiful homes, it is no wonder that Candler Park has quickly become the favorite neighborhood for families with kids. Many children in Candler Park typically attend these famous schools:
Mary Lin Elementary 
Inman Middle School
Henry W. Grady High School
If you are an outdoor enthusiast, we have good news for you. Candler Park is located within the Candler Park district and offers 55 acres of wonderful green space. The whole area is perfect for picnics and fun outdoor activities.
Did you know that Candler Park is also famous for its unique festivals? Some of the most popular ones are: 
Candler Park Music & Food Festival 
Fall Fest in Candler Park
As you can see, Candler Park has it all! From great schools and businesses to fantastic nightlife and popular restaurants. Living there can offer the best of both worlds, a striking balance between suburbs and city living.
As the name suggests, East Atlanta is a neighborhood on the east side of Atlanta. East Atlanta lies within DeKalb County and is bounded by Interstate 20, Edgewood, and Kirkwood to the north, making the area ideal for many young professionals.
According to Niche, East Atlanta is one of the best neighborhoods to buy a house in Atlanta, which also speaks a lot about its overall safety. The district is also a perfect blend of big city and small-town living.

Bars, restaurants, and coffee shops can be found around every corner, creating a warm and welcoming atmosphere in the entire neighborhood.

East Atlanta has low crime rates, meaning the area is ideal for families, young professionals, and seniors. East Atlanta will offer a peaceful and secluded sanctuary to all its residents.
If you are looking for a place to call home, this lovely community will offer you many beautiful options. This popular neighborhood is only a 22-minute drive from downtown Atlanta.
The area is famous for its strong community and many expanding businesses. Regarding the most desirable places to live, North Buckhead is rightfully on the top of that list.

The median household income in North Buckhead is around $57,000, meaning that most of its residents are middle-class. If you are searching for high-quality homes for reasonable prices, North Buckhead may be the right place.

The neighborhood is proud of its family-friendly atmosphere and diverse community. The entire area has changed a lot since it was established, but it's still one of Atlanta's best and safest districts. 

Another great thing about North Buckhead is its substantial real estate market. You will be able to choose from many gorgeous homes and apartments. Of course, the rental prices are higher than ever, but we are sure you will find something that suits your needs perfectly in North Buckhead.

If you decide to pursue a home in North Buckhead, you will be able to enjoy the best of both worlds, having all the attractions of a big city nearby but also enjoying the neighborhood's rural atmosphere!
This lovely Atlanta neighborhood is a truly fantastic and incredibly safe place to live. With its long history and charming streets, Cabbagetown has become one of the most desirable neighborhoods for all generations.
Art lovers will particularly enjoy Cabbagetown. Street art and colorful graffiti are signature symbols of this popular area.
The neighborhood is small and artsy, perfect for families and seniors. Located a mile east of Downtown Atlanta, Cabbagetown is a unique mix of urban and suburban. The whole area is full of thriving and amicable people, so it is no wonder that Cabbagetown is one of the safest Atlanta communities.
Some of the popular schools in the area include:
Grady High School
Atlanta Classical Academy
Inman Middle School
We have some good news for those looking to buy a house or apartment in the area! You can find beautiful yet affordable places in Cabbagetown. Homes for sale in Cabbagetown have a median home price of $520,000.
Because of its popularity and primarily reasonable prices, Cabbagetown's housing market is competitive. If you want to raise your kids in a warm and pleasant atmosphere, Cabbagetown should be on your list of best neighborhoods.
Located west of Reynoldstown, Edgewood is a diverse and hip Atlanta neighborhood known for its outstanding community and low crime rates.
If you are a nature lover, we are sure you will be mesmerized by Edgewood.

Edgewood Community Learning Garden and Walker park are some of the most popular recreation areas.

Also, the area is famous for its spectacular nightlife. Many young professionals and Millennials are attracted to Edgewood, and we completely understand why.

The median household income is around  $59,000, slightly below the national average. One of Edgewood's biggest perks is that it remains affordable while being near many hot spots and famous local attractions.
Are you thinking about moving to Atlanta?
Atlanta has everything: an inspiring music scene, exciting history, great food, an expanding job market, and prominent schools. Planning a move to Atlanta? We completely understand why!
Once you decide to move to a new place, you will probably have many questions. The safety of the city is one of them. Hopefully, this article will provide some answers to those critical questions.

Relocating is often an overwhelming process. At Zip Moving & Storage, we understand that every move is unique. That's why we offer various moving services, specially tailored to fit your needs. Our comprehensive moving services will help you avoid moving stress and common moving problems.

Zip Moving & Storage is here to help and handle every aspect of your move. Contact our experienced Atlanta movers, and leave everything else to us! We will make sure that your move to Atlanta goes impeccably well.