Welcome to everyone's favorite part of autumn! I'm talking about that time of year when we proudly unveil our most beautiful fall decorations, slip into our coziest slippers, and indulge in pumpkin spice lattes daily, all while the leaves outside transform from lush green to rich, bronzy gold hues. I keep on happily daydreaming about fall until it's Halloween! But what if Halloween is the day you're scheduled to move?
Moving during Halloween can often feel like a real fright, especially when your neighbors decorate their homes with spooky ornaments while you're surrounded by boxes, bubble wrap, and packing tape. However, there's a way to add some magic to your move and turn it into a thrilling (and a bit bizarre) adventure.

Grab your best broomsticks (or moving boxes) because we're about to embark on a journey that transforms the stress of moving into a spooky celebration!
Remember all the Halloween Celebrations in Your Old Home
Before embarking on your new journey, it's important to wrap up what's been started to bring things full circle. Your old home deserves a proper send-off, especially because you've created a treasure trove of memories within its walls.

So, if your moving day falls on Halloween, my first piece of advice is to gather with your household and reminisce about all those past Halloween celebrations that have taken place in your home.

At Zip Moving and Storage, we understand that when it comes to packing, it's not just about your belongings but the memories and emotions tied to specific items. We recognize that your possessions hold a piece of your history, and it's essential to approach the process with care and consideration.

So, let's ensure your move is more than just a change of address; it's a celebration of the past, present, and future.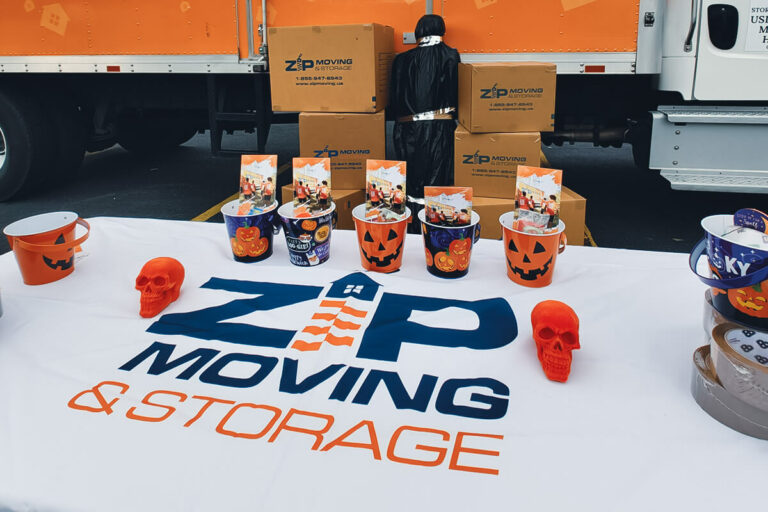 Pack Halloween Costumes in Your Special Bag
The next step is to prepare your handy go-bag for your upcoming big move. This bag must contain all the housing essentials you'll need before your regular boxes are unpacked. This is your quick-access kit.
Now, here's a clever and slightly different idea: within your go-bag, pack not only your Halloween costume but also the costumes of everyone in your household!
This way, you can be ready for Halloween night in just a few minutes, even if you're in the midst of moving! If you're moving with kids, they'll be thrilled and surprised to see their favorite costumes at their fingertips.
What to Put in The Special Halloween Bag?
Here are some handy tips and examples of what should go in your special box:
Costumes

Accessories like wigs

Makeup

Pumpkin bags for trick-or-treating

Flashlights

Lots of candy

Candles

Pumpkin-carving kit

Face masks
A Chance to Meet New Neighbors on Halloween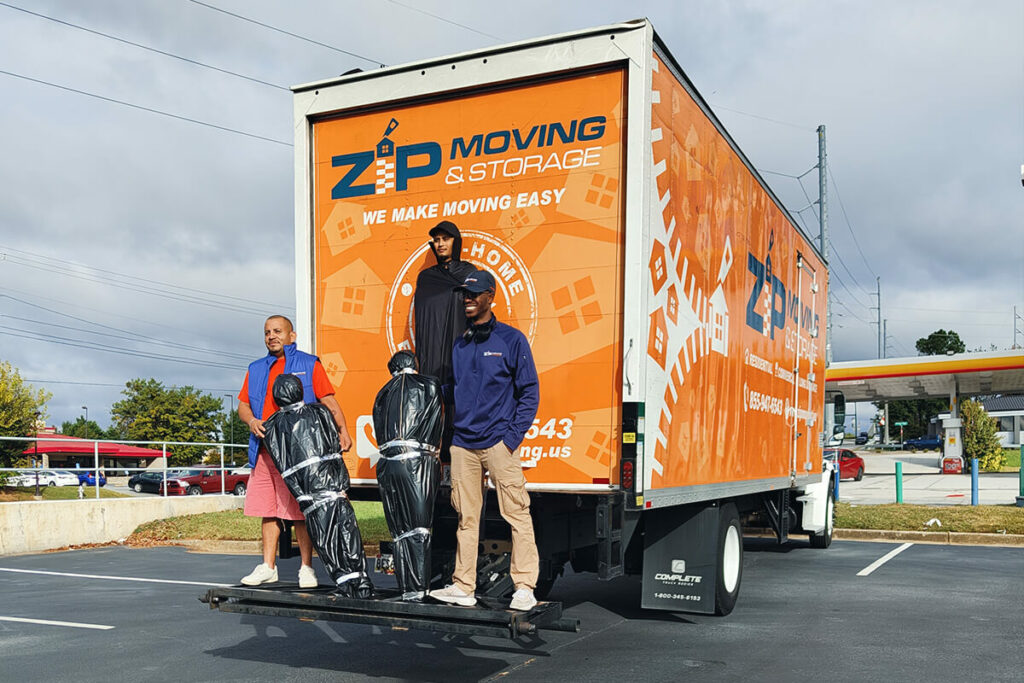 Holidays are for people to come together, for families and friends to reconnect, and for communities to gather and form wonderful new friendships. This will significantly ease your transition into a new neighborhood and a city where you may know very few people.

When relocating to a new city where familiar faces are a rarity, the Halloween season offers a priceless opportunity to meet new people.

If you participate in trick-or-treating, you'll meet many new neighbors and see countless friendly faces, enjoying spooky costumes and delicious treats. The charm of relocating during Halloween extends beyond mere introductions!

The holiday season infuses people with a special cheer, encouraging a friendly and relaxed atmosphere. This, in turn, simplifies your quest to familiarize yourself with new neighbors, while children are naturally drawn to form fast friendships with other kids from your new area.

Just imagine them all together, dressed as their favorite superheroes, like a little gathering of Avengers!
Getting into the Halloween spirit
As someone who has spent years working in the moving industry, I know firsthand how relocating to a new house or apartment can be a stressful and exhausting experience. 

Nevertheless, allow the holiday spirit to create a different atmosphere and perspective on your moving day. Even packing and organizing your belongings might become more enjoyable or, at the very least, less stressful.

That's why my suggestion is that, during the packing process, you take short breaks to savor pumpkin-shaped cookies, sip on pumpkin-flavored coffees, and indulge in some well-loved Halloween movies, such as:
Hocus Pocus

The Nightmare Before Christmas

The Addams Family

Hotel Transylvania

Coco

Ghostbusters

Muppets Haunted Mansion
DIY Halloween Costumes from Moving Boxes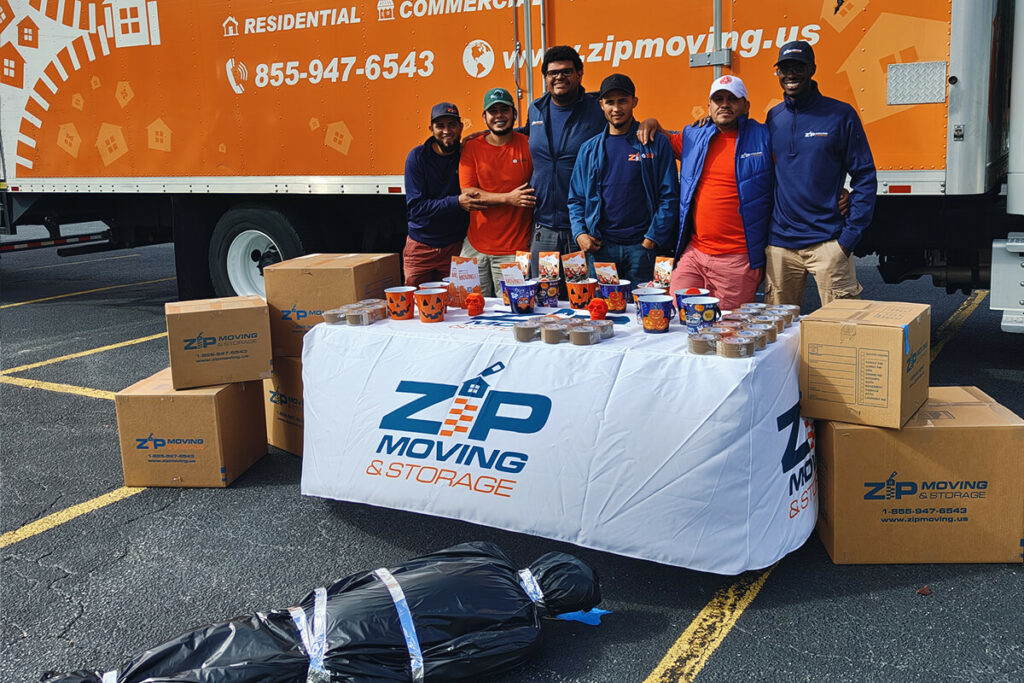 Given that this is, after all, a moving company's website, we can't avoid discussing moving boxes! Quality moving boxes come in various shapes and sizes and can be used in numerous ways (if you are interested in delving deeper into this topic, click here). Yet, did you ever consider that moving boxes can also be repurposed to craft remarkable Halloween costumes?

Here are just a few costume ideas for Halloween that you might want to consider:


Choo-choo Train: You will need a large moving box for the body and smaller ones for the wheels. Paint, markers, or colored paper will be used to color all the parts, which will then be glued together. Secure straps or ribbons inside the box to wear it comfortably, as if it's resting on your shoulders.


Lego Person – To make a LEGO person costume from moving boxes, simply cut and shape a box to fit your body, paint it with LEGO-like details, and wear it like a sandwich board. Add a matching LEGO headpiece for a fun and iconic look.


Tetris – To create a Tetris costume from moving boxes, cut and assemble boxes to resemble Tetris shapes, paint them with the classic Tetris block colors, and wear them as a fun and recognizable costume. You can also add a Tetris-themed headpiece or hat to complete the look.


X-Ray Machine– To craft an X-Ray Machine costume from moving boxes, you'll want to create a box frame to mimic the shape of the machine, cut out a window in the front, and paint or decorate it to resemble an X-ray screen. For added realism, include a printed X-ray image of your choice, which can be illuminated from behind for an authentic look. This costume is an imaginative and unique choice for Halloween.


SpongeBob Squarepants – This costume is an iconic one! To make a SpongeBob SquarePants costume, start by cutting and shaping a box to fit your body and paint it in SpongeBob's signature colors: yellow for his sponge body and brown for his pants. Add details like his big eyes and wide grin to capture his cheerful expression. Wear it like a sandwich board, and you'll be ready to embody the beloved SpongeBob Squarepants.


Cheese:

To create a cheese costume from a moving box, cut and shape the box to fit your body, then paint it with a cheese pattern using shades of yellow and holes to mimic the cheese's texture. Add straps or ribbons to wear the costume comfortably, and you'll be ready to melt hearts with your cheesy charm.
Do Professional Movers Work on Holidays?
The short answer is yes! Most licensed and accredited moving companies typically operate even during holidays, although it's always wise to call them to confirm. Zip Moving and Storage works on Halloween.

Plus, moving during the fall season has advantages, but you can read more about it here.

Not only do we work, but we also love to decorate our trucks, offices, and articles (as you can see from the images included in this article).

My recommendation is to treat hardworking movers with a sweet treat or two! Give your movers some snacks. They will ensure that your move is unforgettable in the best way possible, and Halloween will surely make it even more memorable.

Just as much as we love Halloween and dressing up, we're equally passionate about helping our valued customers move on Halloween day or the days leading up to this holiday. 

So, don't hesitate to put on your best masks and give us a call to get your free quote today.

Trick or Treat, everybody!