Having a reliable and successful moving company with a long list of moving services is not easy. That's why we have conducted a survey to ask people what truly makes a respectable moving company. Some answers may even surprise you!
What makes a good moving company?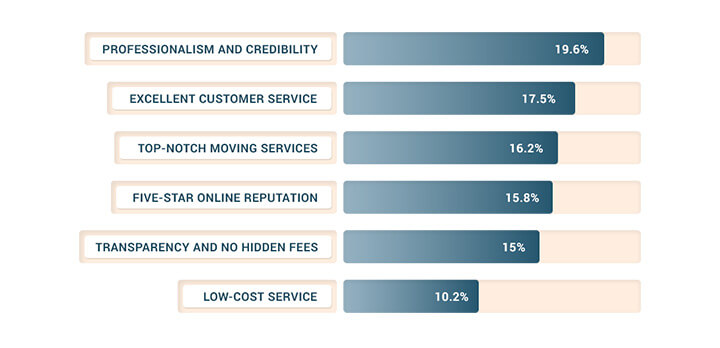 In a variety of different companies with similar moving services, it can be difficult to choose the best one. Unfortunately, in today's world, it's hard to spot red flags when hiring a moving company, and that's why you need to be careful when deciding which one is best for you. Read on to discover more!
1. Professionalism and credibility
An impressive 19.6% of participants stated they seek professionalism and credibility from a moving company, putting it in the first place as one of the key factors. An experienced moving team and polite sales agents are essential to any good and reliable moving company. Working together, they create safe and affordable moving services, and most importantly, memorable moving experiences.  
To determine the quality and reliability of a moving company, you can always read customers' reviews. That will give you a good insight into the work and trustworthiness of the company. Having a professional moving company with great customer reviews speaks a lot about the company's values and credibility.
2. Excellent customer service
An experienced moving team and pleasant sales agents are integral parts of any reliable moving company. The greatest moving services need to be professional and diverse, ensuring the best possible customer experience. 
That brings us to superb customer service.  Customers want to be sure that all their needs will be met with the utmost respect, so it's no wonder that for many people, excellent customer support is one of the three most important things that make a good moving company. Also, customer service agents need to be expertly trained and ready to help clients seven days a week. The best customer service agents always need to be professional towards their clients and credible with their work. They are responsive, easy to work with, and attentive to your needs.
3. Top-notch moving services
In third place, we have moving services, with 16.2% of participants stating that this is something they look for when searching for a moving company. Whether it's a long-distance or a local move, customers want to know that they can rely on the company's moving services. From expert movers and packers to free in-home estimates, moving services should be diverse, covering the different demands of many customers.
Having a lot of different moving services probably means that the company has trustworthy experts who will do all the laborious work. It's not just about packing and loading items; the best moving company needs to have the best services that will take care of different clients' needs.
4. Five-star online reputation

Reputation is important! A good online reputation can mirror a company's values and work ethic. According to data, 15.8% of participants said that online reputation matters, especially when deciding which moving company is the best. A good review can boost any business. A five-star reputation can build trust between a company and potential clients. It can also be good to check out the most popular rating platforms and see how moving services are rated on them.
It was slightly surprising that the company's transparency came in fifth place with just 15.0%. Absolute transparency is essential when choosing the best moving service for your needs. Every client needs to be respected and know what they're paying for. 
That's why the best moving service shouldn't have potential hidden fees. Like in any business, that's not always possible. Almost every moving process can have hidden costs, but a quality moving company will know how to explain them and eventually prevent them.
The best moving company doesn't scam its clients. Being trustworthy and upfront with customers is imperative in any business. Our advice is to research every moving service you plan to hire thoroughly.
As a professional moving company, we know it is important to have affordable and competitive prices. Exactly 10.9% of survey participants said a low-cost service is something they look for when choosing the best moving service. A good moving company will always be open about the prices of their moving services. 
When it comes to the service cost, it's always a good idea to get a written agreement created in advance, stating your final move price. The binding estimate will give you insight into all the items that need to be relocated and the services provided. Companies that don't offer binding estimates may not necessarily be a scam, but our honest advice is to avoid them. Even though many provide low-cost services, they are not always the best and safest solution.
Keep in mind that, sometimes, low-cost prices can mean low service. That's why you should always be careful when choosing the perfect company for your relocation. We understand that many people have a certain budget for moving, but still make sure you find the company with all the services you want.
How to choose the best moving service?

As we previously stated, it can be tricky to choose the best moving service, especially when you have so many options to choose from. If we consider all the analyzed data, we can say that the top 3 most important factors that make the best moving service are:
Professionalism and credibility

Excellent customer service

Top-notch moving services




When choosing a moving service, make sure to check if they fulfill all the mentioned requirements discussed above. The chances are that it will help you be sure in your final decision.
Our moving company goes by the same values. Credibility, professionalism, trustworthiness, customer satisfaction, and excellent moving services are incredibly valuable to our business. We love to care for our customers and ensure a smooth and seamless transition to their new destination. We believe that our moving services can become even better by listening to our customers and knowing their needs.