Moving trends change with time. It may sound surprising, but according to the newest research, current moving rates are slightly lower compared to previous years.
Where do people in Atlanta move to?
Of course, we can not forget the effect that Covid had on moving tendencies worldwide, and the beautiful city of Atlanta was no exception. 

In a world that is constantly changing, many people move across the state, searching for more affordable housing and better jobs. Having that in mind, local and long-distance moves affect the modern-day moving industry like never before. 

So, where does that leave the wonderful city of Atlanta? Where do people from Atlanta move to? Keep reading to find out!
The Big Peach and population boom
Did you know that Atlanta is one of the most popular cities for citizens of all generations? With its fantastic scenery, affordable housing, and various job opportunities, it is no wonder the entire Atlanta region continues attracting many new residents each year. 

Each of Atlanta's counties saw an inpouring of newcomers from all around the country. Some of the reasons for Atlanta's popularity include a strong job market and great economic opportunities.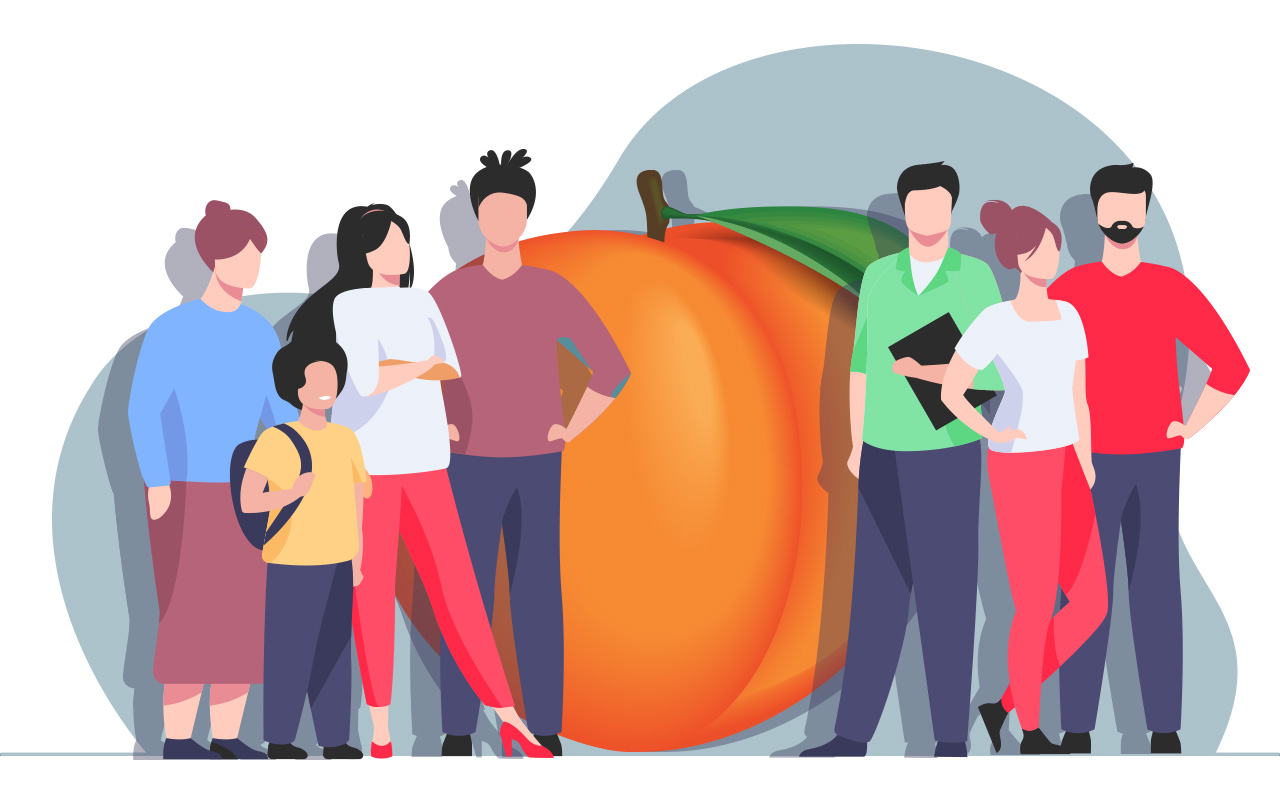 We have consulted our company's database to determine the new moving situation in the Atlanta region. We wanted to pinpoint the most popular cities in Georgia to move to and from in the past couple of months.

According to our newest data, 61.58% of Atlanta's residents decided to stay in the Atlanta region. Instead of moving across the state, they simply switched neighborhoods within the city. What does that tell us? 

It tells us that many people in Atlanta love living there and are not eager to relocate to another state. These numbers are a testament to the quality of life that Big Peach offers. For many, Atlanta has everything one may need, great schools, a growing economy, good health care, low crime rates, and a substantial real estate market.

However, there are still a lot of people who decide to leave Atlanta and create a home somewhere else. We wondered, where do they go?
Top 5 place people from Atlanta move locally
Most people like to stay in the same city, relocating to other neighborhoods in the area. Others choose to leave Atlanta and establish other towns as their new base.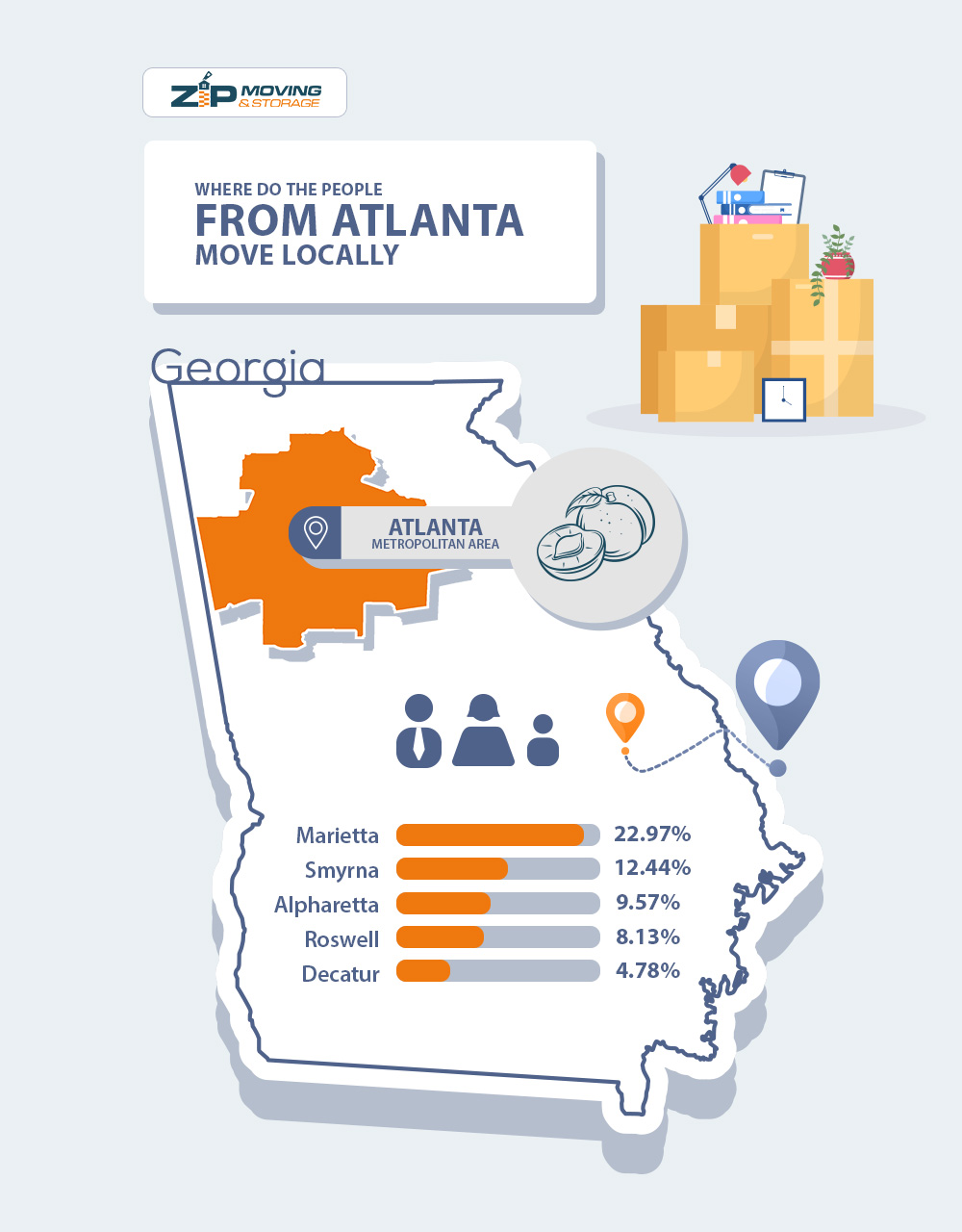 Whether it's because of rent rates, housing costs, or new job transfers, some Atlanta residents are on the move, searching for the best places to settle in. A look into our latest data has shown us that the majority of former Atlanta residents decided to move locally to the following cities:

These five cities have grown into strong and diverse communities for people of all nationalities and generations. It's unsurprising that Marietta, with 22.97%, is leading the way because that small town has truly flourished in the last couple of years.

The same goes for other cities on our list. Industry and businesses started to develop in them, attracting new residents like never before. Also, let's not forget about the famous southern hospitality and cuisine. Undoubtedly, good food and welcoming communities played a significant part in drawing more people.

Smyrna and Alpharetta are becoming quite popular in recent years. Many families and young professionals picked those cities for their new base. Western and Atlantic Railroad contributed to the area's growth, making it possible for many young professionals to commute to their work regularly. 

According to Niche, Roswell and Decatur are among the best places to live in Georgia. These cities offer a suburban feel, where most residents own their homes. Are you thinking of relocating there? Contact our professional Georgia movers and let them organize the best moving experience for you.
What about long-distance moves from Atlanta?
The coronavirus pandemic brought about a work-from-home revolution. That means many people started to move across the state, looking for their dream home, a perfect place to work remotely and enjoy every aspect of it. 

Still, that is not the only reason people started moving across the country post-pandemic. Looking for a better and safer place to start a family was also one of the main reasons why so many long-distance from Atlanta happened. 

If you are planning to move everything thousands of miles away, having the help of a professional moving company can be a real game changer.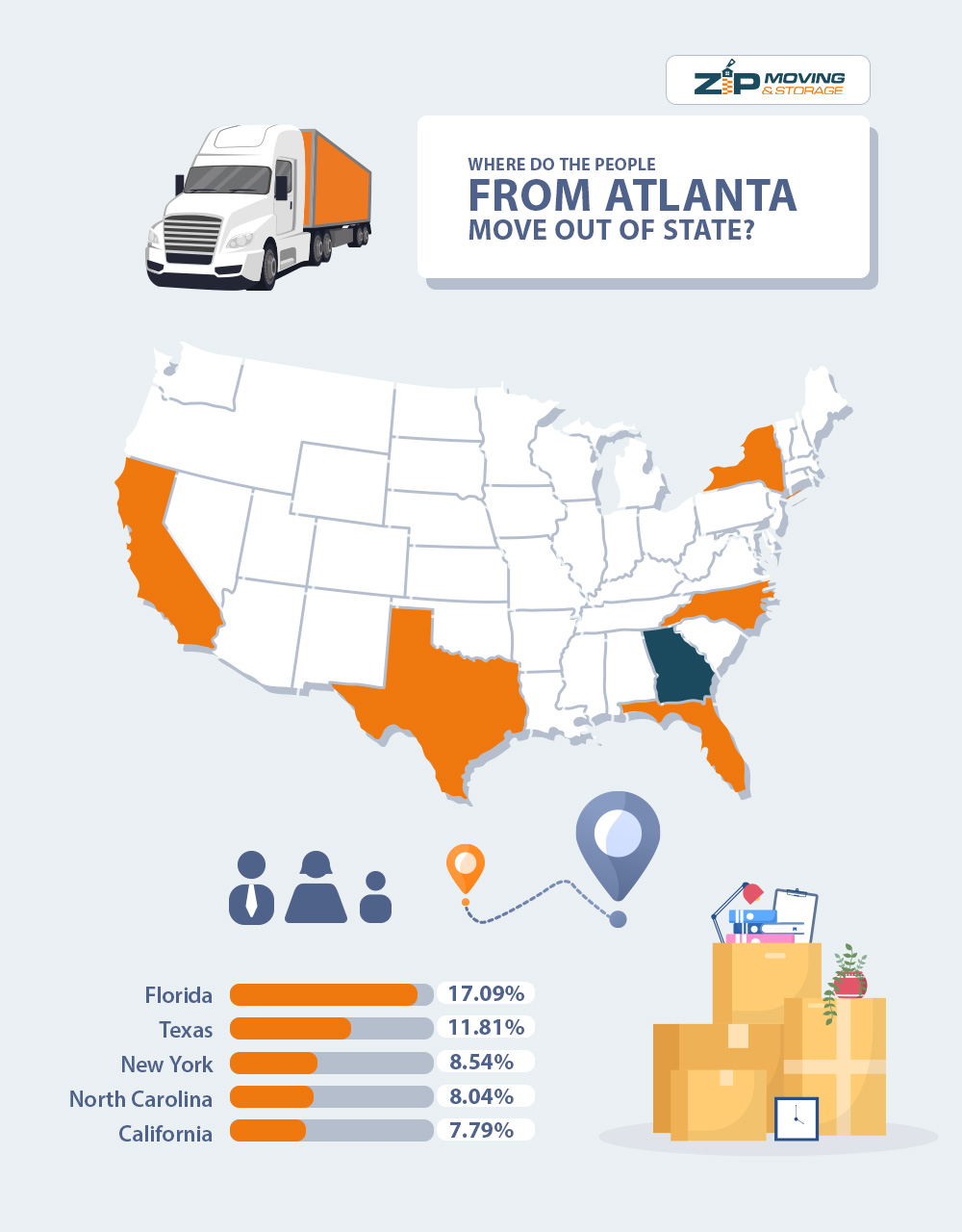 Long-distance moves are more complex and usually require more additional time and organization. That's why it can be a good idea to rely on professional long-distance movers who know to handle every aspect of your cross-state relocation expertly.

With that in mind, let's delve into where people from Atlanta move out of state. Recent research has shown us the ten most popular states are:
Florida (17.09%)

Texas (11.81%) 

New York (8.54)

North Carolina (8.04)

California (7.79%)

Illinois (5.28%)

New Jersey (4.52%)

South Carolina (4.27%)

Virginia (3.77%)

Alabama (3.02%)
Sunny Florida is leading the way with its impressive 17.09% of Atlanta's population moving there. Moving to Florida definitely has many perks and advantages. Florida is the third most populated state in the United States, so it's not surprising that so many people of all generations want to relocate and start fresh there.

Moving to Texas has never been easier, and 11.81% of our customers would agree with that. Texas offers a lot, from lower living costs to a thriving job market and vibrant diversity. The Lone Star State is much more affordable especially compared to costly seaside states, and crime rates have never been lower. With so many new residents relocating to Texas, the job market is growing exponentially.

It's no wonder that the famous Big Apple managed to get in our top five states. The city that never sleeps always attracts new citizens looking for better life opportunities.  Even though New York is one of the most expensive cities in the world, that doesn't stop many people from relocating there and starting anew. In a city that is so vibrant and diverse, the possibilities are endless!

With its breathtaking scenery and natural beauty, wonderful North Carolina came in fourth place. Many nature lovers are happy to move there and enjoy North Carolina's stunning landscapes, but that is not all that draws them to this lovely place.

Another sunny state, California, won fifth place in our research, clearly showing that the Golden State remains as popular as ever. Pleasant weather and various recreational options could be some of the reasons why California is in our top five states when it comes to long-distance moves from Atlanta.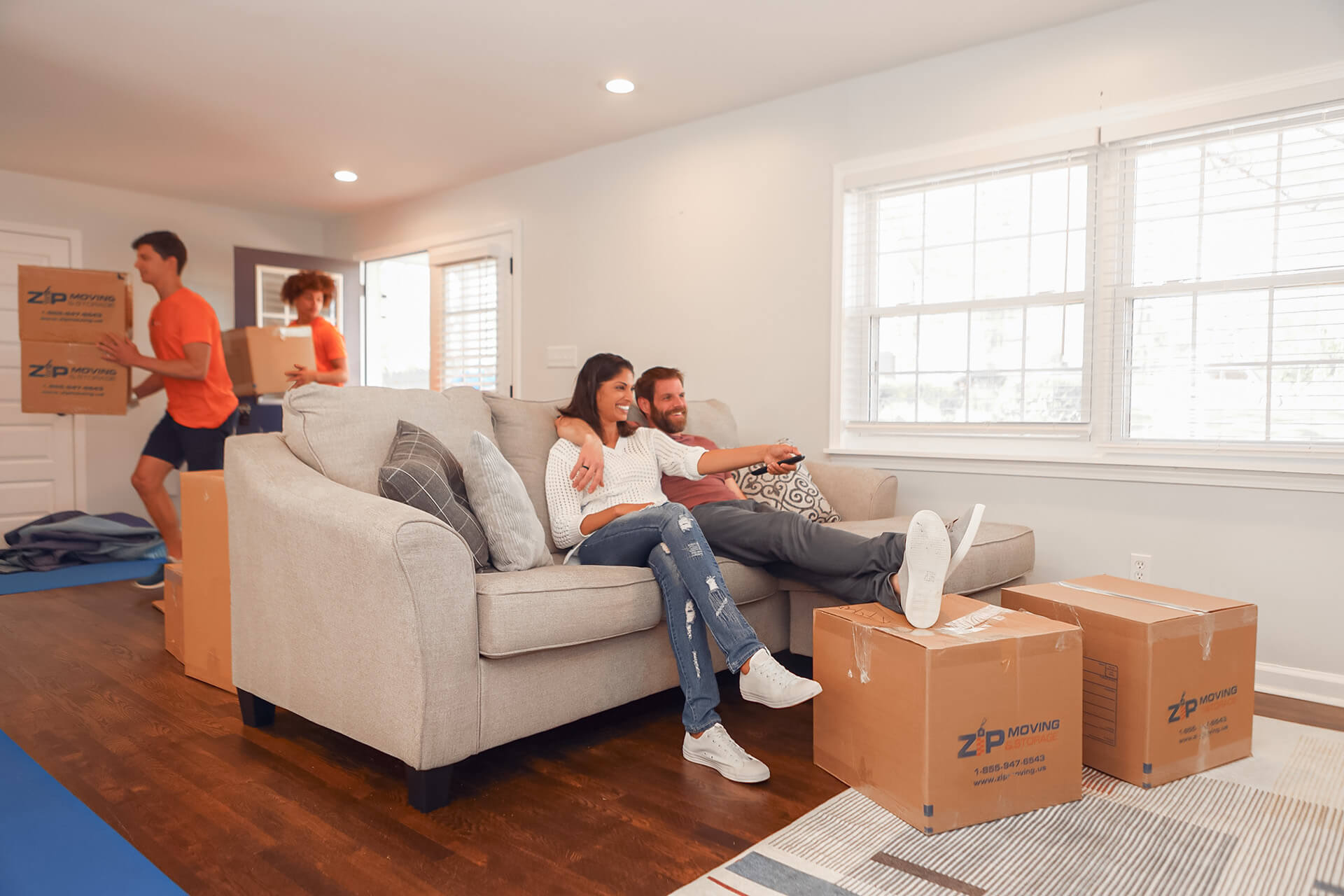 This data research is a summary of the recent and most popular moving trends in Atlanta, based on Zip's database.

Moving is an inevitable part of life. There appears to be some connection between many economic and social factors that cause migration patterns. Sooner or later, there will come the point when you have to pack your suitcases, say farewell, change your address and move to your new home. 

Zip Moving & Storage has provided excellent moving services to hundreds of happy customers, and you can be the next! Call us at 770-799-2596, and allow us to take the weight of moving off your shoulders.