In order to discover the moving tendencies in Washington, D.C., we carefully analyzed our database in Zip Moving & Storage. We wanted to learn more about our customers and their DMV area relocations.
Where do people from Washington, D.C., move?
The following breakdown is a recap of the present moving tendencies in the Washington, D.C. area, focusing on both local and long-distance moves. States are organized by the number of people who moved from Washington, D.C., during the previous year.

Our moving company understands that moving trends are inconsistent and typically depend on many factors. Some of them include customers' needs and priorities, home market prices, and customers' economic situation.
Washington, D.C. moving trends
Founded in 1790, Washington, D.C. grew slowly, creating many dynamic communities. Over  time many things have changed in the capital city. Migrations certainly played a huge part in that.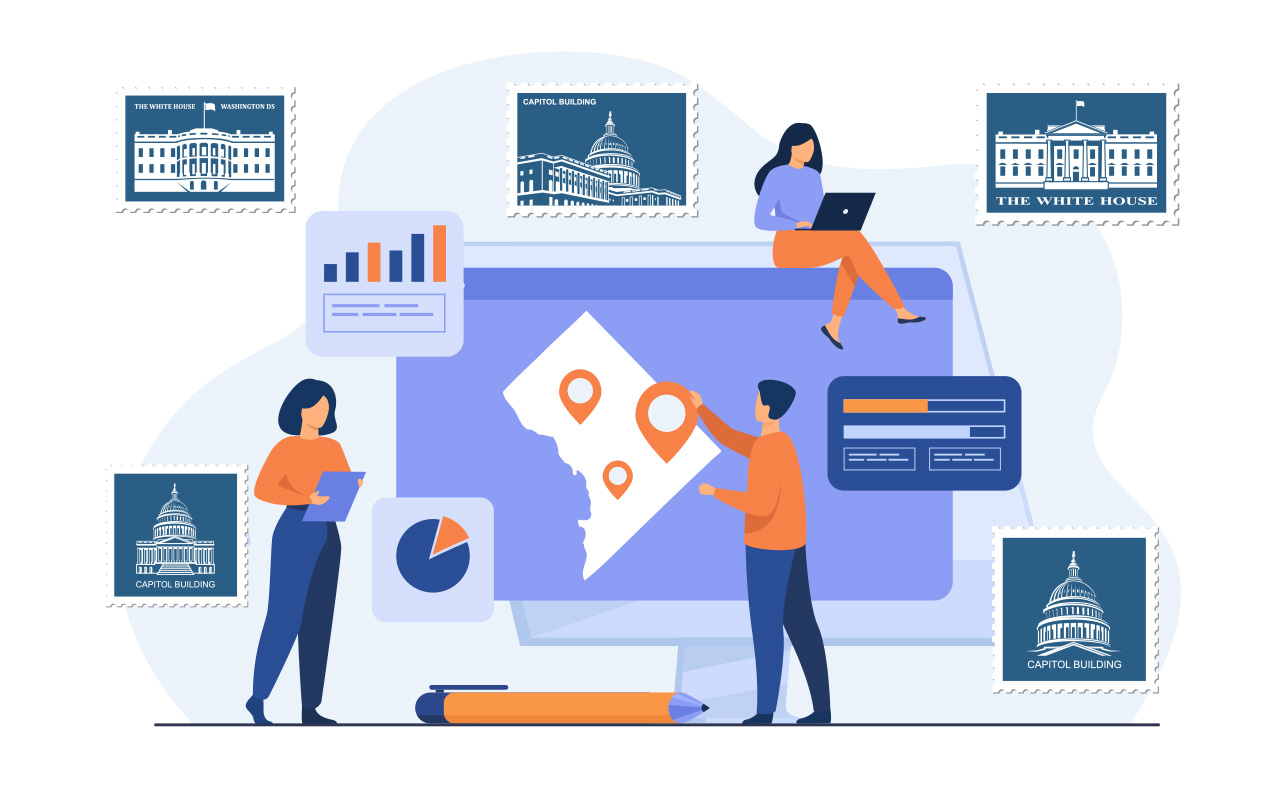 Many D.C. residents relocated to suburban zones because of economic factors. Transition infrastructure improved, allowing many young professionals to safely and efficiently commute to their work in the big city. Technology and the pandemic showed us that you don't have to live in the same place where you work. Socioeconomic elements have played a huge role as well. Real estate prices in the capital city have never been higher, creating additional problems for many citizens.

That leads us to our next big question: where exactly did people from Washington, D.C., move to? Keep reading to find out!
Where do the people from Washington, D.C., move locally?
By analyzing our newest data, we saw that 65.25% of D.C. residents decided to stay in the region and simply move to another place within the same area. Local moves have been more popular, and our data surely supports that.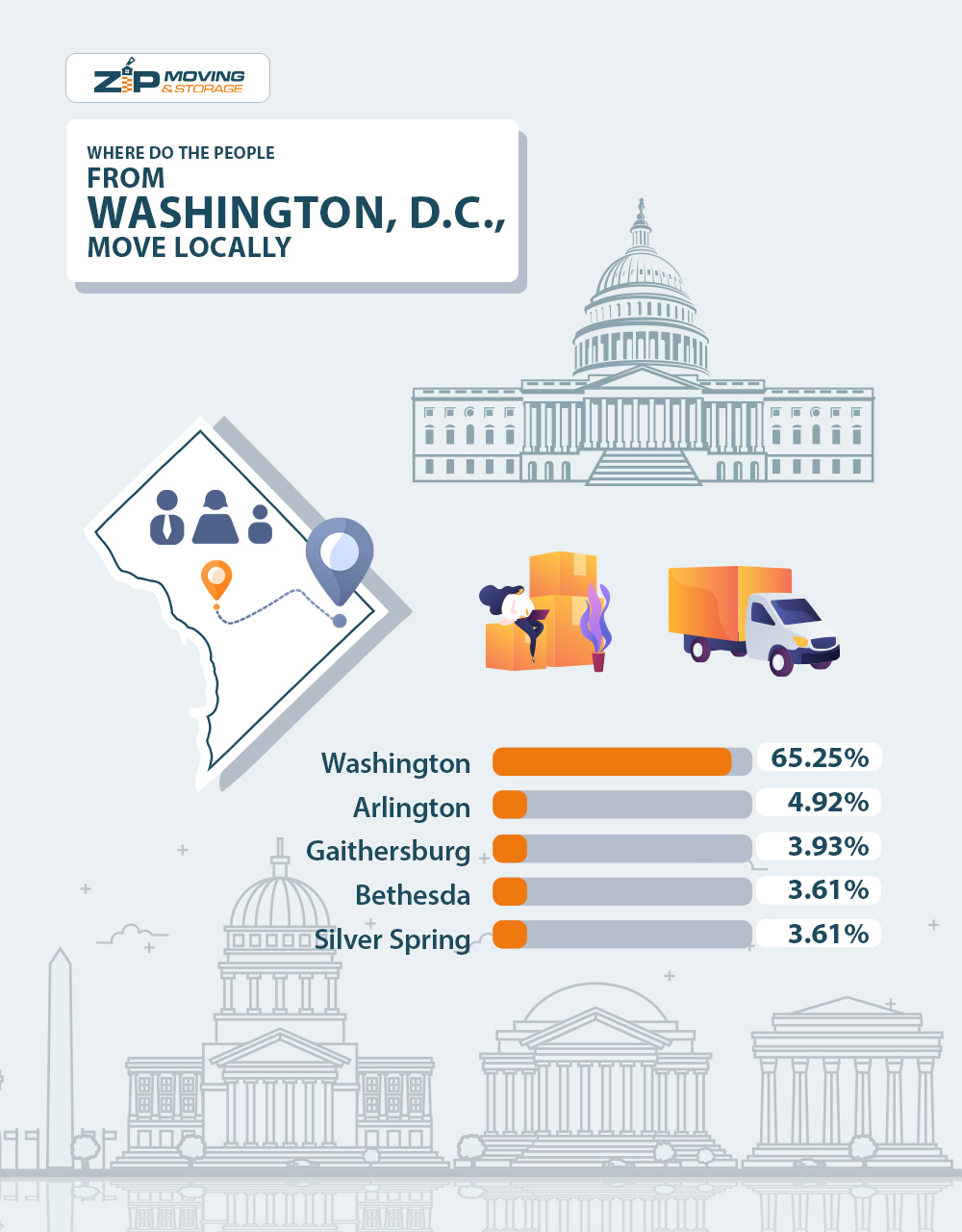 Even though many people choose to relocate to other states, there is still a lot of interest in staying in the capital city and enjoying all it has to offer. Living in Washington, D.C., certainly has its perks and advantages. It's a wonderful place to start fresh and discover its vibrant and eclectic communities.

But what about other cities in the area? 

Our research has shown that these five cities are the new base for many former D.C. residents:

Precisely 14.15% of our customers decided to start fresh and create a new home in wonderful Arlington, and we completely understand them! Did you know that Arlington is connected with our capital city by five amazing bridges? Arlington is quite famous for its stunning waterfront views and scenic Potomac river. Still, what truly attracts so many new residents to Arlington is a more affordable housing market and lower crime rates.

Gaithersburg came in second, with 11.32 % of our customers moving there during the last year. Its ever-growing economy, terrific job market, and close-knit communities made all newcomers feel safe and welcomed. 

The third place goes to Bethesda and Silver Spring, both with 10.38% of Zip customers creating their new base in some of their most popular neighborhoods. Bethesda is located northwest of Washington, allowing many young professionals to travel to their work in the capital city easily.

Finally, the lovely city of Rockville came fifth, with 8.49% of new citizens arriving at their new address. Rockville has many advantages, including prominent schools and a great health care system. If you are considering relocating to Rockville, you can rely on our moving services to safely transport all your belongings there.
What about long-distance moves from Washington, D.C.?
The search for more affordable housing and better-paid jobs remains among the leading factors for many long-distance moves. Interstate or long-distance moves will take you across the border to a completely different state, which usually means more planning and preparations weeks before your moving day.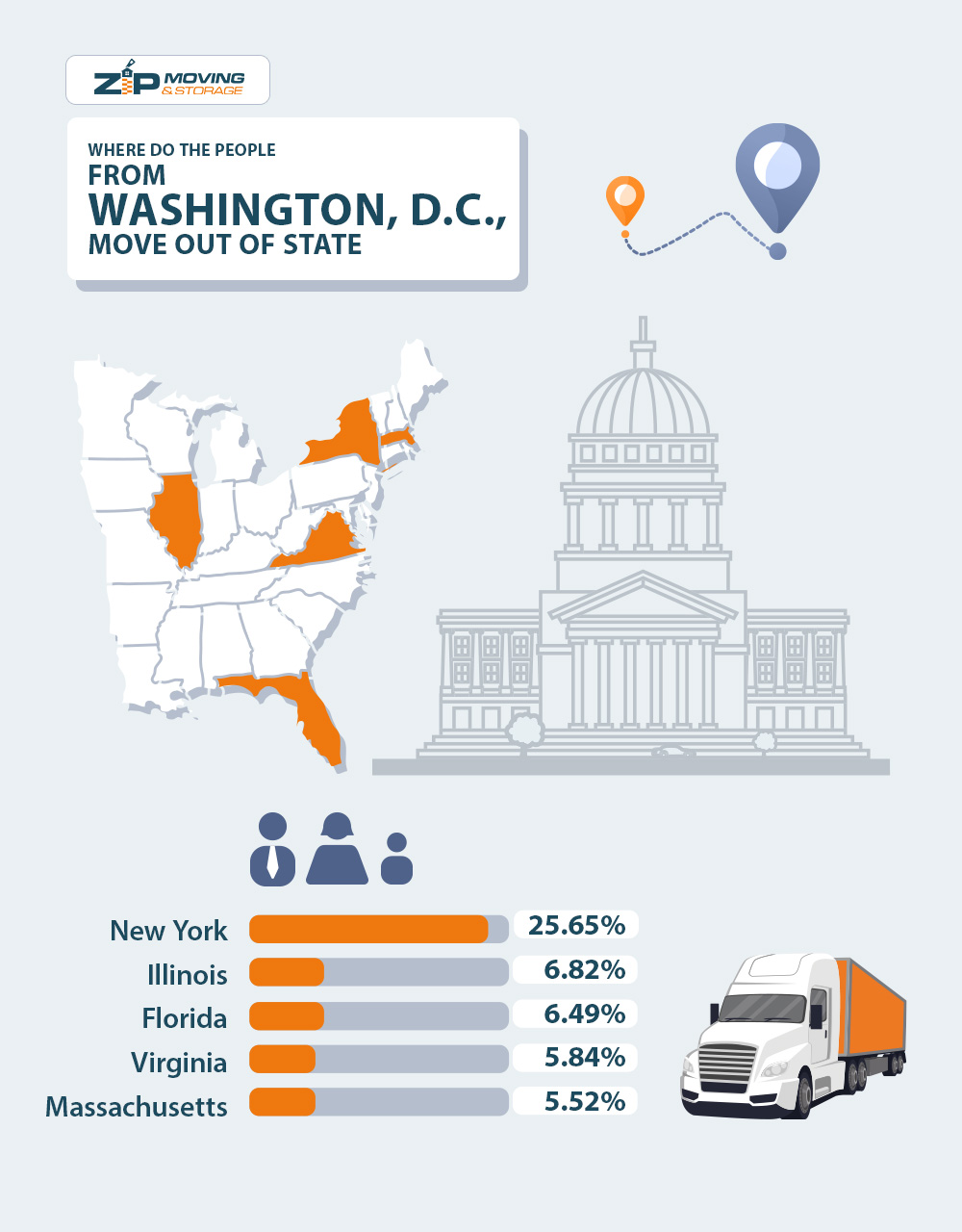 Of course, we can not forget the pandemic's effect on many relocations. These effects can still be felt all over the world, creating many social and economic problems. The state of today's moving industry is just one of them.

After carefully analyzing the data available in Zip Moving & Storage's database, we saw that many former D.C. residents moved to these states (we selected the top five of the most popular ones)
New York 25.65%

Illinois 6.82%

Florida 6.49%

Virginia 5.84%

Massachusetts 5.52%

As you can see, the Big Apple is effortlessly leading with 25.65% of our customers relocating there from Washington, D.C. After the pandemic ended, New York blossomed all over again, welcoming many new residents. Offices reopened, and many new and old employees were back to work at the office.

Many companies had new ground to build their respective business, attracting a large number of new residents. NYC is alive again, and the splash of new residents certainly confirms that.

Illinois came second with 6.82% of customers moving there during the previous year. What attracted them to the place known as The Land of Lincoln? The state is proud of its large and diverse economy. Access to many jobs is incredibly important, especially when you combine it with affordable housing and the cost of living.

The ever-sunny Florida (6.49%) is always full of wonderful and vibrant communities waiting to embrace all newcomers and offer them a safe space to grow and develop. With amazing culture, vibe, and neighborhoods, it's no wonder Florida managed to get into our top three countries.

The gathered data also showed us that Virginia (5.84%) and Massachusetts (5.52%) belong to more popular states when it comes to long-distance moves from Washington, D.C.  Virginia is proud to have one of the lowest crime rates of any state in the country, while  Massachusetts has a rich history, fantastic food, and exceptional education system.
This analysis is just a synopsis of the present moving circumstances in Washington, D.C. It helped us gain a better understanding of our current moving trends and how variable they are.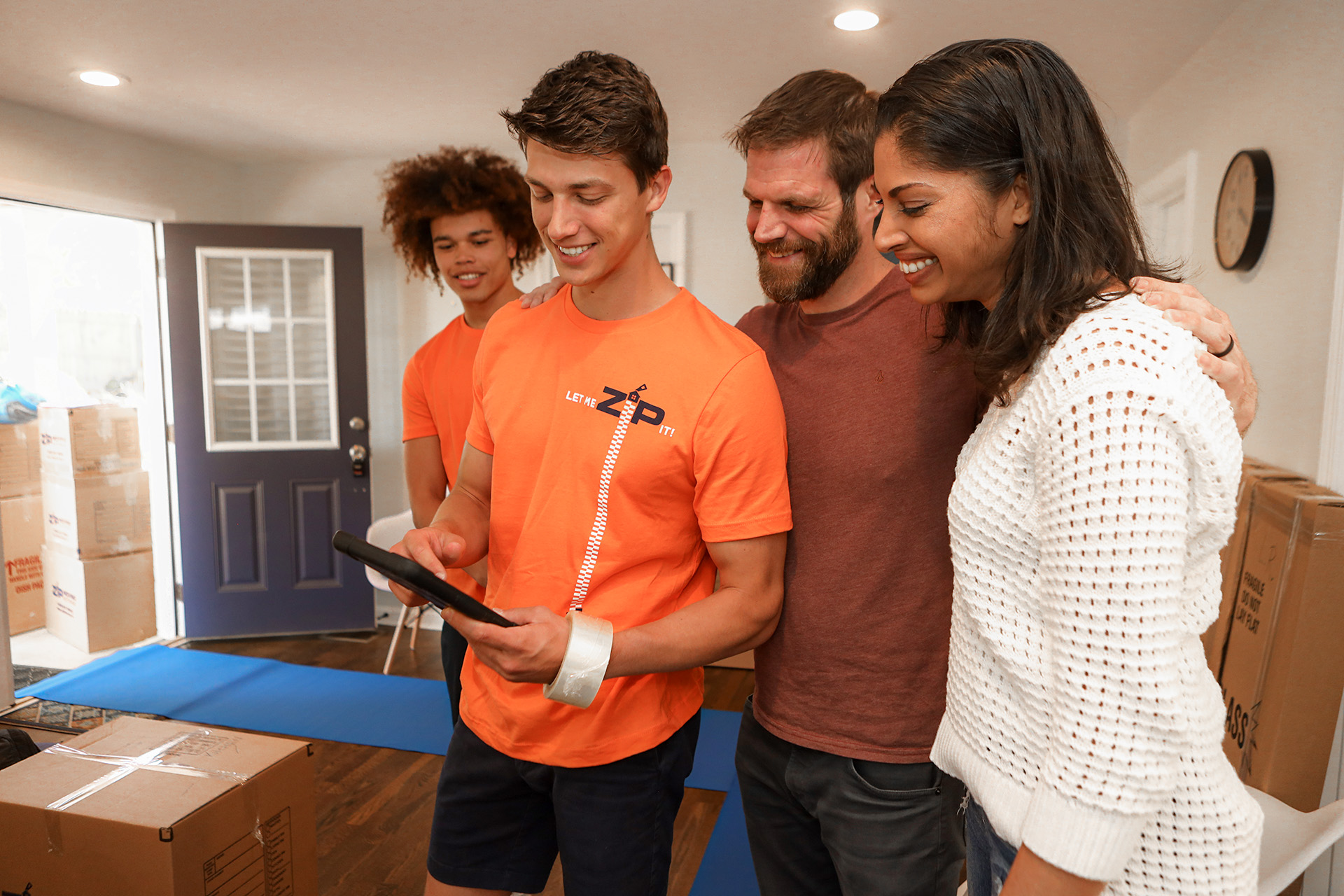 We have to admit moving to Washington, D.C., can be a life-changing decision with many perks and benefits. Still, we also understand why some people decide to leave our capital city, searching for more affordable, suburban places to live. Many citizens worry about safety in Washington, D.C., but many more are troubled by the ever-growing living costs. 

However, if you choose to relocate to this bustling and vibrant city, we will have your back. Our professional Washington, D.C. movers are here to help with everything and handle every aspect of your upcoming move expertly.

With that said, I hope this article gave you some interesting insight into the latest moving situations in the Washington, D.C., area. Our moving company likes to shed light on current moving trends and keep up with them in order to give our customers the best possible moving experience.

No matter where you decide to start fresh and create your new base, we are sure that our moving services and professionals can be immensely helpful! We wish you a safe and pleasant relocation!