Moving Timeline (Week-By-Week Checklist)
Moving can be a hectic time in your life! To keep track of all of the tasks to complete before moving day, we've created a week-by-week checklist timeline.
Moving into a new home requires a lot of planning, coordination, and cooperation for everything to go smoothly. Though you may already know what tasks you have to accomplish, you may not necessarily know when to do them all.
Timing is important because you don't want to be rushing at the last minute to complete large tasks, such as packing. On the other hand, some tasks you do not want to do too early, such as cutting yourself off from internet and cable services before moving! 
While getting ready to move out, our moving timeline checklist is the best solution for increasing your productivity and decreasing moving stress at the same time. Read on to learn more!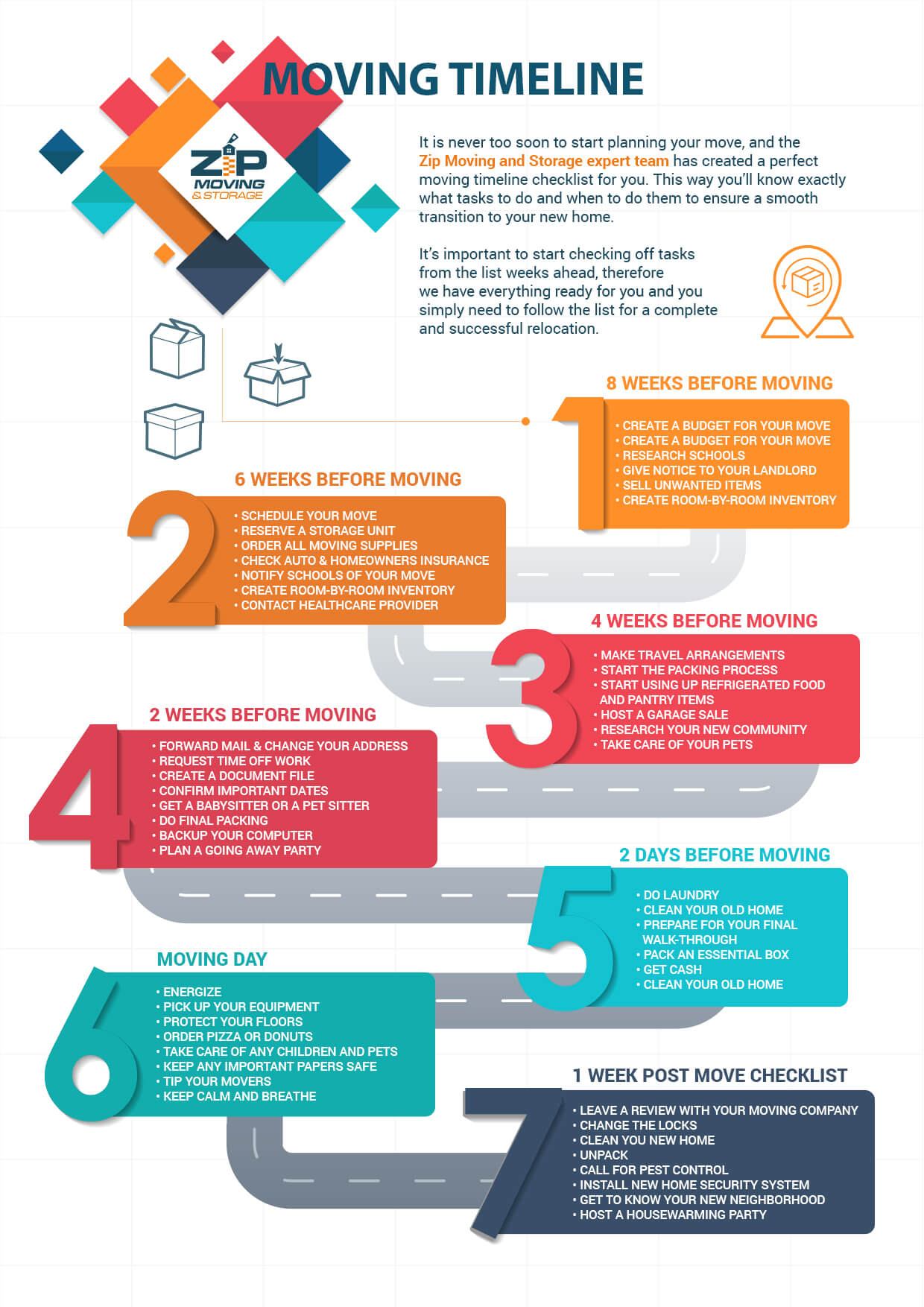 This is the time to tackle some of the bigger tasks such as researching moving services, looking into new schools for your children, and setting your moving budget. Ideally, for a successful move, you should start planning your relocation at least 8 weeks in advance.
Research moving companies
Before any other task, you need to figure out how you're moving to your new home. Will you do it yourself or will you hire a moving company? Start weighing your options and budgeting for your relocation. Research online, read reviews or ask friends and family to recommend a reliable moving company that is insured.
Create a budget for your move
When you decide whether you're hiring a moving company or committing to a DIY move, start budgeting and looking into moving expenses right away. It is important to start this task early on to avoid any hidden costs.
If you're moving with school-aged children it is important to research schools before your move and choose the best school for your child. Call different school boards and ask the questions important to you to make the right choice. 
Give notice to your landlord
If you're renting, you will likely need to give your landlord at least 60 days' notice of your move. Keep this in mind, and be sure to double-check your lease agreement for any specific details on how to go about moving out before you even start planning your move.
This is the perfect opportunity to have a yard sale or donate all of the unwanted items you've been meaning to get rid of. Also, you'll have fewer items to move and it will result in your move costing less. 
Create a room-by-room inventory
This is an important step when moving. Creating an inventory of all of the items you are moving will prevent a headache if you need to file a claim for damaged/stolen or lost goods.

Now is the perfect time to reserve your movers and storage unit, gather packing supplies, and transfer your utilities. You want to make sure you reserve professional movers on time, and doing it 6 weeks in advance will ensure that your desired moving date is available. 
It's time to schedule the movers! If you decide to go with professionals, the ideal time is to book is 6 weeks before your move. This way you can ensure the movers are available for your desired move date. The busiest season for moving are summer months and weekends. If your budget is tight, aim for off-season months or weekdays. 
Whether you're looking for temporary storage while unpacking or a long term solution for your clutter, renting a storage unit is a great idea and should be done six weeks in advance. Many moving companies offer storage solutions together with moving services, therefore ask your company if they offer this option.
Order all moving supplies
If you are doing a DIY move, you'll need to order all of the moving supplies you'll need such as boxes, tape, wrapping paper, etc. If you hired a moving company but are in charge of packing, you will still need moving supplies.
Check auto & homeowners insurance
Contact your auto and home insurance and ask if they do business in the area you're moving to. If they don't, you may need to change insurance providers before your move.
Start preparing your utilities so they are set up and ready to go in your new home. Don't forget to cancel or transfer your subscriptions and utilities. This includes: electricity, gas, water, garbage pick up, mail subscriptions, phone, television, and internet.
Notify schools of your move
Notify your children's schools about the move, that way all the paperwork will be transferred on time.
Contact healthcare provider
Contact your healthcare provider to ensure seamless medical coverage during your moving process. If you're moving out of state, and unfortunately can't go to the same doctor, ask if they have any recommendations for good doctors in your new area.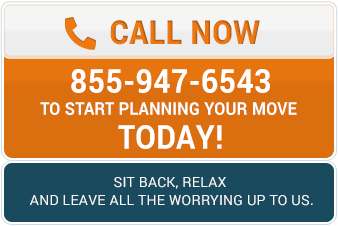 Your move is getting closer, and many tasks have been checked off your list. Four weeks before your move you should be focused on decluttering, packing, and researching your new neighborhood. 
If you're driving the moving truck yourself, you need to plan out your route in advance. Additionally, book your flight, hotel, or rent a car, if you need. 
Start the packing process
Before packing all of your belongings, strategize your packing process first. Start with nonessentials first and items you don't regularly use such as decorations, books, electronics, etc. Lastly, pack your essentials, which include dinnerware, kitchen supplies, clothing, toiletries and things you will need in days leading up to the move. 
Start using refrigerated food and pantry items
Unless you're planning on bringing the food with you, it's a smart idea to start using up stuff you have in your fridge. You can also donate non-perishables by bringing them to your local food bank. 
There's no better time to get rid of your old couch, books, and records than by hosting a garage sale right before your move. Moving less items will definitely make your move easier and less expensive, and you'll make an extra few bucks along the way!
Research your new community
Take some time to research hangout spots and entertainment in your new neighborhood. This will help you and your family get a better idea of what interesting spots there are near your new home and also will make you feel more comfortable during your moving process. 
Make sure your pets have ID tags for their collars. Don't forget to request copies of vet records and get any necessary pet medication.

Your move is getting closer, and this is when you should focus on the smaller details of your move. Make sure to confirm all the important dates, schedule a babysitter or a pet sitter, forward your mail, and finish up your packing. 
Forward mail & change your address
Fortunately, forwarding mail is an easy task. Simply go to your nearest USPS and choose the date you wish to begin forwarding your mail. Make sure to let all of your friends and family know where you're moving to. Contact all businesses that may need your new address, such as banks, insurance companies, etc.
If you're moving during the week, speak to your employer and request a personal day off. For those who are unable to take the time off, try and arrange for a family member or a friend to welcome the movers on moving day.
Organizing and keeping your documents close is very important. Simply buy a binder and section it by documentation. Remember to keep all of the moving paperwork on you, especially on the moving day as there will be documents that you need to show and sign on the spot with the movers. 
Keep a list of your scheduled services in your moving binder. Go down the list and verify everything is still scheduled as planned. 
Get a babysitter or a pet sitter
Moving day is hectic. Scheduling a sitter for your kids or pets will be much easier on you and it will keep them entertained and out of the way. If that's not in your budget, you can ask close friends to keep an eye on them for a couple of hours. 
You already packed most of your items and now it's time to do the last of your packing. Make sure your boxes are collected, labeled, and your valuables identified. 
You don't want to risk losing your work or important documents that are on your computer. To be safe, back up your computer on a hard drive, that way you can be at ease when moving.
Your neighbors, friends, and family deserve a proper goodbye. Plan a get together or go to your favorite restaurant for a nice meal and talk about the great times you had while living in your old home!

The big day is approaching! Use this time to tidy up your old home, do a final walk-through, and go over your moving checklist to ensure everything is done.
 Eliminate extra tasks that will disrupt the moving process. Some dirty laundry is inevitable so keep a laundry basket or garbage bag for sheets, blankets, and clothes.
Now that nearly everything is packed and ready to go, you can get your home ready for new residents or for sale. Wipe down the windows, sweep the floors, and vacuum the carpets.
Prepare for your final walkthrough
Do a final walkthrough of the house. Make sure you didn't forget anything, all the appliances are unplugged, and make sure to know how to find the water heater, circuit breakers, and water shut-off valves. 
Pack an essentials box of all the items you will need in the first 24-hours in your new home, such as a change of clothes, pajamas, toiletries, towels, etc.
Have enough money to tip your movers for their hard work, and also in case of last-minute emergencies and unexpected needs.

It's the big day! Make sure to get a lot of rest before the day, that way you are ready to welcome the movers. Prepare all of your moving paperwork, check the moving process once more, and most importantly stay calm, let the professionals handle everything!
Eat a balanced breakfast and have plenty of water and snacks on hand to keep you going. This will be a busy day and you need to prepare your body to be on the move.
Pick up your moving equipment
Arrive 15 minutes early or check-in online to pick up your moving truck. There is always the potential for extended lines or traffic delays. If you've hired a moving crew, make sure everything is ready to go before they arrive.
If you're going with the professional movers, you don't have to worry about your floors, since the movers will already protect your floors and walls during the moving process. For DIY moves you want to avoid scratching and staining your floors, so place plastic sheets, old tarps or old carpets around the house. 
The best thing you can do for those helping you move is to have everything in order when they arrive. The second best thing is to feed them while they help!
Take care of any children and pets
Whether you're dropping them with a sitter or keeping them busy in another room, make sure you have the proper arrangements ready to go for children and pets.
Keep any important papers safe
Make copies of moving receipts and statements for future reference and taxes – or secure them away in the pocket of your moving binder.
A cash tip is a nice gesture to show your appreciation to the movers. We recommend 15%-20% off your total bill for large moves, and 5%-10% for small ones. It all depends on what your budget is, but we're sure anything will be appreciated!
Remember to take your day one step at a time and allow yourself time for a break. Keep yourself hydrated and have a positive attitude. This will make sure your move runs smoothly!
1 week post-move checklist

You are all moved in and now is the time to slowly unpack, set up a new security system, and explore your new neighborhood. Take things easy, and organize a housewarming party to welcome all your friends and family for a get together. 
Leave a review with your moving company
If you're happy with your move, leave a nice review. It means a lot for moving companies and also for potential customers in search for reliable movers.

You don't know how many people had the keys to your house before you moved. The safest thing to do is change the locks right away.

Your new home was most likely cleaned before you moved in, but it won't hurt to wipe down counters and mop the floors. 

Unpacking can be an overwhelming process. Start with essentials, such as kitchenware, linens etc. Once you've unpacked the important things, start unpacking room by room until you've finished unpacking the whole house. 

Before you really get comfortable in your new home, call a local exterminator to come and check out your new home to identify any potential bug problems.

Install a new home security system
You know the saying, better safe than sorry! The best thing to keep you and your family safe in your new home is to install a home security system. Once you purchase one, call your service security system provider and they'll guide you through how to set it up.

Get to know your new neighborhood
Get out there and explore your new neighborhood! Check out nearby stores, cafes, and shops. Introduce yourself to your new neighbors and start creating memories.

Host a housewarming party
You are all settled into your new home and are unpacked, now it's time to throw a housewarming party for all your friends and family to show them your new place!

Planning and organizing a move is never easy, but with a moving plan and this helpful checklist, you can get things done just in time to make sure everything is in place for your big relocation. Good luck!