If you've finally decided to move somewhere new – congratulations! You're up for an exciting adventure, especially if you decide on the do-it-yourself moving approach. Organizing a DIY move is more popular than you might think, but how should one approach it? Our guide can help you with the ins and outs of long-distance relocations.
A Guide to an Easy DIY Move
Having a Checklist for a DIY Move Will Help You Keep Track of the Tasks That Await You
If there's one thing you should embrace from our guide to moving on your own, it's having a relocation checklist. This is one of the best things for moving – whether you're determined to have a do-it-yourself moving experience or plan on hiring a great moving company.

The checklist should have all the tasks neatly written down in the chronological order they should be completed. Keep the list by your side as you prepare to depart to your new city, and you will remember everything!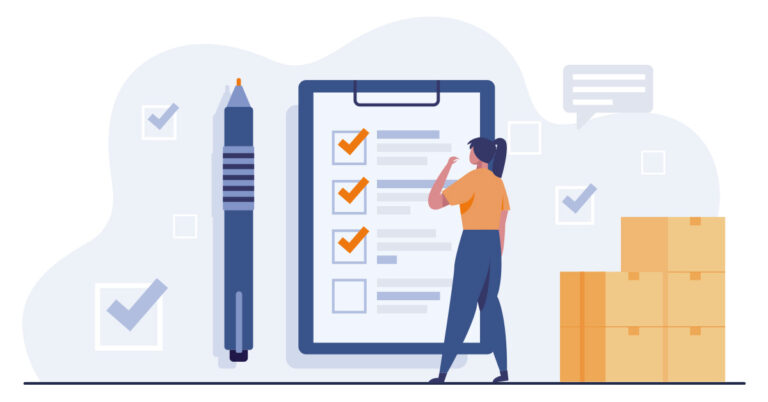 To Move Efficiently, You Need to Declutter Your Home and Decide What's Worth Taking to the New Place
No one packs everything they own when relocating – it's unnecessary and would cost a lot. That's why you need to declutter before moving. Get rid of things that don't hold any value – whether practical, sentimental, or monetary. Ask yourself: Will you use this thing in a new home? If not, sell it in your pre-move garage sale.
Buying Packaging Supplies and Coming up With a Packing Plan
Now that you know how many things will make it to your new place, you will have an approximate idea of how many boxes will be needed – as well as some other crucial packing supplies. Here's what you'll need to buy apart from boxes:
Packing paper

Bubble wrap

Plastic wrap 

Styrofoam peanuts

Durable tape

Markers or labels for boxes

Once you have everything, you can get ready to start packing. Remember that this process can only be completed over some time. You'll need several weeks to box up every item from your packing checklist, so patience is advised.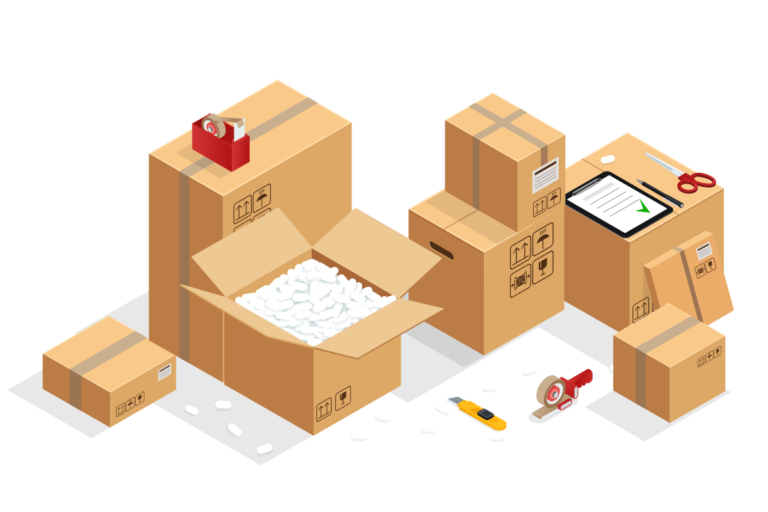 Deciding How You'll Ship Your Stuff - Moving Truck vs. Shipping Container
If you want to avoid booking professional moving services and need to know someone who would lend you a truck, your remaining options are renting a relocation truck and renting a shipping container.

Truck rental is usually a good choice, as it comes with a loading ramp – it will be easy to load your boxes with a dolly. Shipping containers can be great as well. The shipping service simply brings a container to your home, you load it, and they ship it to your new address. The prices will vary depending on the size of the container.
Last Chance to Change Your Mind About DIY Moving - Should You Hire a Moving Company Instead?
If you're still unsure how to move yourself, even after reading all the DIY moving tips we mentioned, you should reconsider the DIY approach. After all, the benefits of using a moving company are undeniable. It would be easier to hire movers to take care of everything – they can even provide packing assistance for you.
Time to Pack? Here's How to Approach the Packing Process
An excellent approach to packing is vital – not only to save your time and energy but also to ensure that unpacking after relocation is much more manageable. You need to be well-organized. 

Start packing the areas that are the least used – like a garage, pantry, or guest bedroom. Work your way up to the living room, kid's room, kitchen, and bedroom. Leave only the essentials you need to function until the relocation day – things like your bed and toiletries should be packed at the last minute.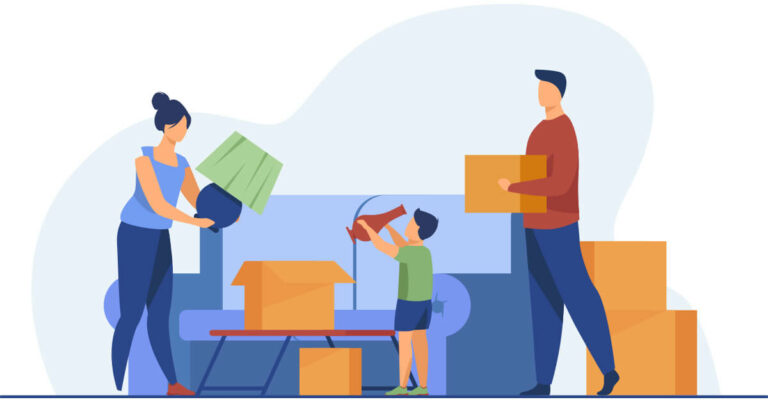 Pro Tip - Enlist Help From Friends and Family and Turn It Into a Packing Party!
A vast undertaking such as wrapping up your entire home deserves some help – if not from movers, then at least from your friends and family. They may not be professionals, but they can drastically reduce the time needed to pack your home.

Ask them for help and promise they'll have fun – you can turn the occasion into a going-away party! Bring snacks and put on some party songs, and those boxes will be packed and sealed in no time.
Preparations for the Big Day - Come Up With a Plan for Kids and Pets
As the relocation day approaches, you will need to prepare your children for a move, and the same goes for pets. Who will care for the kids while you load boxes onto the truck or shipping containers?

Will your pets be okay in a transporter during the ride to the new home? These are only some of the many questions you must address before the relocation day arrives.
Keep a Bag or a Small Box With Some Relocation Essentials by Your Side at All Times During the Move
Relocation essentials such as change of clothes, medicine, personal hygiene products, and phone chargers should be kept from the rest of your household belongings. Instead, pack them up in a small box or a bag and bring them to your car. It might also be a good idea to have water bottles and snacks for a moving day – especially if the ride to the new home is long.
Moving Without Help Is Often Harder Than People Think - Contact Zip Moving & Storage for Assistance
Be aware – DIY relocations are usually less fun. Instead of complicating your life during an already stressful period, consider hiring professional movers. They know how to handle all the intricacies of moving. 

Our team at Zip Moving & Storage is here to help. If you want to eliminate the relocation stress and get through the moving process effortlessly, knowing your belongings are safe, contact us for assistance.

We're looking forward to helping you!