What is the first thing that comes to your mind when you think about breaking up? Some arguing, frustration, maybe even tears?
There is no doubt that breakups are usually messy and difficult. Still, there is another, perhaps calmer, way to handle those emotional and tricky situations.

As someone working for a professional moving company, I can confirm that those last-minute moves are often connected to couples breaking up and deciding to go in different directions. 

More often than not, you would be surprised that those types of moves are, though incredibly emotional, quite reasonable. Keep reading to learn more about it.
Breaking up and moving out
Imagine the following scenario…You have just moved in with your significant other into a new apartment, ready to start the new chapter of your life, just to discover after some time that it's not quite the life you pictured.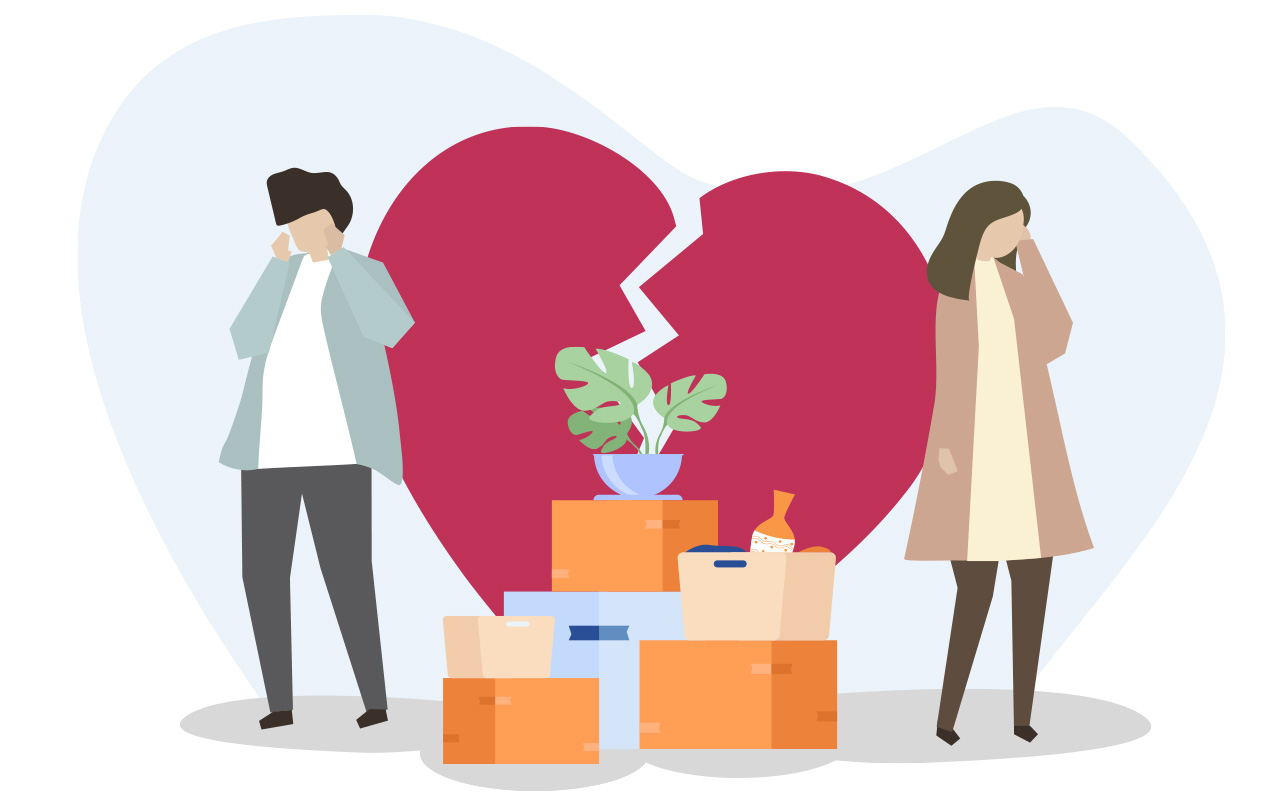 We have all been there. In that kind of situation, the last thing you want is to think about packing and moving. The good news is that we are here to take care of you and every moving task on your list.

Everyone needs a safe network of family and friends, but we want you to know that we also have your back. We like to have a laugh and call ourselves the 'moving breaking-up service' at your beck and call even in the most challenging times.

After many years of working in the moving industry, we can safely say we have seen it all. That allowed us to gain a special insight into the best possible moving scenario when it comes to breakups. Follow these simple steps, and let us show you how it's possible to have a good moving experience even in such circumstances.
1. Take some time for yourself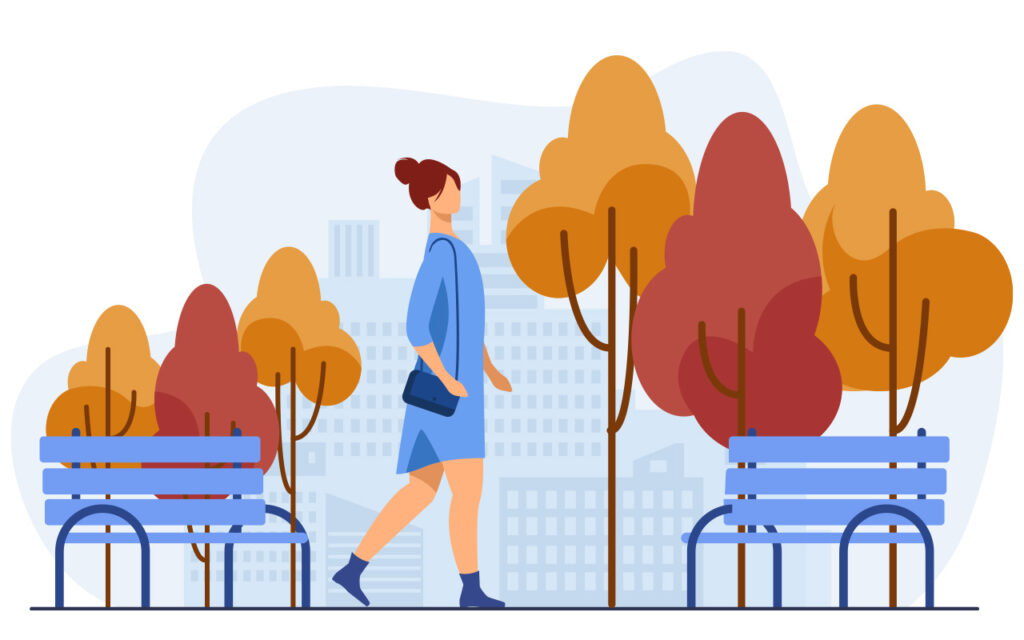 It may sound paradoxical, but before searching for a moving company, give yourself some time to breathe and relax. Unfortunately, many companies are not properly licensed, and their only goal is to use your distress and hurry to their advantage.

When your mind is boiling and emotions are running high, it can be difficult to make the right decision. Choosing a reputable company is a challenging task, so trust us when we say to take some time and first focus on yourself. You can make the best decisions with a clear head and peace in your heart.
2. Don't be afraid to ask for help
Moving is a tricky endeavor with many challenges and tasks. Even in the best possible scenario, moving without someone's help can be difficult. When it comes to situations like this having the assistance of experienced professionals can be a real game changer.

You will have someone to rely on even when everything feels like it's falling apart, and more importantly, you will be able to put your focus and energy into healing and moving on without having to worry about all those tiring moving tasks.

If you choose to go with our moving services, our skilled crew will make sure that everything is taken care of. We know how to organize any move to perfection. Your only job will be to focus on your progress, peace, and getting enough sleep.
3. Divide your belongings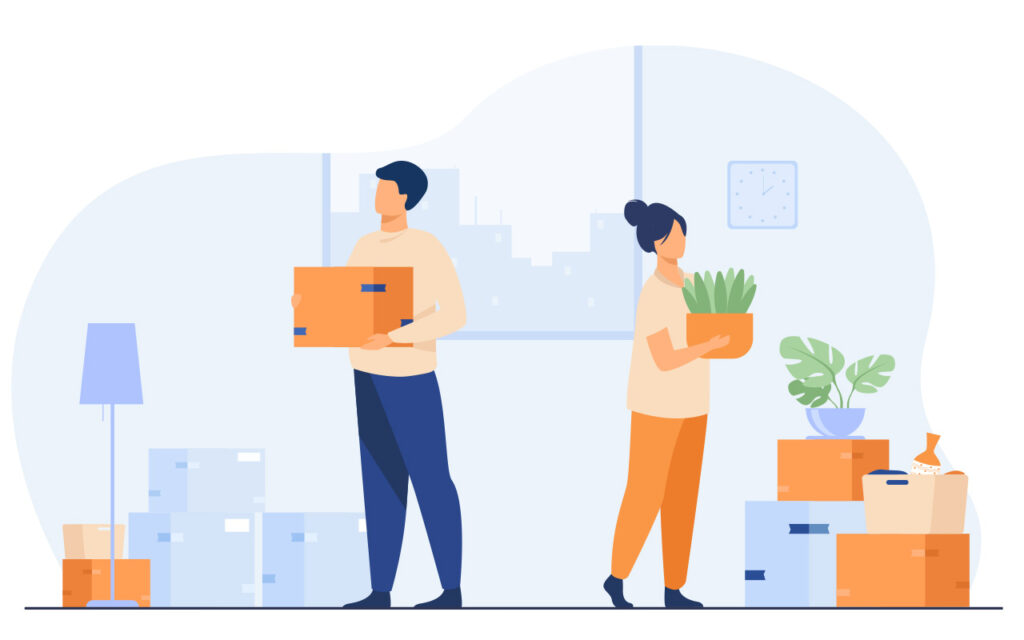 It can take time to specify what belongs to who and what needs to go where. Try to talk with your former partner. We understand that may not always be possible, but with a bit of luck and a lot of will, many couples still manage to communicate properly. Discuss with them what items you want to keep and relocate to your new home. 

If you share a pet together, your moving situation can be slightly more complicated, so we always advise our customers to first talk with their ex about who will keep the animal.

We also recommend writing down an inventory list of all items you are moving. It's best to separate your lists and go through them together several times. This will prevent any potential misunderstandings.
4. Get the right moving supplies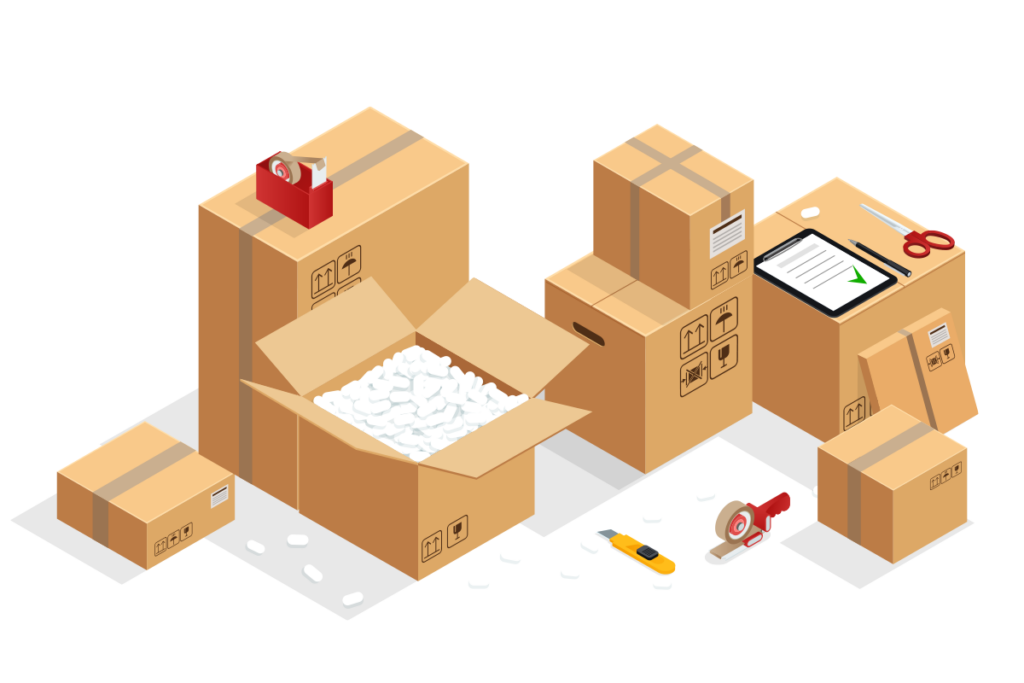 Many moving companies offer great packing services (and we are happy to say that we are one of them, click here). If you want to avoid creating additional moving tasks, let the professional packers do their job and pack everything professionally.

However, we suggest finding quality moving supplies if you decide to pack your belongings on your own. You will need moving boxes of all shapes and sizes, packing paper, blankets, bubble wrap, and tape. Check out our moving kits for more information.
5. Label everything and use different colors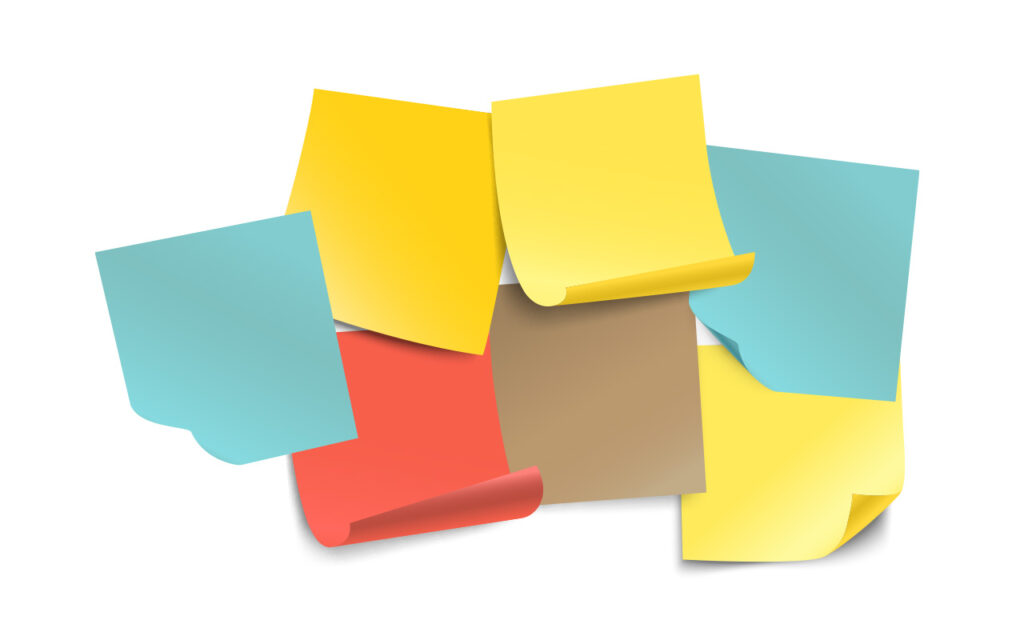 Labeling every moving box will make everything much easier and faster. You can label each side of the box and write a little note or instructions for movers on them. We recommend using labels in different colors. Go room by room and organize your boxes following your inventory list.  That will make it easier to know what boxes are yours and what belongs to your ex. You can print moving labels right here!
6. Choose different moving dates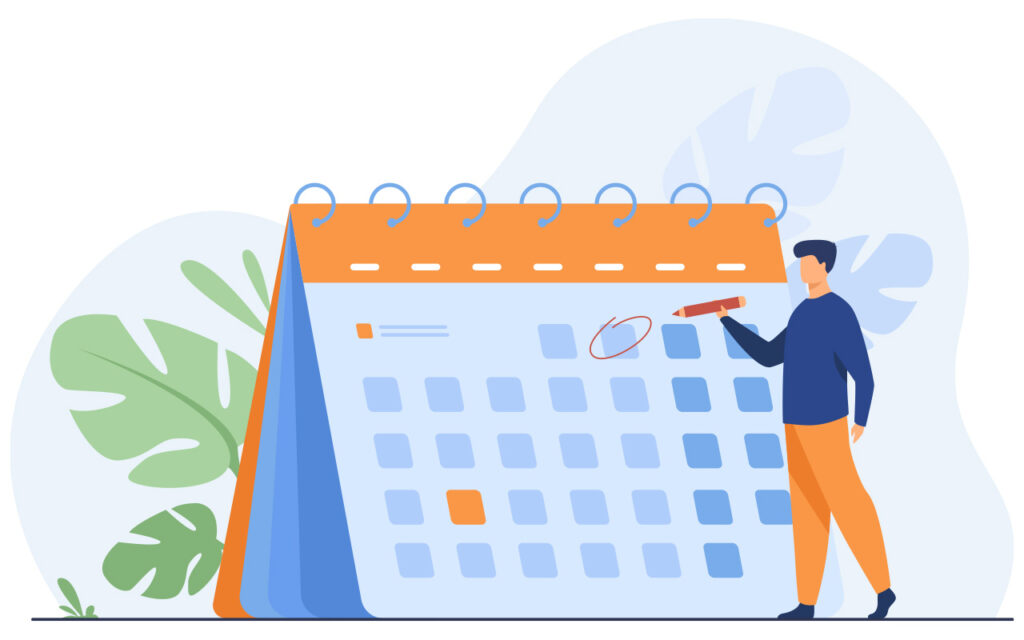 Choosing the right moving date is incredibly important. Finding the date that suits you best during the peak of the moving season can be hard. Many moving companies are completely booked at that time, so we advise you to start planning your move as soon as possible. 

Selecting different moving dates for your former partner and yourself can be the right decision. It will keep everything organized and in good spirits. Once your moving date is booked, our professionals will quickly pack everything and take your belongings to your new place.
When everything crushes, we will catch you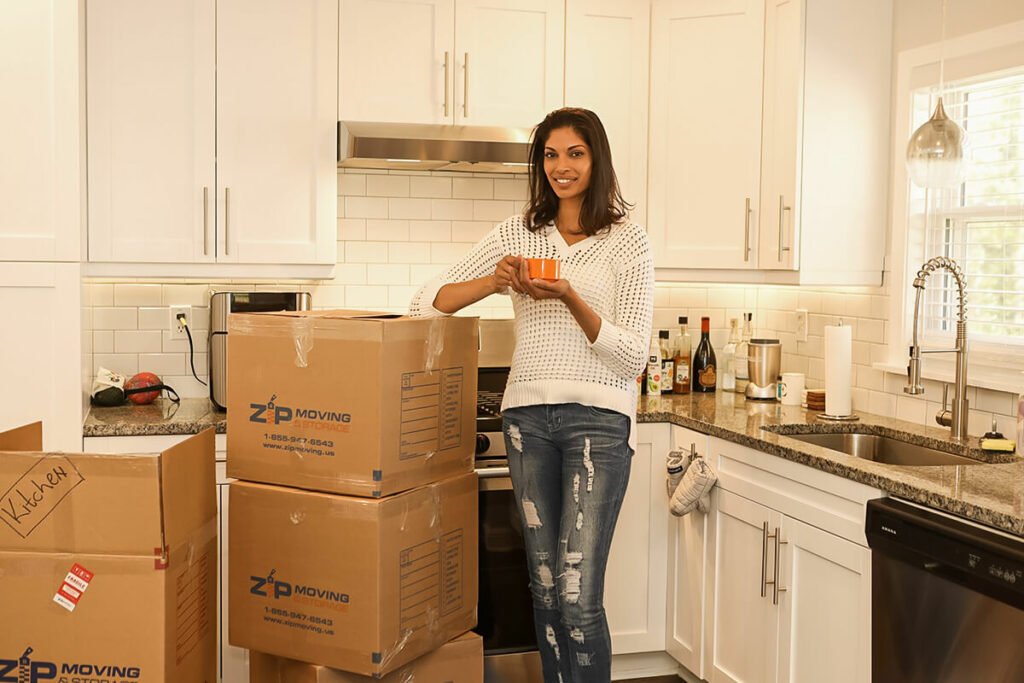 When it comes to breakups, we are the most experienced moving company to organize that type of move. Though it can be a good thing in the long run, separation is often an incredibly emotional and challenging experience. No matter how hard you try, there is no guarantee that you and your person will stand the test of time, and that's alright.  

All we can do is learn from it, grow, appreciate, and focus on ourselves. Let us help you during this challenging time. You can contact us today, and we will be there not just to organize every aspect of your move but also to listen, understand, and support you.